A chronic illness is a condition that cannot be cured, but can be 'managed' with periodic monitoring and medicines. "What is the cost of managing such an illness for life?" Subra suggested that I make a calculator to answer this question.
It is well known that chronic illnesses are on the increase.  Every third or fourth person we know has diabetes (or pre-diabetes) or cardiac issues.  Every second or third person has allergies, asthma, blood pressure, cholesterol or is over-weight (if not obese).
So understanding the costs of managing such ailments is rather important. Perhaps it will serve as a carrot to encourage healthy lifestyles (?). Perhaps it will help us invest right and so that we handle future costs better.
While many chronic illnesses arise because of sedentary lifestyles and improper eating habits, there many conditions which are genetic.
Some are idiopathic.  That is, they occur spontaneously with no rhyme or reason.  I suffer from one.
Just at the time when I had dropped close to 25 Kg of body weight, and felt the fittest in my life, BP  under control, cholesterol under control, I contracted Myasthenia Gravis – an autoimmune disorder.
This severely limits my ability to perform normal duties. Stressful situations (like my mom's recent hospitalization) trigger antibodies to attack my system for no reason.
Though it sounds scary, Myasthenia Gravis is one of the most well understood neurological disorders. So the treatment is well known: taking immunosuppressants, surgery to remove the Thymus gland etc.
Therefore, although I am not fully fit, I am leading a reasonably (given the circumstances) normal life and I am indebted to god for that.
The point here is that Myasthenia is the classic chronic disease, which has to be managed lifelong with medication (western, ayurvedic, whatever helps you sleep at night! Nothing comes free)
Each month, about 15-16% of our monthly expenses are due to Myasthenia medicines.
Assuming that the cost of medication grows at an average annualised rate of 10%, while my non-medical expenses are subject to an average inflation of about 8%, by the time I retire, medical expenses due to Myasthenia alone will account for close to 25% of my total expenses.
Assuming I live up to 90 (God! I hope not!), it will account for more than 35% of my total expenses. I am not even counting other complications I will have along the way!
I would have ended up spending a whopping 832 Lakhs from now to age 90. A good 92% of that amount in retirement!
A good 28% of the retirement corpus I need is because of these medical expenses!
What better reasons can I offer myself to stay fit and avoid complications and hopefully not add to the list of chronics illness I have (BP+myasthenia+ high myopia!)?
Here is the calculator which can be used to get the above information.
Use it whether you have a chronic illness or not.
Use it especially if you do not have one!  (Get relevant inputs from an ailing friend).
Forward it to someone who has such an illness.
To be forewarned is to be forearmed.
Let us do everything possible to stay as fit as possible and hope for the best. Thankfully, since I resolved to lose weight this year, I have successfully shed 4 kg. The challenge lies in ensuring it stays lost! What say you?
Here is a typical graphical output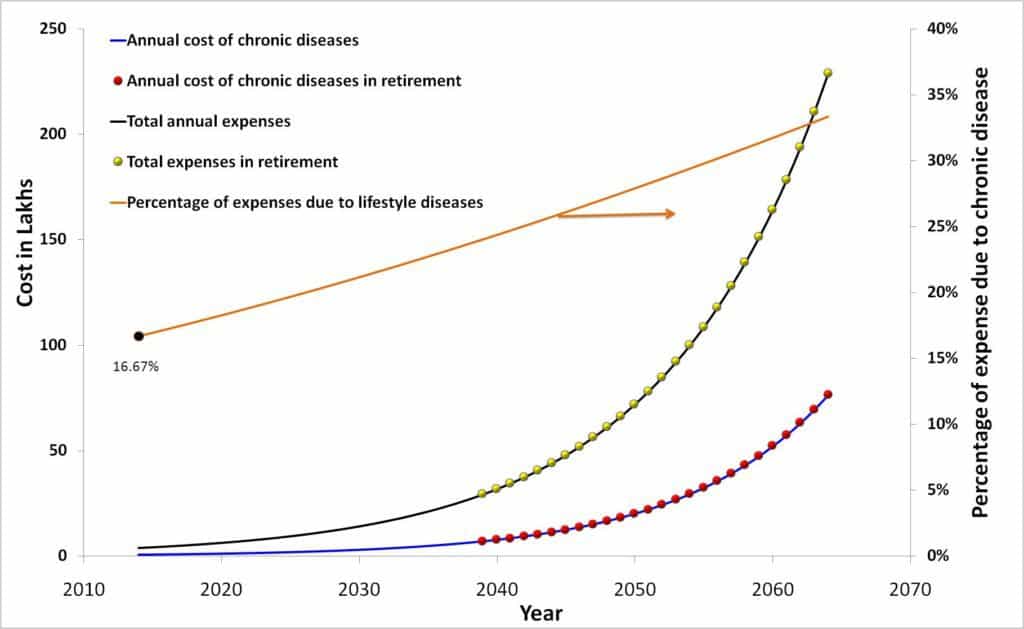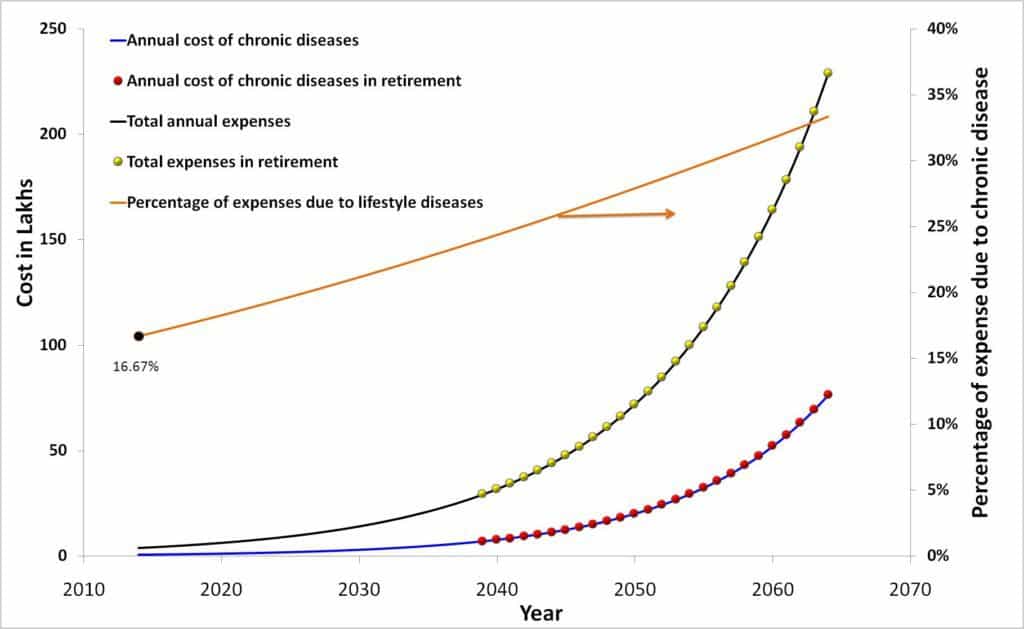 Download the Cost of a Chronic Illness Calculator
Do you have a chronic illness (BP/cardiac/asthma/obesity etc.)? If so, I would appreciate your inputs on this tool.
Do forward this link to your contacts who suffer from chronic illnesses.