As mentioned earlier, I am running a series of posts on financial independence and early retirement (FIRE). In the first part, we considered a set of thumb rules for FIRE with a calculator and android app. In the second part, we shall consider some of the popular yet incorrect assumptions associated with early retirement. A new and simple retirement calculator is also included to highlight the problems.
So when a person starts searching for early retirement, they sooner or later end up in this post: The Shockingly Simple Math Behind Early Retirement. The current version of this post links to a calculator (networthify). In my insignificant opinion, both resources make incorrect and dangerous assumptions, in particular for FIRE aspirants based in India. I made the Excel sheet linked below to point out the flaws and get rid of them (to some extent). In the next part of this series, we shall discuss the assumptions and flaws in the Excel sheet! In case you are interested, I have already taken care of these flaws implicitly in the freefincal robo advisory software template. My aim with this series to check how robust my own assumptions are and how to improve them.
Here are the major assumptions of both the article and calculator linked above.
Article Assumptions:
You can earn 5% investment returns after inflation during your saving years
You'll live off of the  "4% safe withdrawal rate" after retirement, with some flexibility in your spending during recessions.
You want your 'Stash to last forever, you'll only be touching the gains, since this income may be sustaining you for seventy years or so.
Savings rate calculator assumptions
Your current annual expenses equal your annual expenses in retirement
You will never draw down the principal. Your net worth will never shrink.
Current annual income is after taxes
Annual return on investment is after taxes and inflation
Regular readers would probably know what would get me worked up!
1: "5% return after inflation before retirement" for Indians would mean a 13-14% portfolio return after tax. Well a touch on the higher side considering one cannot have a 100% stock portfolio at any time, and I have pointed out the limitations of this earlier (see link below) but let us not worry about this now.
2:  "4% safe withdrawal rate" So the withdrawal rate is annual expenses divided by the corpus. Backtesting studies have shown that even when portfolio returns were poor, retirees could have managed by withdrawing no more than 4% from the corpus each year.  Now the assumption here is If the returns are poor, you will simply withdraw less until the tide turns! What a genius strategy! You can eat less dal or vegetables, walk everywhere, get rid of dish TV of the mobile internet until the stock market picks up.
So whatever the return, you will not withdraw more than 4% of the corpus value for annual expenses. If you have never faced (or never seen anyone face) any sudden increase in expenses for good/bad reasons, you will not appreciate how terrible this assumption is. The trouble with these frugal bloggers is that they assume frugality is the answer to everything! Well, the best way to make God laugh is to tell her your plans.
3: "Your net worth will never shrink" You will survive from the interest income and capital gains of the investment, not touching the principal. Yeah, when your portfolio falls by 20%, there are no gains to withdraw, so then you will not have any expenses that year. With these kinds of assumptions, all one can perhaps do is to quit a regular job but freelance or work part-time on the side. So there should be one other source of income present always.
4: Both the article and calculator seem to not worry about inflation before and after retirement. It would simply be impossible to live off gains alone when inflation is considered.  The calculator page says: "When your annual return on investments cover 100% of your expenses you are financially independent …withdrawal rate should be less than your return on investments." Again impossible if inflation of even 1% is considered.
In spite of these limitations, the calculator does drive home one simple fact: The more you save, the earlier you can retire. It serves as an inspiration to get started, no doubt about that, but for serious FIRE planning, you need to dig a lot deeper. For a start, recognise that no corpus will last forever and it is always better to assume yearly withdrawals are made from it.
So let us run through a simple example. I tried to compare my sheet with the networthify calculator linked above but it seems to only take 50% of the portfolio returns assumed into account. I am not able to understand why. If anyone can help me understand this, it would be great.
Suppose you make 12 Lakh a year after tax with 6 lakh annual expenses and the rest 6 lakh that you can invest for retirement (including mandatory EPF/NPS contributions). Let us first ignore inflation, increase in your income or investing capacity and assume you can earn a portfolio return of 10% after tax before and after retirement.
So we are going to assume nice and smooth 10% returns each year. I have already pointed out how dangerous this is: Want to be financially free? Do not count on frugality! Worry about the sequence of returns risk! However, let us keep going.
So each year we calculate 10% (post-retirement return) x current corpus value. When this is equal to or greater than the expenses 6 Lakh, we shall assume that the corpus is enough to retire. So for these numbers, the excel sheet will tell you that you can retire in 7 years with about 63 lakh.
If you invest in a product that will give you a constant 10% after tax for life, then you have nothing to worry (since your expenses will never increase!!). The 63 lakhs will never diminish in value. If you put it in a mutual fund and start withdrawing 6 lakh a year while the rest grows at 10% a year, it will last you 31 years.  The ridiculous assumptions here should be obvious.
Suppose I include 1% inflation, the 63 lakh will only last 8 years. If you increase the inflation to 8% (this is the minimum I would plan with) then you can retire in 12 years and 1.4 Crore is the corpus required as 1.4 Crore x 10% = expenses in the 12th year. But this corpus will only last for 10 years.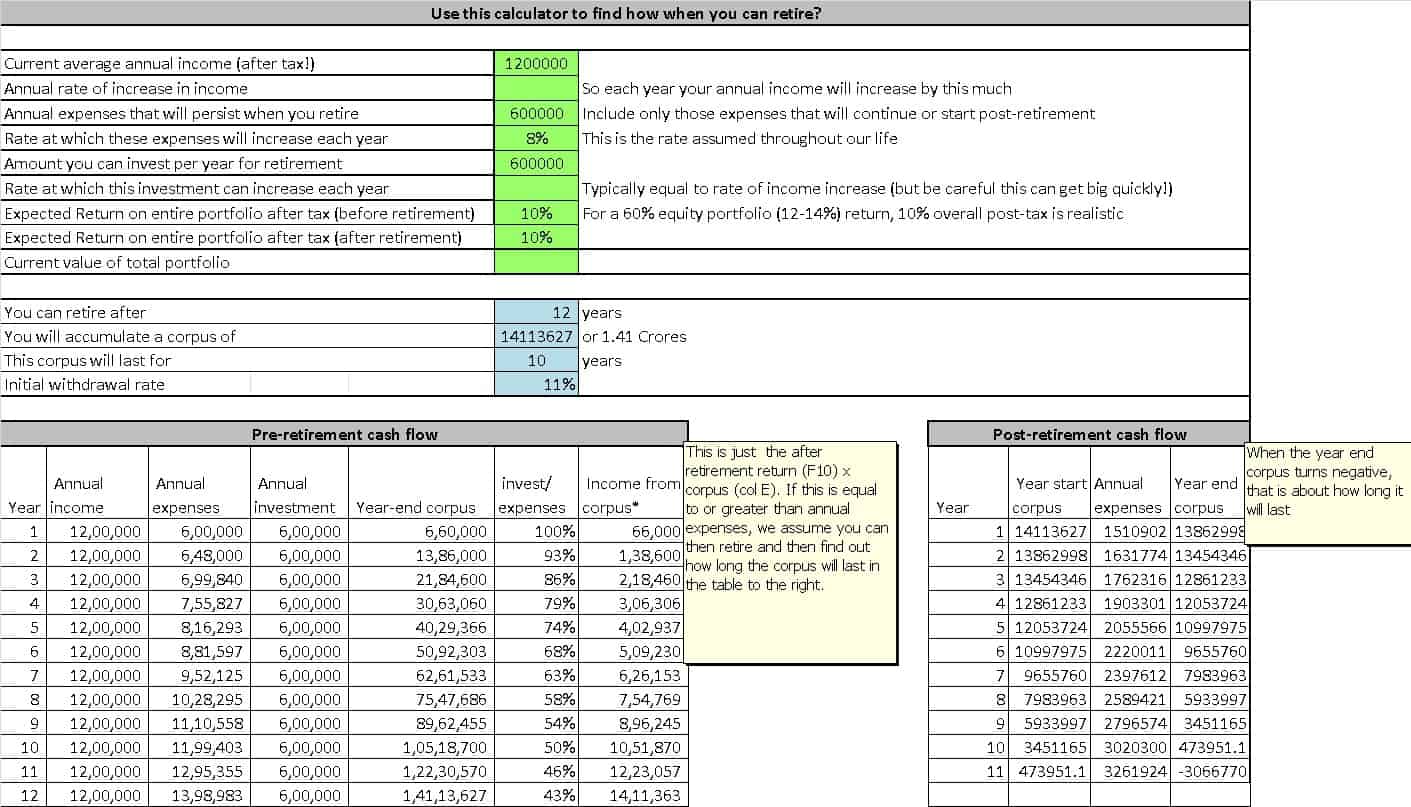 What is my point? If you assume:
When your annual return on investments cover 100% of your expenses you are financially independent
or if you assume
When a 4% withdrawal rate covers 100% of your expenses you are financially independent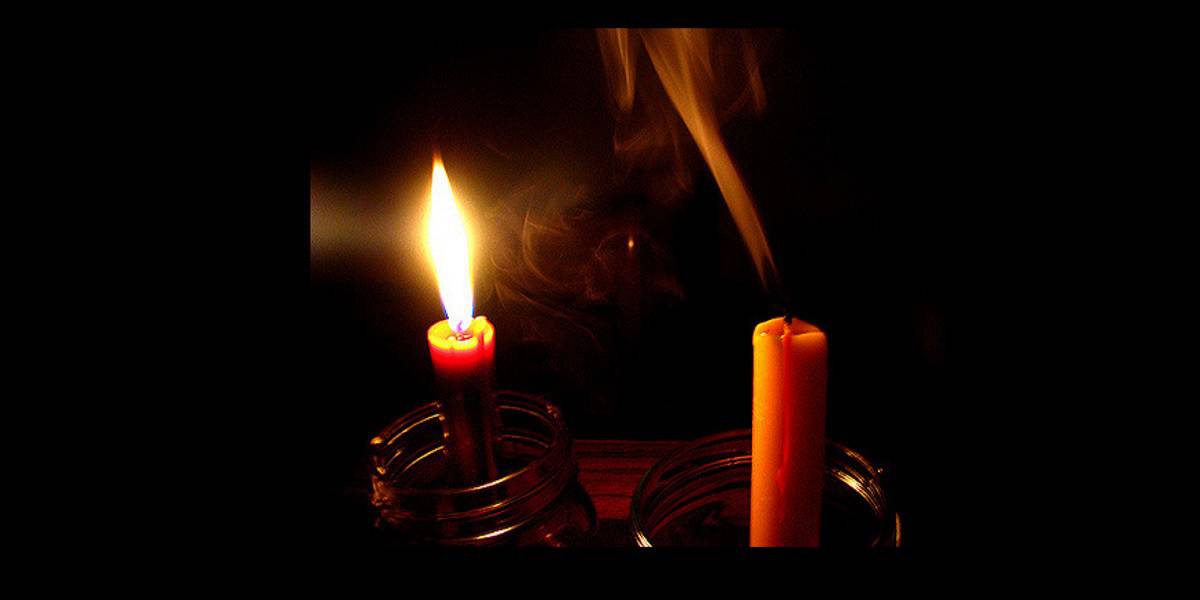 Then your corpus will not last long. Even with no inflation, it will not last forever (not even the 70 years assumed above). This is the case with nice smoothly increasing expenses and constant returns! Both of which will be far from true in real life.
So use the above-mentioned article/calculator as inspiration to start saving more. Once you get into that habit, plan for retirement more carefully. When you are ready give my free robo template a try.