Here is an EPF calculator in Excel that helps illustrate the new EPF withdrawal rules. With effect from 10th Feb. 2016, EPF subscribers can only withdraw their contribution and the interest it earns in the EPF account if they quit their job before the age of 57. The employer contribution and the interest earned from it will be locked in until age 57.
Links to EPF notifications from Ministry of Labour and Employment:
Gazette PDF file links (Ministry of Labour and Employment) (disable pop-up blocker for this site)
UPDATE: Revised EPS Pension Calculator: How much will my EPS Pension increase?
After attaining the age of 57, 90% of the EPF balance can be withdrawn. Full withdrawal is possible after age 58. These changes are due to the change in the retirement age from 55 to 58.
As discussed at Asan Ideas for Wealth:
The problem arises when someone quits before age 58. The EPF account would become dormant after 3 years* and no voluntary contributions are possible. So the employer contributions could become inaccessible.
* The Calculator does not factor this in.
Ways to address this issue:
voluntary contributions by subscribers who are not employed by anyone should be made possible to keep the account alive.
Else the dormancy rules should be modified to at least allow withdrawal of the employer contribution up to say, age 58 since it is locked up.
The employee contribution is 12% of basic pay each month. The employer contribution is 3.67% of the basic pay if it is below 15,000.


The EPF Corpus Calculator with Contribution Schedule has now been updated to take into account the new EPF withdrawal rules.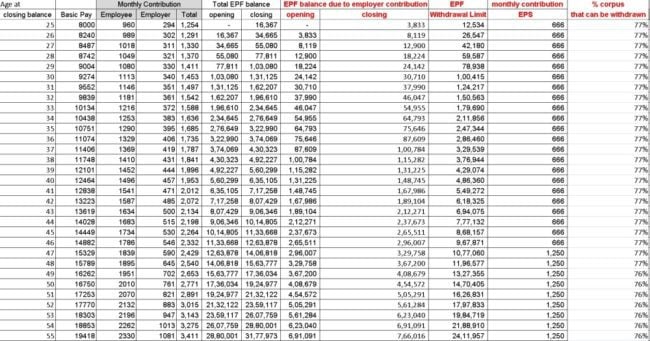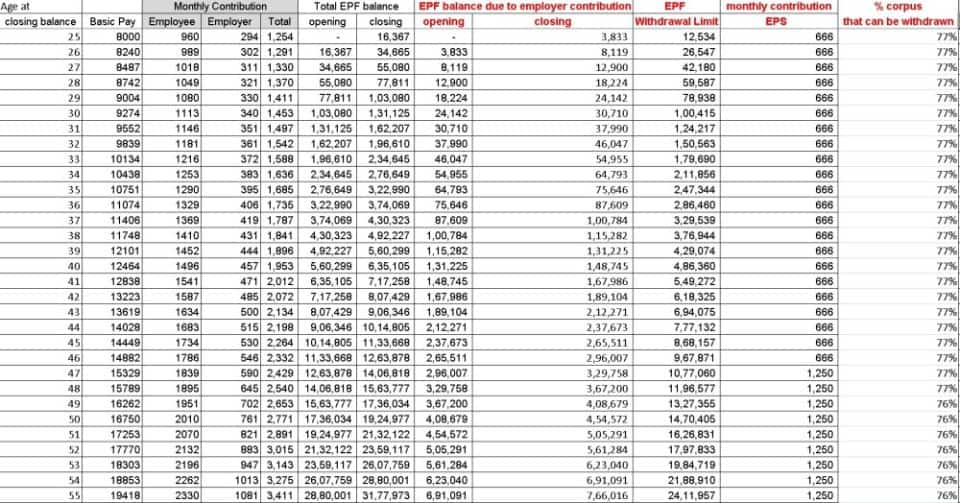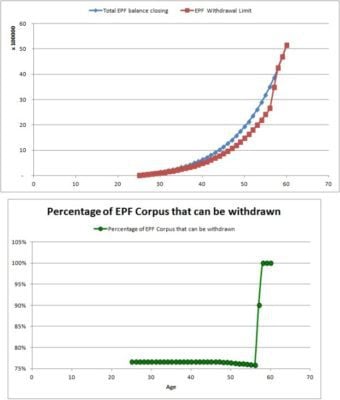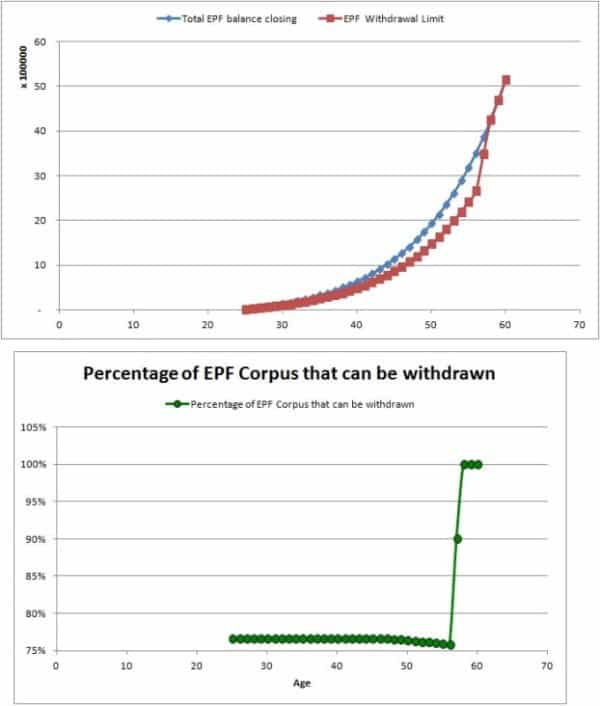 A good chunk of the corpus can be withdrawn. The fear is with respect to the dormancy of the corpus as pointed above.
Note: I am not an EPF subscriber. Please free to add your own insights to this issue and point out errors in my understanding.
Download EPF Calculator with 2016 withdrawal rules
With inputs from Ashal Jauhari, Pratheek John, Jalaj Baweja at Asan Ideas for Wealth.