An SWP or a systematic withdrawal plan is the lesser known cousin of the SIP. In an SWP, an investor would  receive  a specific sum at periodic intervals (monthly, quarterly etc.) from a lump sum invested in a mutual fund.
Although I am not a fan of the automated SWP option offered by AMCs (why do this, when you can manually redeem), I am a fan of taking money out of a lump sum to manage expenses after retirement provided,
1) the lump sum is only a part of the total corpus. Other parts of the corpus grow in instruments of  varying volatility (bucket method). See this for details: Generating an inflation-protected income with a lump sum
2) more importantly, the total corpus is large enough. This can be decided by dividing initial annual expenses by the total corpus. This is known as the initial withdrawal rate. If the initial withdrawal rate is about 1% more than the withdrawal rate calculated with an annuity calculator implies that the corpus is not big enough to be risked and the bucket method is not suitable. In other words, if the actual corpus is anything lower than 20-25%  compared to the coprus estimated with an annuity calculator, the bucket method and an SWP plan is not suitable.
Please tread with caution. Do not invest your corpus in a volatile instrument and attempt an SWP in the hope that the remaining sum will grow. If there is a crash, it will be disastrous to your financial independence in retirement.
Opt for a manual SWP from a low-volatile instrument like a liquid fund while the rest of your corpus grows elsewhere.
Remember: volatility is your best friend while accumulating a corpus, pre-retirement and your worst enemy while trying to generate an income from it, post-retirement.
Step-up SWP Calculator
This is a back-testing calculator in which you can evaluate an SWP in any mutual fund from April 3rd 2006. The monthly withdrawal can either be constant or can increase annually at some rate to keep pace with inflation.
Example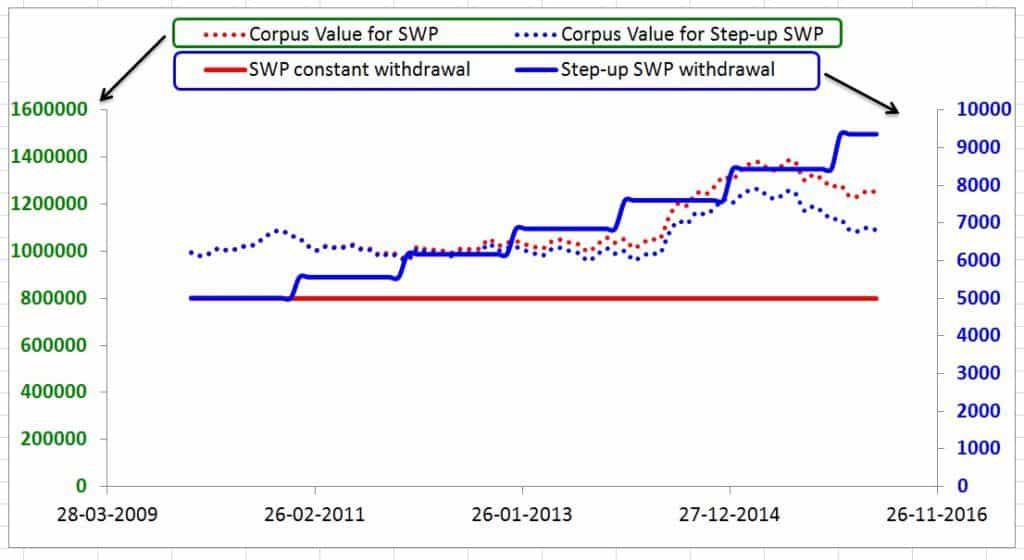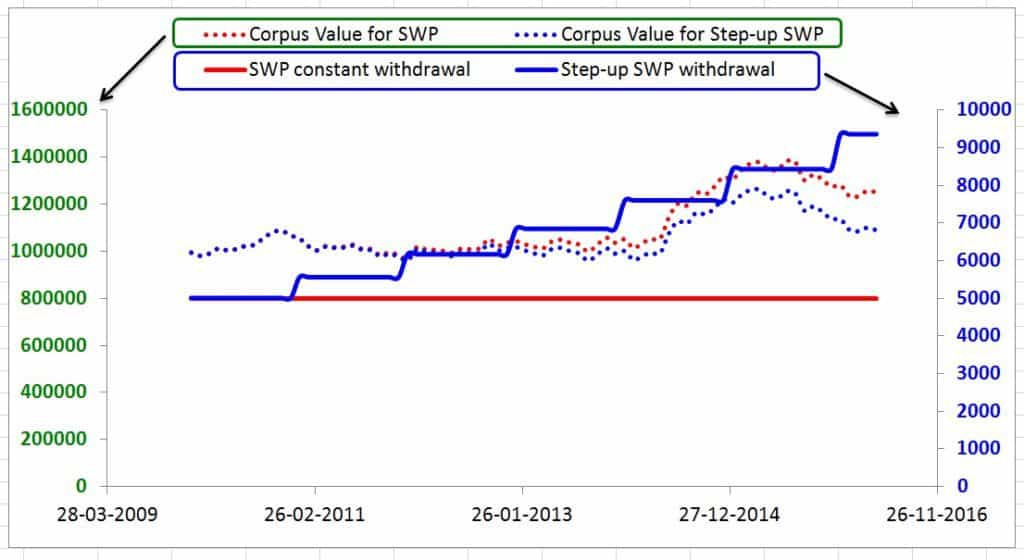 This is an SWP initiated with Edelweiss absolute return fund.  The solid red line is the constant withdrawal or Rs. 5000 a month (right-axis). The dotted red line is the corresponding evolution of fund value. (left-axis).
The solid blue line (right axis) represents the increase in withdrawal (11% a year). The dotted blue line (lleft axis, the corresponding fund value.