There are some grey areas in personal finance and there are some downright dark areas. One such dark area is how a couple should prepare for parenting duties once a child is on the way. Dark, because there are several possibilities and each would impact the present and the future in several ways.
Child birth will impact a families cash flow (salary, expenses  emi etc.) in several ways. One question that will influence cash flow, lifestyle and future goals is,
Should a parent quit working after the birth of a child?
More importantly, it would influence the way in which the child grows up.
My answer is yes, one parent should quit a full-time job, if this is possible. Not necessarily the mother (lest you call me a conservative caveman), but a parent (at least one!).
Some of my friends and relatives are shocked to find out that my wife did not resume work after she gave birth to our son. She is just as qualified as I am and more accomplished that me. It irritates and upsets us to hear them say, "why do you waste your education (Phd)? Please resume work. The child is big enough now".
To be frank, I am relieved that my wife chose not to work after my son was born. Both my parents worked and I was raised by my aunts in a joint family. Although I was raised right (hopefully!), I longed for my mother. I did not want my son to go through what I went. So yes, I was relieved.
Relieved because it is not up to me to tell her what to do. She chose to put her parenting duties in front of her career.  Taking care of our son mattered more.
She is certainly not wasting her education. Her education is devoted to making my son a 'civilized human being' (as my nearly 5 year old son puts it!).
To think that education should only result in a fat pay cheque is not quite civilized.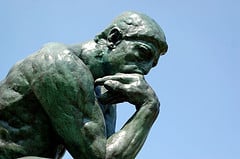 I am also thankful because we had the luxury of choice. We could manage expenses and investments on my earnings and she could choose to stay at home at least for some years – until the child grows up (we just realized that it could a min of 18 years!)
Should only those couples who can manage on a single earning, have a child? I wish I could answer yes, but that would mean I was never born.
My parents did not have the luxury. Both had to work. Had they not, I could never have spent 10 years after school getting an education and two more to get a stable job. I would have been forced to take up a degree that I may not have liked. Forced to work instead of studying more.  Like I said, dark area!
If a couple can manage their long-term needs with a single earning after becoming parents, I think one parent should quit their full-time job and take care of the child. Careers be damned. Nurturing the child is of paramount importance.
Molding the child's value system and encouraging the child's curiosity are 24 x 7 tasks and  best done by a parent*
*there are two assumptions here. One, the assumption here is that the parents have some values in the first place! Otherwise it is best done by a grandparent (assuming they have some!). Two, see below.
Like they say in the movie '9 months', you need a license for driving a car, hunt game, own a gun, get married, but you don't need one to become a parent! (Unless you are in China)
Many thrust their child with the grandparents and go to work. Many invite their parents to the US only after they become parents! How justified is that? Dark area!
Look before you leap, they say. That applies to before and after marriage.
Before we get that joint home loan, before we procreate, I think the possibility of managing the family with one parent at home should be seriously considered.
Thankfully staying at home does not mean not earning an income. The stay-at-home parent can work part time (some choose work-from-home but not sure if that is smart) and engage themselves.
Yes, this will impact the possibility of a better lifestyle in future, but I think that is not as important as spending 'quality time' with the child, as they call it.  I don't think this is possible if both parents have a full-time job.
Does the desire to create progeny imply we destroy the career aspirations of someone?
Perhaps yes, perhaps no. There is however no free lunch. The extra cash will have to come at the cost of something. Should that involve a child is up to individual couples to answer.
When I told my wife about this post, she said, 'you are assuming all stay-at-home parents would actually spend time with their child!' Dark area!
I am glad that  "she's got brains enough for two, which is the exact quantity the girl who marries you will need." (P.G. Wodehouse).
Register today and listen to Subra (retirement planning), Uma Shashikant (stock selection), Sharad Singh (investment analysis) and yours truly (goal-based investing).
You can also register via the DoAttend event page