How many stocks does an equity mutual fund hold? It is related to the assets it is managing? It is related to performance relative to peers (aka star rating)?
Let use see if we can get some insights into these questions. I started digging around in this direction because I would like to do (yet another!) series on understanding volatility and would like to treat this post as part 1.
There is much to discuss or conclude this post. Let us just stare at the graphs and see what we can make out of it.
The data set
All equity large cap, mid and small cap, large and mid cap, multi-cap and ELSS funds listed in VR were considered.
The no of stocks listed for all funds with AUM above 1000 Cr along with their start rating was tablulated.
A few funds less than 1000 Cr were also chosen randomly. The entire is too big – 268 funds.
Note: In this post I am an analyst and not an investor. So I use star ratings in that capacity. They are flawed (see why here and here) but will still use them as a popular reference.
AUM (net assets) vs Star Rating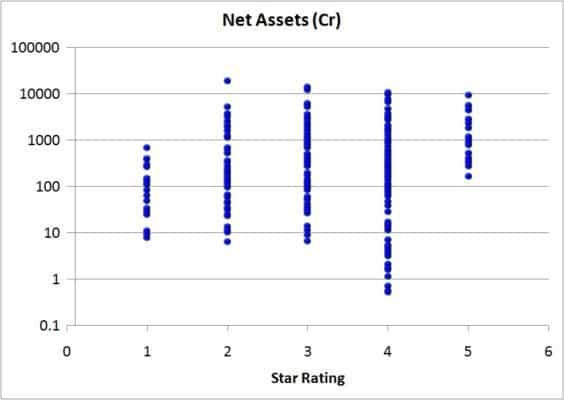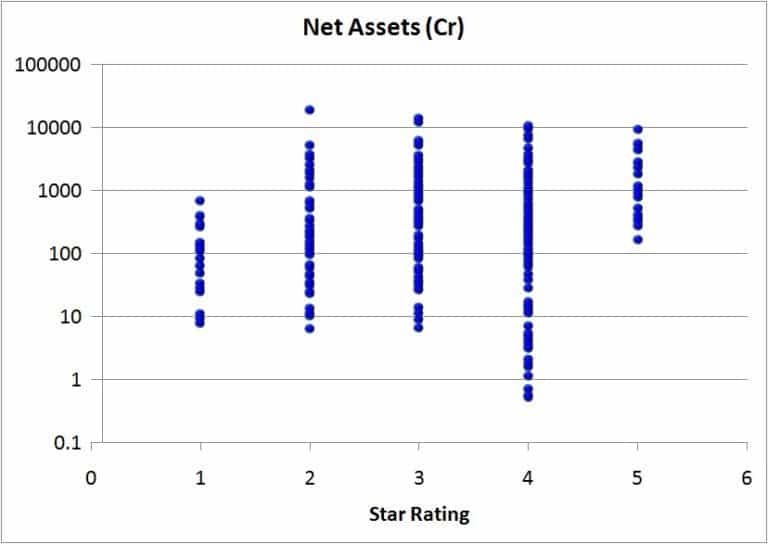 The y-axis is in log scale. There is (as expected) no correlation between AUM and Star rating.
There is no 5-star fund with AUM less than 100 Cr. Does that tell you something? Perhap that the AUM of a 5 star fund increases.
It probably soon drops a star. Notice how densely populated the 100-1000 Cr region is for 4-star funds.
Does the fact that there are 4-star funds with extremely low AUM point to herd mentality among distributors (esp. banks)?
There is also no 1-star fund with AUM above 1000 Cr. Until now that is. HDFC Equity might soon be one!
No of stocks vs. AUM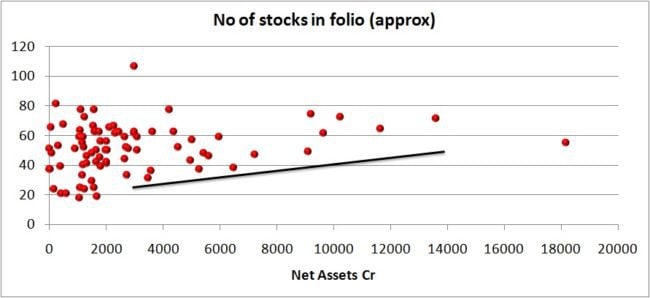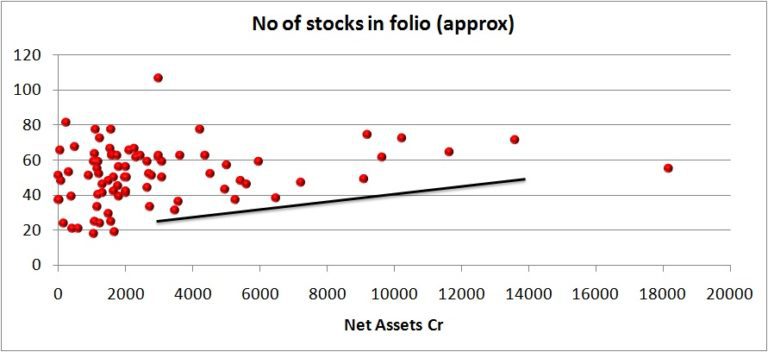 Not sure if the no of stocks mentioned at VR online is accurate. Hence the -approx.
Notice that as AUM increases, the no of stocks in the folio increases.
Fund with low AUM  tend to have pretty much any number of stocks (18 or above in what was considered)
Funds with AUM greater than about 2500-3000 Cr tend to have at least 30 stocks or mine.
This is to manage the higher inflows.
ICICI Focussed bluechip started with 20 stocks in a turbulent market and now has 49 stocks, thanks to herding.
It is however impossible to comment if higher stocks affects performance. No of stocks seems to only point to the strategy of the fund management (or the lack of one!).
No of stocks vs. Star Rating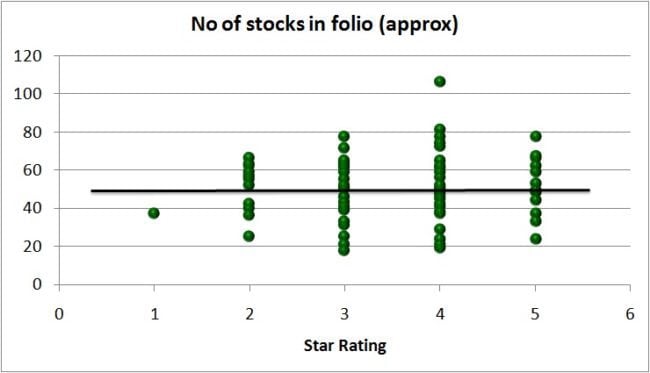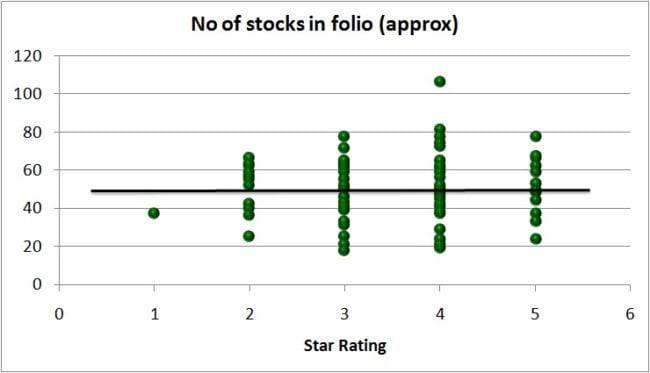 The average no of stocks in the data set considered is 51!
There is no correlation between no of stocks and star rating.  Five star rated funds have 20-80 stocks in their folio!
More no of stocks does not have a bearing on performance. It just boils down to what the stocks are!
The only reason I did this study is to answer the titular question:  How many stocks does an equity mutual fund hold?
I think one can safely conclude that practically all  equity funds hold at least 20 stocks. Most funds, esp. the popular ones hold at least 40 stocks.
How is this information relevant?  Easy to guess if you recall my objective.
To be continued …..