MF Utility is a free "Transaction Aggregating Portal" run about 25 AMCs jointly. It allows users to invest in direct mutual fund plans. Here is a step-by-step user guide prepared by Anish Mohan to buy and sell direct mutual funds using the MF Utility portal.
If you are thinking about getting an MF Utility account, this post will give you an idea of what to expect, and the pros and cons of transacting. If you have already got an account and are about to begin transactions, this post will help you invest better. Be sure to read about the payment options available.
The author Anish may be familiar to many readers as the author of Reader Story: Arise, Awake and DIY! He is also a member of Facebook group, Asan Ideas for Wealth where we often discuss using MF Utility for transacting.
Feel free to share your experience of using MFU or any questions about the facility.
A few screenshots of the new MF Utility online transaction portal were posted earlier. This is a detailed guide.
I am most fortunate to have dependable and generous friends like Anish, who gave me this post in just a couple of hours after I requested him. Over to him.
——
Dear Readers,
I write this post to make a lite user manual on how to transact online in MF Utility. Let me put a small disclaimer before I start with this blog.
I advise readers to use this as a User Manual "only" and not construe this as any advertisement or encouragement to use the portal. The author, Anish Mohan and his mentor Pattu-Sir is putting this article on a pure personal initiative and have no interest or receive (d) any incentive in promoting MFU through this blog. The reader has to apply his or her own discretion to transact on MFU online and is not bound to transact on MFU Online mandatorily for investing in direct Mutual Funds.
How to apply for an MF Utilities account
1. You need to first apply for a CAN (Common Account Number). You can start this process here to generate the application form: CANFormFillTab, but be warned that it will give an error and all information submitted will be lost if the back button is pressed! Therefore, the form is preferred. The filled form with necessary proofs can be sent by courier to the MFU office.
2. Post allotment of CAN, you need to request for online access by sending an email to clientservices [at] mfuindia.com after which you will be given an username and password.
3. You need to have netbanking access for the bank accounts tagged to the CAN.
4. You have a computer with an internet browser Internet Explorer or Google Chrome (!)
4. MOST IMPORTANTLY, the POP BLOCKER mode is set to OFF in the browser you wish to transact. This means, you MUST allow MF Utility POP Ups to appear in your Browser.
I shall now show how to transact and all my illustrations will be on Google Chrome (purely my personal preference). You can use the one that you are comfortable with.
Now, let's try to login to MFU. On the browser address, type mfuonline.com and the following page appears.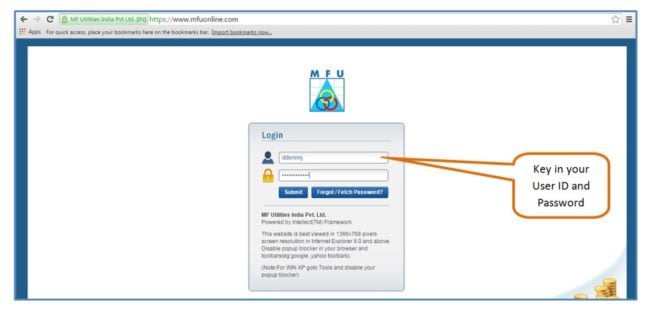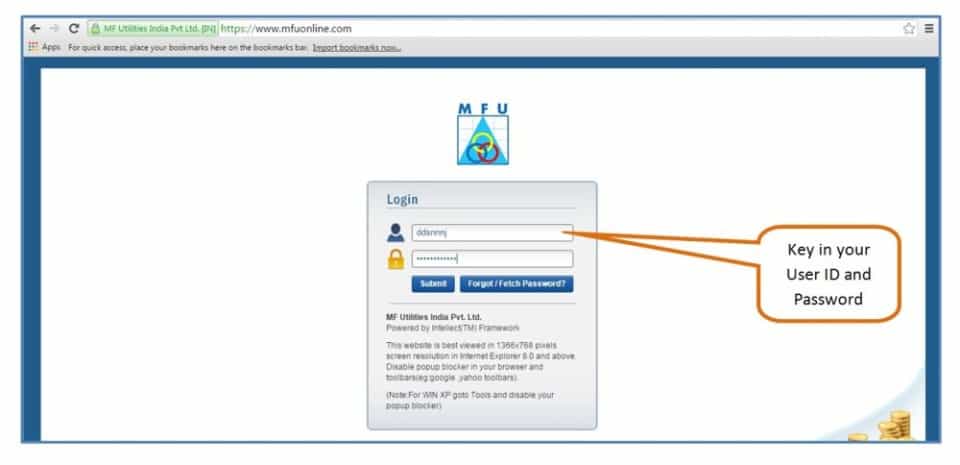 You would be landing in the following page post successful authentication.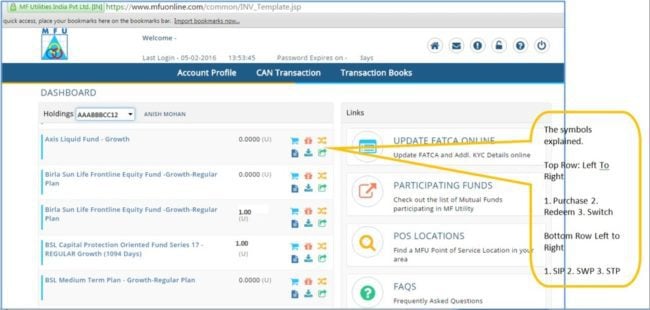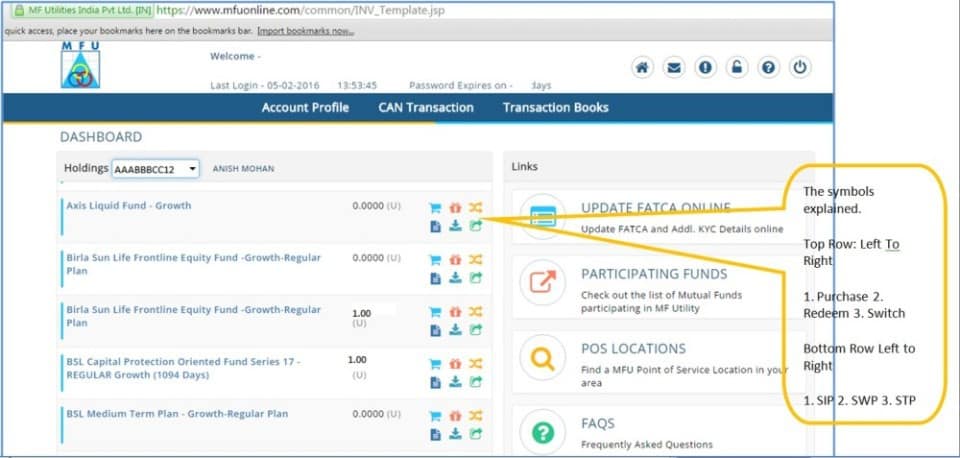 The things that will annoy you in this screen are as follows
The zero holdings in various funds are displayed and you have no way to filter them out.
The number of Units Held is shown with NO Folio Number mentioned.
The number of Units Held is shown with NO value mentioned.
Please make yourself familiar with the symbols as shown in the text beside the screenshot above.
Purchasing Mutual funds
Now, let us see how to transact. You may click on the Symbol pertaining to the action that I have outlined above, OR you may following the navigation as shown below


Let us now try to make a Purchase Transaction. Click on the Purchase menu in the above screenshot or use the symbol beside the fund name as explained above. You would be navigated to the following screen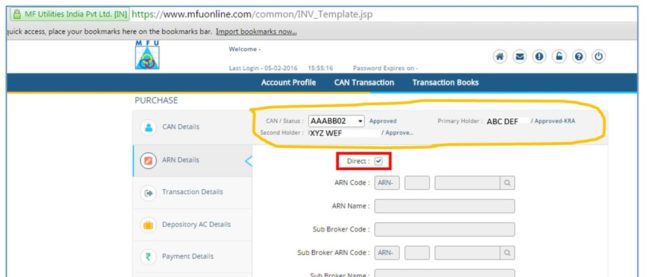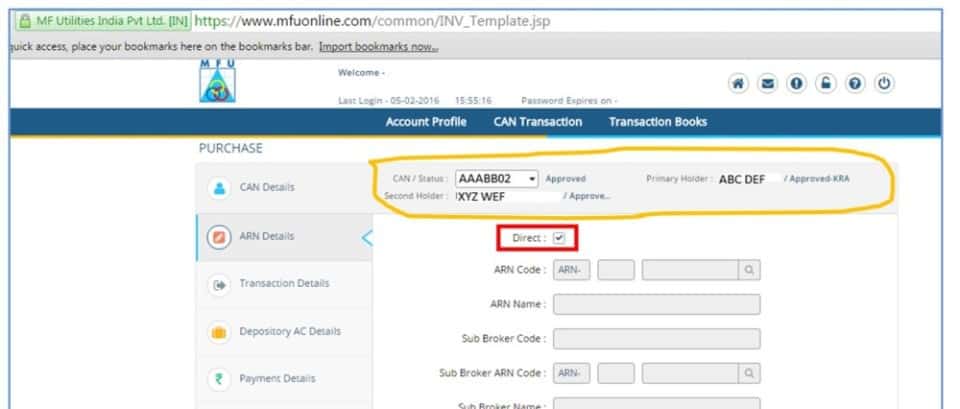 The Orange outline details your CAN. Make sure that the KRA is approved, the names of the account holders are correct
The RED box must be checked if you want to invest in DIRECT Plans
When you are done, click on Proceed button in the bottom right-hand corner.
On clicking Proceed, you are navigated to the following screenshot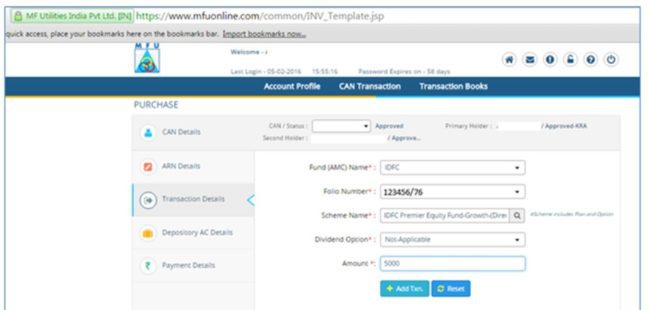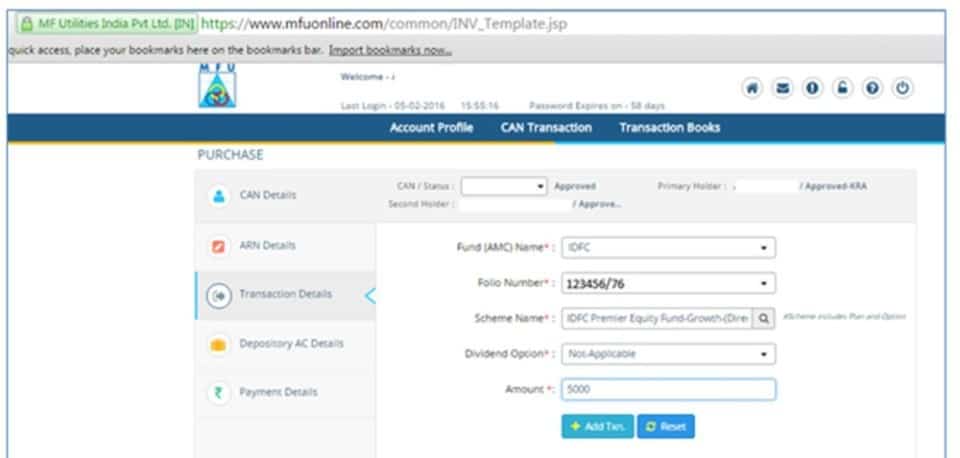 Please do the following actions in the screenshot above
Select the Fund that you wish to invest in
If you have an existing Folio, select the Folio Number. If you have none, you will have an option to create a "New Folio". This option is NOT present if you already have an existing Folio in the combination of names that the CAN is created for.
Select the scheme where you want to invest
Select the Dividend option. If you select Growth option, it automatically changes to Not Applicable
Input the amount that you want to invest
There is some more to this. This screen acts like a shopping basket. If you want to buy more funds in other AMCs, you select the "Add Txn" button. That will create a line item under the Scheme Name section. You can then repeat the steps 1 to 5 outlined above and accumulate more transactions in the queue.
Once you are done adding all your funds across AMCs or same AMC in a single list, the total value of your investment is displayed in bold in the aggregate section. You may now click the Proceed button to move further.
On clicking Proceed, you are navigated to the following screenshot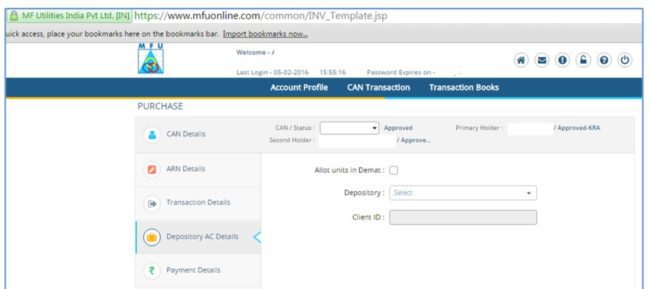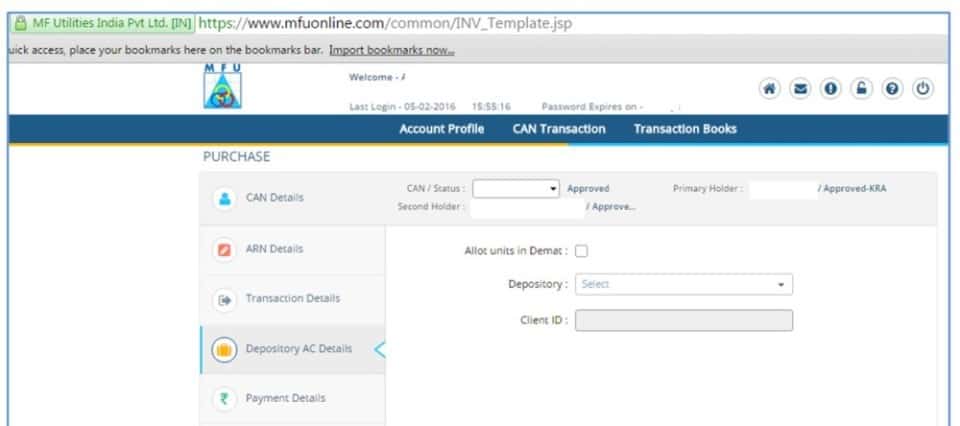 I do not wish to hold Units in DEMAT and hence simply go ahead and Press the Proceed button (not shown, but at the bottom right) to go the next Payment section.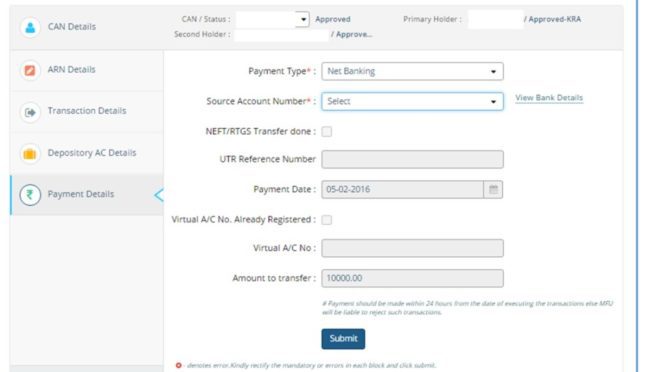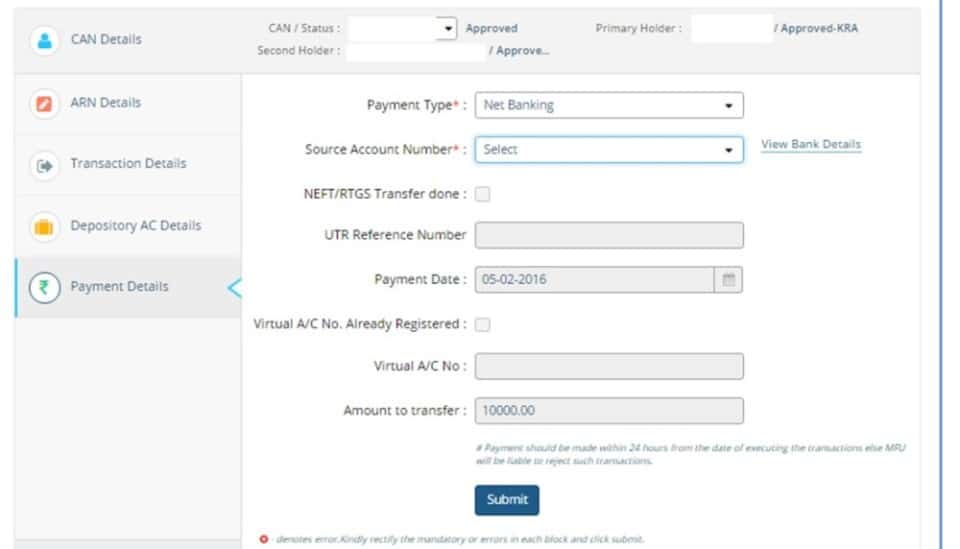 Payment options available
There are 4 payment types that MFU allows you to pay with. They are as follows
Net Banking: On selection of this payment mode, please select the Source Account Number from where you wish to pay. On clicking the Submit button, you will be redirected to the Net Banking site and the experience is self-explanatory and intuitive
NEFT: Please obtain the virtual account number and IFSC for your CAN from clientservices [at] mfuindia.com and set them as NEFT beneficiaries in your Net banking account. The Net banking account to process the NEFT should be similar to the bank accounts set in CAN.
RTGS: Same as above.
PayEezz: This is an authorization to MFU that can be used (

optionally

) to debit funds (SIP or lump sum) from the bank account set in CAN. Essentially this is a one-time mandate which will enable faster transactions without net banking. Please read the section https://www.mfuindia.com/PayEezzFAQ to familiarize with the process and concepts.
Additional notes on payeez
There have been a lot of buzz/thoughts/analysis/misconceptions with people executing transactions through MFU using PayEezz as the mode of payment. I am writing a separate thread to let members know, the behind-the-scenes process with regard to payments using PayEezz. PayEezz is nothing but a One-time Mandate (OTM) registration facility offered by MFU where the registrations and subsequent payments are handled through the NACH platform offered by NPCI. The payment aggregator used by MFU to facilitate PayEezz payments is BillDesk, who uploads all PayEezz debits provided by MFU into NACH platform. There are 3 cut-offs for uploading the debits viz. 10:00 a.m., 11:30 a.m. and 1:30 p.m. If the debit file is uploaded in the 1st and 2nd cut-offs, the customer account is debited on the same day and the funds are made available to the merchant on the next working day. If the debit file is uploaded in the 3rd cut-off, the customer account is debited on the next working day and the funds are made available to the merchant on the day subsequent to the debit day.
Therefore, when a transaction is placed with MFU by 10:00 a.m. and the debit requests are given to Bill Desk by 10:30 a.m. Bill Desk uploads the same in the 11:30 a.m. batch. NPCI would process these transactions and get the customers' bank to Debit the money from the customer's account and provide the funds to Billdesk by END OF DAY. After that Bill Desk will provide the funds to MFU on Next Day (T Plus ONE) which MFU will further transfer the same to the AMCs.
All of the above processes have to be considered ONLY for transactions of Rs. 2 Lakh and above (for Non-Liquid Schemes) and any Amount (Liquid Schemes), where the AMCs will require the actual credit in their accounts prior to allotment.
The above process does not matter if the transaction value (per scheme) is below Rs.2 lacs (for Non-Liquid schemes). Investors will get the NAV of T day if the transactions are submitted with MFU before 3 p.m. cut-off time.
Some members have asked if SIP using PayEezz have any difference or are they akin to the regular transactions? Answer is yes, the SIP transactions are treated at PAR with the regular transactions and hence will have similar processing rules.
All of above is through relentless talking with their team and making notes on my diary. This is my analysis and information that I have assimilated.
After selecting the Payment Type and selecting the Source Bank account number, please fill the relevant information which will be unlocked dynamically. Press the Submit button and a confirmation message will be displayed where you are required to press the confirm button.
Please note, if you have selected Net banking option, you will be redirected to your Net banking site where you will authenticate and pay the funds. The redirection will come back to MFU site and the confirmation number is displayed as a POP UP message. If your POP UP is blocked, this message will not be displayed and the transaction will be deemed as failure, though the funds have been already debited from your bank account. This will not be processed by MFU and refund is sent later after few days.
The important thing to note is the cut off time. On selecting the Payment Type, MFU advises you with the cut off times through a pop up message. The Pop Up message is show below.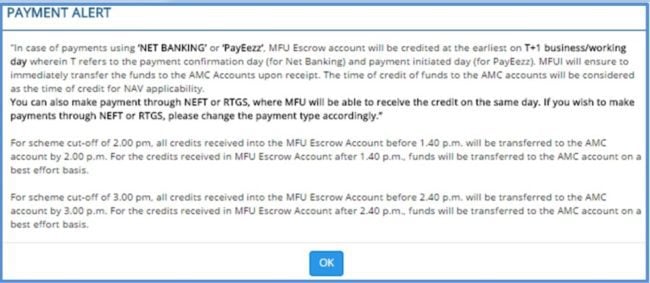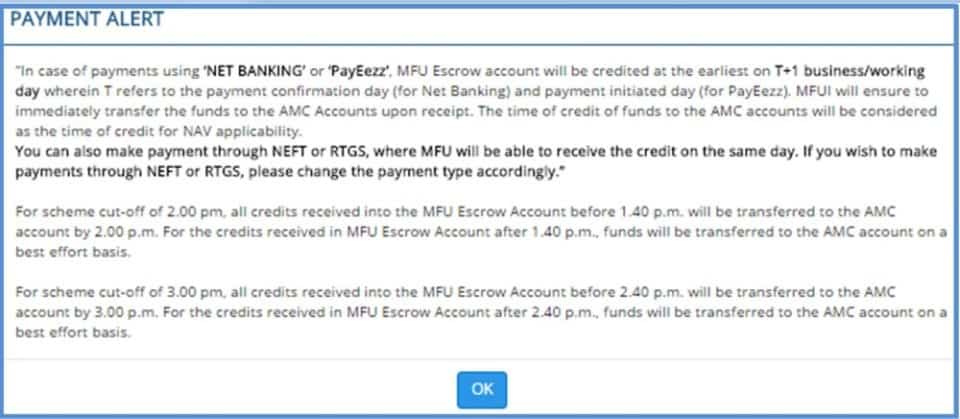 Redemption Process
Let me take you through the redemption process. It's a similar navigation to Purchase and if you follow the Step No. 2, you can reach the redeem screen. Please see screenshot below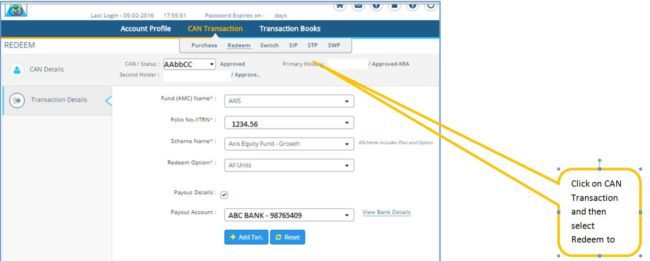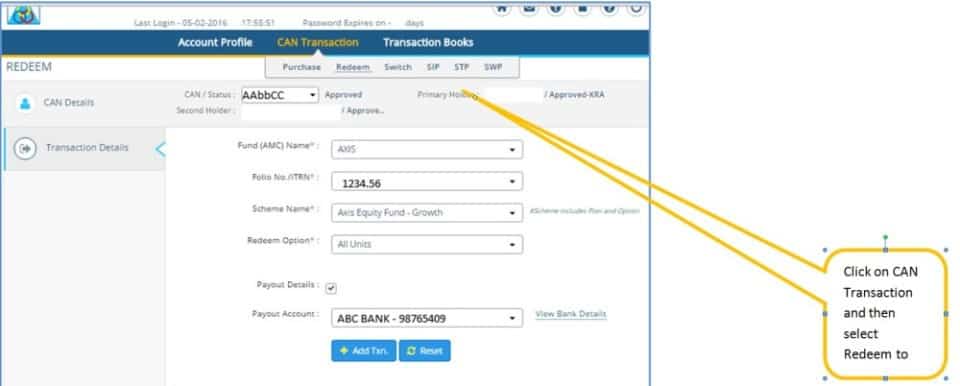 On the redeem screen, please fill the details in the following order
Select the AMC
Select the Folio No.
Select the Scheme from where you wish to redeem
Select if you want to redeem all units or amount specific
Tick the Payout Details if you want to change the bank account where the redemption proceeds are to be credited. It will enable the Payout Account drop-down list
In Payout Account drop-down list, you can select the Bank Account of your choice. The bank Accounts which are present or recorded in the Folio are displayed.
The redemption transactions can also be grouped together and a single transaction can be issued to MFU. MFU will internally break into various AMCs and process the same individually.
Once your transaction is complete, you can check the status of your transaction. Please see the screenshot below


It is important to understand the Group Order No. concept. If you have made multiple transactions in a single basket, like multiple Purchase transactions or Multiple redeem transactions, all these will appear under a Single Group. The group no will denote the basket. Within a group, the individual transactions are displayed through a drill down mechanism as shown by the RED box. So the relationship goes like


Dear Readers, I hope that you have quite an insightful view of MFU Online transactions. There are many dimensions in using MFU online. Let me try to put some pros and cons of the same. All views expressed are personal and need not reflect any bias or aversion to using MFU in any way. You may have faced many issues are may not have faced any issues at all. All statements here are my personal experience and may have no resemblance to any one's experience.
Pros:
The portal gives you the window to transact across multiple schemes and multiple AMCs in DIRECT mode in a single window
It dispenses away with the fright of maintaining multiple logins for AMCs.
It is FREE till now till date and hopefully it will remain that. If you think that your portal of MF is free, read the blog Your online mutual fund investment platform is not free!
Cons:
The dashboard is supposed to a one stop solution for Data Analytics. Users rely heavily on various reports like Equity Debt breakup, Capital Gains report, Portfolio XIRR, Individual Holding XIRR and many more to speak of. The MFU portal lacks the very definition of Data Analytics
Unit Holdings are required to be displayed in more detail, e.g. a list screen detailing Folio No, Fund Name, Units Held, NAV and value, Nominee against the Folio are bare minimum to be displayed.
The Folio Mapping in the dashboard does not come fully mapped to a user's Folio holdings. I had multiple Folios which did not appear in the dashboard. I raised this with clientservices and they promptly solved the issue though
The Unit Holdings are not properly updated/refreshed every day, though if it is raised with clientservices, they generally resolve it promptly
The Net banking payment mode has failed once for me, though I later found that the Pop Up blocker is the cause.
The cut-off time of transaction for applicability of same day NAV is not extremely transparent. Few posts in facebook group Asan Ideas For Wealth have raised these concerns.
Frankly speaking, other than the refinement of the Dashboard and more meaningful display of Holdings, I have yet to have any gripe on MFU Online portal. I needed a portal which would allow me to invest in Mutual Funds in DIRECT mode and keep my entire holdings consolidated. MFU is the right thing and right place to be, though as with any portal, it has its own share of shortcomings.
—–
Please join in thanking Anish in preparing this guide to buy and sell direct mutual funds using MF Utility Portal.
Want to conduct a sales-free "basics of money management" session in your office?
I conduct free seminars to employees or societies. Only the very basics and getting-started steps are discussed (no scary math):For example: How to define financial goals, how to save tax with a clear goal in mind; How to use a credit card for maximum benefit; When to buy a house; How to start investing; where to invest; how to invest for and after retirement etc. depending on the audience. If you are interested, you can contact me: freefincal [at] Gmail [dot] com. I can do the talk via conferencing software, so there is no cost for your company. If you want me to travel, you need to cover my airfare (I live in Chennai)
---
Connect with us on social media
---
Do check out my books
---
You Can Be Rich Too with Goal-Based Investing
My first book is meant to help you ask the right questions, seek the right answers and since it comes with nine online calculators, you can also create customg solutions for your lifestye!
Get it now
. It is also available in
Kindle format
.
---
Gamechanger: Forget Startups, Join Corporate &

Still

Live the Rich Life You Want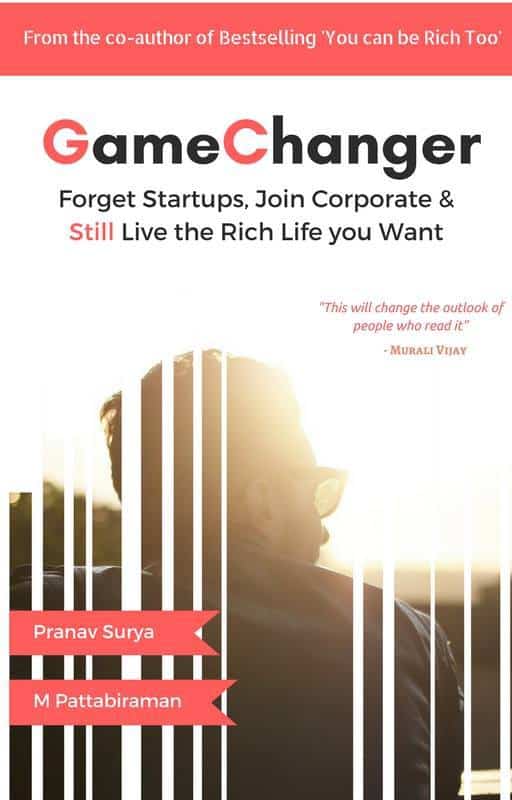 My second book is meant for young earners to get their basics right from day one! It will also help you travel to exotic places at low cost!
Get it or gift it to a youngearner
---
The ultimate guide to travel by Pranav Surya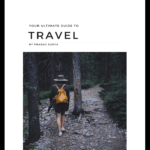 This is a deep dive analysis into vacation planning, finding cheap flights, budget accommodation, what to do when travelling, how travelling slowly is better financially and psychologically with links to the web pages and hand-holding at every step.
Get the pdf for ₹199 (instant download)
---
---
Free Apps for your Android Phone
All calculators from our book, "You can be Rich Too" are now available on Google Play!
---
Install Financial Freedom App! (Google Play Store)
---
Install Freefincal Retirement Planner App! (Google Play Store)
---
Find out if you have enough to say "FU" to your employer (Google Play Store)
---
About Freefincal
Freefincal has open-source, comprehensive Excel spreadsheets, tools, analysis and unbiased, conflict of interest-free commentary on different aspects of personal finance and investing. If you find the content useful, please consider supporting us by (1) sharing our articles and (2) disabling ad-blockers for our site if you are using one. We do not accept sponsored posts, links or guest posts request from content writers and agencies.
Blog Comment Policy
Your thoughts are vital to the health of this blog and are the driving force behind the analysis and calculators that you see here. We welcome criticism and differing opinions. I will do my very best to respond to all comments asap. Please do not include hyperlinks or email ids in the comment body. Such comments will be moderated and I reserve the right to delete the entire comment or remove the links before approving them.