Use this tool to analyse the consistency in performance of your mutual fund holdings with respect to their benchmarks (43 indices from BSE and NSE). You can also use this to evaluate new funds that you want to invest in. This is the fourth version of the  Rolling returns calculator  The present version is an offshoot of the  Multi-Index Mutual Fund SIP/Lump Sum Returns Analyzer 

The following Indices are available for comparison:
BSE Sensex, Cnx Nifty, BSE Small Cap, BSE Mid cap, BSE 100, BSE 200, BSE 500, NSE Mid cap, Nifty Junior, CNX Midcap 50, CNX 100, CNX 500, and many more sectoral indices obtained from Moneycontrol with this tool: Download Historical Data of BSE and NSE Indices
Let us now briefly discuss why a rolling return calculation is important.
Suppose we would like to know, how consistent a mutual fund has performed, how often has it performed better or worse than its benchmark (or a closely related index), how would be go about it?
In a rolling returns calculation, the key output is the frequency of outperformance.
The present version allows evaluating how often the fund has outperformed its benchmark in the interval chosen for analysis. Thus rolling returns analysis allows us to evaluate the consistency in the funds performance over different market conditions.
Note:  Rolling returns analysis is useful but understanding market volatility is more important.
Evaluating rolling returns for last 1-2 years or more only makes little sense to me.  That is you will need to look at a wider time intervals and not each quarter or each month.
If you wish to know more what is rolling returns and why one should calculate it, you can consult this post or this article
Trust me, once you start using rolling returns analysis, your perception of mutual fund performance will change.
Here is a list of analysis based on rolling returns
The following screenshots  of the rolling returns calculator illustrate its features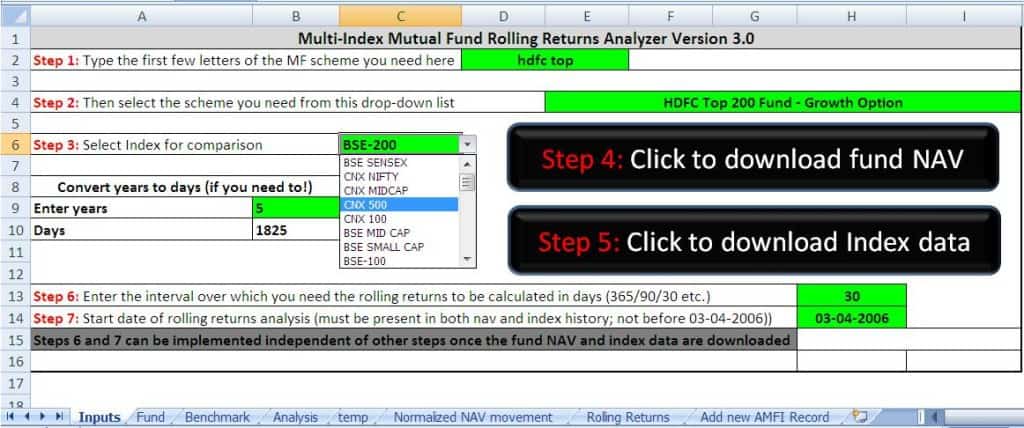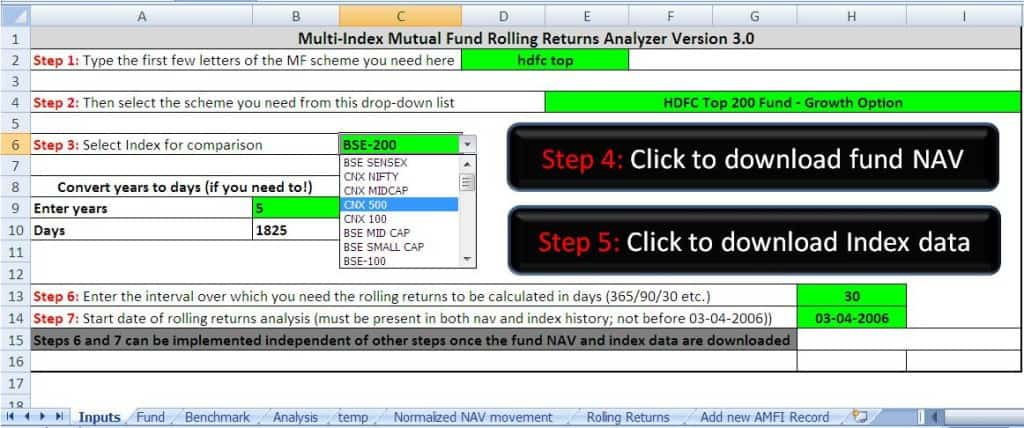 The Input page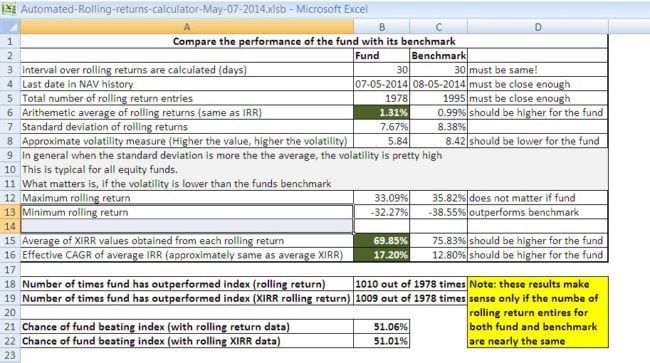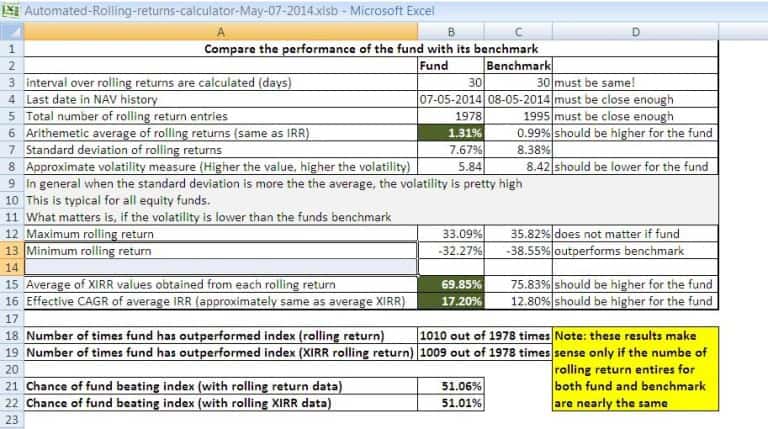 Version 5:  Download the multi-index rolling returns calculator June 2017
version 4:  Download the multi-index rolling returns calculator – Feb 2016
Version 3: Download the multi-index rolling returns calculator – May 2014
Version 2: Download the multi-index mutual fund rolling returns calculator- Aug 2014