Here is an updated step-by-step user guide prepared by Anish Mohan to buy and sell direct mutual funds using the MF Utility portal – a free (as of now) "Transaction Aggregating Portal" run about 25 AMCs jointly.
Whether you are considering getting a new account or already have one, this guide will help you understand the pros and cons of transacting with MF Utility.  This is updated from the previous post: How to buy and sell direct mutual funds using MF Utility Portal, which was hugely popular.
The author Anish may be familiar to many readers as the author of
Reader Story: Arise, Awake and DIY!
Comparison: Options Available For Cashless Transaction
Never Hold Mutual Fund Units in Demat Form!
and several other posts where he has offered inputs. He is also a member of the Facebook group, Asan Ideas for Wealth where we often discuss using MF Utility for transacting.
Feel free to share your experience of using MFU or any questions about the facility.
-=-=-=-=-=-=-=-=-
Dear Readers,
I had written a post back in Feb 2016 in order to make a lite user manual on how to transact online in MF Utility. In this short span of one year, MF Utility has demonstrated impeccable alacrity to change much of their User Interface, Functionality and moreover, even made a major part of their process totally paperless. Unfortunately, this post has not been able to keep up with that speed. With New Year around the corner, I could garner some time from my excruciating schedule to make few updates on this post.
Let me first thank all of you for the overwhelming response to the original post and I am glad that my humble service has come to the benefit of others. I try to be active and respond to queries to the soonest; however, sometimes I would have occasional delays and regret that.
Like previous, let me put a small disclaimer before I start this blog.
I advise readers to use this as a User Manual "only" and not construe this as any advertisement or encouragement to use the portal. The author, Anish Mohan and his mentor Pattu-Sir is putting this article on a pure personal initiative and have no interest or receive (d) any incentive in promoting MFU through this blog. The reader has to apply his or her own discretion to transact on MFU online and is not bound to transact on MFU Online mandatorily for investing in Mutual Funds.
Before you start to transact on MFU Online, I am sure that you have already ticked off the following pre-requisites
You have applied and have been allotted a CAN (Common Account Number). This has become a totally paperless process for individuals who are holding a KRA KYC compliance and is known as eCAN. With eCAN, you can get a CAN allotted to you within 1 business day and there is absolute no need for any paper based activity. There will be a different post on eCAN since it is a different subject.
Post allotment of CAN, you have applied for online access from clientservices [at] mfuindia.com and have secured the Online Access i.e. you have a User ID and Password to log in with.
You have Netbanking access for the bank accounts tagged to the CAN. Other electronic payment options are also available like NEFT, RTGS or PayEezz (more on that later)
You have a computer with an internet browser Internet Explorer or Google Chrome.
MOST IMPORTANTLY, the POP BLOCKER mode is set to OFF in the browser you wish to transact. This means you MUST allow POP Ups to appear in your Browser.
I shall now show how to transact and all my illustrations will be on Google Chrome (purely my personal preference). You use the one that you are comfortable with.
1. Now, let's try to login to MFU. On the browser address, type mfuonline.com and the following page appears.
2. You would be landing in the following page post successful authentication.
The things that will pleasantly greet you in this screen are as follows
The zero holdings in various funds are displayed only when the "Include ZERO holdings" checkbox is ticked and by default this is un-ticked. Therefore you only view your non-zero holdings by default
. Folio Number is displayed now
. Value of the Holding is displayed now
Please make yourself familiar with the symbols as shown in the text beside the screenshot above.
3. Now, let us see how to transact. You may click on the Symbol pertaining to the action that I have outlined above, OR you may following the navigation as shown below
4. Let us now try to make a Purchase Transaction. Click on the Purchase menu in the above screenshot or use the symbol beside the fund name as explained above. You would be navigated to the following screen.
The Orange outline details your CAN. Make sure that the KRA is approved, the names of the account holders are correct
The RED box must be checked if you want to invest in DIRECT Plans. This check box previously was at the top of the screen, however, now they are at the bottom of it. It may not be visible and please use the scroll bar to pull the screen down to make it visible.
When you are done, click on Proceed button in the bottom right-hand corner
5. On clicking Proceed, you are navigated to the following screenshot
Please do the following actions in the screenshot above
Select the Fund that you wish to invest in
If you have an existing Folio, select the Folio Number. If you have none, you will have the option to create a "New Folio". This option is NOW present even if you already have an existing Folio in the combination of names that the CAN is created for. This has been a major change since last time I wrote this post.
Select the scheme where you want to invest
Click on the "Dividend Option" drop-down box to select which option you would like to opt for. If you select the fund with Growth plan in the previous field, this field-value automatically changes to Not Applicable
Input the amount that you want to invest
There is some more to this. This screen acts like a shopping basket. If you want to buy more funds in other AMCs, you select the "Add Txn" button. That will create a line item under the Scheme Name section. You can then repeat the steps a to e outlined above and accumulate more transactions in the queue. However, there is a maximum cap of 12 transactions that can be put in a single order.
Once you are done adding all your funds across AMCs or same AMC in a single list, the total value of your investment is displayed in bold in the aggregate section. You may now click the Proceed button to move further.
6. On clicking Proceed, you are navigated to the following screenshot
I do not wish to hold Units in DEMAT and hence simply go ahead and Press the Proceed button to go the next Payment section.
7. On clicking Proceed, you are navigated to the following screenshot.
There are 4 payment types that MFU allows you to pay with. They are as follows
Net Banking: On selection of this payment mode, please select the Source Account Number from where you wish to pay. On clicking the Submit button, you will be redirected to the Net Banking site and the experience is self-explanatory and intuitive
NEFT: The Virtual Account Number (more later) for every CAN can be auto-deduced by every CAN holder basis a simple rule. This matter has been well explained in the link https://www.mfuindia.com/NEFT-RTGS.
Let me spend some time of the explanation of VAN.
MFU intends to appoint multiple collection bankers with whom collection accounts will be maintained. Currently, ICICI and Kotak Bank are enabled. Few more banks will be added in the near future.
To avoid, unidentified credits being received in the MFU collection accounts, MFU decided not to disclose the actual account numbers but to provide Virtual Account Numbers (VAN) for the investors desiring to remit the payments by way of NEFT or RTGS. To be unbiased to the collection banks, MFU system is designed to generate a VAN randomly with the beneficiary account details of the MFU collection account managed by ANY of the active MFU collection banks when the investor does the transaction for the 1st time. For e.g. if ICICI Bank, the VAN would be MFIB+CAN, if Kotak Bank, the VAN would be MFKK+CAN.
Once the VAN is generated and provided to the investor, he can register the same as a beneficiary in all the bank accounts he has through the respective Bank' net banking logins. This then becomes a permanent beneficiary account for the customer to make all NEFT/RTGS payments with regard to MFU transactions.
With the VAN already available, the customer is free to initiate the payment either before or after the transaction is initiated.
If the payment is already initiated and the UTR is available, he should check the box "NEFT/RTGS Transfer done" and specify the UTR (optional) and VAN (mandatory).
If the payment is not yet done at the time of the transaction, he should only check the box "VAN already registered" and mention the VAN (mandatory) to which he will be making the payment. If he doesn't check the box "VAN already registered", the system will again generate a fresh VAN which may or may not be the same provided during the 1st transaction. In such case, the investor has to make the payment to the NEW VAN and NOT the OLD VAN. Else the credit will not be matched to the transaction.
So, there are effectively two modes of payment. Pre and Post. In Pre, you do NEFT first and then make the transaction in MFU. In Post, you make the transaction in MFU and then transfer the funds to VAN
Many would find the POST to be better than PRE. In PRE, Say you made the NEFT. Money has gone out. Then Electricity snaps off Or broadband goes down. Then you would have to run errands to finish the rest!
PayEezz: This is an authorization to MFU that is required to be provided to debit funds from the bank account set in CAN. Please read the section https://www.mfuindia.com/PayEezzFAQ to familiarise with the process and concepts.
Additional notes on PayEezz
There have been a lot of buzz/thoughts/analysis/misconceptions with people executing transactions through MFU using PayEezz as the mode of payment. I am writing a separate thread to let members know, the behind-the-scenes process with regard to payments using PayEezz. PayEezz is a One-time Mandate (OTM) registration facility offered by MFU where the registrations and subsequent payments are handled through the NACH platform offered by NPCI. The payment aggregator used by MFU to facilitate PayEezz payments is BillDesk, who uploads all PayEezz debits provided by MFU into NACH platform. There are 3 cut-offs for uploading the debits viz. 10:00 a.m., 11:30 a.m. and 1:30 p.m. If the debit file is uploaded in the 1st and 2nd cut-offs, the customer account is debited on the same day and the funds are made available to the merchant on the next working day. If the debit file is uploaded in the 3rd cut-off, the customer account is debited on the next working day and the funds are made available to the merchant on the day subsequent to the debit day.
Therefore, when a transaction is placed with MFU by 10:00 a.m. and the debit requests are given to Bill Desk by 10:30 a.m. Bill Desk uploads the same in the 11:30 a.m. batch. NPCI would process these transactions and get the customers' bank to Debit the money from the customer's account and provide the funds to Billdesk by END OF DAY. After that Bill Desk will provide the funds to MFU on Next Day (T Plus ONE) which MFU will further transfer the same to the AMCs.
All of the above processes have to be considered ONLY for transactions of Rs. 2 Lakh and above (for Non-Liquid Schemes) and any Amount (Liquid Schemes), where the AMCs will require the actual credit in their accounts prior to allotment.
The above process does not matter if the transaction value (per scheme) is below Rs.2 lacs (for Non-Liquid schemes). Investors will get the NAV of T-day if the transactions are submitted with MFU before 3 p.m. cut-off time.
Some members have asked if SIP using PayEezz have any difference or are they akin to the regular transactions. The answer is yes; the SIP transactions are treated at PAR with the regular transactions and hence will have similar processing rules.
After selecting the Payment Type and selecting the Source Bank account number, please fill the relevant information which will be unlocked dynamically. Press the Submit button and a confirmation message will be displayed where you are required to press the confirm button.
Please note, if you have selected Net banking option, you will be redirected to your Net banking site where you will authenticate and pay the funds. The redirection will come back to MFU site and the confirmation number is displayed as a POPUP message. If your POP UP is blocked, this message will not be displayed and the transaction will be deemed as a failure, though the funds have been already debited from your bank account. 
You need not get concerned even if this failure has occurred since MFU has made a significant improvement in this regards which are as follows
The transaction moves forward irrespective of the payment link failure as we time-stamp the transaction on confirmation from the investor. This was done to ensure that the customer is not inconvenienced due to link failures after the account getting debited.
The money is transferred to the AMC upon receipt and not refunded to the investor as the transaction has been successfully time-stamped already.
The important thing to note is the cut off time. On selecting the NEFT Payment Type, MFU advises you to credit the Virtual Account Number within 24 hours of the transaction timestamp.
8. Let me take you through the redemption process. It's a similar navigation to Purchase and if you follow the Step No. 2, you can reach the redeem screen. Please see screenshot below
On the redeem screen, please fill the details in the following order
Select the AMC
Select the Folio No.
Select the Scheme from where you wish to redeem
Select if you want to redeem all units or amount specific
Tick the Payout Details if you want to change the bank account where the redemption proceeds are to be credited. It will enable the Payout Account drop-down list
In Payout Account drop-down list, you can select the Bank Account of your choice. The bank Accounts which are present or recorded in the Folio are displayed.
The redemption transactions can also be grouped together and a single transaction can be issued to MFU. MFU will internally break into various AMCs and process the same individually.
9. There are other Transaction Types which are Switch, SIP and STP. I am not going into details of these transaction types since the Switch, SIP and STP are derivatives of Purchase and Redeem.
10. A new module has been introduced in MFU Online portal. You can now raise complaint query and feedback in the portal and this is resolved online. There is no need to send mails to clientservices team and the raised complaints are interacted via the view option in the following screen.
11. Once your transaction is complete, you can check the status of your transaction. Please see the screenshot below.
It is important to understand the Group Order No. concept. If you have made multiple transactions in a single basket, like multiple Purchase transactions or Multiple redeem transactions, all these will appear under a Single Group. The group no will denote the basket. Within a group, the individual transactions are displayed through a drill-down mechanism as shown by the RED box. So the relationship goes like this.
Dear Readers, I hope that you have quite an insightful view of MFU Online transactions. There are many dimensions in using MFU online. Let me try to put some pros and cons of the same. All views expressed are personal and need not reflect any bias or aversion to using MFU in any way. You may have faced many issues are may not have faced any issues at all. All statements here are my personal experience and may have no resemblance to any one's experience.
Pros:
The portal gives you the window to transact across multiple schemes and multiple AMCs in DIRECT mode in a single window
It dispenses away with the fright of maintaining multiple logins for AMCs.
It is FREE till now till date and hopefully, it will remain that.
Cons:
The dashboard is supposed to a one stop solution for Data Analytics. Users rely heavily on various reports like (this is now provided as a pie chart), Capital Gains report, Portfolio XIRR, Individual Holding XIRR and much more to speak of. The MFU portal lacks the very definition of Data Analytics. I have got in touch with MFU team and have received the response as "We have limitations in providing the XIRR, Capital Gains etc. as we are dependent on the RTAs for providing the same. We need to have the related parent transaction which is being withdrawn in order to compute and provide these details and apparently, the parent transaction could be an older transaction or a transaction which was not done through MFU at all. While are efforts are on with the RTAs to at least collect these details through web-services on demand from the customer, looks like it may take some time before we can provide these"
This is now displayed and is a major change since last time.
The Folio Mapping in the dashboard does not come fully mapped to a user's Folio holdings. I had multiple Folios which did not appear in the dashboard. I raised this with client services and they promptly solved the issue though
The Unit Holdings of Franklin Templeton come with a lag which is due to some odd working mechanism of Franklin, though if it is raised in Connect module, they generally resolve it promptly
The Net banking payment mode has failed once for me, though I later found that the Pop-Up blocker is the cause. This has gone through a major overhaul. If the transaction has debited your account, no need to worry. It will get reconciled. If the transaction has NOT debited your account, there is a payment retry option that MFU provides by which you can re-initiate the payment.
This is now defined as within 24 hours from the transaction timestamp.
These concerns of mine have been ameliorated long back. Although there is some room for enhancement like Capital Gains reports, designing a Transaction wish-list to be executed at a later stage etc. I needed a portal which would allow me to invest in Mutual Funds in DIRECT mode and keep my entire holdings consolidated. MFU is the right thing and right place to be, though as with any portal, it has its own share of shortcomings.
-=-=-=-=-=-
Please join me in thanking Anish for this awesome guide.
You Can Be Rich Too

My new book with PV Subramanyam, published by CNBC TV 18
The book comes with 9 online calculator modules to create your own financial plan.
It also has detailed selection guides for equity and debt mutual funds.
Amazon (₹ 347)
Kindle (₹ 244.30)
Infibeam ₹ 280 with Coupon BS10
Googe Play Books App Store (₹ 244.30)
What Readers Say
This is perfect book on personal finance. Very nicely explained about taxation about debt mutual fund. Topics like early investing and asset allocation are very well explained. – Mahesh Deshmukh

Highly Recommended For anyone who wishes to take control of his/her finance this book is a must read. Very simply put, even an amateur in finance will be able to understand and implement. The author genuinely attempts to inculcate the habit of investing among the people who have the ability to invest but refrain from doing it, either due to lack of time , interest or understanding!. The message from the book is " Investment done without setting a goal/ objective is like leaving for a trip without knowing the destination, not everytime the end result will be promising. Hence, it's important to invest in a planned & disciplined manner." A read is highly recommended ????

A must book for everyone who wants to take control of personal finance. Nice explanation of how a debt mutual fund works. Bonds trading and indexation benefits in high inflation years were something new I learnt. After reading this book you will be able to easily choose any funds, because you will know what that fund does or how that fund works 

 
Read all reviews here: Amazon Reviews
Subscribe and join the freefincal Youtube community!
 Don't like ads but want to support the site? Subscribe to the ad-free newsletter! 
Want to conduct a sales-free "basics of money management" session in your office?
I conduct free seminars to employees or societies. Only the very basics and getting-started steps are discussed (no scary math):For example: How to define financial goals, how to save tax with a clear goal in mind; How to use a credit card for maximum benefit; When to buy a house; How to start investing; where to invest; how to invest for and after retirement etc. depending on the audience. If you are interested, you can contact me: freefincal [at] Gmail [dot] com. I can do the talk via conferencing software, so there is no cost for your company. If you want me to travel, you need to cover my airfare (I live in Chennai)
---
Connect with us on social media
---
Do check out my books
---
You Can Be Rich Too with Goal-Based Investing
My first book is meant to help you ask the right questions, seek the right answers and since it comes with nine online calculators, you can also create customg solutions for your lifestye!
Get it now
.  It is also available in
Kindle format
.
---
Gamechanger: Forget Startups, Join Corporate &

Still

Live the Rich Life You Want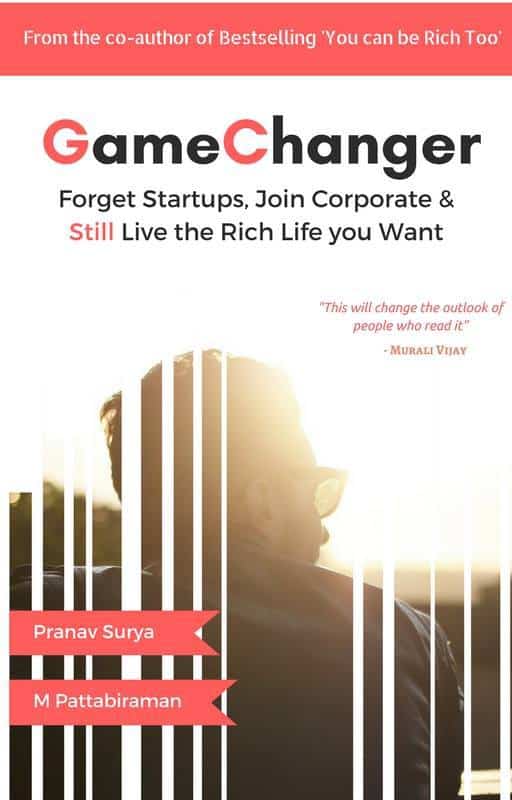 My second book is meant for young earners to get their basics right from day one! It will also help you travel to exotic places at low cost!
Get it or gift it to a youngearner
---
The ultimate guide to travel by Pranav Surya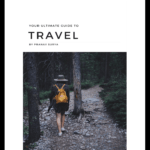 This is a deep dive analysis into vacation planning, finding cheap flights, budget accommodation, what to do when travelling, how travelling slowly is better financially and psychologically with links to the web pages and hand-holding at every step.  
Get the pdf for ₹199 (instant download)
---
---
Free Apps for your Android Phone
All calculators from our book, "You can be Rich Too" are now available on Google Play!
---
Install Financial Freedom App! (Google Play Store)
---
Install Freefincal Retirement Planner App! (Google Play Store)
---
Find out if you have enough to say "FU" to your employer (Google Play Store)
---
About Freefincal
Freefincal has open-source, comprehensive Excel spreadsheets, tools, analysis and unbiased, conflict of interest-free commentary on different aspects of personal finance and investing. If you find the content useful, please consider supporting us by (1) sharing our articles and (2) disabling ad-blockers for our site if you are using one. We do not accept sponsored posts, links or guest posts request from content writers and agencies.
Blog Comment Policy
Your thoughts are vital to the health of this blog and are the driving force behind the analysis and calculators that you see here. We welcome criticism and differing opinions. I will do my very best to respond to all comments asap. Please do not include hyperlinks or email ids in the comment body. Such comments will be moderated and I reserve the right to delete the entire comment or remove the links before approving them.