Use this moving average calculator to get an approximate quantitative estimate of current market levels.  It calculates two moving averages  (over durations that can be varied by the user) of  30+ BSE and NSE market indices.
My aim in making this tool is to get an idea of long-term market trends following the method described by Jim Otar in his 'Hurricane Warning Chart'
http://www.retirementoptimizer.com/missworst.htm
The sheet will not allow you to exit the at the top and enter at the bottom.
DISCLAIMER :
Do not use this as a trading tool
Do not make investment decisions based on this data alone. This is a sheet made out of academic interest.
Recognise that understanding moving average movements will take time and you will need to develop your own interpretations.
A moving average or a simple moving average is a technical  analysis tool in which the actual index data is compared with its average taken over a period of time.
For example, a monthly moving average is one in which the monthly return is calculated, with the duration rolled over by one business day.
For example, if you have data between 1st Jan 1990 to present,
You would calculate the average index value between 1st Jan 1990  – 30th Jan 1990, then between 2nd Jan 1990 – 31st Jan 1990, then 3rd Jan 1990 – 1st Feb 1990 and so on.
The average data is plotted with the end-date of the interval (30th Jan, 31st Jan, 1st Feb ….).
In my investment strategy analysis of IDFC Dynamic Equity Fund, I had shown the 200 day daily moving average of the Nifty.
When the Nifty is above the 200-DMA, it represents an upward trend and when the Nifty is below the 200-DMA, it represents a downward trend. In a sideways market, the Nifty could repeatedly cross the DMA either way.
Jim Otar suggests the following with two DMAs:
1) 5-month DMA (blue line)
2) 12-month DMA (red line)
Bearish trend: If the blue line goes below the red line, when the red line is heading south (red arrows below)
Bullish trend: If the blue line goes above the red line, when the red line is heading north (green arrows below)
This is the result for the CNX Nifty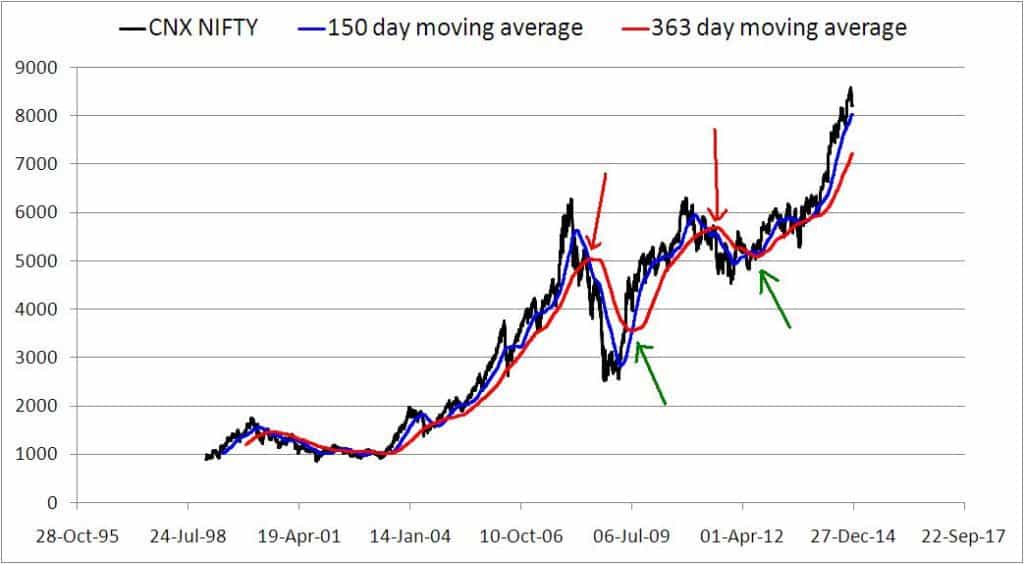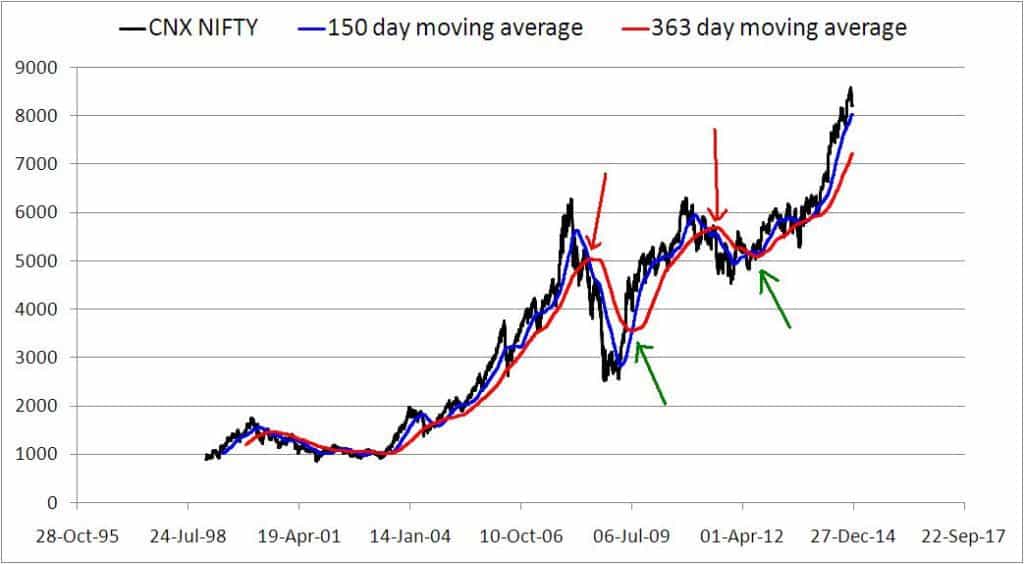 As mentioned above, moving averages do not allow you to catch market peaks and bottoms exactly but gives an overall trend, which I think will help limit portfolio volatility for the long-term investor at least from an emotional perspective.
Is this relevant for mutual fund investors? Should we not let the fund manager take calls for us?
Perhaps, yes. But fund managers may or may not be able to exit equity whenever they want. So I think it is up to the investor to take some tactical calls in moderation.