If I choose a fund with a solid track record, what are the chances that it would deliver in future? Does past performance matter?  This is a question on the minds of most mutual fund investors. Let us try and answer this question using annual returns of all diversified equity funds from Value Research.
This post was first published on April 10th 2015. I have now included updated results. The text in brown has been added now.
Value Research provides annual returns for the last 12 years (as of this moment. It can be temperamental!). So I have calculated the CAGR of the first 6 years and plotted it against the CAGR of the next 6 years.
I recognize the results of such analysis could depend on the duration chosen (and it is!) . It can also depend on market movements.
Results based on annual returns from 2003-2014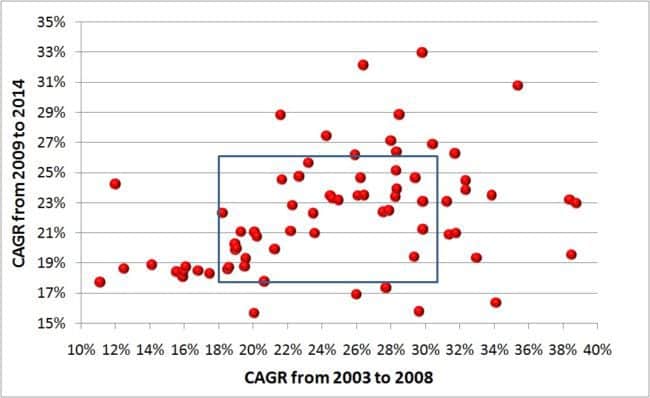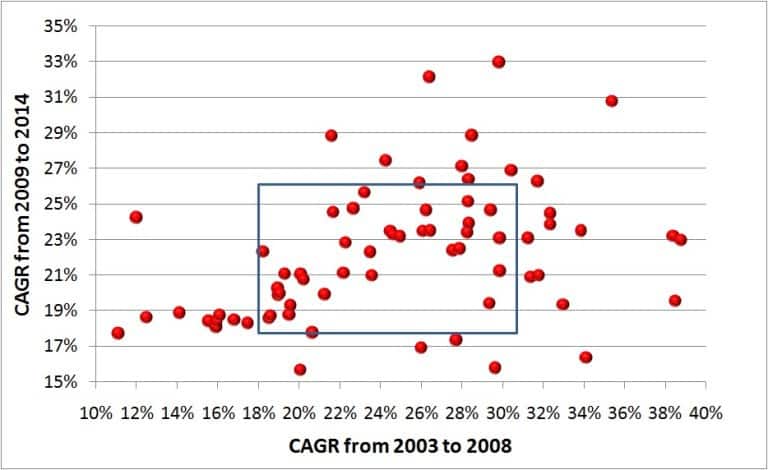 Notice that the data points slope upwards from left to right. So the correlation between past and future is non-zero.
The rectangle represents all funds within one standard deviation, either side of the average for the first 6 years (length of the rectangle) and for the next 6 (breadth of the rectangle).
A good 48% of funds are inside the box (34 out of 71 funds). That is, if the first 6 year CAGR was within one standard deviation from the average, there is a 48% chance that the next 6 year CAGR will also be within one standard deviation from the average.
Or speaking in terms of star ratings, using VR online's methodology, a fund rated 3-star or 4-star after the first 6 years has 48% chances of being rated a  3-star or 4-star fund after the next 6 years.
It is also seen that 1-star or 2-star based on first 6 years performance ( points to the left of the rectangle) has a high probability of being rated the same after the next 6 years.
This means that past performance does have a significant influence on future performance for the data set studied.
The problem is only with 5-star funds. A fund rate 5-star after the first 6 years can just about be rated anything after the next 6-years.
Results based on annual returns from 2004-2015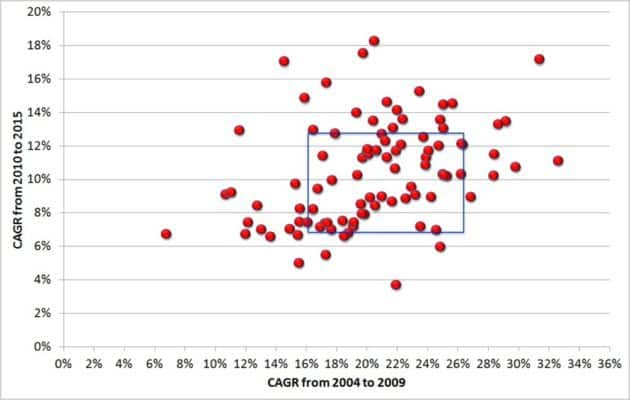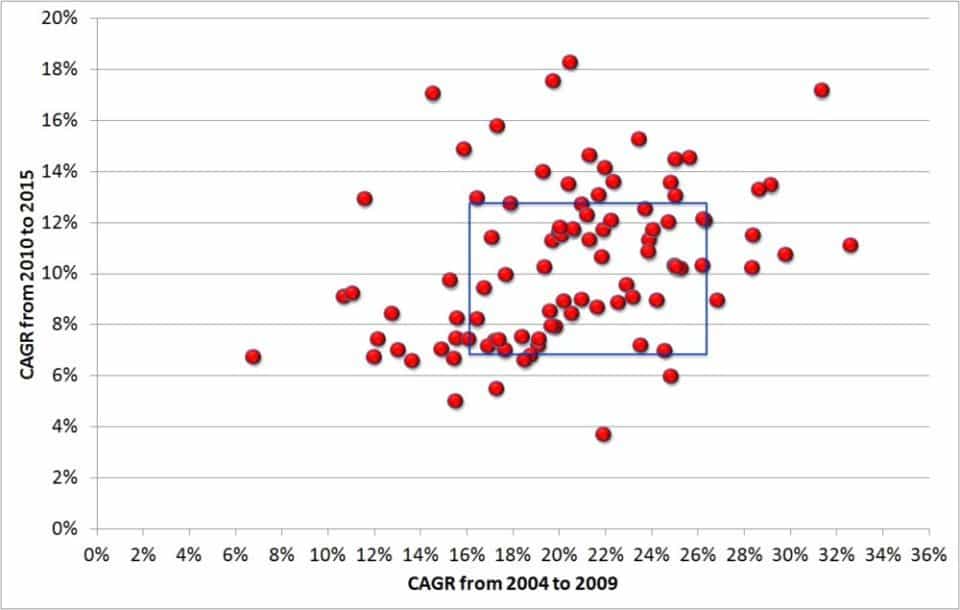 Now 48 out of 95 funds are within the rectangle. That is ~ 50%. So the general conclusions made above are still valid. In fact, in this window some of the top performers over the first six years  (to left of the box) have continued to do well in the next six.
Many average performent in the first six (funds above the box) have gone on to become top performents in the next six.
However, the boundaries of the box have changed greatly!
2003-2014
first six years: 18% – 31%
next six years: 18% -26%
They had a common lower bound which is purely accidental.
2004-2015
first six years: 16% – 27%
next six years: 7% -13% (that is huge downward shift!)
Yet another example of how volatile equity can be! Nonetheless, the central observation from this analysis is,
Funds with a 'reasonable' history of past performance have a pretty decent shot at reproducing that in future. Reasonable here refers to within one standard deviation of the average.
Or in other words, average performers have at least a 50% chance of remaining an average performer in future. Seems obvious when backed with some data! Now, this sounds terrible! However, for investors who want minimum maintenance portfolios, this is good news. While screening for mutual funds, they can cast a wide net (eg. average and above performance)
Investors who crave to be invested in the 'best' funds,  will have to churn, perhaps frequently, in order to satisfy their craving.
Corollary: Expecting less from equity allows me (and Ashal Jauhari) to invest calmly with peace of mind and more importantly lower (not zero) portfolio management.