As someone who knows very little about home loans, the popularity of the titular question never fails to surprise me.
When this question was asked again in the facebook group, Asan Ideas for Wealth (AIFW), I learnt something new. Here is an account of my understanding. I thank the members of AIFW for their insight.
Sometime back, on Subras request, I made a prepay home loan or invest for retirement calculator and realised that unless one wishes to retire early, there is no flaming hurry to pre-close a loan.
First let look at this issue from both angles
Invest and let the loan run its course 
After all, salaries will increase and inflation, which is comparable to home loan rate, will slowly, but surely diminish the value of the EMI.
There are more obvious incentives to continue the loan. Even if there is no tax benefit from the principal component, since 80C is maxed out for most, the interest component is eligible for a decent tax deduction. The tax save can make a difference if invested
Since the interest component is high for the first half of the loan duration, it makes sense to let the loan run at least for half the stipulated period and then pre-pay it.
Investing now will maximize the effect of compounding. What if you cannot build a large enough corpus for retirement or fund other goals?
 Notice that all arguments are mathematical in nature.
Prepay, close out the loan asap and then invest
Why be in debt? Feels like a sword hanging over the neck. I can't think clearly. My parents are urging me to get out asap.
Why not actually own the home asap and then invest?
What if interest rates increase? I have a high enough emi as it is!
 Is the 3rd argument the only mathematical one?
Let us now look at an imaginary but typical scenario.
Akash is a 30 year old, married and with a 2 year old daughter.
Gross annual income ~ 15.4 Lakhs. Annual growth 10%
Monthly expenses ~ Rs. 40,000; Inflation 8%
Home loan (self-occupied): 60 Lakhs; Rate: 10%; Tenure 20 year; EMI: Rs. 57,901;
Retirement 30 years away
Daughter education 16 years away
Daughters marriage 23 years away
Section 80C limit: 1 Lakh  (home loan principle is assumed to be not part of deduction)
Section 24(b) limit (home loan interest deduction): Rs. 1, 50,000
Akash has now obtained a lump sum of Rs. 3 lakh. Should he invest it or use it for pre-paying?
For both scenarios, we assume that
Akash invests his salary after accounting for expenses, EMI, 80C deductions, tax. The tax saved from section 24(b) is also invested.
Akash continues such investing after the end of the loan up to retirement
The investment is assumed to grow each year at the average rate of 10% and when the need arises –daughters education 16 years later; wedding 23 years later – redemptions are made from the same account.
Only long term goals are considered.
Which is better? Investing or prepaying?
Have a look and judge for yourselves. I am automating this Excel sheet so that inputs can be varied at will.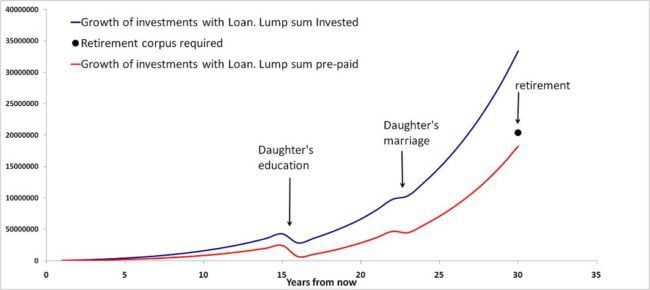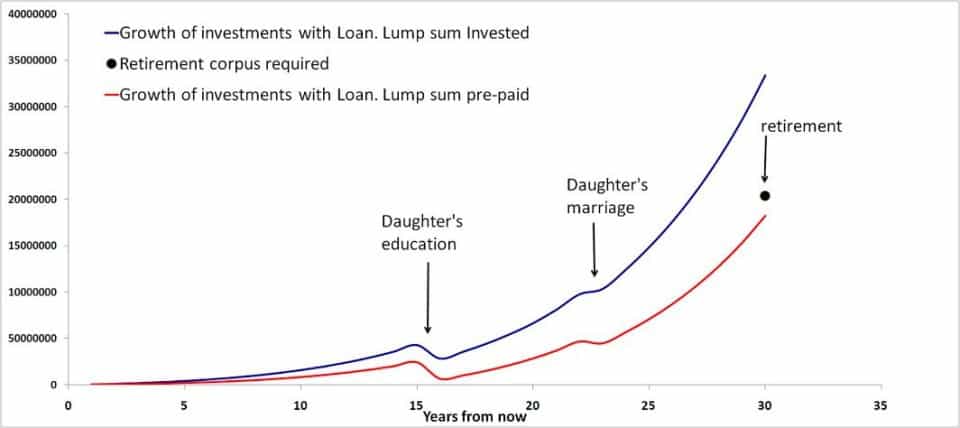 If the lump sum was pre-paid, Aksash will fall short of the corpus required for financial independence. Please don't argue, not by much! Remember the numbers used here are imaginary. Until you punch in your own numbers, you will not know for sure.
Had he invested the lump sum, he would have got a corpus much higher than that required.
Had Akash, postponed the purchased of the house, would have done much better? Perhaps – shall include this option in the calculator to find out.
So which is better?
If we look only at the graph, Investing the lump sum is better.
Not because he will fall short of the retirement corpus needed, but because it is not practical to assume that future cash inflows will be used for investing! We cannot be so sure about the future.
When you have money, invest – right now! Do not assume you will invest from your higher salary 5 years later. That may happen may not happen. Investing now, will get time on your side.
 Prepaying is not terrible!
Frequent prepaying makes sense only when the EMI is very large – more than 50% of net take-home pay.  In such a case the person will feel stifled and it makes sense to at least shorten the suffering. So pre-paying in chunks, every few months does have an appeal.
When our salary is accounted for completely by EMI, expenses and taxes, we cannot
refill our emergency fund if it is used!
So  even this suggestion is mathematical and not just governed by emotions. So even the sword above our neck feeling is grounded in math for those with high EMIs!
The point is, analyse your financial situation holistically before making a decision. There is no need to choose one or the other (investment or prepayment).
You can always follow the middle path – invest some, prepay some.
In any case, remember to consider all your goals in the analysis. Give me a few days to automate the analysis tool.