The physics PhD students of IIT, Madras invited me to speak on the rudiments of personal finance in their weekly meet on Oct. 24th.
Here is a transcript of the talk.  Since I spoke impromptu (following an outline!), I cannot reproduce everything that I said, but will try to list the important points covered.
Was delighted to note that the hall was packed. It is so refreshing to find youngsters interested in a talk on money management. I Am happy that this happened at a time when their scholarship has increased: 25K pm (from 16K pm)  for the first two years and then 28K (from 18K pm) for next three years.
1. Introduction
How would you like to change the way your family has always looked at money? That was the central theme of the talk.
 2. Fortifications: Building barriers
If a change has to make its mark, it has to permanent. Thus just like any construction, one has to begin with fortifications.
 Life Insurance
A research student died while on a trek recently. Their parents were entirely dependent  on him. They knew this. So no effort was needed to convince them about the need for a term life insurance policy.
Related Post:  How to Buy a Term Life Insurance Policy
 Health insurance
Same here. These were not school kids. They were postgraduates. So they knew the value of health insurance.
Subra suggested that I talk to them about the importance of getting their parents health cover. Done.
Related post: How to Buy a Health Insurance Policy
Accident insurance
This was suggested by Mr. R. Balakrishnan when I posted about this talk in the facebook group, asan ideas for wealth.
Emergency fund
See below
Related post: How Long Should I Maintain an Emergency Fund?
Will
Urged them to get their parents to write a will. Again a suggestion by Subra.
 3. Analysing Cash Flow
I suggested that the students do the following with their monthly scholarship
For at least 1 year
i) 30% fees + food + needs
ii) 30% family or to the bank (say a flexi-deposit) – partly to build an emergency fund
iii) 30% for long-term investment (money you will not touch for many, many years) – see below
iv) 10% buffer for wants … from time to time
After about an  year or when emergency fund is close to 1 lakh:
i) 30% fees + food + needs
ii) 30% family or  partly towards long-term investment
iii) increase long-term investment (money you will not touch for many, many years) – see below
iv) 10% buffer for wants … from time to time
 There was unanimous agreement that this was possible.
 4. Frugal Living
Do not connect money and happiness.
Do not take your degree and future positions too seriously and buy stuff because of some 'status' nonsense or because of peer pressure
5. Never take a loan
Except a home loan and that too only if necessary.
 6. Say no to credit cards
If you have a credit card, you need to pay it in full each month, anyway. Meaning you need to have the money ready. So why have one at all?
Ignore all the perks associated with credit cards. They do not account for much.
You do not need a credit card to keep track of your expenses
 7. Say no to any kind of insurance products
Except pure term life insurance. Enough said
8. Do not talk to an insurance agent or bank relationship manager
If you need something from them, tell them what you want. Never ever ask an intermediary, what to do
9. Do not buy land as investment
It is not liquid, not well regulated, demand is artificial etc. etc.
10. Do not buy gold as investment
 Since I was talking to physicists I could afford to say the following.
Gold glitters simply because gold is a metal. An electric field cannot exist inside a metal. Otherwise, the electrons inside would flow!
When light (which contains a fluctuating electric field) shines on a piece of gold, or for that matter any piece of metal, the nimble electrons move around like a gooey fluid and reflects most of the light. Some of it gets absorbed. So the resulting colour is golden-yellow. No big deal!
If our eyes could sense ultraviolet light instead of the visible light (VIBGYOR), gold would appear like a slab of glass because metals are transparent to ultraviolet light.
 11. Give money to charity
Help others in need.  When you are in need, someone would turn up to help you. That is my strongest religious belief.
 12.  Understanding long-term investments –  the chai shop analogy
Only one persons parent ( out of nearly 100)  invested in stocks. No surprises here I guess.
To introduce them to the idea of stocks and bonds, I used the following analogy.
Imagine a tea stall outside the hostel gate. You frequent it each day, you like the owner and you like the tea even more. One day he says he has to shut shop because he has huge debt.
You want to bail him out.
You have the following choices.
1)  Lend him say 50K and ask for 8% interest each year for 10 years. This is called a bond. Since he is in your debt, this is called a debt instrument.  If the person is trustworthy there is no credit risk involved.
Whether he gets a profit or not, he has to give you the 8% interest. So there is no 'risk' for your investment in the sense that payments will be regular.
You reinvest the payments in the same shop and get the same interest or say, put it in a bank FD
2) You give him 50K but tell him that you want a share of the profits. That is you own the company. This is called equity. If there is a loss, you get a loss. If there is a gain, you get a gain.
There may be intermittent losses but over a long period of time, you expect the annual gains to outnumber the annual losses.  You expect this because:
students need a place to hang out outside the campus. So they would frequent tea shops.
If the tea is good (and it is in this case) then more students would come and more often.
Thus, there is a chance for consistent profit.
After several years, the equity and bond investors net worth would look something like this  (drew this on the board).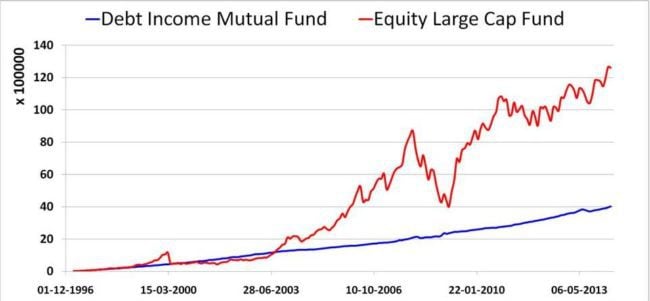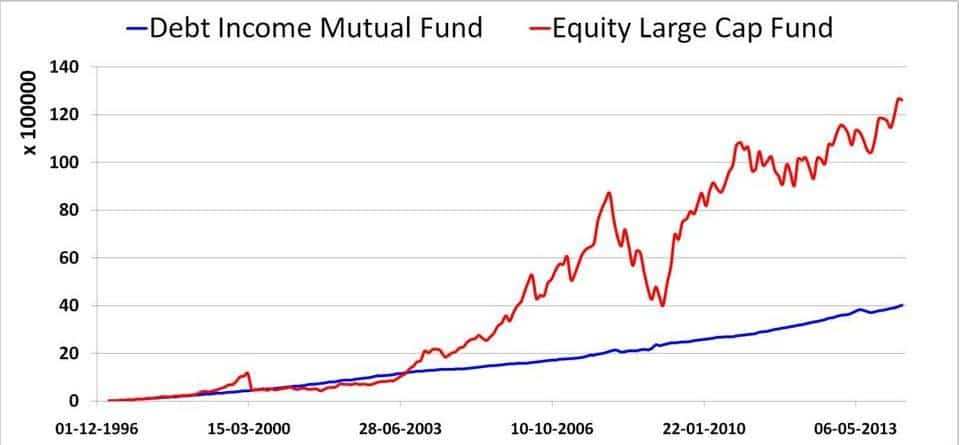 If I apply 30% tax to both equity and debt, the value will reduce.
Now I must take into account the effect of inflation.
I asked for the price of chai when they had it for the first time ever in their lives.
Rs. 1, Rs. 2.50 were some answers ( not all are from metros!)
This was 10 years ago.
Now the price is about Rs. 7
So this is about 11% inflation with the starting price as Rs. 2.50
So after having devalued the corpus due to tax, we must devalue it due to inflation.
Now who do you think got the better deal? The fellow who had the courage to stomach annual fluctuations or the fellow who wanted 'steady' growth with practically no volatility
Which investor is likely to change the way their family handles money?
Knowing which chai shop to back may be tough as there are too many of them around the campus.  Also, why only back chai shops? There are several Xerox shops, supplies shops  etc.
What about our campus bank (SBI)? It makes a lot of money by offering attractive fixed deposit rates. It then offers different kinds of loans (car, personal, house, for companies etc.) at much higher rates and bags a neat profit.
Why not buy the banks stock? Why not observe the spending habits of the undergraduates and find out which brands they prefer? Those brands could then form a shortlist for further investigation.
Yes, knowing where to invest (either equity or bond) is tough. It requires confidence, discipline and the time to analyze and track.
There is a much simpler alternative: mutual funds. You pay a sum to a fund manager who pools in all contributions and invests in a diversified folio of stocks, bonds or both.
I urged them to build fortifications asap, learn the basics of equity and mutual funds and begin investing.
There were some intelligent questions like:
Why do you expect stocks to increase all the time?
Why is a home loan the only loan that one should get?
Which term policy should I choose?
Can I buy real estate if I want to farm in it?
If one gets rich, does it mean someone else gets poor? (Tough one!)
 Ten commandments of investing
When I discussed about this talk at facebook group, Asan ideas for wealth, Prof. Parag Rijwanji, institute of management Nirma university laid down ten commandments a young earner should follow. This is a must-read.
To access it:
1)     Join Asan ideas for wealth (get on facebook if you are not there. Totally worth it)
2)     Search the group for 'PhD'. You will find two threads started by an idiot.
You will find the commandments in the second thread.
New Delhi DIY Investor Workshop April 23rd 2017
Register for the New Delhi DIY Investor Workshop April 23rd 2017
You Can Be Rich Too With Goal-Based Investing
Happy to announce that my book with PV Subramanyam has been selected as part of Amazon Best Reads Mar 2017. Now 50%  off. fThank you for your support and trust. If you have not yet got the book, check out the reviews below and use the links to buy.
Reader Quotes:
Gift it to your Friends and Relatives whom you care more. Already follower of Pattu and Subra's forum. Ordered 4 more copies to give gift to my friends and eagerly waiting to read
The best book ever on Financial Freedom Planning. Go get it now!
Your first investment should be buying this book
The (nine online) calculators are really awesome and will give you all possible insights
Thank you, readers, for your generous support and patronage.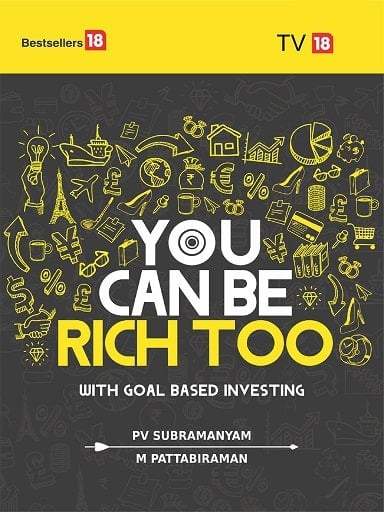 Amazon Hardcover Rs. 199. 50% OFF 
Kindle at Amazon.in (Rs. 307)
Google Play Store (Rs. 307)
Infibeam Now just Rs. 307 24% OFF.
If you use a mobikwik wallet, and purchase via infibeam, you can get up to 100% cashback!!
Bookadda Rs. 344. Flipkart Rs. 359
Amazon.com ($ 3.70 or Rs. 267)
Google Play Store (Rs. 244.30)
Ask the right questions about money
get simple solutions
Define your goals clearly with worksheets
Calculate the correct asset allocation for each goal.
Find out how much insurance cover you need, and how much you need to invest with nine online calculator modules
Learn to choose mutual funds qualitatively and quantitatively.
More information is available here: A Beginner's Guide To Make Your Money Dreams Come True!
What Readers Say