Download a free google spreadsheet portfolio tracker for stocks, mutual funds and fixed deposits. Use it to store important account nos for quick reference and track the progress of your financial goals. Get daily or periodic email alerts on your portfolio growth. I am so proud to state that this spreadsheet has been entirely developed by friends.
One of the key advantages of this sheet is that a same stock or fund can be mapped to multiple goals. The asset allocation of each goal is tabulated and can be compared to the desired allocation. This makes rebalancing easy.
The first version created by Guhan Ramanan. Guhan developed his sheet without focussing on returns and daily email alerts. His thinking is that the user should focus on the current value of the corpus and what percentage of the target corpus has been achieved. I concur.
For the second version, Amol Wable added return calculated (Xirr) with a fantastic use of spreadsheet array functions. He also set up email trigger alerts. Pranav Date has added as asset allocation graph to the above spreadsheet.
Muthu Krishnan (who has been responsible for all DIY investor meets at Bangalore) then added goal planning features to this sheet. He also added a data sheet where we can enter all important information (Pan card, Aadhaar card, insurance policies etc) and this can be easily shared with the spouse.
Now in version 4, thanks to detailed feedback from Roshan Dawrani and S. Vivekanandan, Muthu has made multiple changes (see list below)
Features of the Google spreadsheet portfolio tracker
There are 9 sheets.
Important personal information to be shared with your spouse
dashboard summary
investment mapping to goals
mutual fund investments
stock investments
fixed deposits
symbols for mutual funds and stocks
email settings for sending alerts
current NAV retrival
Google spreadsheet portfolio tracker: personal data
Here you enter your personal information such as this
PAN
UID No. (Aadhaar Card)
Ration Card No.
Blood Group
Passport No.
Passport Expiry
Driving License No.
Driving License Expiry
Voters ID Card No.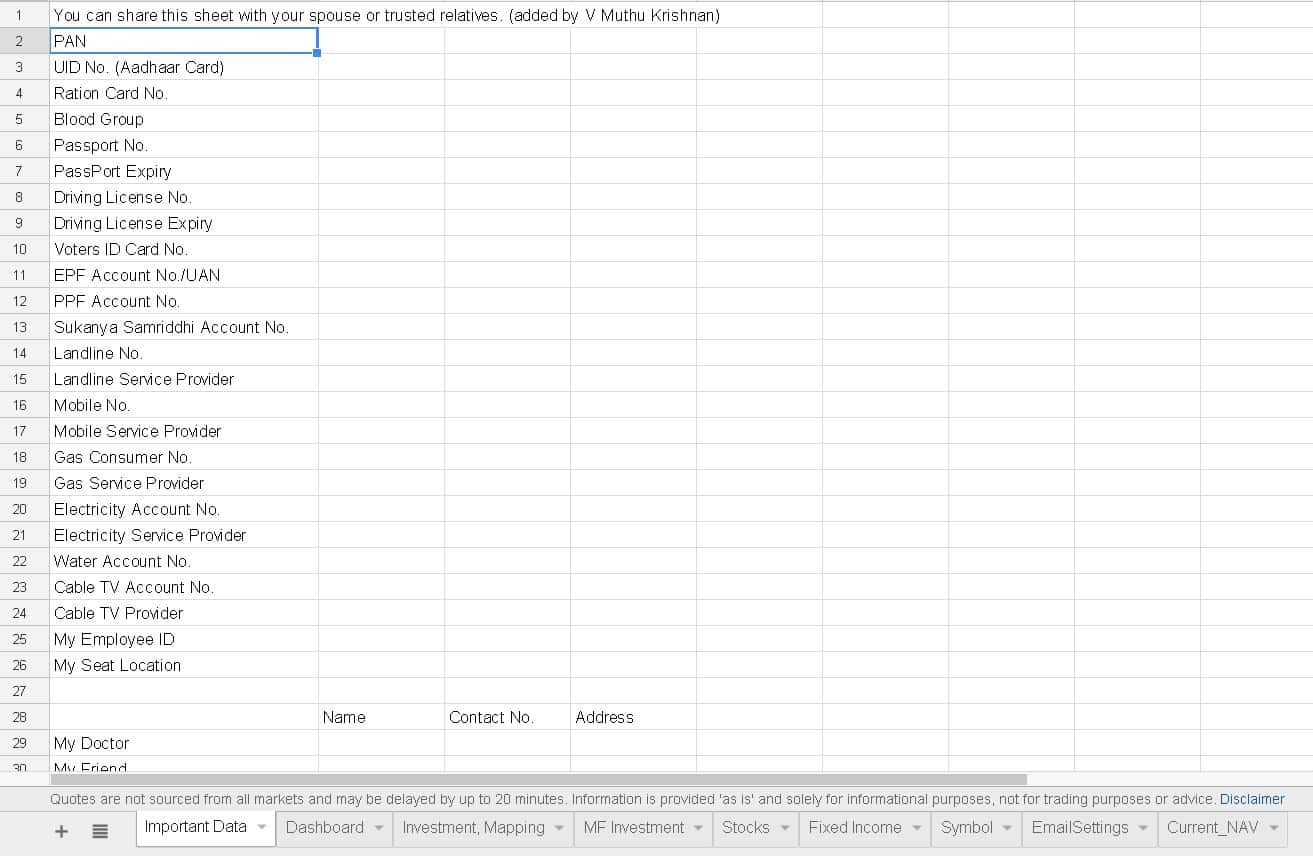 Google spreadsheet portfolio tracker: Dashboard
This gives you a summary of your target corpus, its current value; your target asset allocation, your current asset allocation etc.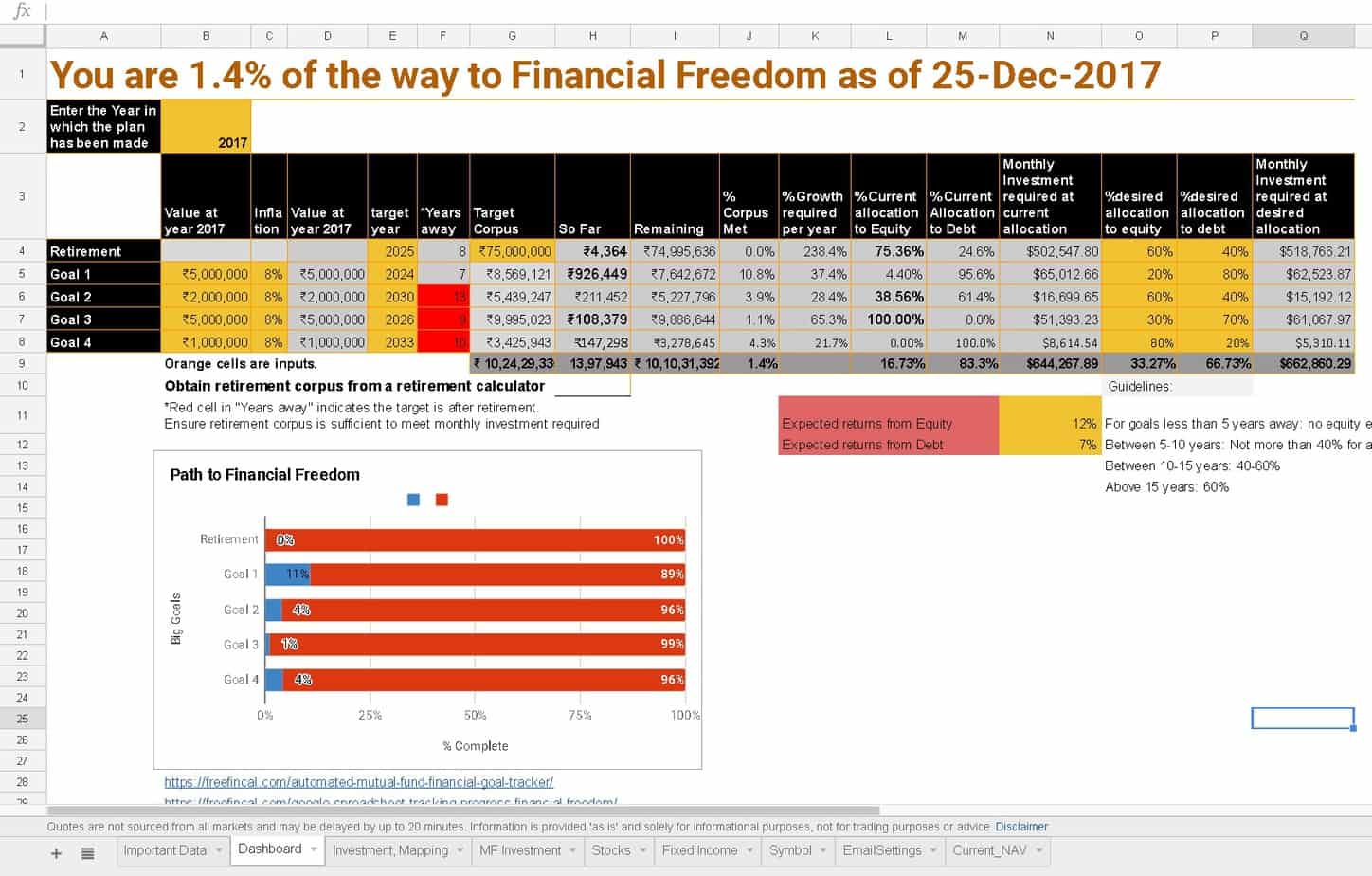 Google spreadsheet portfolio tracker: Investment mapping
The mutual funds, stocks, and fds are mapped in this sheet with their current annualized return (XIRR). You can also assign the same mutual fund or stocks to multiple goals here.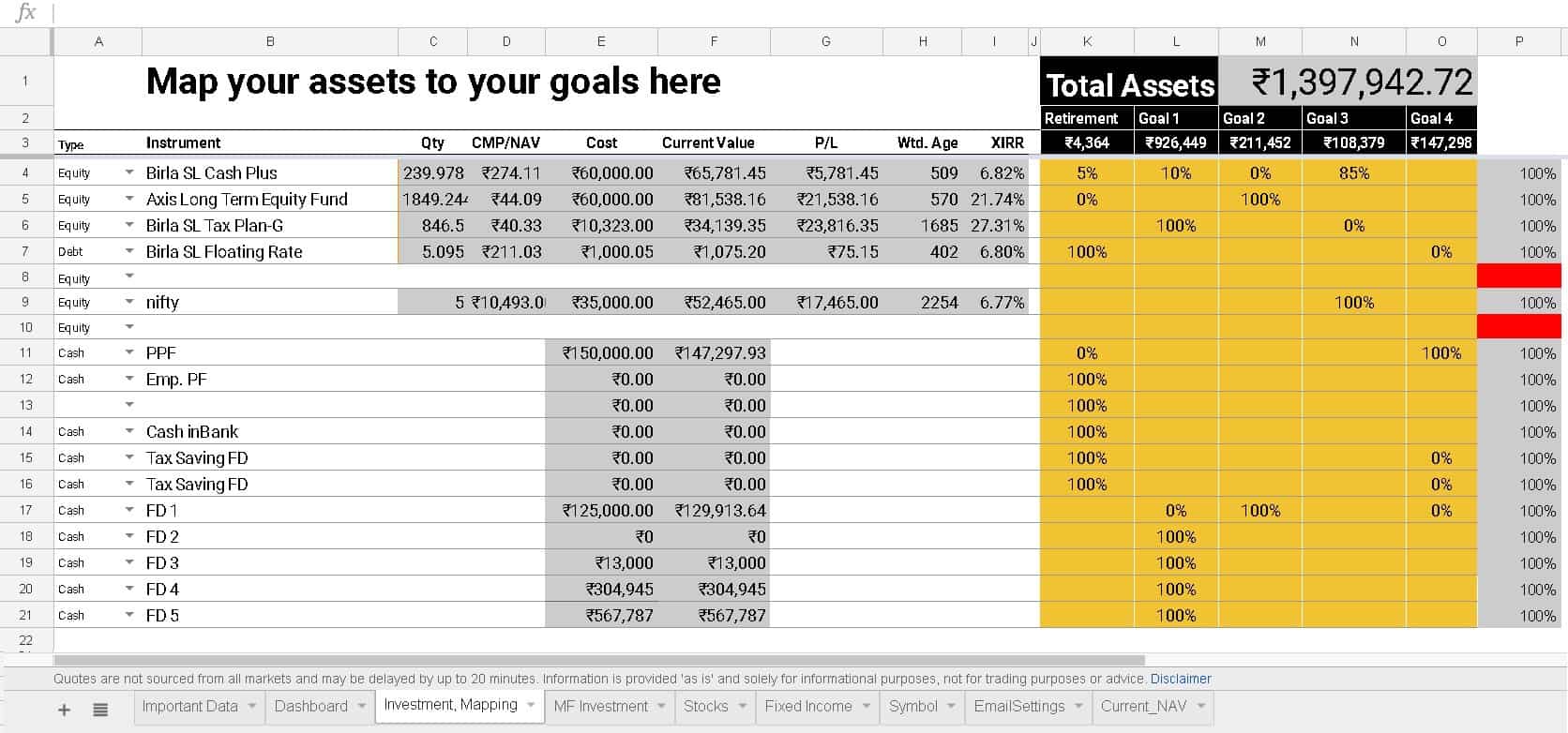 Google spreadsheet portfolio tracker: MF Investments
Here you can enter your mutual fund investments. The annualized return (CAGR) of each investment (treated as an individual lump sum) is also listed here. This is a useful feature to understand volatility.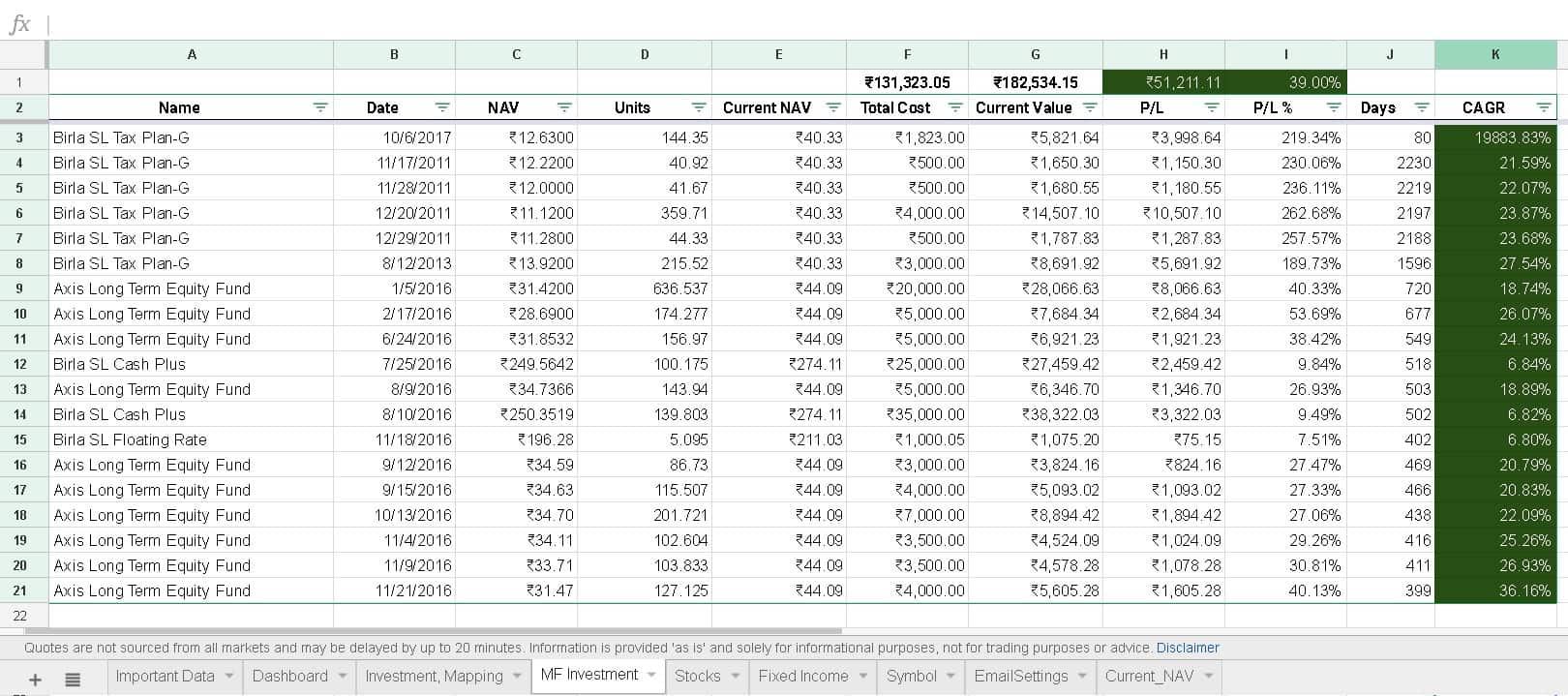 Google spreadsheet portfolio tracker: Stocks
Stocks investments can be listed here

Google spreadsheet portfolio tracker: Fixed deposits
Don't worry about the #Num! values. That is because there are no corresponding deposits. You are welcome to correct it!

Google spreadsheet portfolio tracker: symbols
For stocks or indices, the corresponding Google finance symbol must be entered. For example NSE: Nifty for Nifty price. NSE:TCS for TCS and so on. You can get this from google finance.

For mutual funds, you can either enter the AMFI code (you can search for this in the current NAV sheet) or the Google finance symbol. Suggest you use the AMFI code.
Google spreadsheet portfolio tracker: Email Settings
Here you can set different kind of email triggers. Changes in mutual funds, indices by a certain amount. Daily or weekly alerts.

Google spreadsheet portfolio tracker: Email Triggers
To set up email triggers, click on Tools –> Script Editor. In the script editor window, click on Edit –> All your triggers and add triggers as shown below. The email frequency can be changed as per your wish. Please set the three triggers as shown below.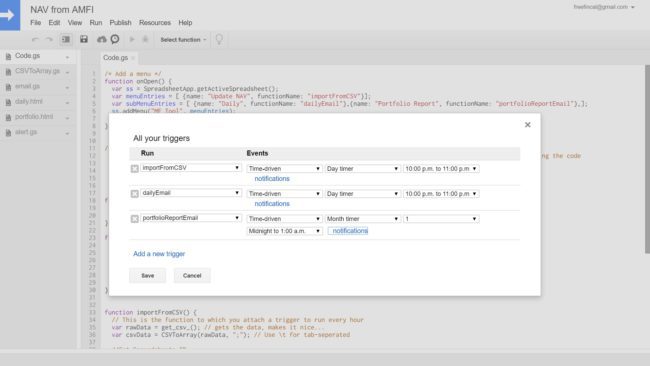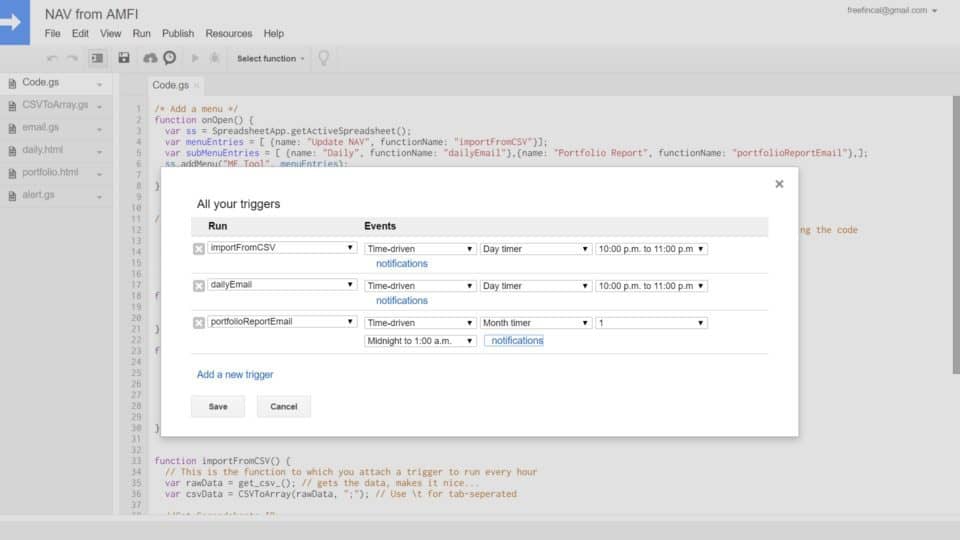 Google spreadsheet portfolio tracker: Current NAV
This gets the latest NAV from AMFI. The url recently changed and Muthu fixed it. You can search for the AMFI code of your funds here. One code name is highlighted below.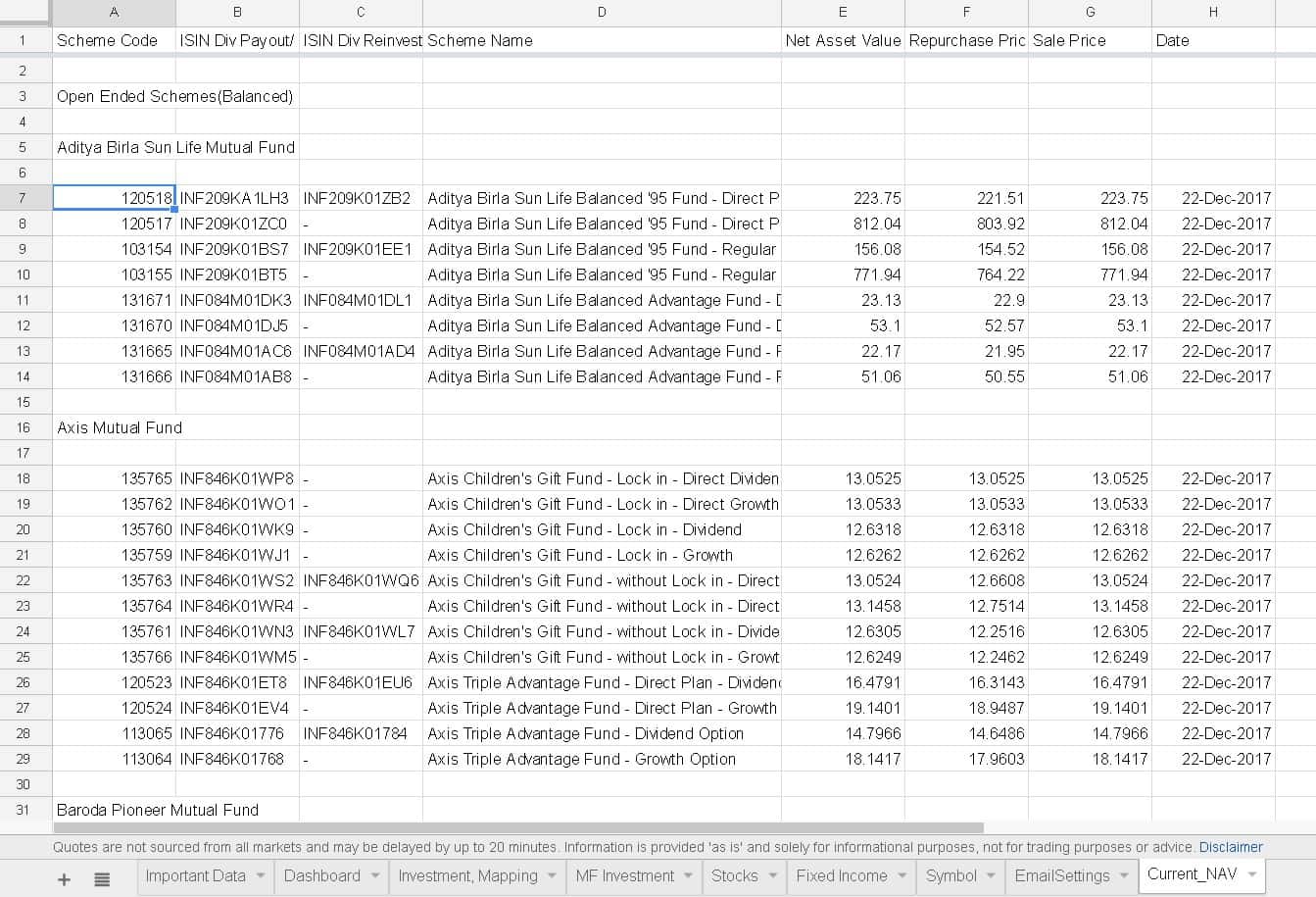 Google spreadsheet portfolio tracker: Scripts
When using the sheet, you can run the following scripts from the menu.

Changes in version 4 of the Google spreadsheet portfolio tracker
Updated the AMFI NAV url. The sheet will fetch NAV from either AMFI or from Google Finance.
Fixed email settings Tab to fetch the latest values.
Cosmetic changes to Dashboard
Fixed minor errors in row 2 of Investment Mapping Sheet.
Added a new column in Investment Mapping sheet to alert users if the total allocation to different goals exceeds 100% for a given investment.
Get a copy of the Google spreadsheet portfolio tracker V 4 (Dec 25 2017)