The employee pension scheme (EPS) is a component of the employee provident fund that provides a pension to its subscribers. Yesterday, news about how Mr. Praveen Kohli got a 1200% hike in pension created a stir. This was because, in October 2016, the Supreme Court directed the EPFO to increase the pension of 12 petitioners as per a 1996 amendment that should have increased their EPS contributions. In this post, I discuss what this increase in EPS contribution is all about and why you should not increase EPS contribution in the hope of getting higher pension during retirement. It will affect your ability to handle inflation in expenses.
How is this increase in EPS contribution possible?
As we know, the EPF deductions have a wage ceiling = 15,000 (basic + DA). That is only up to a maximum of 12% of 15,000 will go towards EPF from the employees' contribution. The employers' contribution has two components: 8.33% of the wage ceiling (or lower) will go towards the EPS and rest to EPF. The EPS corpus will be retained by the EPFO to provide a pension after retirement.
The EPS rules were framed in Nov 1995 and a clause added in March 1996 that an employee can contribute up to  8.33% of actual basic +DA to EPS for pension and not just up to the wage ceiling. Reference: Hon'ble Supreme Court's Order in SLP No.33032-33033 of 2015
However, this possibility to increase the EPS contribution is only applicable to EPF accounts opened Sep 1st 2014 – after that, the wage ceiling will apply to EPS.
In a nutshell, the usual EPS contribution is 8.33% of wage ceiling (currently basic + DA = 15,000).
Subscribers who joined the EPF before Sep. 1st 2014 can increase the EPS contribution to:
8.33% of actual basic +DA (so if your basic + DA is higher than the wage ceiling, more money will be deducted towards the EPS).
In 2005 when the EPFO was approached to implement the higher EPS contribution it refused, leading in a long court battle that was settled in Oct 2016. The increased pension was first received in Nov 2017 and hence the new article about the 1200% hike.
Increase in EPS Contribution: No free lunch
Take the case of Mr. Praveen Kohli. In order to receive 13.23 Lakh extra pension in the last four years since retirement (say 2013 for argument), he had to pay 15.37 lakh as extra EPS contribution.
In his case, it was paid later, but suppose an employee had opted for higher EPS contribution in 2005*, then that 15.37 lakh would have been paid as EPS contributions over the next 8 years (until 2013). Had this amount gone to the EPF/PPF, it would have been a fine investment, earning a minimum** of 8.25% and a corpus of 21.8 Lakh. However, the amount went into the EPS which does not result in a corpus  (to the employee, that is)
* The first representation to increase EPS contribution was only in 2005 even though it was possible from Mar 1996.
** The EPF rate was 8.5% for most of this period, even going up to 9.5% in a 2010-11
My point is, suppose your EPF account was opened before Sep 1st 2014 and you have about 15 years or so to retirement, would you increase your EPS contribution to get a higher pension or would you invest it right so that you have access to the entire corpus?
I am not talking about equity investment here (although that would be an obvious choice), even an investment in the EPF (via VPF) or PPF would get a nice fat corpus (in spite of falling interest rates).
Two aspects are key for retirement:
A large enough corpus that will allow us to diversify investments in buckets of varying risk (from zero to say, medium). You can use the freefincal robo advisory template to punch in your numbers and see how this works.
Minimise pension income or interest income as much as possible. This is because they are taxed as per slab. This is possible only if we have a corpus to play with. Then one can take advantage of partial withdrawals from mutual funds (debt or equity) as they are capitals gains instruments.
To regular readers of freefincal, this is like preaching to the choir. They would know increasing EPS contributions is not beneficial. If you are a new reader, then I would urge you to spend some time with the robo advisory template or with the low-stress retirement calculator. There is an android app for this or an online version.
Recognise the need for "income" after retirement to increase at the rate of at least 6% a year, preferably 8%. Only then the limitations of a constant pension from EPS will become clear.
Even if a pension received = last drawn pay, it is not sufficient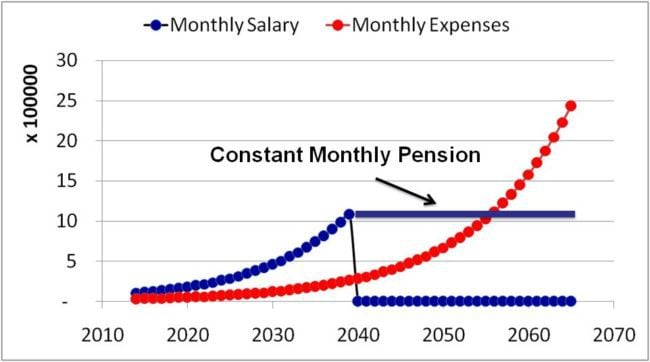 Even with the increase in EPS contributions, the pension will only be about half the last drawn pay. So: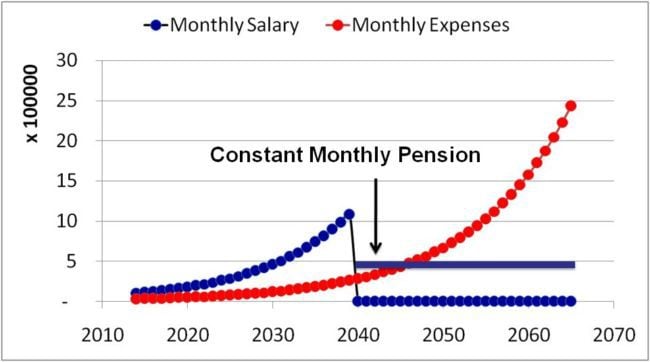 These are pictures taken from the Retirement Planning: A Slide Show that I use in the DIY investor workshops or at corporate seminars.
Can I increase EPS contribution if I am going to retire shortly?
Suppose you are going to retire in a few years (say 5-6), you can increase your EPS contribution if you do not have enough corpus to provide an inflation-protected income. This way, you will get a higher EPS pension and you can buy an annuity from the rest of your retirement benefits. You can find this out with the freefincal robo template or you can consult a SEBI registered investment advisor from my list.
If you have enough corpus to retire comfortably (or will have at the time of retirement), do not increase EPS contributions.
Update: I have now done a detailed analysis here: Revised EPS Pension Calculator: How much will my EPS Pension increase? There is no need to increase EPS contribution if your retirement is far away. You can (if you wish) increase it in the last few years (5 or less)and get the higher pension without wasting money on EPS contributions.
Can I increase EPS contributions retrospectively?
No. The petitioners who won the verdict against EPFO requested an increase in EPS contribution in 2005, but was denied*. So they would get the benefits from that date only and not before.
If you apply for an increase in EPS contribution (provided your EPF account was opened before Sep 1st 2014), you will get the increased contribution only from the date of application.
* The EPFO said they should have applied within 6 months of the 1996 amendment which was overturned by the court.
Note: I am a NPS subscriber. So have only a basic understanding of EPF. Let me know if I have missed any point or mis-read any.
References
1:  EPS 1995-Benefit of actual salary exceeding wage limit as per Supreme Court Judgment
2: SC ruling enables massive rise in private sector pensions
3: Other sources are linked within the post.
---
You Can Be Rich Too with Goal-Based Investing, my first book is now available at a 35% discount for Rs. 258. It comes with nine online calculators. Get it now.
Gamechanger, my second book is now only Rs 149 (25% off).  Get it or gift it to a young earner 
The ultimate guide to travel by Pranav Surya is a deep dive analysis into vacation planning, finding cheap flights, budget accommodation, what to do when travelling, how travelling slowly is better financially and psychologically with links to the web pages and hand-holding at every step.  Get the pdf for ₹199 (instant download)
---
Use this form to ask Questions or reg. the robo template ONLY (For comments/opinions, use the form at the bottom)
And I will respond to them in the next few days. I welcome tough questions. Please do not ask for investment advice. Before asking, please search the site if the issue has already been discussed. Thank you.  PLEASE DO NOT POST COMMENTS WITH THIS FORM it is for questions only.
[contact-form][contact-field label="Name" type="name" required="1″][contact-field label="Email" type="email" required="1″][contact-field label="Ask your question (Got an opinion or comment, use comment box at the bottom of the page. DO NOT post them here)" type="textarea" required="1″][/contact-form]