This is a sequel to the 'step-by-step guide to long-term goal-based investing' and is meant for those who have started investing for their long-term goals after,
understanding how much to invest
understanding how much to expect from each asset class used
deciding on an asset allocation (how much in equity, how much in debt etc.)
If you are not clear about the above, I suggest you start with Part I first, make necessary changes with the attached calculator and then read this:
Long-term goals can be divided into two categories:
Retirement – where (ideally) it should take the rest of one's lifetime (could be decades) to spend the corpus while generating an inflation-protected income
all other goals! – where the accumulated corpus gets spent from anywhere between an instant(!) to the course of  (not more than) a few years. We will call this category B, just for reference.
This distinction is crucial because, for someone who has started investing early for retirement (and typically only for such people), there is no need to significantly reduce equity allocation as retirement approaches (see 'bucket strategy' to learn more)
For example, someone who uses an equity (60):debt (40) allocation can continue to use the same allocation all through their life (managed either by themselves or by a trusted professional).
The same is not true for all other long-term goals. As the goal approaches, the equity allocation must be reduced to zero.
Unfortunately, there is no set formula to do this. You can find answers like, wait 3 years before you need the money and pull out completely or  set up an STP to a debt fund among other variations.
I think such set methods can be dangerous. What if the market tanks 5 years before you need the money and you are in 60-70% equity?  What if it tanks tomorrow?
I think all category B goals need active management wrt asset allocation. Here I am not referring to tactical asset allocation, where one changes equity allocation significantly depending on market conditions.
While I am interested in tactical asset allocation strategies (hence the market valuation calculators!), I would think twice before employing it for category B long-term goals.
I think this is a grey area and the investor must first identify some benchmarks and develop a technique that would suit them. Like many problems in life and in personal finance, there are many solutions to the problem.
So I would like to share with you what I am doing, and what I intend to do for my sons education goal in the hope that it would serve as some food for thought for you.  Kindly do not confuse my conviction with expertise.
My son is nearly 5 years old. I started investing for his education goal about 2-3 months before he was born. I use PPF (in his name) (40%) + mutual funds (in my name) for the goal (60%). If you are interested in knowing more about planning for this goal, see: How to plan for your child's education and marriage
When he joined school, I realised that he would turn 18 about 3 months before his 12th standard board exam.
So when I started I had about 17-18 years for the goal – a long-term goal by any yardstick.
I had never rebalanced the asset allocation and simply let it grow up until the elections this year.
When India VIX: the stock market volatility index rose sharply just before the elections,  I realised how skewed my asset allocation had become (80% equity). So I  shifted a big chunk into PPF. Thankfully the PPF limit was enhanced soon so that did not affect my investment allocation too much.
Regret is the number one enemy for goal-based investing. So there is pointing thinking about, what if I had not rebalanced? I would have had a bigger corpus today.
Thankfully, I am not worried about that at all. I safeguarded my son's education corpus and therefore  my retirement corpus.
Even after rebalancing, I still have enough to afford a BE/B Tech in a third tier engineering college (lower the tier, higher the fee!!) today.  My benchmark for this goal is, what degree can I afford today?
CAGR is tertiary.
Today the goal is only about 13 years away.  That is, long-term goals do not remain long-term goals forever. Soon it would be 8 years old and so on.
The risk profile of a 17-year goal is different from a 13-year goal, which is different from a 8-year goal.
Meaning I intend to get conservative wrt my equity holding with time.
Once the goal becomes less than 10 years away, I intend to reduce equity exposure from 60% to 50% and then to 40%.  Since the next Lok Sabha election would nearly coincide with this, how the markets behave in the build up to the election will decide the equity allocation.
This means I will have to add a debt mutual fund to the portfolio. I prefer ones with low average portfolio maturity period and low modified duration. Learn more about this: How to Select Debt Mutual Funds Suitable For Your Financial Goals?
Once the goal becomes 5 years or less away,  I hope to reduce equity allocation to about 20-25% or so.  I hope by this time, the total debt corpus should be enough to pay for initial college-related expenses and perhaps even the entire UG degree.
The corpus for child's education goal does not get spent in an instant (unlike their marriage goal!).  It takes about 3-4 years to get a UG degree and a couple of more to get a PG degree. In fact some readers prefer to use a staggered goal calculator to explicitly take this into account.
So it is okay to have a small equity exposure  even by the time the child enters college!
What matters most to me is how much I invest for this goal and how much I increase investments each year for this goal  – I track both with this monthly tracker.
Where I invest will change as a function of time as mentioned above.
As I write this, I notice that the asset allocation is skewed once again, thanks to the continuation of the rally after the elections. Now I am in two minds. One part of me says, rebalance now, and another part says, wait for the rate cut, that way you can invest another big chunk in PPF, perhaps in April.
Such conflicts are part and parcel of the goal-planning process and is quite healthy.  The answer lies in introspection.
Should I post in Facebook group  Asan Ideas for Wealth to get an answer to this dilemma? Hell no! I simply cannot convey the 'situation and logistics' involved, both of which are extremely personal. I will end up  10-15 different possibilities and more confused than I started with.  I am better off thinking this one out, take a call and not look back either in relief or regret.
What about professional help? Hell no! I am a control freak. I would like things done in a certain way and will drive the  financial planner crazy!
Well, what do you know! As I wrote this, I have decided:
Are you asking an either/or question about personal finance? Try changing it into an 'and' question. The solution will present itself.  It has, to me. I will rebalance a bit now and bit in April. Peace reigns in the Gaulish village …. for now.
Asan Ideas of Wealth has a saying: My Dull and Boring Sips will continue*. Hopefully this post clarifies what the * stands for!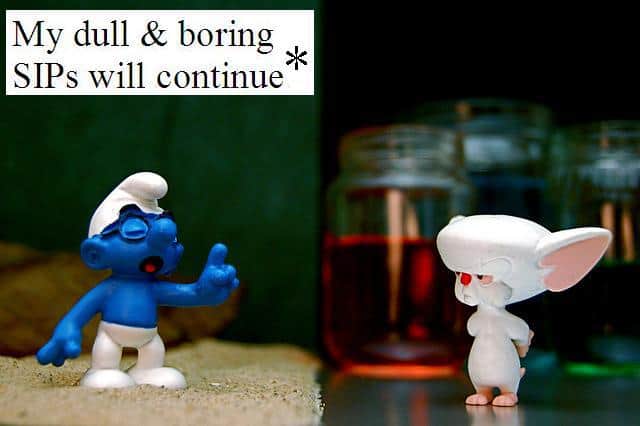 Register for the Investor Workshop on Financial Planning and Goal-based investing at New Delhi