Analyzing the performance of a mutual fund is not rocket science.  Anybody can do it, just as anybody can select a mutual fund following a few simple rules.
I would like to prove my point with a do it yourself mutual fund analysis using HDFC Top 200 fund – one of the most popular mutual funds in India. Recently many investors have become disillusioned with the fund: "I thought Top 200 was the best fundand Prashant Jain was the best fund manager.  I am disappointed with its recent performance. My portfolio is in the red for months together"
One way or another, whether you are an individual investor or a financial advisor/planner, such a comment should be familiar enough to you.
My goal in this post is to analyse the performance of HDFC Top 200 fund over the last 5 years and find out how justified such sentiments are. The analysis will be done in two ways:
Using available resources online.  The goal is anybody, even a layman with a little inclination and minimal effort should be able to analyse the performance of the fund.
Using my Excel Rolling returns calculator.
Note:
A significant part of my portfolio is held in HDFC Top 200.  I have an ongoing SIP in it. So when I made the analysis, only one question was running through my mind: Should I stay invested in HDFC Top 200? Should I exit and invest elsewhere?
Method 1: Using available resources online.
Step 1:
(a) What kind of mutual fund is HDFC Top 200?
It is a diversified equity mutual fund investing in stocks that are part of the BSE 200.
The BSE 200 is a diversified  list of 200 stocks chosen from the BSE: predominantly large-cap stocks and mid-cap stocks. The health of the stocks and their growth potential is taken into account before they are included/excluded from the list.
Therefore, Top 200 can be part of ones core-equity portfolio.  Its performance may also be compared with the Sensex and Nifty indices.
(b) Why did I invest in HDFC Top 200?  Only you can answer this (my reasons are clear).  The nature of the goal and its time frame should be considered: Check out my step-by-step guide to goal-based investing
Step 2: Check out the Funds webpage
Let us face it, all AMCs present data in a confusing way.  Their goal is to ensure that the data published does not present the fund in a bad light.  HDFC is no different.
If you go to Top 200's page, you will need to locate an obscure link titled 'returns and benchmarks' which will take you to the bottom of the same page! You will now need to click Please click here to view Scheme Performance Summary (Fund Manager-Wise)
 In the page that loads, you will have to click on Mr. Prashant Jain and see:


From 28-06-2011 to 28-06-2013, the fund has severely underperformed when compared to its benchmark as well as Sensex.  However, from 28-06-2010 to 28-06-2013, the fund has beaten its benchmark comfortably but has performed just a little lower than Sensex.
Although this information is not very illuminating, considering the funds history (last entry in the table), the longer we stay invested in the fund, the higher is the expected outperformance (with respect to both BSE 200 and Sensex).
This vague inference can be confirmed by looking at Money Control's Top 200 page
Step 3: Observe the plot comparing the scheme with its benchmark.  Screenshot of the 5-year period is shown below:


The outperformance is clear. Even for a 3-year period the fund has managed to stay above the benchmark. If we have bothered to choose funds with a good record of accomplishment, we must give it space to perform – a period of at least 5 years.
Ignore the star rating (2-star FYI!) and most important, ignore this nonsense: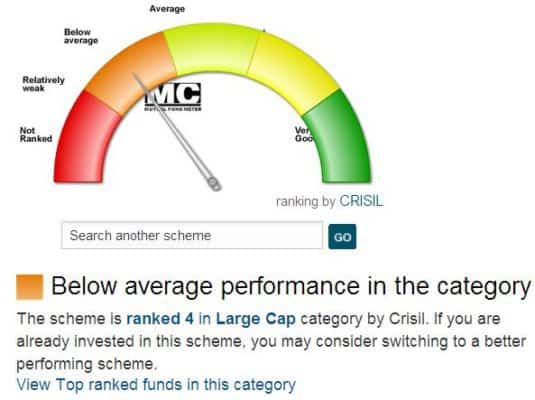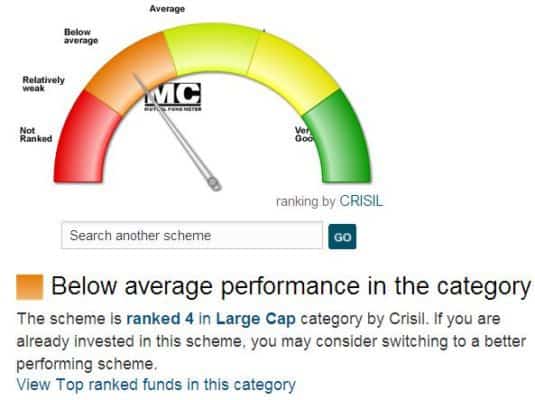 Step 4: Value Research Online's Top 200 page
Let us look at two specific tables and ignore the rest:


The table on the left is part of VR Online's front page (snapshot) while that on the right in part of the performance tab.
The trailing returns table for a most part paints a poor picture.  Investors should learn to ignore trailing returns.  They depend entirely on the date on which you choose to observe the returns.
An annual return, on the other hand, is between two fixed points and is far more reliable.  Notice that whenever the market rallies, Top 200 has given good returns.  Therefore, to benefit from this fund (or any other equity fund for that matter), we should periodically rebalance our portfolio after each market rally.  To learn more about the benefits of rebalancing, and how it reduces volatility in portfolio returns, you could use this tool.
Step 6: Morning Star India's Top 200 Page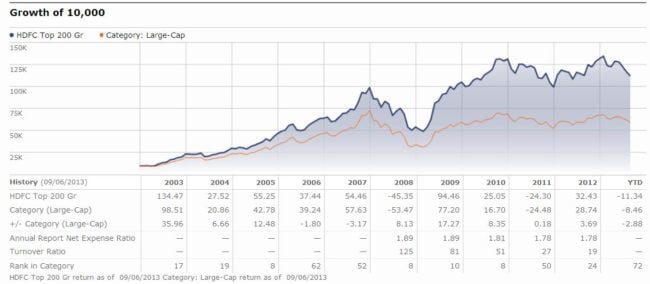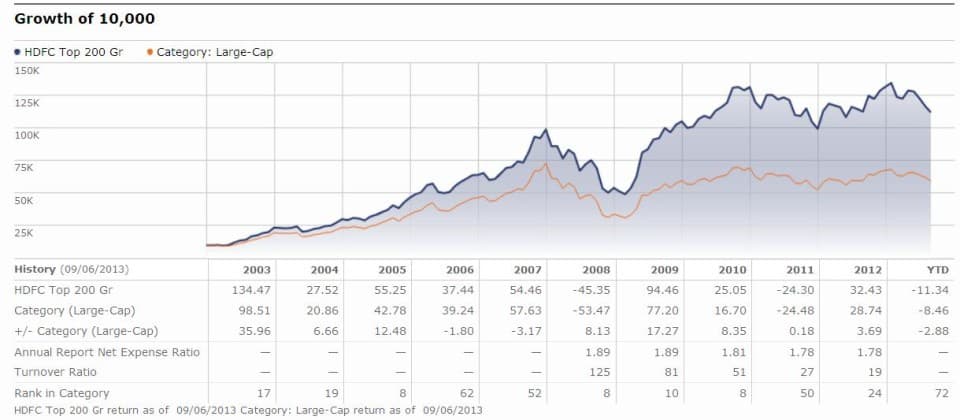 Do not worry too much about the graph (although it is quite reassuring!).  Observe the performance of the fund compared with large-cap category averages and judge for yourself.
Also look at the turnover ratio.  This is a measure of how much the fund managers has modified his/her portfolio.  During the 2008-2009 recession, the fund manager has churned the portfolio quite a bit.  As a result, the fund lost much less than other funds and recovered much more.
The turnover ratio in 2012 was quite low. This suggests that the manager believes in his stock picks and is waiting for the economy to turn around. Considering his past performance, I would like to trust him (of course he could be wrong).
 I think it is safe to say that HDFC Top 200 fund remains a compelling pick.  I am going to stay invested in it. We will need to watch what happens in the months after the election next year.
That is it.  This analysis would take no more than 10-15 minutes.  If I have money invested in this fund, should I not take the effort of spending this much time in analysing the funds performance? All it takes is a little bit of commonsense.
Do not ask a mutual fund agent or financial advisor if you should change your mutual fund without making such an analysis.  Many times fund changes are suggested just to pacify clients. Many financial advisors and agents are worried about losing clients if they advise them to stay invested in a fund that appears to be going through a bad phase. Analyse the funds performance yourself and make an informed choice.
Method 2: Using my rolling returns calculator
If you want additional evidence of the fund performance then you could use my rolling returns calculator
To use this, we need the NAV history and the benchmark index (BSE 200) data. I have chosen a period between 8th June 2009 to 5th Sep. 2013. In this period the market had recovered from the 2008 crash.
The benchmark history is available here.
The NAV history can be obtained from here
Update: Here is the automated version of the rolling returns calculator
 Download the Rolling Returns Calculator for HDFC  Top 200 Fund.
Here are the results. Please go ahead make your own conclusions. As far as I am concerned, these results do not change the above conclusions. I am going to stay invested.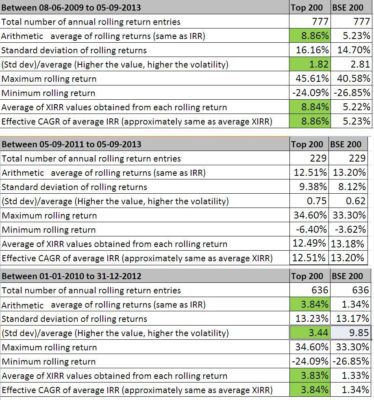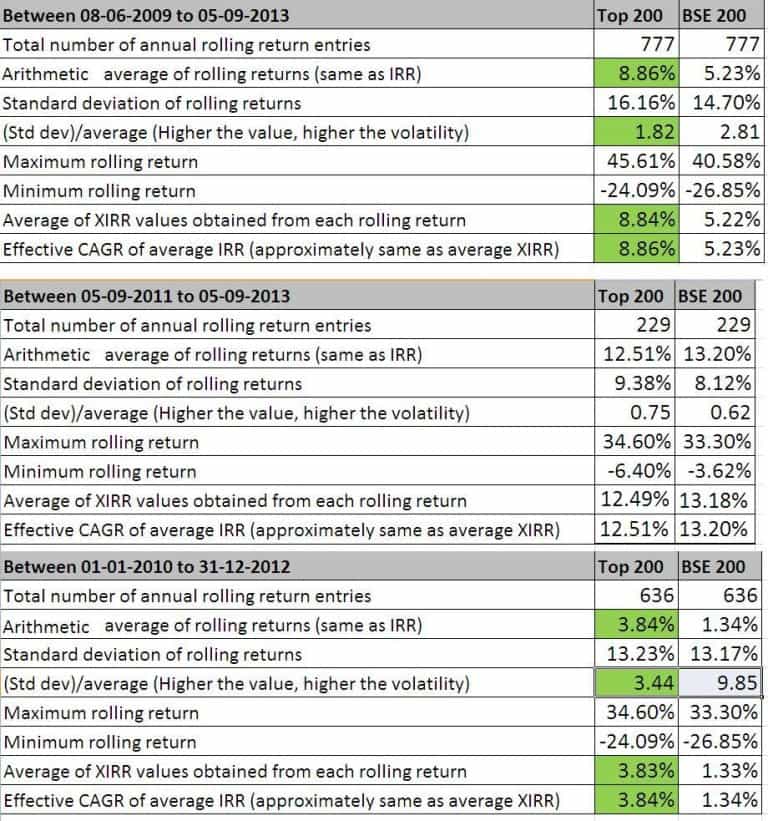 Your Say: What do you think? Do you agree with the above analysis?