Here are some less-understood facts about the National Pension Scheme (NPS).
National Pension Scheme comes with no guarantees of returns.
NPS is mutual fund and carries with it all the risks associated with any old mutual fund. Read more: NPS investments are mutual fund investments!
The aim of NPS is to generate a corpus and not provide a pension.

When it is time to withdraw (after age 60), the subscriber should take the corpus generated (40% minimum) and buy an annuity (pension) from any of the designated annuity providers like LIC, SBI, ICICI, HDFC and Star Union. Details here: Annuity Service Providers
The annuity provider will offer a pension at the annuity rates applicable at the time of purchase. There is no special annuity rate for the NPS, or at least there need not be (and is not at the time of writing)!
 Anyone with a big enough sum can purchase these annuities from the insurers. An NPS account is not necessary! This is point the title conveys. It is not NPS that provides the Pension. The annuity provider does – which they would for any individual whether they are NPS subscribers or not. NPS is only a means to obtain a retirement nest egg. There are other ways to obtain a much more healthier corpus with lot more efficiency.

NPS is an EET scheme. Meaning the amount you invest is exempt from tax (up to 1.5L under section 80C and 0.5L under 80CC1(B)). The gains made from this investment is exempt from tax as long as you invested. However, 60% of the entire sum – amount invested + gains will be taxed as per slab when you withdraw. These are the current tax rules.
FAQ about the NPS
Can I open an account to invest only 50,000 under 80CC1(B) and invest elsewhere for 80C deductions? Yes, as long as you open, the govt. will be happy!
Where can I find information about the returns generated by various pension fund managers?  Here: Return of NPS Schemes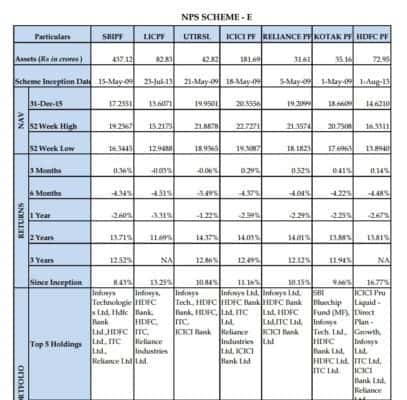 Where can I find portfolio details of each scheme?  Here: Portfolio of NPS Schemes (use the menu unde NAV and returns)
Can I invest online? Yes, but beware of processing charges. Read more (including comments): How to make online contributions to NPS Tier I and Tier II accounts
Is tier II eligible for tax benefit? Nope.
How do I estimate the pension I will receive from NPS? You can only estimate the corpus you will receive using any standard SIP calculator. You can then use that corpus to find out pension with current annuity rates (before tax as per slab!)  NPS Calculator: How the National Pension Scheme works
My employer wants me to shift to NPS from EPF. Is it a good idea?  In EPF you get the entire corpus tax-free whenever you retire (hopefully well before 60). In NPS you need to annuitize 80% of the corpus if you withdraw before 60! It is a trap! Read more: Stay away from Corporate NPS, if You Wish to Retire ASAP!
With inputs from Facebook group, Asan Ideas for Wealth.
Update 2:  NPS: Partial Withdrawal Rules 2016 are just awful! Beware.