The consolidated monthly Account of the Union Government of India up to the month of June 2019 for the Financial Year 2019-20 was recently released. The total spending is Rs. 8,15,944 crore. This is 431% more than its total revenue!
The Government of India has received Rs.1,53,581 crore up to June 2020. This is one-sixth of total receipts up to Oct 2019. Readers may recall our earlier warning which seems to be coming true fast than we can afford: Post-lockdown govt debt may be set back by 17 years! 
Out of Rs.1,53,581 crore receipts,  88% is from tax revenue; 10% non-tax revenue; 2% is from the recovery of loans;  The total expenditure incurred is a whopping 431% of the total revenue. Out of the total expenditure up to June 2020, a good 20% goes to service debt via interest payments. Another 10% is due to major subsidies.
The receipts in three months of FY 2020-21 are only 16.4% of total receipts in the first seven months of FY 2019-2020. The government has already spent 49% of what it did bet April-Oct 2019.
---
The only heartening data we could spot is the revival in GST collections. GST collection in April 2020 was only 28% of what it was in April 2019. In July 2020 it had recovered to 85% of what it was in the same month last year.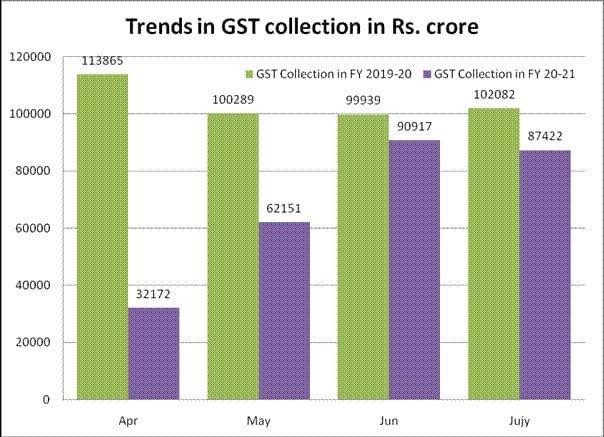 The pandemic has forced the government to spend more at a time when it was also forced to earn less. Let us hope the situation quickly becomes better. Readers may recall even during a "normal" financial year, the government was already spending more than its receipts: In 2019-20 Government has so far spent 77% more than its income! Readers interested in understanding the different heads of income and expenditure for the government may consult this article.
Do share if you found this useful