The government has announced premature closure norms for PPF accounts. This includes a rather harsh retrospective penalty which is illustrated in this post.
The order was passed on 18th June 2016. Thanks to Basu(nivesh.com) for pointing this out.
When can a PPF account be closed prematurely?
In Feb. 2016, a circular said,
"Premature closure of PPF accounts shall be permitted in genuine cases, such as cases of serious ailment, higher education of children etc,. This shall be permitted with a penalty of 1% reduction in interest payable on the whole deposit and only for the accounts having completed five years from the date of opening."
We assumed that this 1% would be applied on the balance before withdrawal like an exit load. However, the 18th June circular describes how exactly the penalty would be applied. Unfortunately, the official illustration has a mistake (image link).
PPF Investment Schedule
Using the Excel PPF Calculator and Tracker one can easily get a table of the PPF investment schedule. For an account opened on 1st Apr 2006, the investment schedule is shown below.


Premature closure is now permitted from the 6h financial year along with partial withdrawals.
PPF Premature Closure Illustration
Now for the above amount let us consider some investments (the same found in the circular).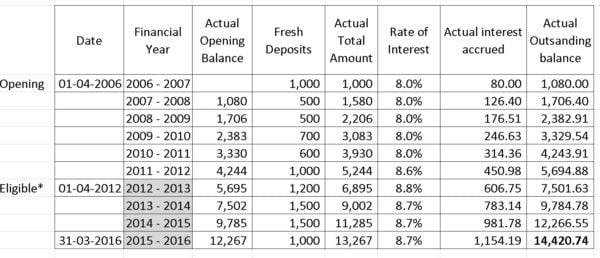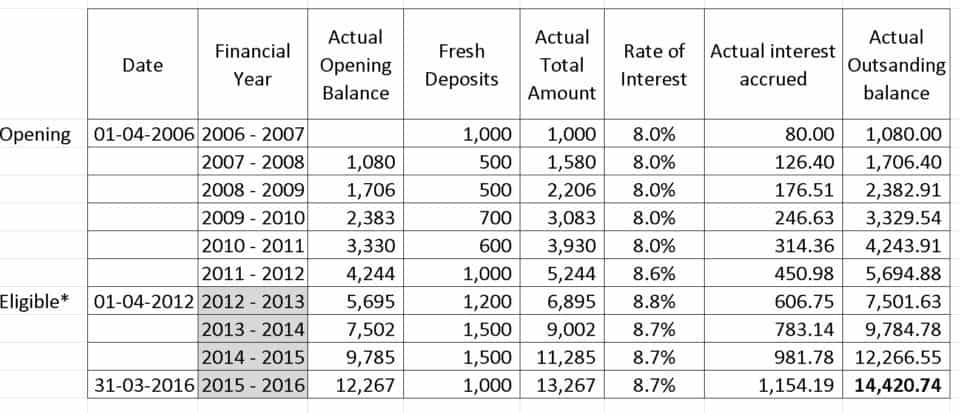 The eligible* refers to premature closure eligibility. The outstanding balance as on 31st Mar 2016 is Rs. 14,420.74.
If we apply for a premature closure along with necessary proofs,  the applicable interest rate for each of the financial years from the date of opening  will be penalised by 1%(!!)
Then the resulting outstanding balance as on date of withdrawal will be paid and the account closed.


The post penalty interest in the above table from inception will be applied. The amount paid out wil be Rs. 13,716.99
A loss of Rs. 703.75. An exit load of 4.88%
Had the deposits been Rs.1.5 Lakh a year, the effective exit load would be 5.5% (a loss of 1.3 L)
Why so high? Is this because fresh investments are used to pay interest to old investors? Much like a Ponzi scheme and the government wants to discourage early exits?