I discuss simple ways to select the best credit card in India and use it efficiently and maximize its benefits. This post is part of ₹e-Assemble: a series on the basics of money management for young earners. You will be surprised as to how many people do not understand how a credit card works and how many people get into huge credit card debt because they did not read the terms and conditions before using it.
A few years ago, I took my M. Sc class out to lunch. Since I rarely eat out, I wanted to figure out ball-park costs. One kid said, "just use your card, sir, swipe karo". He assumed that if I swipe my card, I don't need to pay the bill! Personally, I am not a fan of credit and inspired by Jack Reacher cancelled my SBI card as I was not using it. My wife has had the same Citibank card for the last 17 years (which do I use as mentioned below) and we have never once bothered to find out the benefits it has or used its reward points. We just are not wired that way. So you might be surprised to see this post from me. Am I the right guy to start a discussion on how to select a credit card?
Yes, I am. For the simple reason that credit card selection is hardly difficult and anyone who has the common sense to put in a little effort can choose well and more importantly use it right. In  Gamechanger, my young co-author Pranav Surya discusses how to choose select cards and maximise benefits. I cannot match up with him, but try my best, I will. Let us get started with the basics.
Before you select the best credit card, ask: what is a credit card?
This is how the average young earner thinks a credit card works:
The credit company offers us a line of credit. That is, we can spend up to a certain limit, withdraw cash from ATMs up to a certain limit. Each month a bill listing our usage will be generated and a due date for payment will be set. If we do not pay the full amount that we spent or withdrew before the due date, we will be fined by the card company. The more we spend, the more we get rewards.
This is, word-for-word true. However, what that "fine" is, how it is calculated, the difference between using a card for spending and withdrawing money is what matters.
At least, the above definition is way better than what a retiree told me:
I never fail to pay the minimum amount due each month
If you think there is nothing wrong with the above statement, you need this section!
Let us pause for a moment and look at the similarities between a credit card and health insurance that was considered last week. Both products come with a lot of window dressing:
Credit cards talk about fuel waivers, restaurant discounts, lounge access, airline miles etc (the more you earn, the more the credit line and more expensive the benefits).
Health policies talk about restore, re-fill, multiplier benefit, bonuses etc. However as we saw last week, these benefits are offered to hide the most important features of the policy and come loaded with terms and conditions. Credit cards are not very different. Their benefits are also subject to several limitations and they too are used to hide the essential working of the credit card.
Who needs a credit card?
To borrow a line from Ratatouille:
Anyone can use a credit card, but that does not mean anyone should!
In this day and age of internet-based transactions, a credit card is essential only for those who make international transactions frequently, who travel around a lot (even within the country). Consider the purchases associated with freefincal: domain renewal, hosting renewal, adding CPUs or ram to the cloud hosting, backups, plugins etc. Practically all of these are USD or Euro transactions. If I did not have a credit card, I will have to use a Paypal account Of course credit cards and PayPal have the same no of steps involved but a card is a bit more convenient.
As discussed in ₹e-Assemble Step 2: Lay the Foundations to Get Rich, a credit card can be used as a source of instant emergency purchases.
Building a line of credit (promptly repaid) is important for your credit score. This will come in handy if you apply for a car loan or home loan. Pranav discusses this too in Gamechanger.
Aside from these three usages, I cannot think of any exclusive credit card usages. A debit card, or IMPS or NEFT or the good old chequebook or plain old cash would suffice.
Buying credit cards only for its rewards and benefits is absolutely fine, but buying it for a revolving line of credit (paying only min due) is a bad idea. That is, this months credit card purchases must be cleared in full with at least the next month's salary. Any later and you are in trouble. If you need more time to pay your credit card bill, you have a spending problem and must immediately do this to your credit cards. Why? Read on.
How does a credit card work?
If you never withdrew money from an ATM with a credit card and always ensure to pay the balance in full, well before the due date, the inner workings of a credit card should not matter to you. If you are a heavy spender then before selecting a credit to be sure to understand how it works.
Suppose you fail to pay a due of Rs. 10,000. Then,
the interest you have to pay per day in addition to the principal is:
10000 x (2.5% x 12 /365)  = Rs. 8.22
Here 2.5% is the typical monthly interest (See HDFC document snapshot below, the rate is 3.49%!!)
2.5% x12 = 30% = year rate of interest of the borrowing.
so  2.5% x12/365 = 0.08% daily interest
So interest payable per day  = Amount Due x daily interest
Amount Due  = total principal outstanding. This means if you have a credit card due of 10,000 and make another 10,000 purchase, immediately the interest will be calculated on 10,000 + 10,000 per day!! How do you think credit cards survive? On the weight of our stupidity.
In addition, GST of 18% will apply to the interest. Then there are late payment fees of a few hundred rupees (higher the due, higher the fee) which will also attract GST.
This is the reason why people keep shouting:
Rule no 1: Do not just pay the minium amount due (rest will accumultae daily interest as above), pay the full amount well before due date.
When you make a purchase with a credit card, interest will apply only after the due date and from the date of purchase to due date is about 3-4 weeks depending on the card. If you withdraw money from an ATM, the daily interest rate will apply from the date of withdrawal!
Rule no 2: Never withdraw money from an ATM with a credit card

Rule no 3: Never take a loan on your credit card. Works the same way as above, with possibly a lower daily interest rate. Both rate and processing fee is subject to GST. Here is an illustration from Axis Bank
Like it is important to read and understand the entire policy document of an insurance policy, it is important to at least read the "MOST IMPORTANT TERMS & CONDITIONS" of a credit card. Here is a snapshot of this document from HDFC Credit Card. Every word of this is important!
If you have a spending problem, do not get a credit card. If you already have one, shred it into pieces.
How to select the best credit card in India
As long you follow rule no 1 and rule no 2 mentioned above, the daily interest rates,
Step 1: Go to a random card comparison portal that does not seek personal information. I chose
https://cards.paisabazaar.com/credit-card/ (not affiliated in any way)
Step 2: Enter the true nature of your income, annual income, and city, provide a dummy phone number, agree to terms of use* and proceed
* Why provide a dummy number:
Paizabazaar T&C states: You agree and consent to receive all communications at the mobile number provided, even if this mobile number is registered under DND/NCPR list under TRAI regulations. And for that purpose, you further authorize Company to share/disclose the information to any third party service provider or any affiliates, group companies, their authorized agents or third party service providers.
So use these portals for comparing with dummy information. How you choose to apply for a card is up to you. I would prefer to apply "directly". Remember to read the eligibility conditions before applying to avoid disappointment.
Step 3:  You can either filter by provider, fees or rewards. If you are a regular card user, then a nominal annual card fee is more than acceptable if the rewards are good. Some cards will waive off the fees if you use it above a limit. Typically cards with fees offer better rewards.
You also opt for a card with high fees and benefits and then after some period of heavy usage, persuade them to waive the fee. Pranav discusses how to negotiate this effectively in GameChanger. You can also search the archives or FB group Asan Ideas for Wealth where these "strategies" and cards are discussed.
When it comes to rewards, it is simply common sense that you choose the rewards that you use often. If you do not travel by air often, a card with lounge access does not make sense.
Maximise Credit card benefits: Ignore reward points that cannot be redeemed against dues easily
Credit cards offer users reward points on each spend (on certain items, subject to limitations). However.
Cardholders cannot redeem their Reward points against dues outstanding on their (HSBC) Credit Card
can be a serious limitation. This means that reward points can only be redeemed in a certain way – that is purchase certain items above certain costs in certain stores. So I would straightaway ignore such reward points. Reward points must be redeemable against card balance and must be cumulative and should not expire soon.
Many cards do allow rewards points to pay for the outstanding due, subject to terms and conditions. As long the as such redemption process is easy, it is fine. Shavneet 'cryto' Singh tells me that it is possible and easy to do it with Amex Cards. It is also possible with Citibank but seems to be a pain
Opt for waivers, discounts, cash-backs, lounge access
I would also prefer to see an actual reduction in the amount of credit I borrow. For example, a fuel spend of Rs. 399 or below could result in a credit card surcharge of Rs. 10 and a spend above that could result in 2.5% surcharge. Many cards waive this surcharge up to a certain limit (eg. abive 400 and below 4000). This surcharge offsets the transaction fee for the pump station.
It makes sense for car owners to prefer this surcharge waiver. Two wheeler owners may prefer a surcharge waiver without lower cap. Of course, one could argue that cash or debit cards are better because this is an artificial discount – credit cards create the cost and then offer a discount on it. But it is acceptable if they carry reward points (fuel does not for many cards) and if these reward points can be easily redeemed (especially for fuel, see below)
Ignore juicy welcome offers and focus on long term benefits that will work with normal spending.
Discounts on garments, electronics and restaurants make obvious sense. Free lounge access at airports works for those who often need to take personal flights (but these are limited in number and come with other terms and costs). So the idea is to focus on tangible benefits that actually make you spend less. A discount has to be direct and reflect on the bill. A cashback has to reflect on the credit limit. Those are the real benefits. Not reward points (unless they can be offset easily against card balance)
Of course, some people spend more so that they become eligible for discounts. They need counselling, not credit. That is the problem with many credit card benefits. They kick in only after a certain lower threshold spend and disappear after a higher threshold spend. It is always better to opt for a straightforward % benefit on all purchases.
A card offering fuel surcharge waiver on all petrol spends is likely to set a threshold on other benefits and vice versa. Therefore, it is important to identify which benefit matters the most and choose a card that offers a flat benefit on that for every swipe. As simple as that.
Selecting Credit Cards with no annual fees
If you used the no annual fee option for a start, you will get two types of cards. Those that have an explicit no fee and those that have a fee waiver below a certain spend limit. I would avoid the latter as it will make me spend more just to avoid fees. The flat no fee option works well for light users. The tradeoff is likely to be on the benefits.
This is a list of such cards at paisabazaar.com.
The ones marked with an arrow are flat no-fee cards and the rest (except Amex)  have a fee waiver option.
Comparing credit cards
I chose an assortment of cards from above. The sponsored Amex card which does not fit in the filter and those with fee waiver and flat free cards. Let us go through them feature by feature. If we had to choose only among these cards, what would you choose? What would I choose?
The Amex card is simply too expensive for my usage and I don't have the necessary skills to get it waived. So that is off the chart for me straight away. It is not a question of affordability. I don't like to be forced to spend more on my card or spend more period.
The Citibank Indianoil card has a ₹1000 fee only if the usage is less than ₹30,000 a year. The others are flat fee. So that leaves 3 cards for now.
Notice how the reward point benefits are structured. The IndianOil card and HSBC cards offer reward points on fuel purchases too. It is amusing that one that reward point is 25 paisa for a card charging 4500 a year (Amex), but it has other rewards (see below).
In this screen, IndiaOil is the clear winner. Not only is 1 point = 1 Rs. for fuel, the reward point can be swiped for free petrol at IndianOil outlets. Now that is reward redemption which is probably the most direct and easiest that I have seen.
At this point, I would dig deeper into the Citibank IndiaOil most important terms and conditions. I don't know if other companies do it (I am sure they do), but I like the fact that Citibank has organised its cards in terms of petrol, shopping, cash back and airline miles. This makes it so much easier for the user to pick one according to what matters to them.
Choice becomes easy when we realize all desirable features cannot be packed into one product (hence the need to choose!)
Let us continue with the comparison to illustrate this point:
The IndianOil card has the best fuel waiver benefit (no surprises), but it also has a decent dining discount. On the other hand, HSBC and Yesbank have good movie deals. Which one is better for the movie deal: HSBC or YesBank?
In this window too, IndianOil is the winner considering that you need fuel to go to the movies. Now, moving on:
HSBC card offers 10,000 cashback on international flight booking. You can get Pranav Surya's Travel Training Kit (pdf for ₹199), check for cheap flights (really cheap!) and find out if it makes sense to use MakemyTrip on those days (it may not!). This is the problem with many card benefits. You can only avail them in a certain portal. There may be cheaper ones available.
The Amex Express Membership Rewards Credit Card offers
Earn 1,000 Bonus Membership Rewards Points for using your Card 4 times for transactions above INR 1,000, every month
Earn 1 Membership Rewards Point for every Rs. 50 spent except for spends on Fuel, Insurance, Utilities and Cash Transactions
1,000 Bonus Membership Reward Points for the first Standing Instruction registered within 5 months of Cardmembership.
5,000 Bonus Points on 1st year renewal applicable on payment of renewal fee
This will work well with heavy usage that is normal before buying the card.
American Express Credit Card Bonus Membership Rewards Comparison
See here for the full comparison of Amex cards
You can further filter by a particular benefit and so on. I hope the essential idea of credit card choice is clear.
Summary: How to choose the best credit card
Decide on whether you wish to pay a fee or not —> Decide on the benefit you need most often —-> Choose a card that offers the most direct benefit for the lowest fee —> Read about eligibility, important T &C before applying —–> Always remember rules 1,2, 3.  Easy peasy lemon squeezy! People get confused only when they do not what they want.
Maximize credit card benefit by choosing a card that does not make you spend more!
Credit Card Usage Tips
1: Do not use your credit card on any purchase that you cannot afford.
2: Pay this month's credit card purchases with this months salary or at best next months salary.
3: If you want to set up an automated card payment with your salary account ensure that payment date is a good seven days before due date.
4: Don't overthink about the great interest you will generate from a 6% SB account or liquid fund by delaying credit card payment until just before due date. Wealthy people do not worry about crumbs. They plan to bake the whole pie and eat it too.
5: Get only one credit card and use it when needed. Using a card for benefits alone is lame (there I said it. Feels good)
6: If you use a card intelligently, you can build a good credit score – a proof to banks that you are worthy of loans. The rewards points and cashbacks are only a fringe benefit. Wealthy people only focus on core benefits.
Parting thought: If you found the article useful or meaningful then I have proved that anyone can pick a credit card. If you think I have missed out something important, please feel free to add them to the comments section.
Ps. I am referring to a wealthy person, not a rich person. All wealthy people are rich in multiple ways. Rich people are only rich in money.
Subscribe and join the freefincal Youtube community!
 Don't like ads but want to support the site? Subscribe to the ad-free newsletter! 
Want to conduct a sales-free "basics of money management" session in your office?
I conduct free seminars to employees or societies. Only the very basics and getting-started steps are discussed (no scary math):For example: How to define financial goals, how to save tax with a clear goal in mind; How to use a credit card for maximum benefit; When to buy a house; How to start investing; where to invest; how to invest for and after retirement etc. depending on the audience. If you are interested, you can contact me: freefincal [at] Gmail [dot] com. I can do the talk via conferencing software, so there is no cost for your company. If you want me to travel, you need to cover my airfare (I live in Chennai)
---
Connect with us on social media
---
Do check out my books
---
You Can Be Rich Too with Goal-Based Investing
My first book is meant to help you ask the right questions, seek the right answers and since it comes with nine online calculators, you can also create customg solutions for your lifestye!
Get it now
.  It is also available in
Kindle format
.
---
Gamechanger: Forget Startups, Join Corporate &

Still

Live the Rich Life You Want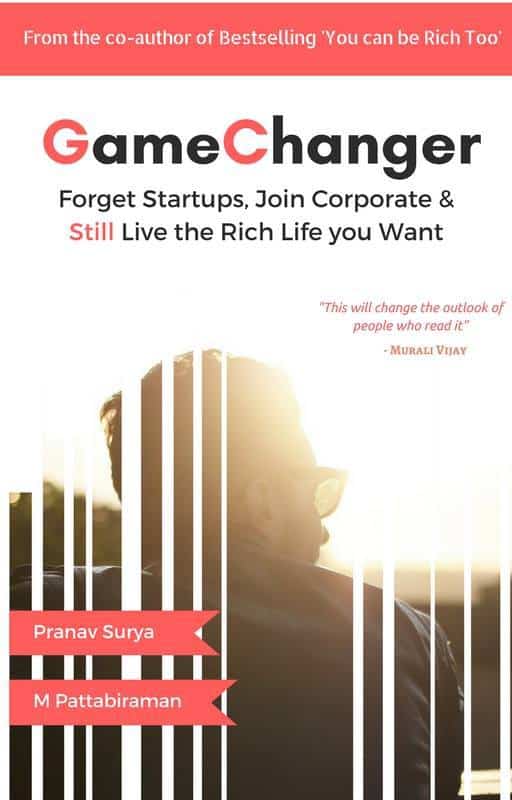 My second book is meant for young earners to get their basics right from day one! It will also help you travel to exotic places at low cost!
Get it or gift it to a youngearner
---
The ultimate guide to travel by Pranav Surya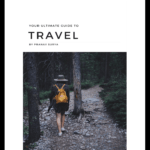 This is a deep dive analysis into vacation planning, finding cheap flights, budget accommodation, what to do when travelling, how travelling slowly is better financially and psychologically with links to the web pages and hand-holding at every step.  
Get the pdf for ₹199 (instant download)
---
---
Free Apps for your Android Phone
All calculators from our book, "You can be Rich Too" are now available on Google Play!
---
Install Financial Freedom App! (Google Play Store)
---
Install Freefincal Retirement Planner App! (Google Play Store)
---
Find out if you have enough to say "FU" to your employer (Google Play Store)
---
About Freefincal
Freefincal has open-source, comprehensive Excel spreadsheets, tools, analysis and unbiased, conflict of interest-free commentary on different aspects of personal finance and investing. If you find the content useful, please consider supporting us by (1) sharing our articles and (2) disabling ad-blockers for our site if you are using one. We do not accept sponsored posts, links or guest posts request from content writers and agencies.
Blog Comment Policy
Your thoughts are vital to the health of this blog and are the driving force behind the analysis and calculators that you see here. We welcome criticism and differing opinions. I will do my very best to respond to all comments asap. Please do not include hyperlinks or email ids in the comment body. Such comments will be moderated and I reserve the right to delete the entire comment or remove the links before approving them.