A little while ago, I was invited to participate in an informal gathering of humanities students from various institutes. We watched the movie, Hector and the search for happiness and there was a presentation by a student who was studying the movie for a mini-project and a discussion on 'what makes us happy'.
The title, Side effects may include happiness!, refers to a book featured in the movie. Hector (Simon Pegg – Benji in the MI movies) is a psychiatrist who is bored of his life and is convinced that he is unhappy. He has a girlfriend but still holds on to the memories of his old flame. All of a sudden he sets off on a quest to understand more about happiness and what makes people happy, leaving his girlfriend dumbfounded and their relationship hanging by a thread.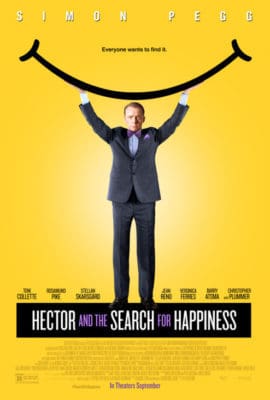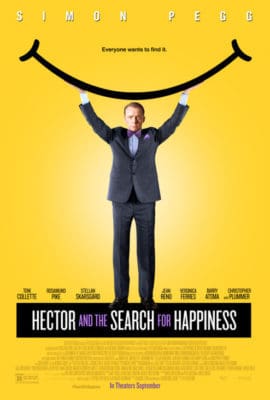 He goes to China, Africa and LA, is kidnapped by guerrillas, helps a women with a tumour on a plane, befriends a drug lord, is challenged by a monk to think higher and so on. During each encounter he learns something about happiness and jots it down in a notebook given by his girlfriend. Finally, he meets up with his old flame, meets a happiness professor (who is the author of the above mentioned fictional book) and gets his head examined! Literally, using a technique called impedance tomography which can image neutron movements.
The reason for this post: The student who made the presentation, Shubhajit, was kind enough to share two extracts from the movie. I think it is not necessary to have watched the movie to be able to appreciate the extracts.
I Happiness of a pursuit
The first is a lecture given by the happiness expert, Prof. Professor Coreman played by one of my most favourite actor, Christopher Plummer (the captain from the Sound of Music!).
"Researchers just love to tell us, that money doesn't buy happiness. I know what you're thinking, how much do researchers make?
Everything in this world is going up. And happiness is going down, oh dear, oh dear, oh dear, oh dear. How many of us, I wonder, can recall that childhood moment when we exprienced happiness as a state of being.
That single moment of untarnished joy. That moment when everything in our world, inside and out was alright. Everything was alright. But now we've become a colony of adults and everything is all wrong. All the time!
It's as if we were on a quest to get it back. And yet the more we focus on our own personal happiness, the more it is useless. In fact, it's only when we are otherwise engaged, you know, focused on, absorbed, inspired, communicating, discovering, learning dancing, for heavens sake that we experience happiness as a by product, a side effect.
Oh no. We should concern ourselves not so much with the pursuit of happiness, but with the happiness of a pursuit." Would you agree?
If you wondered where happiness originates in the brain, it is from a region known as the precunus (in red) found towards the back of the head. Japanese researchers have found that, more the grey matter in this area, higher the chances for happiness: Happiness in an MRI

By Dr. Johannes Sobotta – File:Sobo 1909 624.png (Sobotta's Textbook and Atlas of Human Anatomy 1908), Public Domain, https://commons.wikimedia.org/w/index.php?curid=30163057
II 15 one sentence lessons from Hector's notebook
1. Making comparisons can spoil your happiness
2. A lot of people think, happiness means being richer.
3. Many people only see happiness in their future.
4. Happiness could be the freedom to love more than one woman at the same time (?)
5. Sometimes, happiness is not knowing the whole story
6. Avoiding unhappiness is not the road to happiness
7. Does this person bring you predominantly: A) Up or B) Down?
8. Happiness is answering your calling
9. Happiness is being loved for who you are
10. (Happiness is socialising with) SWEET-POTATO STEW
11. Fear is impediment to happiness
12. Happiness is felling completely alive
13. Happiness is knowing how to celebrate
14. Listening is loving
15. Nostalgia is not what it used to be.
16. True happiness isn't just one emotion; it's all of them (happy, sad, scared etc.)
Even without seeing the movie or reading the book by François Lelord's novel of the same name, I think many of us and appreciate these simple lessons.
Do try and get hold of the movie if possible. Side effect of watching may include happiness.
Previous posts for further reading:
Money Can't Buy Happiness. Or Can it?
My Favourite Movies on Finance
Now over to you. Can you identify with these lessons? What does happiness mean to you?