A step-up SIP, also known as growth SIP or increasing SIP or top-up SIP is one in which the monthly contribution  amount increases each year either by a fixed amount or by a fixed percentage of the current contribution. Here is a step-up SIP calculator that can be used to back-test investments from April 3rd 2006 onwards.
All financial planning tools (retirement planners or goal planners) at freefincal have a step-up feature. That is they allow you to take into account an annual increase in monthly investment.
Why Step-up SIP?
Hope! Step-up sip calculators give you hope that it is indeed possible to achieve your financial goals!
Let us consider an example:
Shiva, a 25 year old with monthly expenses of Rs. 25,000 wants to plan for retirement.
He assumes an inflation of 8%, post-tax return before retirement as 10% and post-tax return after retirement as 7%.
Shiva wishes to retire at 60 and would like a financially independent life in retirement for 25 years.
Corpus required: Rs. 13.4 Crores!!
Monthly investment required: Rs. 37, 514
This is much more than he can invest.
If Shiva can manage to increase his monthly investment by 5% each year, the initial monthly investment required is only Rs. 22, 507.
If he can increase the monthly investment by 10% each year, the initial monthly investment required is only Rs. 11,371!
Thus, the advantage of a Step-up SIP is obvious.  It gives you the encouragement and hope to start investing.
The disadvantage of a step-up SIP becomes clear when three investment schedules mentioned above are plotted together.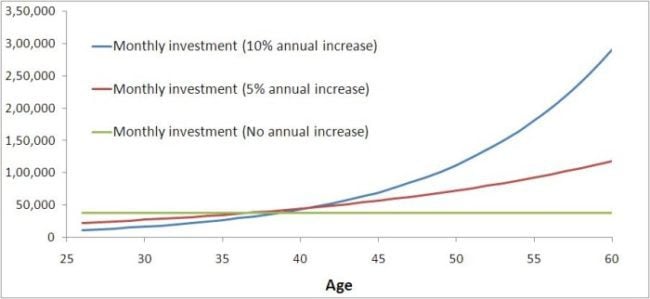 All three of the result in the same corpus.  However, if Shiva invests less in the hope that he will increase the investment in the future, when his income increases, he is taking an unavoidable chance.
For the 10% annual increase schedule, Shiva will have to invest Rs. 1 Lakh per month by age 49.  Even if we assume his income will increase, so would his expenses!
So will be able to invest the necessary amount in the future?
Even if he wants to, life may not let him!
Of course at the end of the day, Shiva can only invest whatever he can, but he should try his best to stick to whatever schedule he originally aimed for.
Bottomline: Step-up SIPs will help, but it is always better to invest as much as possible as early as possible.
How to Step-up SIP?
The best way to do this it to have a base SIP running, open an account with the AMC and invest the additional amount as per the schedule.
There is no need to top-up your SIP; stop the SIP and start a new one; start an additional SIP etc.
That is, there is no need for a fresh or additional bank ECS mandate.
Step-up SIP backtesting
As far as I am concerned, there is very little need to back-test a Step-up SIP with historical NAV data. After all, if you increase the monthly investment each year, we will get a bigger corpus because we will get more units.
There will not be a big difference between the CAGR if a normal SIP and a step-up SIP. After all, the higher value in the case of a step-up SIP arises from an increased investment. Therefore, the CAGR will not be much higher.
It is not about the return, though.  If we invest more, we 'get' more! A higher corpus is more important that higher returns!
I made this backtesting simulator after I received a couple of requests  from financial planners.  A backtesting exercise may help financial planners convince their clients to increase their SIP contributions each year.
Here is a comparison of a constant SIP of Rs. 5000 in ICICI Prudential Discovery Fund versus a step-up SIP of Rs. 5000 increasing each year by 10%.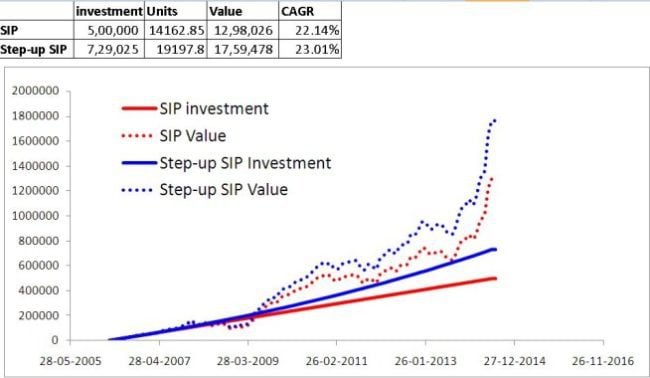 Download the Step-up SIP Calculator  (link to previous post)