I have Rs. 500 SIP running in Sundaram Select Midcap fund since Aug 2009. As readers may recall*, this is not for me, but for a relative, started when she was about one for her college. Here are some lessons from that investment. I was using this to prepare slides for a "basics of money" corporate meet next week and I thought this might warrant a post.
* See: Stock Market Overheated? Worry About What is Invested and Not When to Invest!
Why Sundaram Select Midcap Fund? It was (when I started) and is a reasonably consistent, but quiet midcap fund, though with a poor last 3Y. This is the only investment for that goal and is significantly more risky than the funds I use for my retirement and my son's education.
Yes, it is a foolhardy all-or-nothing kind of strategy using a 100% equity midcap for a clear well-defined goal, but I wanted to take the risk. If it fails, I will have to compensate for it from other sources.
I do not use SIPs for my goals, but wanted an automated solution for this. Come rain or shine, I did not want to stop contributing. Also, the contribution is quite small. Your aim should be to invest as much as possible each month and manual investing is better than investing for that.
PLEASE DO NOT INVEST IN THE FUND WITHOUT UNDERSTANDING RISKS! It is an extremely volatile fund. Not a recommendation.
Rs. 500 SIP in Sundaram Select Midcap from Aug 2009
Start date: 31-08-2009
Monthly investment: Rs. 500
Time: 102 months or 8.5 years
Total investment so far: 500 X 102 = Rs. 51,000
Current Value = Rs. 1,24,929
Annualized return: 20.7%
For the purpose of illustration, I have used the "regular fund"(with commissions taken off fund value). Since I was a "direct-with-AMC" investor even before the advent of direct plans, my SIP was automatically transferred to direct plans by the AMC from Jan 2013 and I had gradually shifted the regular units to direct soon after. Due to this, the actual value of my investment is about Rs. 5000 more and return about 1% more.
Note: If you stuck with regular units, switch out all such units that qualify for LTCG before March 31st. Thanks to Sridhar Venkatarajan (who incidentally is a patron of freefincal even before it started), I learnt yesterday in FB group, Asan Ideas for Wealth that you can direct the bank to stop regular fund SIP ECS mandates. No need to go in person to the AMC. No need to deal with distributors.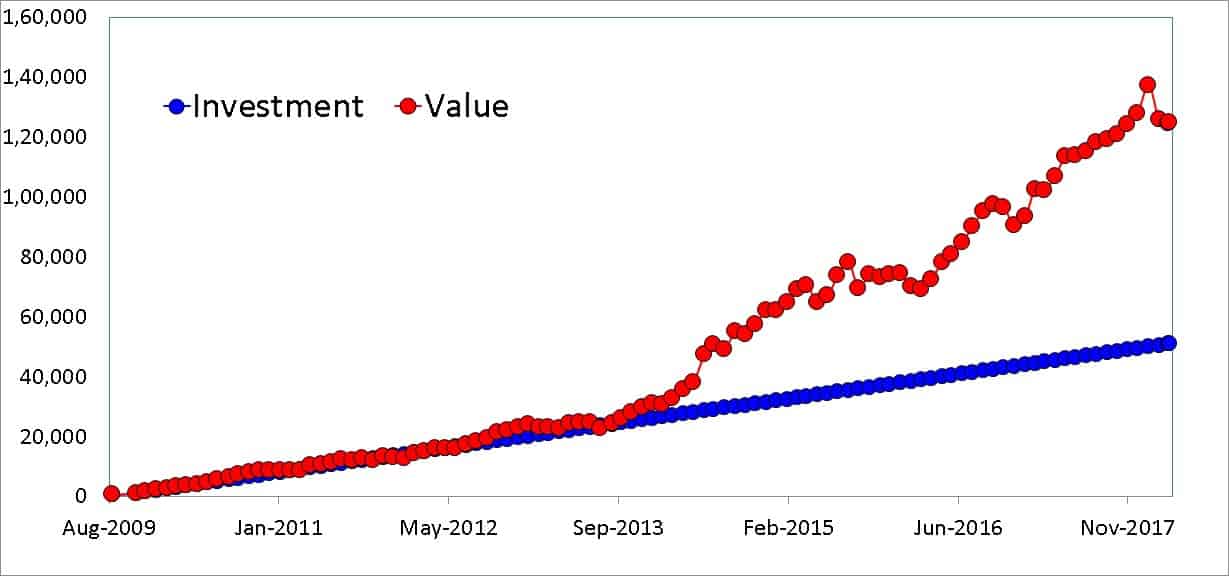 Notice that for the first four years after starting the value of the investment is zero.  Excusing me for laughing when I see 3-month old SIP investors in AIFW "worried about the recent fall in markets". You can see that fall in the above graph (extreme right).  If you want returns, you need to take risks and be patient, pal.
The moral of this post is NOT patience will be rewarded. Do not get me wrong. I not a SIP sales guy to say "everything will turn out okay, in the end". It will not.
There are two lessons from the above graph. equity will not reward anyone consistently. There will years of drought and then sudden floods (post Sep 2013). And now again, with only a year to go to elections again, we can expect a sideways movement for a year or so.
So the investment value will not move up much and with a large crash can come down back to the blue line. See: Beware of Misinformation: Mutual Fund SIPs Do Not Reduce Risk!
And: Don't get too comfortable with equity: This is how a real market crash "feels" like
And: How can a 400% profit result only in 8% return?! Hodling to the moon Risk! 
Annual returns from the SIP
These are the kind of ups and downs the investment had to endure.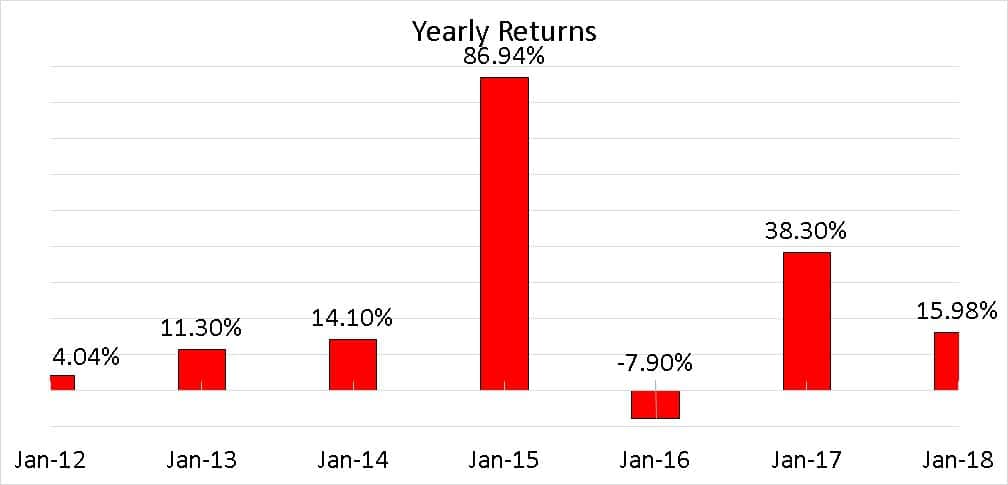 It is a pretty rocky ride. Get used to it or you will get hurt.
Month-by-month XIRR tracking
Using the monthly XIRR tracker we can see how returns have varied after each instalment.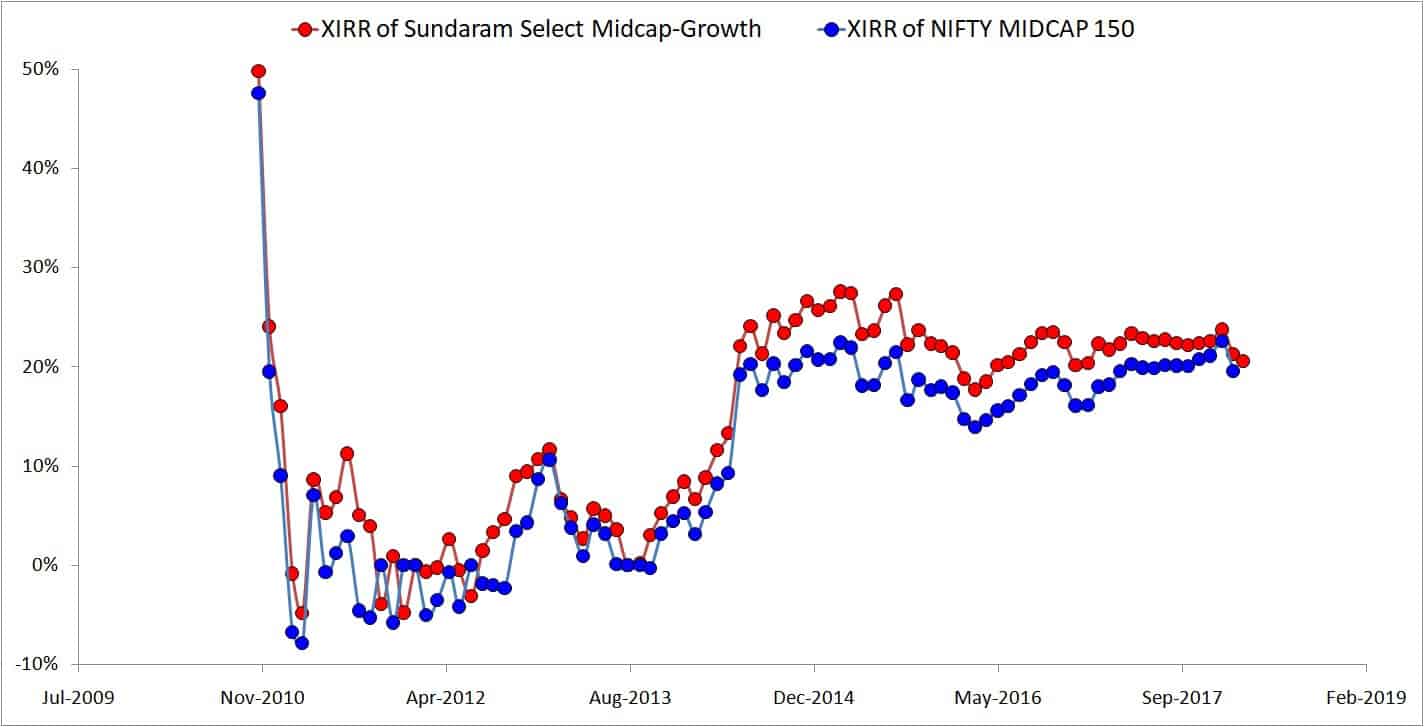 Lesson: If after 6 months of investing, your returns are ~ 60%, be sure that they will reduce and react to market movements no matter hold the investment.
Now, let us look at three imaginary SIPs
SIP started in March 2014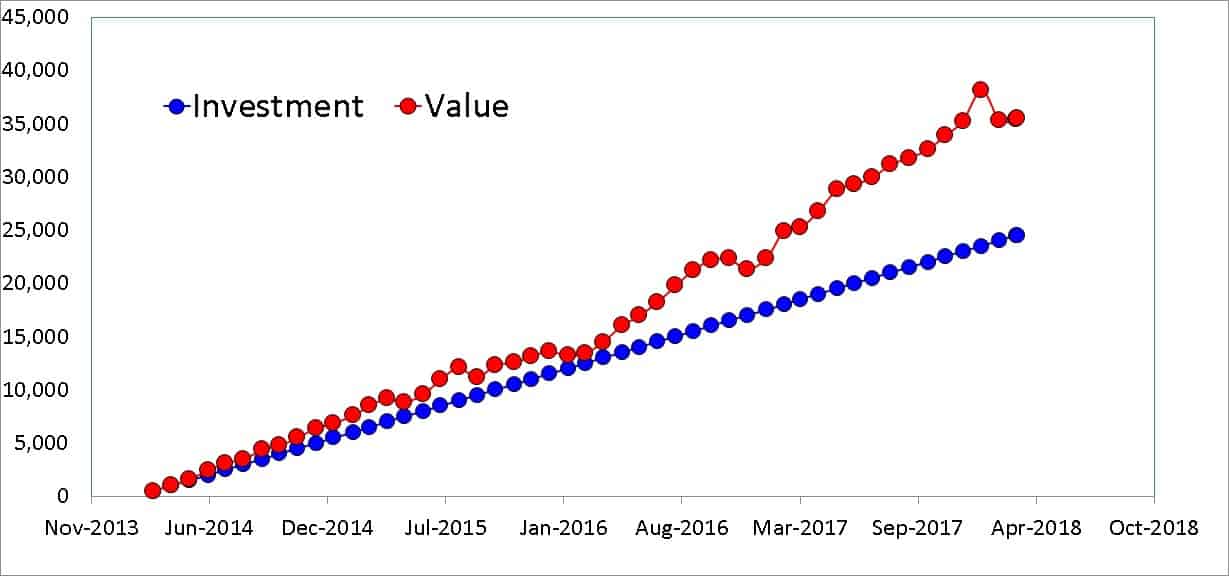 SIP started in Mar 2016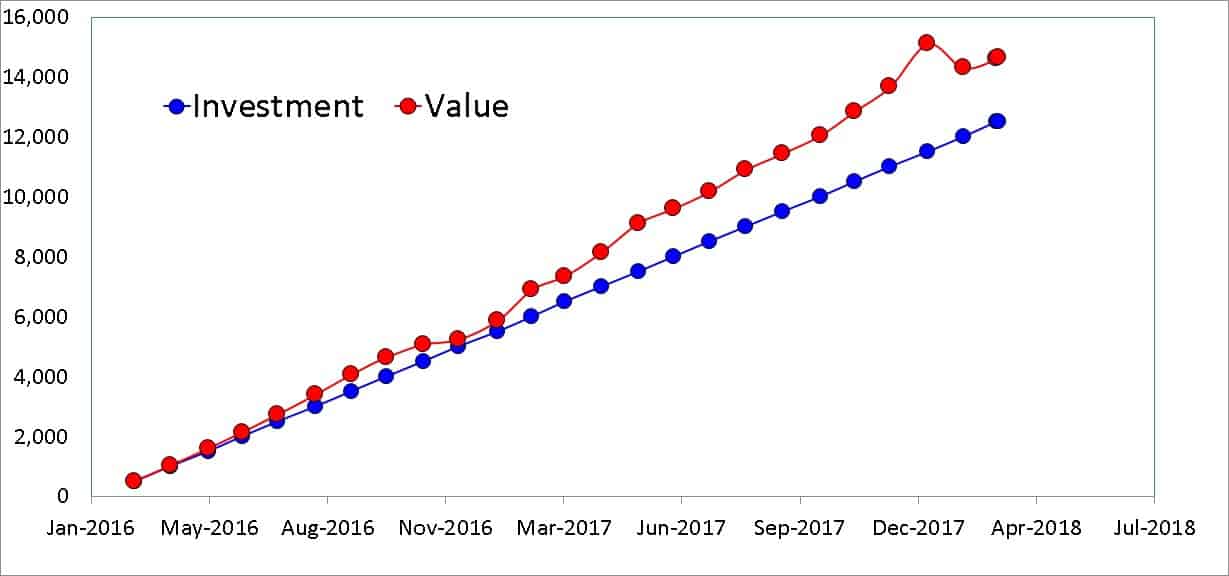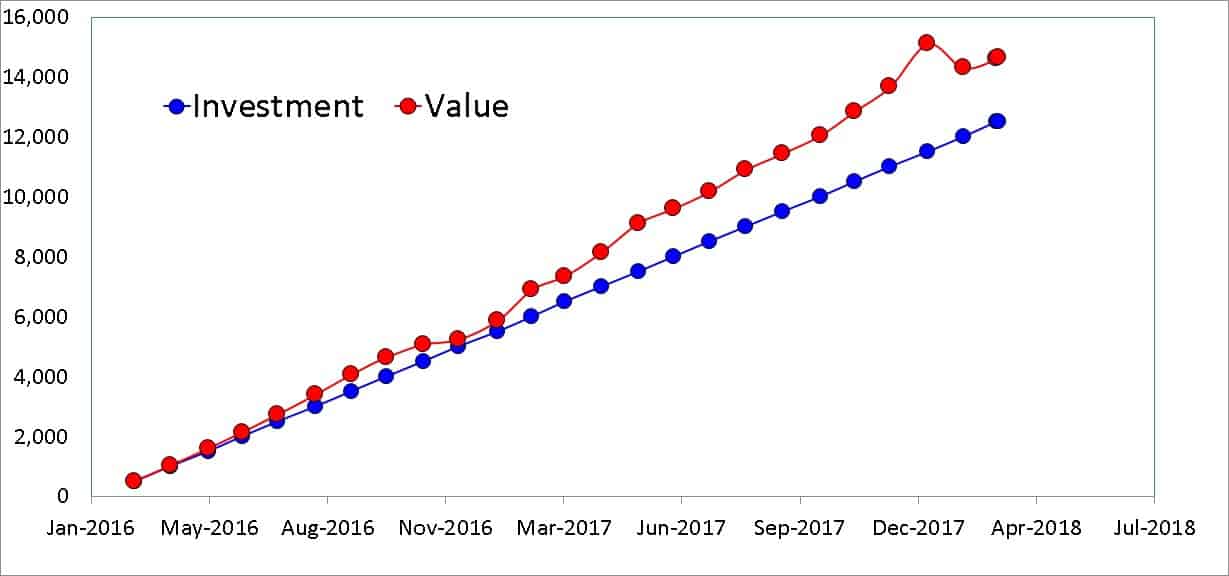 Notice that the recent fall looks a bit "bigger" for SIPs started recently? The only way to stop worrying is to not look at the portfolio each day. Even once a year is bit often for goals decades away.  We must "look" to manage risk, but should also know "when to look". For a goal 15 or 20Y away, leave your portfolio alone for the first 3-5Y. You can then worry about rebalancing, fund performance etc.
SIP from April 2006.
This is the longest that I can backtest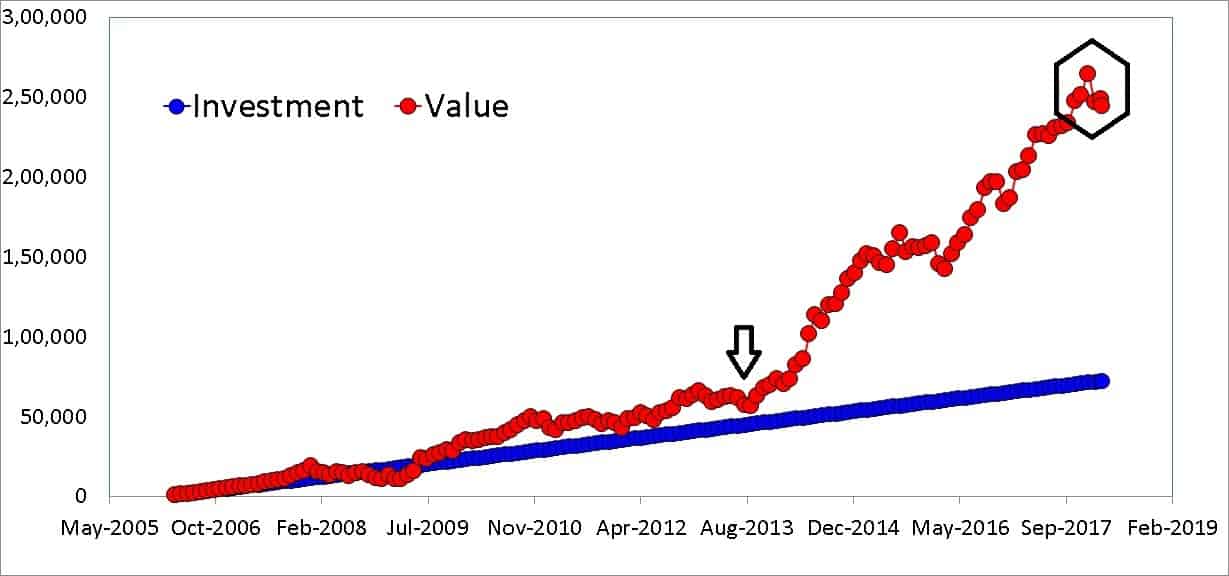 Notice that in Aug 2013, after about 7Y after starting the investment, the value almost became equal to the invest. This is the risk with mid, small, micro and nano cap funds. Also even after 12 years, the value reflects the "fall" post budget 2018. This is because SIPs do not reduce risk. The value of 2.5L faces the full market risk and the so-called "averaging benefit" of SIP will not help in any way.