Here is a set of slides from the recently concluded Chennai investor meet that hopefully might convince you that a real return is only one side of the investing coin.
Consider some product or a service or a fee  that costs 10L today.  For an inflation rate as shown below (8%), the cost will increase with time as shown by the blue line.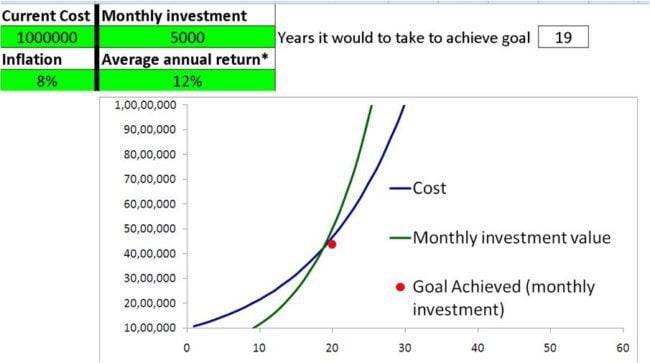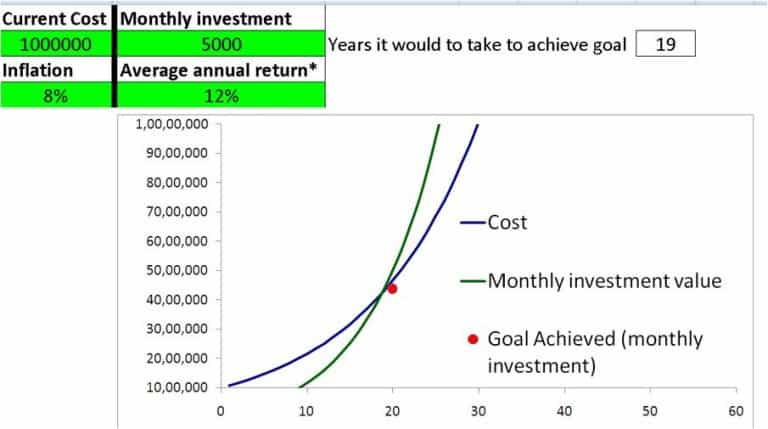 The green line represents the growth of the monthly investment amount at the average annual interest rate as shown above.
After 19 years the value of the investment will overtake the cost. Meaning we would have to wait 19 years to make the purchase.
The real return (approximately) in this scenario is 12% -8%  = 4%
Now, what if the inflation was 10% instead of 8%?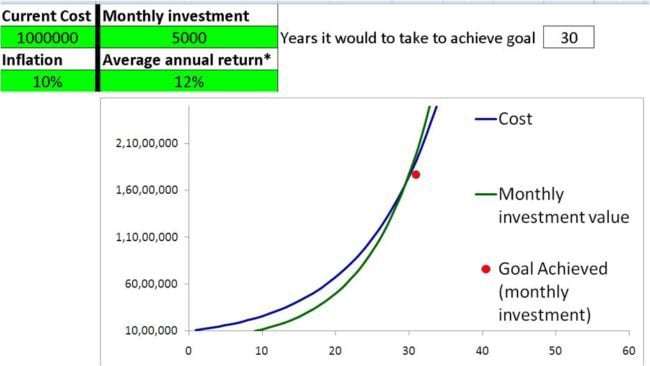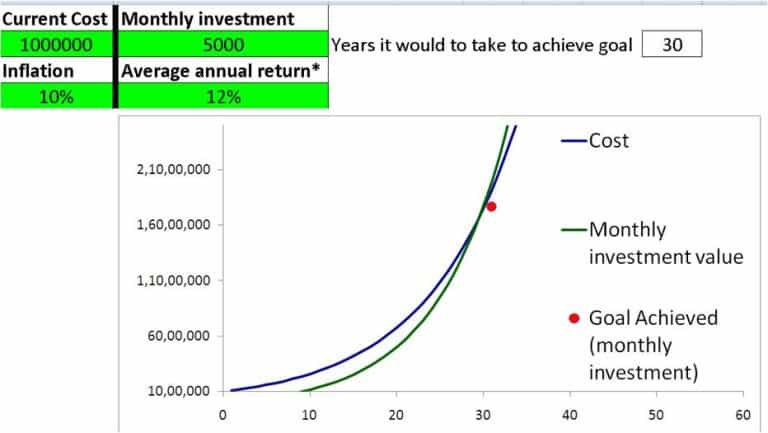 When the inflation increases to 10%, it would take 30 years to make the purchase for the same investment.  The return is still above inflation, but the does not help much. The purchase is significantly delayed. Why?
Now consider this,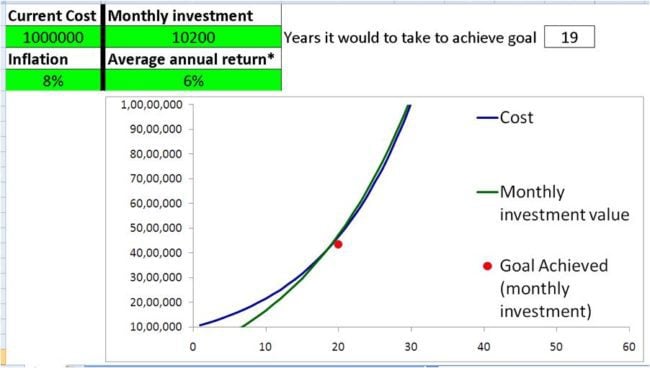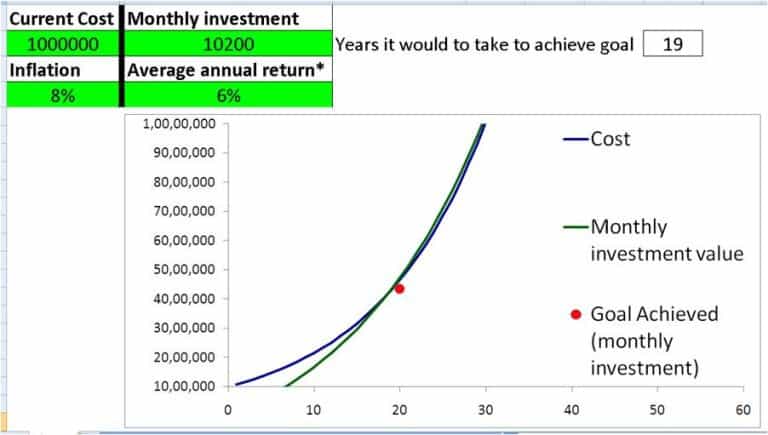 More than double the investment, with less than half the return, a real return of about -2% produces the same result as a real return of +4%: purchase after 19 years.
What if we invest like we would expect a real return of -2% in an instrument that would give us a positive real return?
What if we invest 10200 each month in an instrument that has the potential to deliver double digit returns?
Unfortunately, many do the opposite. They invest less that the required amount (10,200) in instruments that offer negative real returns.
Loss of capital
Loss does not always mean a negative balance or an actual decrease in value.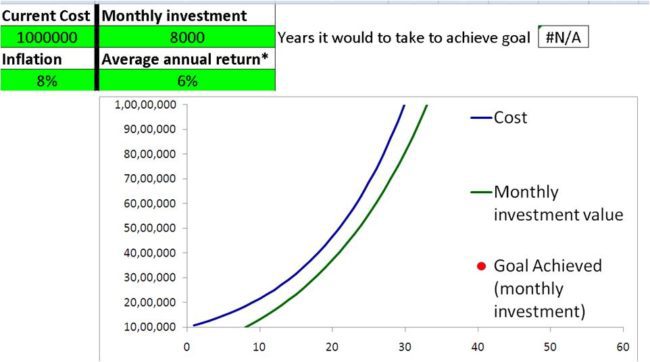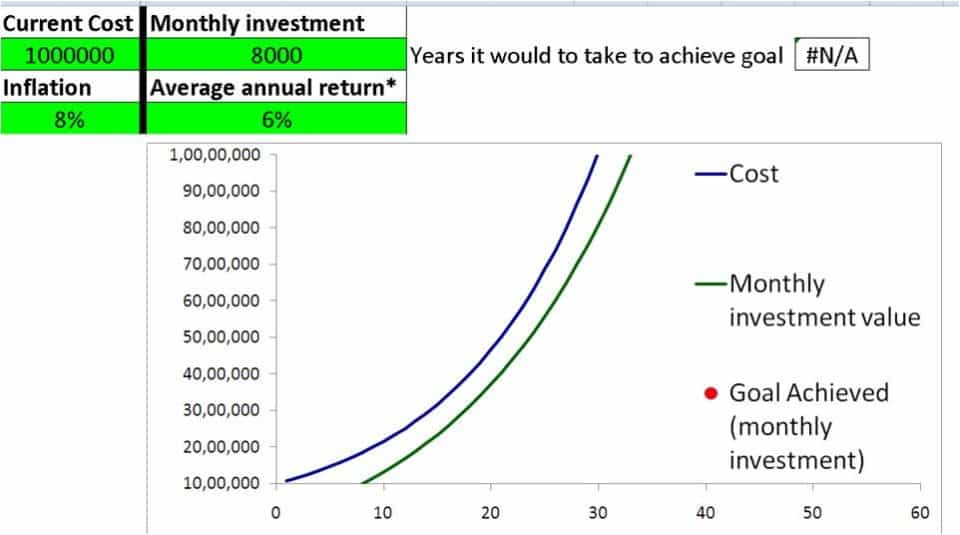 The result: permanent loss of capital (notice the gap between the curves at 19 years). I use the word permanent because these are the people who are scared of notional short-term losses.  They may never be able to make the purchase.
Not investing enough is an ailment that can affect those who hope to earn a real return too!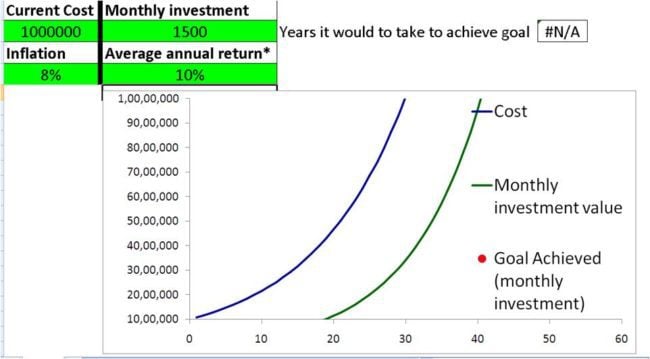 A real return of +2% means nothing if one does not invest enough.
There is yet another side to this story.   Those who can only invest little (say 1500 pm) cannot take excessive risk in the hope of getting higher real return. This scenario,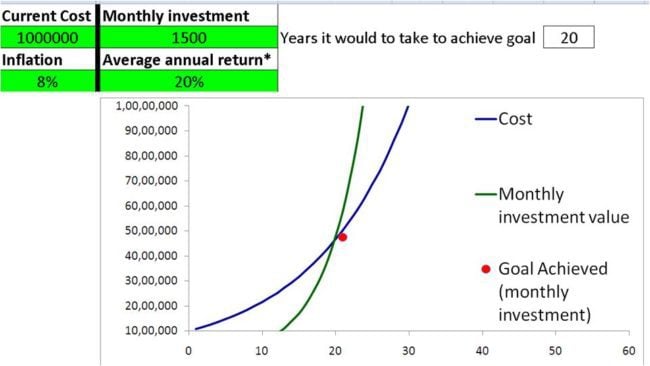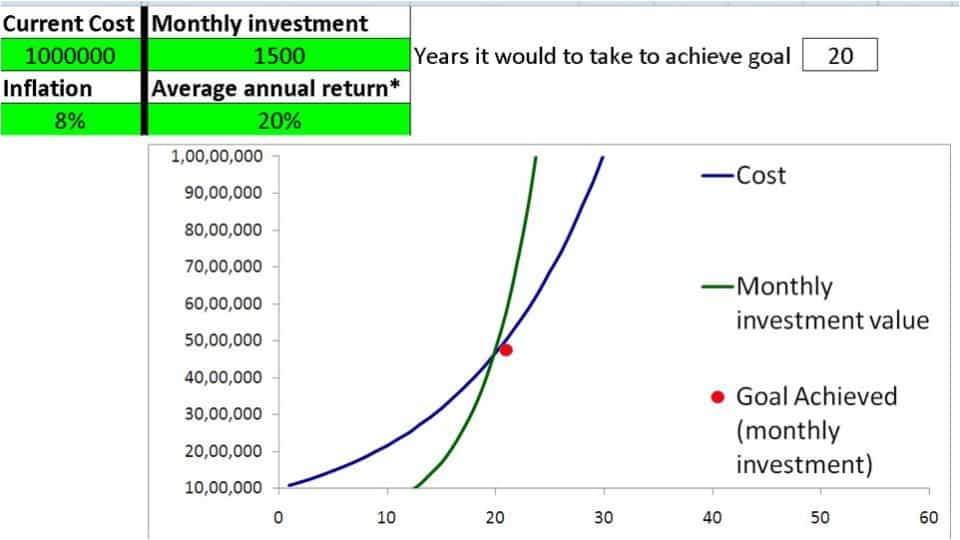 can be produced in an excel sheet but is unlikely in real life. At least it is quite uncommon.
What is the point of this post?
When an expense crops up (planned or unplanned) the only thing that matters is the money available us. At the point in time, the return we have got, and how much it is above or below existing inflation rates is irrelevant.
The goal behind investing is to obtain a big fat corpus.
The goal is not to beat inflation. The goal is not to obtain a real return.
The goal is to recognise the importance of inflation. Inflation can be overcome  in two ways:
1) investing in aggressive assets. That is in assets with potential to earn a positive real return (return higher then inflation)
2) investing enough capital. This could even be in assets with a guaranteed post-tax return lower than inflation.
You can beat inflation by investing in FD/RD or endowment policies by simply investing enough. See here for an example.
Don't criticize the product or the agent who sold it to you. Nothing wrong with the product. Most people want guaranteed returns without understanding that the associated price is a huge increase in the necessary investment.
The second suggestion  may sound bizarre to you.  I am not suggesting you do that, for that would be an inefficient way to work your money.
I suggest that you combine the two ways:
Invest in an aggressive asset like equity, a sum that you will have to invest in a non-productive asset (like fixed deposits or endowment policies).
That way you can go beyond goal-based investing and create wealth. That is, have a surplus relative to your expenses at any point in life … after a certain age.
There is more to investing than real returns. You need to invest as much as possible and as often as possible. Otherwise high returns won't amount to much.
Note:  I have received several requests to share the slides of the investor meet. My slides are not annotated and will be of little use to you in the present form. I intend to release them as a short booklet after the Bangalore Investor Meet to be announced shortly.