In an update to the Equity Mutual Fund Portfolio Comparison Tool, I have added the ability to add missing funds in the sheet thanks to a suggestion by Jithu Raj. You can use this sheet to compare the portfolio of three equity mutual funds. It will also list the portfolios of debt mutual funds, but not compare them (but you can).
How to use mutual fund portfolio comparison tool?
If you are trying to build a diversified mutual fund portfolio (see how you can do this), then simply choose funds with an investment strategy that does not overlap much. For example, choose a bluechip fund and a mid/small-cap fund. Or a single multi-cap fund. Just 1/2 funds are enough for a  market-cap and sector diversified portfolio.
Most investors hold anywhere between 5- 50 mutual funds. Track the portfolio of the large cap funds in your portfolio for a couple of months and check the portfolio overlap. If it is anywhere above 60-70%, then there is not much point holding both funds (unless your portfolio is large and you are scared about putting it all in one AMC). That this, this tool can be used to ruthlessly trim down your portfolio.
Screenshots of mutual fund portfolio comparison tool
The main input sheet where I have chosen PPFAS LTVF, Quantum Long term Equity and HDFC Balanced for comparison.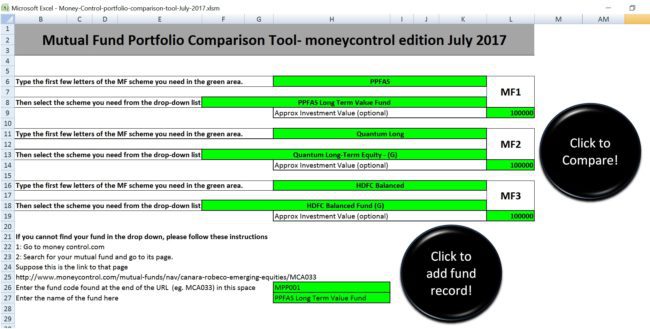 The results are shown below. Should be reasonably self-explanatory.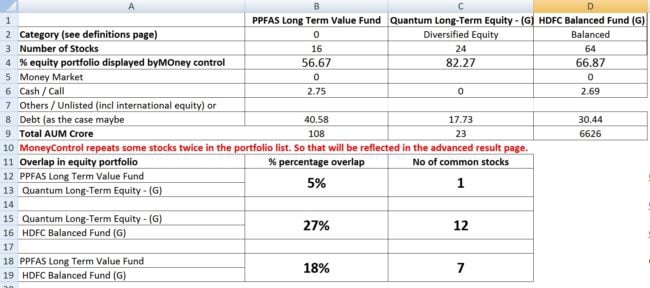 Notice that the overlap is quite small. You can get the sector-wise comparison also.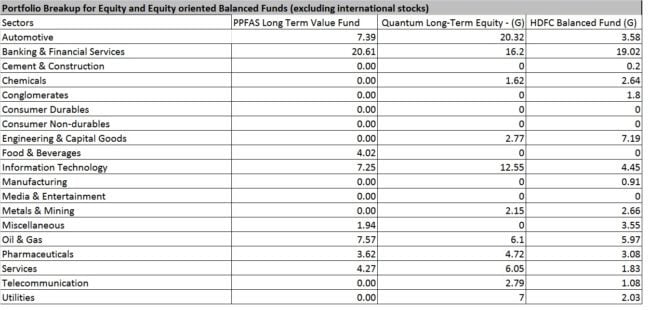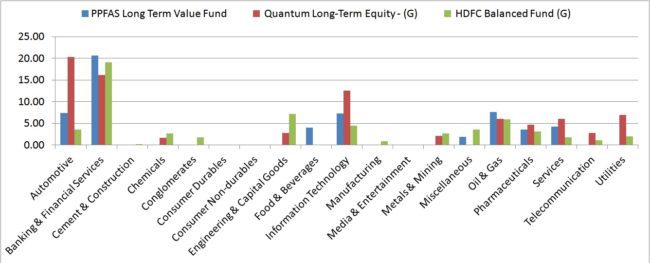 To add a mutual fund, go to moneycontrol.com and search for your fund. Click on NAVS on the search drop-down to locate. Now head over to fund url and locate the fund code as mentioned in the sheet and enter.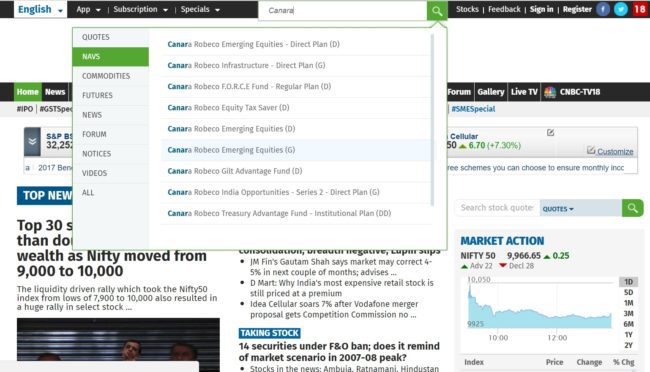 Note
Please DO NOT ask me to increase the number of funds that can be compared. I will not and am tired of responding to such requests. Just ask, if I have make 3 comparisons for 3 funds, how many comparisons should I make for 4 funds, 5 funds, 6 funds …. and the reasons behind my refusal will be clear to you.
---
Ask Questions with this form
And I will respond to them coming Monday. I welcome tough questions. Please do not ask for investment advice. Before asking, please search the site if the issue has already been discussed. Thank you.  PLEASE DO NOT POST COMMENTS WITH THIS FORM it is for questions only.
[contact-form][contact-field label='Name' type='name' required='1'/][contact-field label='Email' type='email' required='1'/][contact-field label='Comment' type='textarea' required='1'/][/contact-form]
GameChanger– Forget Startups, Join Corporate & Live The Rich Life You want
My second book, Gamechanger: Forget Start-ups, Join Corporate and Still Live the Rich Life you want, co-authored with Pranav Surya is now available at Amazon as paperback (₹ 199) and Kindle (free in unlimited or ₹ 99 – you could read with their free app on PC/tablet/mobile, no kindle necessary).
It is a book that tells you how to travel anywhere on a budget (eg. to Europe at 50% lower costs) and specific investment advice for young earners.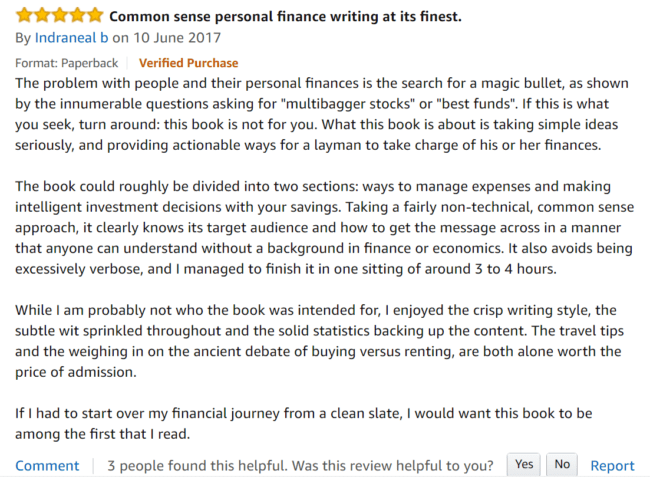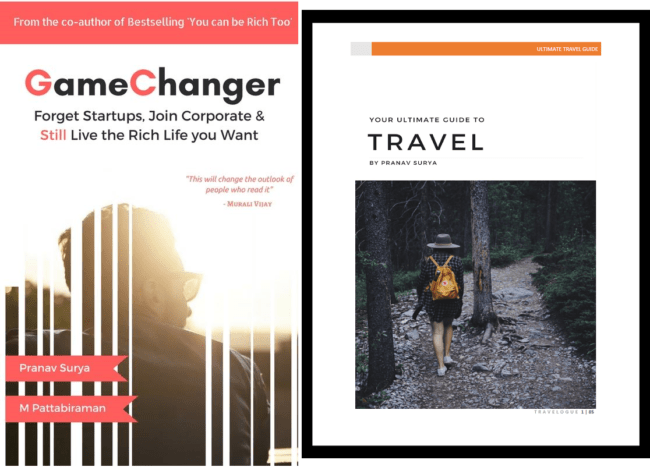 The ultimate guide to travel by Pranav Surya is a deep dive analysis into vacation planning, finding cheap flights, budget accommodation, what to do when travelling, how travelling slowly is better financially and psychologically with links to the web pages and hand-holding at every step.  Get the pdf for ₹199 (instant download)
You can Be Rich Too with Goal-Based Investing 
My first book with PV Subramanyam helps you ask the risk questions about money, seek simple solutions and find your own personalised answers with nine online calculator modules.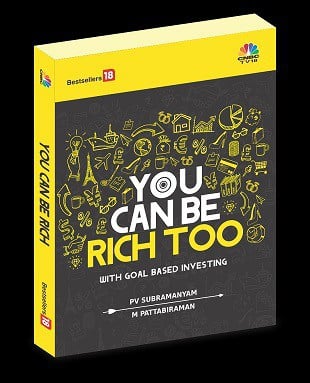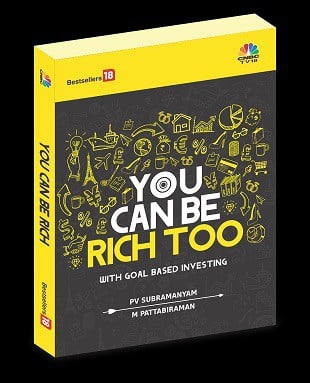 The book is available at:
Amazon Hardcover Rs. 271. 32% OFF
Infibeam Now just Rs. 270  32% OFF. If you use a mobikwik wallet, and purchase via infibeam, you can get up to 100% cashback!!
Flipkart Rs. 279. 30% off
Kindle at Amazon.in (Rs.271) Read with free app
Google PlayRs. 271 Read on your PC/Tablet/Mobile
Now in Hindi!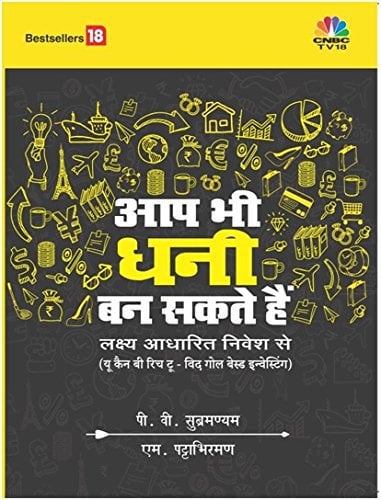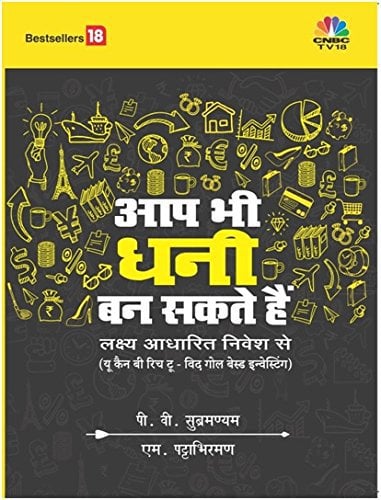 Order the Hindi version via this link