Yesterday (26th July 2017), the Nifty 50 closed above 10,000 for the first time. In this post, let us discuss what we can learn from its journey from 1,000 to 10,000. This post is inspired by a comment from Ravikiran Suryanarayana: "How many of you noticed that it took 7 long years for Nifty to scale from 6000 to 7000?" made in a thread that displayed Nifty 1000 point milestones.
First, let us look at every 1000 point milestone from 1000 to 10,000.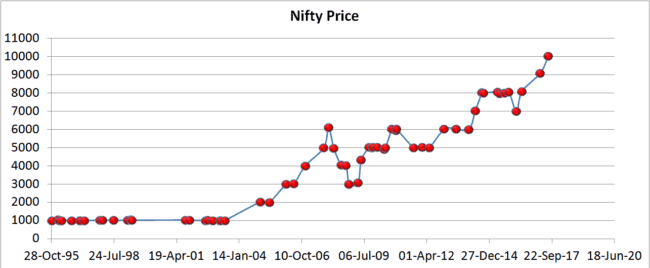 The Sensex staircase is clearly visible here. If you see an "infographic" that just states the date on which the index hit a + 1000 landmark, it can be quite misleading about the reward associated. As Ravikiran so succinctly pointed out, time matters!
Notice the long periods of non-movement and how even "small crashes" can pull back the Nifty by 1000 points. The big one, halved the Nifty from 6000 to 3000 in the space of a few months.
Next, let us look at how long it took for each 1000 point increase (ignoring pullbacks). The scale below is in log and the horizontal axis divides the vertical space into two – above 1Y for a 1000 point increase at the top and below 1Y at the bottom.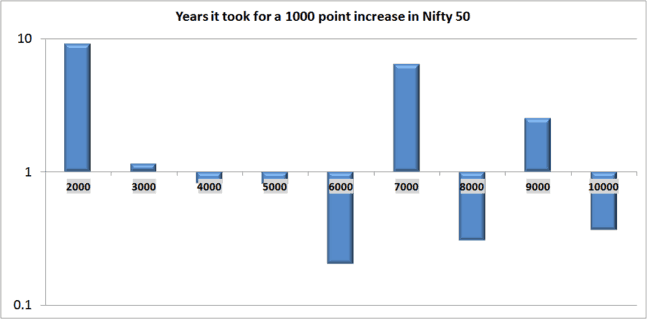 While the top picture tells you how fast you can lose money in the stock market, the bottom picture tells you
(1) how long you can go without earning anything
(2) and then suddenly the tide turns and you can get a 1000 point increase within months or weeks.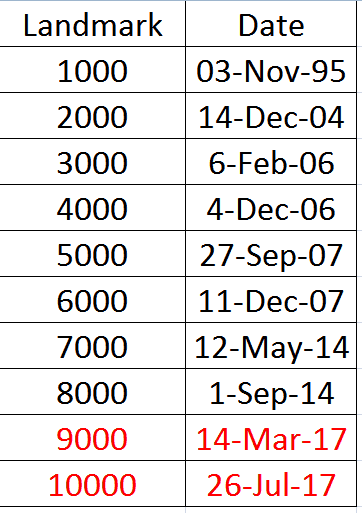 Amusing to see two 1000 point landmarks this year!
Don't get swept away by euphoria. Sooner or later the party is going to end  and the house will come crashing down. What matters then would not be your returns, but how much will you still have for meeting your financial needs.
Instead of enjoying it while it lasts, a more mature stance would be to prepare for the storm (while you can): Simple Steps to De-risk Your Investment Portfolio.
_______________________________
Ask Questions with this form
And I will respond to them coming Monday. I welcome tough questions. Please do not ask for investment advice. Before asking, please search the site if the issue has already been discussed. Thank you.  PLEASE DO NOT POST COMMENTS WITH THIS FORM it is for questions only.
[contact-form][contact-field label='Name' type='name' required='1'/][contact-field label='Email' type='email' required='1'/][contact-field label='Comment' type='textarea' required='1'/][/contact-form]
GameChanger– Forget Startups, Join Corporate & Live The Rich Life You want
My second book, Gamechanger: Forget Start-ups, Join Corporate and Still Live the Rich Life you want, co-authored with Pranav Surya is now available at Amazon as paperback (₹ 199) and Kindle (free in unlimited or ₹ 99 – you could read with their free app on PC/tablet/mobile, no kindle necessary).
It is a book that tells you how to travel anywhere on a budget (eg. to Europe at 50% lower costs) and specific investment advice for young earners.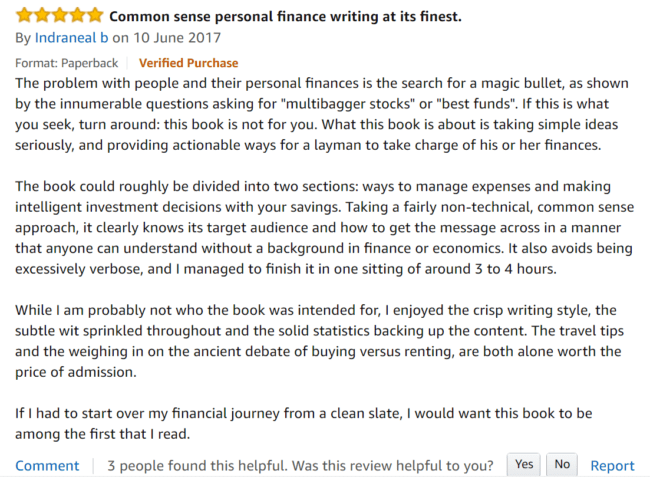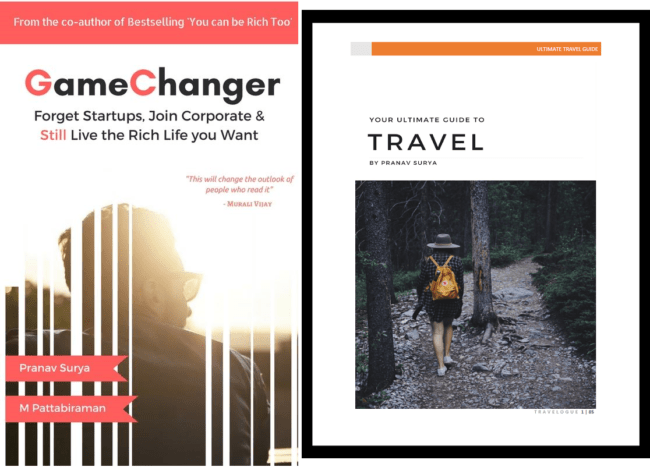 The ultimate guide to travel by Pranav Surya is a deep dive analysis into vacation planning, finding cheap flights, budget accommodation, what to do when travelling, how travelling slowly is better financially and psychologically with links to the web pages and hand-holding at every step.  Get the pdf for ₹199 (instant download)
You can Be Rich Too with Goal-Based Investing 
My first book with PV Subramanyam helps you ask the risk questions about money, seek simple solutions and find your own personalised answers with nine online calculator modules.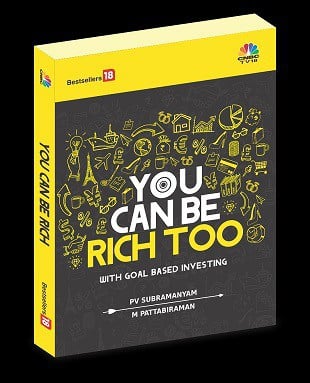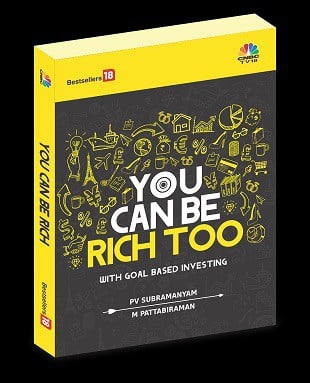 The book is available at:
Amazon Hardcover Rs. 271. 32% OFF
Infibeam Now just Rs. 270  32% OFF. If you use a mobikwik wallet, and purchase via infibeam, you can get up to 100% cashback!!
Flipkart Rs. 279. 30% off
Kindle at Amazon.in (Rs.271) Read with free app
Google PlayRs. 271 Read on your PC/Tablet/Mobile
Now in Hindi!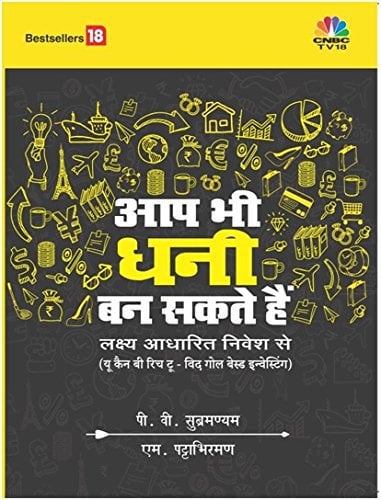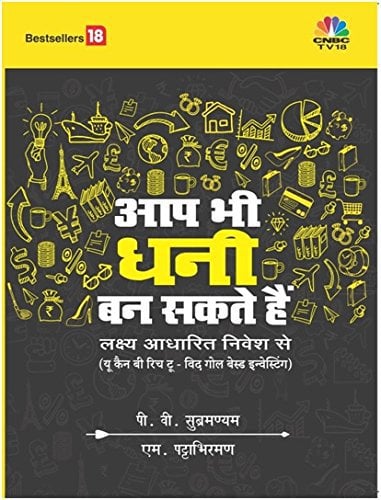 Order the Hindi version via this link