Manish Chauhan's second book, "How to be your own financial planner in 10 steps" is a great 'action' book guiding people through the basic steps of financial planning. This post describes a retirement calculator inspired by the book and is based on 'corpus withdrawal rate'
Step no. 6 is "Start your retirement planning". In this chapter Manish writes: "If you had to take only one learning from this book and implement it, I would suggest  that you take this particular point from this book and seriously save for your retirement. If you don't do anything else, life will still move on, but this particular part cannot be ignored, simply cannot!". The 'point' being, 'delaying your retirement planning will put serious pressure on your retirement life'.
When I made the cost of postponement calculator (again a suggestion by Subra!) I was surprised to see that that the cost of postponement is deadlier than inflation. Each year you postpone saving for retirement the amount you need to save each month for building your retirement nest egg increases by an alarming 16% – the power of compounding has a dark side! This is almost twice as much as inflation!
The chapter on retirement planning is quite impressive and the all-important, "How much will you need at retirement" is addressed in terms of the 'withdrawal rate'.
What is the withdrawal rate? If I have a corpus of 5 crores and if my annual expenses amount
to 12 lakhs, the withdrawal rate is 12/500 or 2.4%. This the rate for the first year of retirement. What about the second year and later? The withdrawal rate (lets denote this by w) is not a constant. It depends  on
the rate of inflation during retirement (i)
the rate of return on the corpus (r)
duration of retirement (k)
This is the formula connecting w,i,r and k (feel free to ignore it if math nauseates you!)

It is often assumed that the withdrawal rate for the second year will increase with inflation. That is if inflation is 8% then w(2nd year) = 2.4%X(1+8%) = 2.6% and so on. However this is not true and the above formula has to be used.
This is how the withdrawal rate typically looks for each year in retirement. The initial rate (for 1st year) is 3.5% in this example. (Click on the picture for a clearer view)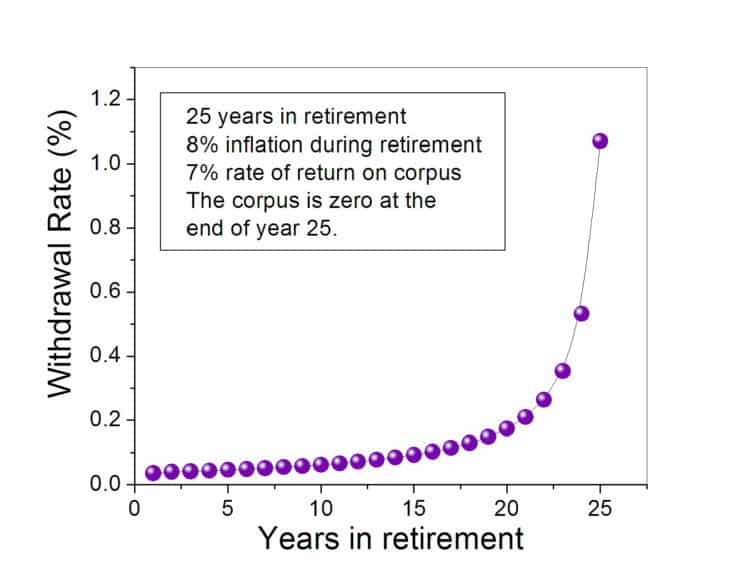 Safe to say that the withdrawal rate changes with time in a complicated way! The point is, only the withdrawal rate for the 1st year in retirement or the initial withdrawal rate can be guessed (along with other  assumptions: at least two out of i, r and k). The withdrawal rate for subsequent years should not be guessed and has to be computed using the above formula.
Here are some further insights about the initial withdrawal rate (Click the pictures for a clearer view)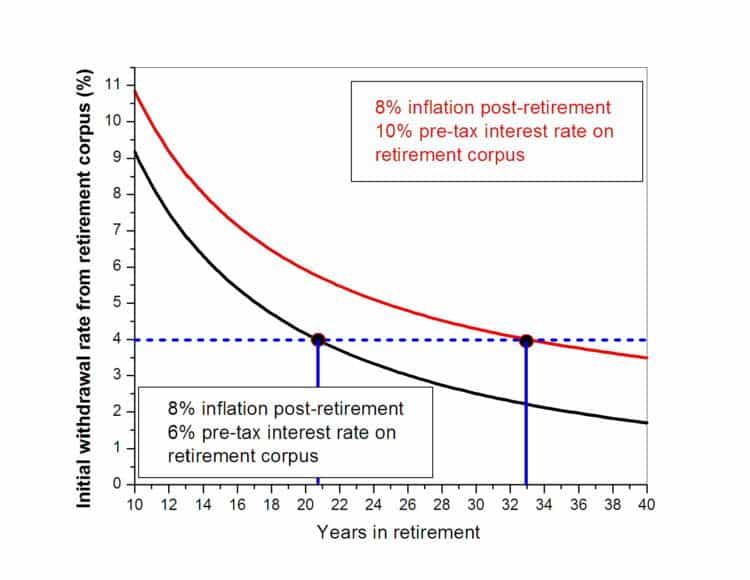 How long the corpus lasts depends on whether returns can beat inflation or not. For a 4% initial withdrawal rate and 8% post-retirement inflation, if returns are 2% above inflation the corpus will for nearly 33 years. However if returns are 2% below inflation the corpus will last only for about 21 years. This will make a huge difference for a person who retires in his/her mid-50s.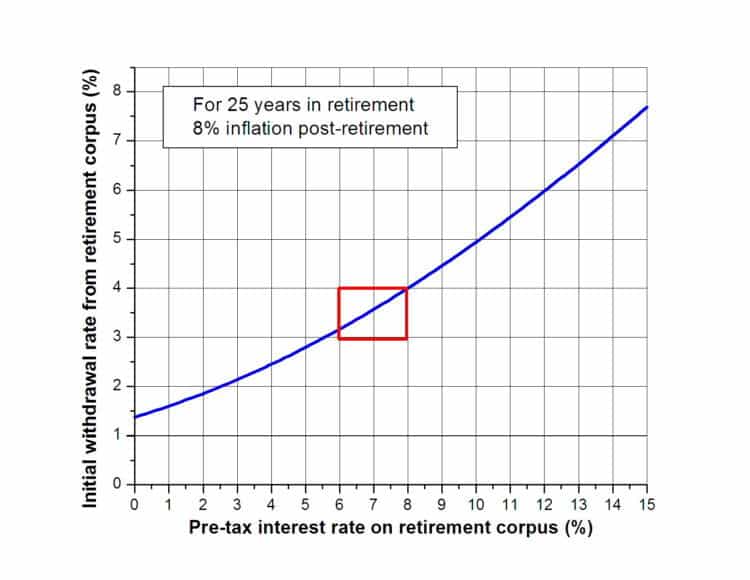 Suppose we plan for 25 years in retirement and assume 8% post-retirement inflation, the initial withdrawal rate will range between 3-4% for returns between 6-8%.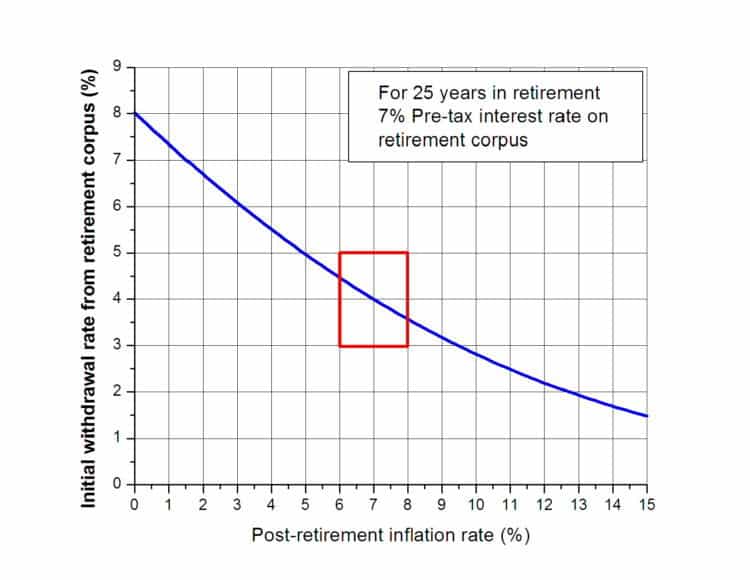 Notice that the initial withdrawal rate decreases with increase in inflation. Counter-intuitive as this may seem it is due to the need for a higher corpus due to higher inflation.  Here again inflation rates between 6-8% correspond to withdrawal rates between 3.5-4.5% for a return of 7%
Inspired by Manish's book I have reworked my online retirement calculator to output the withdrawal rate each year. Manish outlines 5 steps to calculate retirement corpus and I have modeled the calculator along these lines incorporating the first 4 steps (the last step is 'where to invest' and cannot be calculated!). You don't need to read the book to use the calculator. However if you do need help in putting your financial life in order I strongly recommend buying the book and following the all the steps.
Download the Withdrawal Rate based Retirement Calculator
(please note: the mathematics remains the same for all retirement calculators and can be rewritten depending on what you wish to see as output.)