If we wish to build the financial well-being of our family, one of the first things to do is to protect it. With life insurance, in case the breadwinner(s) die; health insurance, in the case of a hospitalization; an emergency fund, to handle unexpected expenses; an accident insurance to cover of temporary or permanent loss of income due to accidents; invest right for inflation protection (or inflation insurance). There is one more form of protection that we often neglect to consider – action plan insurance. In this post, I discuss why it is crucial.
I use this slide in the investor workshops. Our family is at the centre.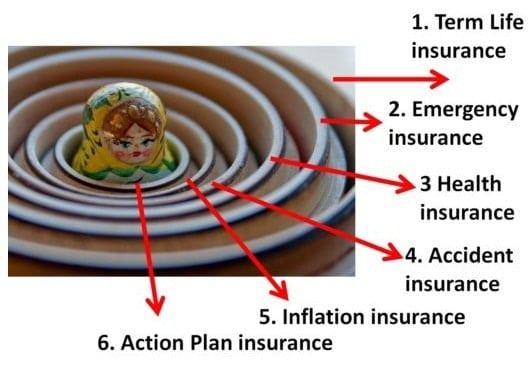 Suppose you have finished steps 1 to 5 mentioned above, identified your goals and are investing for them. Is there anything more to be done?
Couples manage money in different ways. In most "real" Indian households, it is the "man" who controls the money (whether he is the breadwinner or not!). Even if there is no "control" involved, it is only one spouse who is interested in money management. The other is either not interested or happy to watch.
Often the wife (typically, but not always) only has a "broad" idea of what is going on, without intimate knowledge of details. It is possible for bad things to happen to the main money manager and the spouse is left with a complex system to make sense of. It need not always be negative developments like death or incapacitation. You could suddenly get a big promotion, in a new city. Suddenly you could get hard-pressed for time.  The point is that we need a plan, in case life throws a doosra at us.
We need to prepare a clear money-management document that has to include items like
which document is where;
summary of holdings;
asset allocation and assumptions for each financial goal
premium due dates;
how to pay on line;
how to buy/sell on line;
a clickable link to freefincal.com 🙂
It should include the names of people (relatives/friends/professionals) who can be contacted for advice.
Even if one can handover the portfolio management to a SEBI Registered fee-only financial planner, such an action plan document is necessary if the money manager changes abruptly.
Action plan insurance assumes the presence of an investment plan/strategy. Once that is decided, it must be insured against unexpected events.  Think of it as a living will for your money.
Such money management insurance is necessary even after the death of the primary breadwinner (or money manager).
All of us recognize the importance of a will (even if most of us don't get one!). The will is a legally binding document that dictates "who gets what and how much". So a combination of nomination and a will would ensure that the term insurance payout reaches the right hand. However, that is not enough.
Bereaved family members may not be able to think straight and could take hasty decisions with the money. The insurance agent uncle who could not sell you a policy could get lucky! It is important that your hard-earned, hard-managed money is continued to be managed right even after you are not there.
Therefore, an action plan insurance should also include clear suggestions as to how the corpus should be managed and an inflation-protected income generated from it, preferably with the help of a fee-only financial planner.
These are only suggestions and not legally binding. But they are likely to be emotionally binding – more powerful!
You can use this life insurance calculator to decide how your term insurance sum should be deployed.
Create your own action plan document today! All it takes is a bit of time and commonsense.
=-=-=-=-=-=-=
Kolkata DIY Investor Workshop May 28th, 2017
Register for the Kolkata DIY Investor Workshop May 28th, 2017
You Can Be Rich Too With Goal-Based Investing
You can be rich too with goal based investing is my new book with PV Subramanyam. If you have not yet got the book, check out the reviews below and use the links to buy.
Reader Quotes:
Gift it to your Friends and Relatives whom you care more. Already follower of Pattu and Subra's forum. Ordered 4 more copies to give gift to my friends and eagerly waiting to read
The best book ever on Financial Freedom Planning. Go get it now!
Your first investment should be buying this book
The (nine online) calculators are really awesome and will give you all possible insights
Thank you, readers, for your generous support and patronage.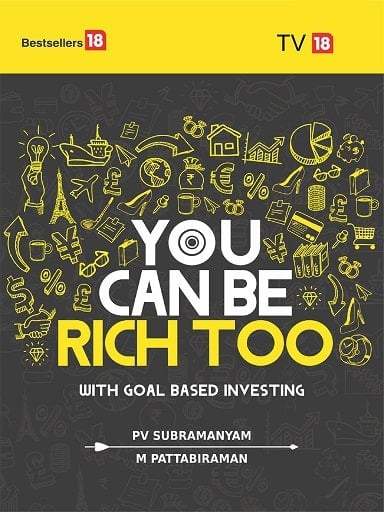 Amazon Hardcover Rs. 317. 21% OFF
Kindle at Amazon.in (Rs. 307)
Google
Infibeam Now just Rs. 307 24% OFF.
If you use a mobikwik wallet, and purchase via infibeam, you can get up to 100% cashback!!
Bookadda Rs. 344. Flipkart Rs. 359
Amazon.com ($ 3.70 or Rs. 267)
Google Play Store (Rs. 244.30)
Ask the right questions about money
get simple solutions
Define your goals clearly with worksheets
Calculate the correct asset allocation for each goal.
Find out how much insurance cover you need, and how much you need to invest with nine online calculator modules
Learn to choose mutual funds qualitatively and quantitatively.
More information is available here: A Beginner's Guide To Make Your Money Dreams Come True!
What Readers Say