For God's sake or at least for the sake your family and hard-earned money stay away from bank relationship managers (RM). They mis-sell expensive and unsuitable products to customers who feel self-important and flattered by their attention. This is how and why they do it. You may be well aware of this, but please do share this post with your contacts.
In this guest post, one of the first SEBI registered fee-only investment advisors in India, Melvin Joseph shares some horror stories on mis-selling and why bank RMs push products.
Update: Check out the latest video from the freefincal youtube channel, the link is given at the end of the post.
You can read about Melvins story here: Fee-only Advisor Journey: Melvin Joseph's determined struggle to the top and can contact him for your financial planning needs, especially to get out the mess that "your bank relationship manager" has put you in via his website finvin.in
Someone said, "(most) investors are idiots". That is true, but not because of a lack of intelligence but because most investors are lazy.  If you want proof, come and have a look at the questions posed at the Facebook group, Asan Ideas for Wealth.
Most investors never bother to ask the right questions or check what the sales guys tell them is right or wrong. Every time the bank RM contacts them about a new ULIP or new fund offer, they immediately find it "interesting". Grow up, dude!  The last thing on "your" bank RMs mind is "your" interest! Yes, for every mis-seller there is a mis-buyer who deserves it. At the very least, I hope when people read stories such as this, they will stop interacting with mis-sellers (including those offering random opinions in a social media group with impunity). Now over to Melvin.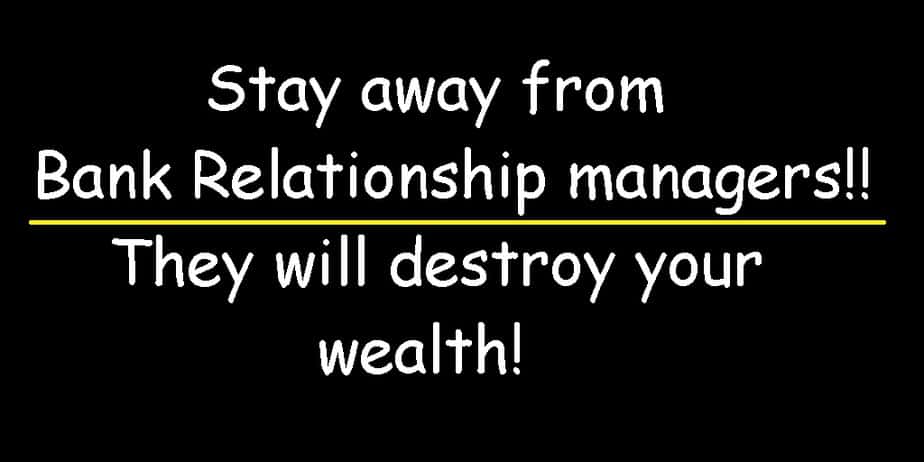 Have you heard of big billion days and great Indian festivals sale? I am sure you have! These are the techniques used by e-commerce companies like Flipkart and Amazon to sell their products. But have you ever heard about
Maha Insurance Day
Big Mutual Funds Day
Credit Card ki Lalkaar – GOA is baar
You probably have not, unless you are an insider in the financial sector that too in a bank.
Welcome to the world of bank relationship managers!
Banks are considered to be the safest place for your money! Not Anymore.
You are being assigned a relationship manager – free of cost.
Advice – Free of cost
The relationship manager will come to your house – free of cost
RMs will come to collect your documents 10 times – free of cost
Why I am stressing on"free of cost". Because nothing in this world comes free of cost. Let us see how.
Example 1
When Mr. Suresh retired from service in October 2018, he had no idea where to invest the retirement corpus for the peaceful retired life.
Mr. Suresh, not being tech-savvy, went to the bank to open few FDs. The relationship manager on the counter asked the account number and saw the bank balance. He knew it is the right time to pitch the product. One FD of 10 Lakhs was opened immediately. While opening the second one, the manager started the sales pitch!
"Sir, we have a very good product which can give you a much better return than FDs". Mr. Suresh was not interested. The RM continued his pitch- Sir, the product has given 16% returns for last few years. RM knew where to hit!. Now Mr. Suresh was a bit interested. Mr. Suresh was invited into a cabin, an insurance manager was also called to explain the product. Coffee/Tea with biscuits was served. Mr. Suresh (a retiree) was sold 2 ULIP policies with a premium of 3 Lakhs/annum/per policy.
Mr. Suresh was very happy getting respect with coffee/tea, biscuits and free advice, of course.
Only the relationship manager knew that the coffee/tea and biscuits have cost his client a big 6 Lakhs rupees per annum. He never bothered to think, if the product was suitable for a retired person and how such a customer will pay the premium for the next 9 years because it was a 10-year policy! Let me give you another example.
Example 2
Ms. Chandana was given 2 endowment policies with an annual premium of 10 Lakhs each by his relationship manager. Yes, 10 Lakhs premium in endowment policies! She was not able to pay the premium after 3 years. Nothing happened for the next 2 years, the relationship manager never contacted her after selling her the endowment policies. The RM had already left the bank and had joined another bank now.
As Ms. Chandana needed money, she contacted her old relationship manager. The manager was courteous, so he gave the number of new RM who is handling her account now.
She contacted the new guy and asked to withdraw her amount. She was shocked to see the surrender value of the policies were less than 20 Lakhs. Though she had already paid the premium of 60 Lakhs! She was told that she will get an interest rate of 8% like an FD at the time of selling the policies.
The new RM saw the opportunity and asked Ms. Chandana to surrender the endowment policies and use the amount of 15 Lakhs for her personal needs. The remaining 5 Lakhs can be invested in a ULIP which will "give her returns of 20% and she can recover her losses within a span of 10 years". Also, if she does not want to pay the premium, she can stop paying the premium.
Ms. Chandana again fell for it, not learning from the previous mistake. She wants to recover the loss!
I will not entirely blame the relationship managers for this. We need to be aware, need to know the tactics which bank guys apply while selling third party products. The reason I gave the two examples above is to discuss why the banks do this.
Why do Banks sell third-party products?
The first thing to understand is why do banks sell third-party products like insurance, mutual funds, credit cards etc.
Huge Commissions
The first reason is huge commissions in third-party products without incurring any extra cost. Among all third party products, insurance tops the list in terms of upfront commissions. Mutual funds are easy to sell and good for trail commissions. Credit cards are all time favourite.
Will you believe if I say 10-15% of your premium goes towards the commission if the bank sells a ULIP and 35- 40 % in a traditional policy?! Why do you think the premiums are in lakhs?!
Changes in channel contribution
Ten years back, only 20% of the insurance business used to come from the bancassurance channel (insurance selling from banks). Now the ratio has turned to 50% business from bank channels. So there is a huge pressure on banks to earn commission and huge pressure on third-party companies to sell their products through banks. This is why banks sell third party products.
Relationship Managers
Now within the bank, why relationship managers are so happy to do this?  Let us consider an insider story.
Revenue Targets
Every relationship manager has some revenue targets in banks. Some have 5 times of their monthly salary and some banks have 10 times. You do not achieve these targets and you may be out of the bank in 6 months!
So, if I am having a salary of 50,000 and my revenue targets are let us say 2.5 Lakhs. How do I achieve them?
Mutual Funds – 0.5% of the net investment amount
General Insurance – 4% of the premium
Life Insurance ULIP – 7% of Premium
Life Insurance Traditional – 10% of premium if premium payment term is more than 5 years
Life Insurance Traditional – 15% of premium if premium payment term is more than 10 years
Credit Cards – Minimum 10 to get 20% of revenue targets.
Now to do these revenue targets, you need to sell mutual funds worth 5 Crores. To achieve the same revenue targets, you need to sell only 36 Lakhs of ULIP. Which one is easy? Though Life Insurance is tough to sell but selling mutual funds 12 times is tougher.
Pressure
It comes from the top and flows to the bottom. Even if you are ready to sell mutual funds for your revenue targets, your seniors will not allow it. There is a huge pressure on banks, from top management, to sell insurance policies as the revenues are big. So if your senior is continuously pressurizing you to sell insurance, you actually do not have any options.
Big Billion Days/Big India Festival Season/Maha Insurance Days/Big Mutual Funds Days
Though Amazon and flipchart launch these days once in a year, insurance and mutual fund companies launch this Maha insurance and mutual funds in banks on every Saturday (1st, 3rd and 5th) and Monday. Reason being the increased footfall in bank branches on these particular days!
While you know in advance about Flipkart and Amazon sales, you will never know when a financial product has been sold to you in a bank sale😊.
Relationship managers are asked to achieve 20%-30% of the monthly targets on these particular days. Conference calls are on every 1-2 hours. They need to achieve their targets. Those who achieve targets get rewards, those who do not, get bashings and who wants to get bashing every 2 hours?!
Now you know, Saturday and Monday`s are not the right days to go to bank branches!
Commission
If you think, bank employees get commissions on selling third party products. No, they do not. Then what motivates them to sell life insurance policies or mutual funds or credit cards.
Big Fat Parties
As I mentioned above Credit Card ki Lalkar- Goa is Baar
Parties are lined up for bancassurance people. Insurance companies do it, MFs and credit cards do it. Goa, Udaipur, Jaipur, Lonavala, Munnar- You name it and bank guys go everywhere if they fulfil the criterion of selling products. The mega-parties are given by Life insurance companies, rest of third party products do not have much budget for these parties.
Recently, when I was surfing through Facebook, I saw a former Indian cricket Captain giving awards to the insurance sales team in one of the parties that too in some foreign country. One such party can cost you in crores and these incidents are regular.
It was all about, why relationship managers sell third party products. Now you must be wondering, how you as a customer is being targeted. Let me first explain the structure of a bank channel that sells the third party products.
Structure – Relationship Managers
Normally there are 2 types of relationship managers in the bank
The one who takes care of the customers coming in the branch.
Another one who goes out to meet customer.
Though both roles are reversible, this is a broad structure.
Every relationship manager has certain set up of customers, whom they manage. The relationship managers will have access to each and every detail about these customers.
Now, how these relationship managers manage these huge set of customers. They are not having time to go through the profile of every customer on each day. Right!
Here comes the story now, where you will get trapped. The techniques which are used by 25-year-old fresh graduate or postgraduate to trap an experienced person of 15-20 years.
How you as a Customer are getting trapped
Analytics
Banks are using analytics a lot nowadays. Suppose you have received 50 lakhs from selling your land and the money has been transferred to your account. The relationship manager, who is mapped to you, will immediately get the details of fund transfer.
2nd Analytics- on the basis of your previous transactions, your relationship manager will also get the list of products which may be sold to you. If you are a conservative investor, debt products will be pitched to you. Aggressive customers will be pitched mutual funds. But one thing is common between all these, you will definitely be pitched a life insurance product.
So relationship manager knows everything about you and you know nothing about him/her. First Trap
NRIs
Say, you being an NRI come to India once in a year. Your relationship manager is helping you to complete all the banking formalities. You feel obliged. In the end, the relationship manager will ask you to take a third party product and you happily agree.
We need to understand that we have to maintain a long-term relationship with our money (not with them). That is the whole point, do not feel so obliged, it is their work
Greed
Most of the ULIPs are sold showing a return of 15-20%. Though IRDA allows to only show returns of 4% and 8% only, that is official. You are always shown a return of 15-20% either in past performance or in excel. People see a whopping double the FD return and fall for it.
Fear
When markets are high, you are sold ULIPs and mutual funds. You have a fear of missing out. When markets are low, you are sold traditional plans and FDs. Because you are scared of investing in markets. It is our own insecurities which do not allow us to go for the right products.
Time
Now, this is an awesome factor.
We want to purchase a smartphone in big billion day sale. We research about it,  go to google, check the features, check the price, ask our friends for feedback. We do everything in our capability to research for a smartphone. But we do not do it for financial products, why?
We do not understand the product. Is it? No, we do not want to understand the product. The same is with the phone also. We do not understand the features in the beginning but we give time to research, ask your friends in case of an issue. However, before buying a financial product, we do nothing. That is the reason, half of the times traditional insurance policies are sold as FDs.
2nd Factor of Time– This is where we have to be smart. The relationship manager will never give us time to think about the product. They will push us to the core to give documents immediately, and sign cheques immediately. They know if we are out of the branch or they are out of our home, we will never buy that product. You can observe this in your bank when you visit next time, you will never be allowed to think and enquire about the product. Even if you enquire, a limited information would be provided to you.
Relationship managers are trained on products only, you dig a bit deeper and they are clueless. So next time, before buying any product, buy the time to study the product.
Saying No
This may look a bit awkward but most of the customers are not able to say no to a beautiful girl and an authoritative guy as a relationship manager. You may not believe me but this purely a psychological concept where the relationship manager plays around.
So learn to say no.
One Final Suggestion
As far as possible, avoid banks for any investments. Use banks for only banking services. There are only 3 services you should use from the bank.
Savings Bank
Recurring deposit (RD)
Fixed Deposit (FD)
Just let me know if I have missed anything. Would be happy to add in the article.
Keep Investing and Happy Investing!!!
You can read about Melvins story here: Fee-only Advisor Journey: Melvin Joseph's determined struggle to the top and can contact him for your financial planning needs, especially to get out the mess that "your bank relationship manager" has put you in via his website finvin.in
I (pattu) would like to add another view on this issue: Unfortunately, all those bank stocks that we love to invest in, rise in part because of the above-mentioned product pushing, The people that we will not do business with are responsible for our profits. The stockholders push the banks for more profits and they, in turn, push the RMs. You can say this about most enterprises. It is a vicious circle and a deeply interconnected world. Financial literacy should be about doing the right thing and consciously settling for lower returns, but that is not practical, is it?
Arguing about this will take us back all the way to the origin of money and the origin of agriculture! Let us not do that! At the very least, we owe it our family and our hard-earned money to take an informed choice.
From the freefincal youtube channel:
Summary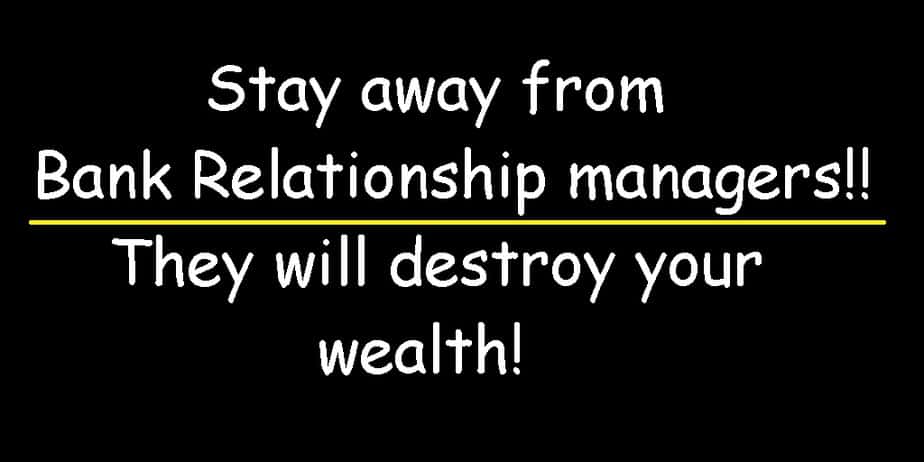 Article Name
How & why bank relationship managers (RM) destroy wealth by mis-selling!
Description
The inside story on how & why bank relationship managers (RM) destroy your wealth by mis-selling insurance and mutual funds! Stay away from them!
Author
Publisher Name
Publisher Logo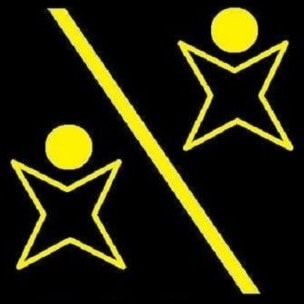 Subscribe and join the freefincal Youtube community!
 Don't like ads but want to support the site? Subscribe to the ad-free newsletter! 
Want to conduct a sales-free "basics of money management" session in your office?
I conduct free seminars to employees or societies. Only the very basics and getting-started steps are discussed (no scary math):For example: How to define financial goals, how to save tax with a clear goal in mind; How to use a credit card for maximum benefit; When to buy a house; How to start investing; where to invest; how to invest for and after retirement etc. depending on the audience. If you are interested, you can contact me: freefincal [at] Gmail [dot] com. I can do the talk via conferencing software, so there is no cost for your company. If you want me to travel, you need to cover my airfare (I live in Chennai)
---
Connect with us on social media
---
Do check out my books
---
You Can Be Rich Too with Goal-Based Investing
My first book is meant to help you ask the right questions, seek the right answers and since it comes with nine online calculators, you can also create customg solutions for your lifestye!
Get it now
.  It is also available in
Kindle format
.
---
Gamechanger: Forget Startups, Join Corporate &

Still

Live the Rich Life You Want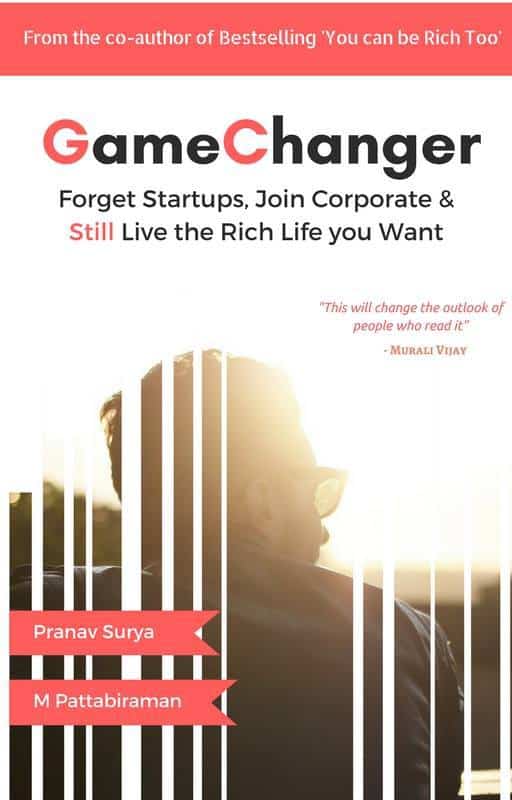 My second book is meant for young earners to get their basics right from day one! It will also help you travel to exotic places at low cost!
Get it or gift it to a youngearner
---
The ultimate guide to travel by Pranav Surya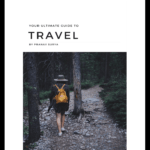 This is a deep dive analysis into vacation planning, finding cheap flights, budget accommodation, what to do when travelling, how travelling slowly is better financially and psychologically with links to the web pages and hand-holding at every step.  
Get the pdf for ₹199 (instant download)
---
---
Free Apps for your Android Phone
All calculators from our book, "You can be Rich Too" are now available on Google Play!
---
Install Financial Freedom App! (Google Play Store)
---
Install Freefincal Retirement Planner App! (Google Play Store)
---
Find out if you have enough to say "FU" to your employer (Google Play Store)
---
About Freefincal
Freefincal has open-source, comprehensive Excel spreadsheets, tools, analysis and unbiased, conflict of interest-free commentary on different aspects of personal finance and investing. If you find the content useful, please consider supporting us by (1) sharing our articles and (2) disabling ad-blockers for our site if you are using one. We do not accept sponsored posts, links or guest posts request from content writers and agencies.
Blog Comment Policy
Your thoughts are vital to the health of this blog and are the driving force behind the analysis and calculators that you see here. We welcome criticism and differing opinions. I will do my very best to respond to all comments asap. Please do not include hyperlinks or email ids in the comment body. Such comments will be moderated and I reserve the right to delete the entire comment or remove the links before approving them.