A discussion on the differences between dynamic mutual funds and balanced mutual funds. Exploring this topic is a nice way to understand some portfolio management basics. Thanks to Arun for asking this question when I suggested that dynamic equity funds are not for those who wish to chase returns.
First, we need to define some terms.
What is an asset?
An asset is a specific type of security that can be traded. Example of assets are stocks (equity), bonds,gold, silver, oil, derivatives, arbitrage, etc.
What is an asset allocation?
Asset allocation refers to the percentage exposure to each asset class in a portfolio of securities. Sometimes a portfolio will have multiple assets and sometimes only a single asset. Asset allocation can vary with time. For example, a mutual fund can hold 80% stocks and 20% bonds in one month and 65% stocks and 35% bonds in the next month and so.
A single asset class portfolio is often a point of view. A portfolio with 65% stocks and 35% arbitrage holdings is a single asset class portfolio from the viewpoint of the taxman.However, from the point of view of volatility, it is two asset portfolio. Arbitrage holdings resemble (ultra) short-term bonds with respect to risk and reward.
Similarly, a mutual fund holding other equity mutual funds is a debt fund in the eyes of the taxman and an equity fund in terms of risk and reward.
Again, a fund holding international stocks or international funds is a debt fund wrt tax and equity fund wrt risk/reward.
Gold is taxed similar to debt funds but resembles equity wrt risk and reward.
There are many ways in which the asset allocation of a portfolio can be changed. This is the main focus of this post.
Strategic asset allocation
In this case, a target asset allocation (eg. 70% stocks, 30% bonds) is decided. This can be either considering the risk profile of the goal or the risk appetite of the investor or a combination of both. This is a key step in investing which many DIY investors do not seem to understand. Read more: Deciding on asset allocation for a financial goal.
Once a target allocation is decided, the objective is to stock to it and if there are deviations, rebalance the portfolio periodically.
Conventional equity-oriented balanced funds which did not dabble in derivatives/arbitrage are nice examples of this strategy. They rebalance each month typically. Rebalancing is only of the key reasons why such balanced funds can beat diversified equity funds.
Debt-oriented funds with equity ranging anywhere from ~15% to less than 65% also fall in this category. Monthly income plans are a subset which typically have stocks less than 30-35% at all times.
Equity savings funds contain a mix of stocks, fixed-income and arbitrage holdings. Although individual allocations can vary, dramatic variations are unlikely.
Then there are funds which roughly hold equal amounts of stocks, bonds and gold. Examples -Axis triple advantage fund, Quantum multi-asset fund etc.
The strategy in this case, is to reduce portfolio volatility by holding approximately constant amounts of certain asset classes and rebalancing them periodically.
The state of the equity,bond or gold market will not cause deviations from the strategy.
Tactical asset allocation
If the state of the market (economy as a whole)  is used as a guideline to determine asset allocation, it is referred to as tactical asset allocation. In this case, the asset allocation can swing by huge amounts.
The main aim of this tactic is to reduce the risk taken per unit return obtained. It is incorrectly believed this technique also known as market timing will yield better returns.
Dynamic equity funds belong to this category and typically their volatility levels and returns are lower than that of balanced funds (strictly an apple vs orange comparison).
The many ways in which these funds invest are detailed in this post, Performance of Dynamic Asset Allocation Mutual Funds
Without arbitrage holdings, a dynamic asset allocation fund can swing from more than 65% equity holdings (equity fund as per taxman) to less than 65% (debt fund as per taxman).
With arbitrage holdings, the fund will remain an equity fund from pov of the taxman at all times.
The hybrid equity-oriented category of value research contains funds that adopt both asset allocation strategies. So it is important to read the scheme information document and understand the investment strategy.
The above discussion is summarised in this figure.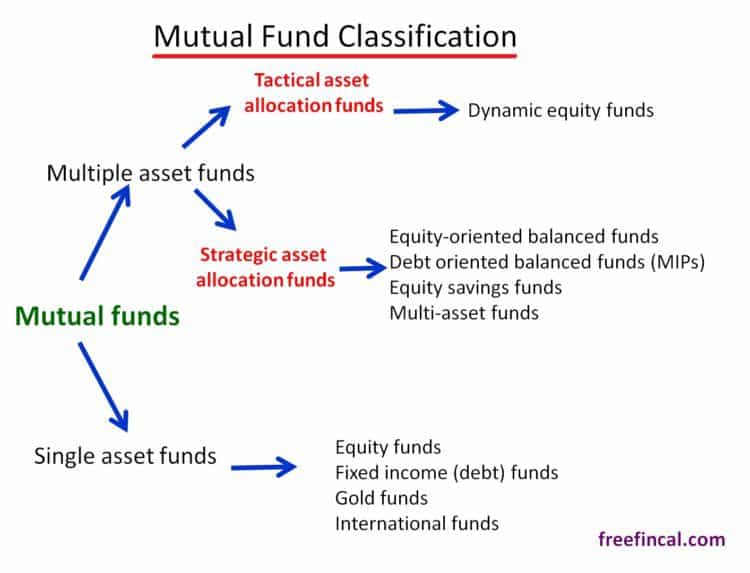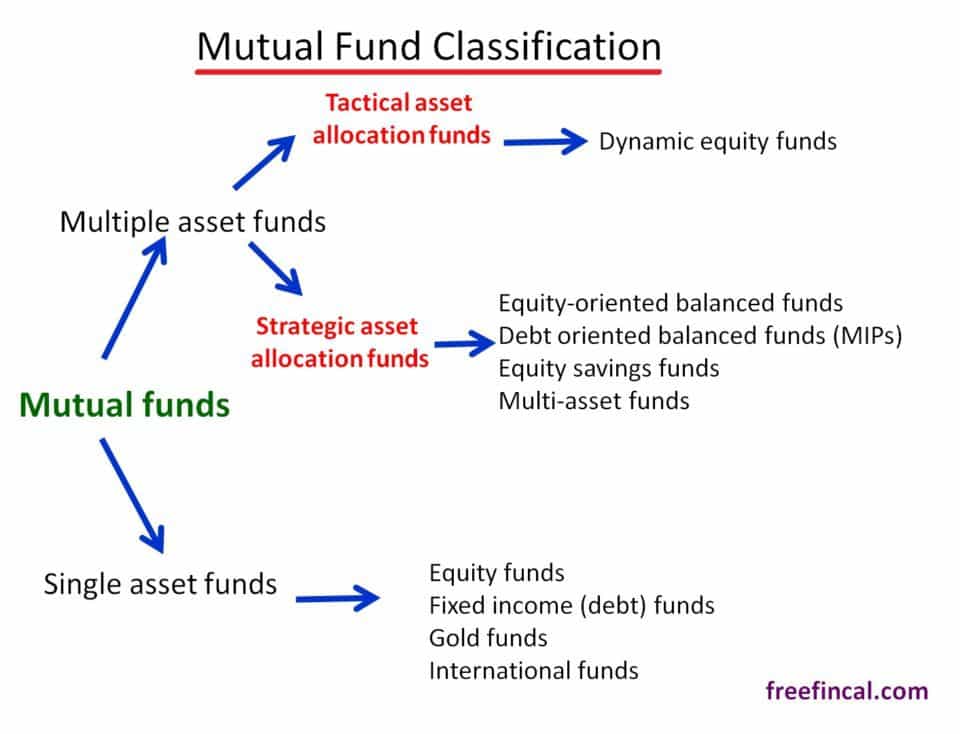 When to use dynamic mutual funds
The key objective of these funds is to  reduce volatility. Therefore a person with low-risk tolerance and scared of losses (esp when the market is at an all-time high) can use such funds for goals which are 10+ years away. They are not suitable for durations lower than that.
When to use balanced mutual funds
An equity-oriented balanced fund can serve a portfolio fund (no other instrument needed) for the initial years of a 10+ year goal. Dangerous to use for shorter periods.
An equity savings fund can (as per current tax laws) replace debt mutual funds for 10+Y goals for those who don't mind some risk for tax-free capital gains.  They can also be used for 5-10Y goals. Lower than that, the risk increases.
A debt-oriented balanced fund can be used for short-term goals and also for investing a part of the retirement corpus. Instead of choosing the dividend option which is taxed at 28.325% at source (Dividend Distribution Tax DDT), the growth option with manual or systematic withdrawals is better. Read more:How and When to use Mutual Fund Monthly Income Plans
Multi-asset mutual funds are all-weather portfolio funds. That is, they can be used regardless of market conditions (bull, bear or sideways run) for durations above 5Y or so. Their focus is on reducing volatility by concentrating (a bit too much) on diversification. Read more: Diversification will lower investment returns!
When to use single-asset mutual funds
These mutual funds invest in a single asset class at all times and can be used to build an investment portfolio. Some people prefer independent products for each asset class instead of a mixed asset class fund. This is a personal preference.
To build a portfolio, it is important to recognise risk and how they depend on duration. Read more: Equity investing: How to define 'long-term' and 'short-term'.