"If I have a lump sum, what is the best way to invest it in an equity mutual fund?", is a question that I am asked repeatedly. In this post, let us discuss simple ways to invest a lump sum in an equity mutual fund.
Lump sum in a debt mutual fund
Let us first get this out of the way. Suppose you wish to invest a sum in a debt fund (not, a liquid fund for STP) in line with your asset allocation, do so in one shot. There  is no need to hesitate.
These posts might be of help:
How to Select Debt Mutual Funds Suitable For Your Financial Goals?
Investing in debt mutual funds: slow and steady wins the race!
Lump sum in an equity mutual fund
(a) Stay away from STPs!
The SIP, STP and SWP are methods designed by the AMC to get steady business (SIP) and ensure a lump sum is locked with it (STP, SWP). They are of not of much use to investors.
The SIP is sold as a 'systematic' and 'disciplined' way to invest in the market. Before online transactions became a reality, that was probably the case. Not anymore. Don't get me wrong. I am fan of monthly investing aka MDBSC.  Just do not see any kind of advantage with a SIP now that investments can be made online in under a minute.
The STP is sold as a way to 'systematically' invest in an equity mutual fund, while the rest of money 'grows' in a liquid fund (some recommend the dividend reinvestment option) or in an arbitrage fund (dividend reinvestment option).  From the advisor's and AMC's point of view, this is intelligent marketing (some AMCs offer trigger STPs!) and good business sense. From the investors point of view. this is plain innumeracy.
The 'gains' made in a debt fund over a few months, while part of it gets invested gradually in an equity fund (STP) would be negligible compared to what the lump sum would (well, could) actually gain when directly invested in the equity mutual fund.
In addition, STPs are a needless tax hassles: the capital gain from the debt fund has to be accounted for (no guaranteed that dividend reinvestment will erase capital gains).
(b) Define a lump sum.
Most of us do not stop to define a lump sum. There are many ways to define it:
(i) Any sum much greater than monthly salary
(ii) Any sum which you would not spend without evaluation.
(iii) Any sum greater than daily loss or gain in your equity portfolio.
There could be other ways too. The idea is, once we define a lump sum, any sum lesser than this can be invested in an equity mutual fund in one shot. Any sum above the definition will be invested gradually (see below).
I think method (iii) is particularly useful in the current context.
When I started investing in equity mutual funds, my monthly SIP was Rs. 1500. I lost or gained 10s or rarely 100s of Rupees each day in the market. So Rs. 10,000 was a lump sum to me.
Today, God willing, I am able to invest much more each month. In addition, since my corpus is now half-decent I gain or lose much more on a daily basis. So today, Rs. 10, 000 is not a lump sum for me.  So is Rs. 1 Lakh. If I got that much with me to invest, I would invest it in one shot without hesitation.
My point is, defining what a lump sum is, help us draw a line. That line will keep changing with time (hopefully in the right direction). So the first step is to define a lump sum.
(c) time the market?
Timing the market has a pretty high probability of getting good risk-adjusted returns. However, it does not always lead to higher returns. Unless the distinction between risk-adjusted return and return is clear, I would suggest not investing anything. Most often,  timing, investing in "dips" etc. is done for psychological comfort.
Whether the market is at an all time high, or has just crashed, investing the lump sum in small chunks periodically is the simplest, stress -free option.
Personally, I see no need to automate this periodic investment, but if you wish, you can set up a STP.
(d) This is how I would invest a lump sum in an equity mutual fund
Ensure the funds are transferred to the bank account(s) linked to the AMC account.
Decide on how I am going to split the lump sum. For example, Rs. 1 Lakh into 4 parts of Rs. 25,000 each.
Invest each part manually and directly in the equity fund, once a week.
My goal is to complete the investment asap. No point investing once a month and stretching a lump sum over 6 months. One a week should do just fine. That is it.
What do you think?
You Can Be Rich Too With Goal-Based Investing
Happy to announce that my book with PV Subramanyam has been selected as part of Amazon Best Reads Mar 2017.  Now 50 % off. Thank you for your support and trust. If you have not yet got the book, check out the reviews below and use the links to buy.

Reader Quotes:
Gift it to your Friends and Relatives whom you care more. Already follower of Pattu and Subra's forum. Ordered 4 more copies to give gift to my friends and eagerly waiting to read
The best book ever on Financial Freedom Planning. Go get it now!
Your first investment should be buying this book
The (nine online) calculators are really awesome and will give you all possible insights
Thank you, readers, for your generous support and patronage.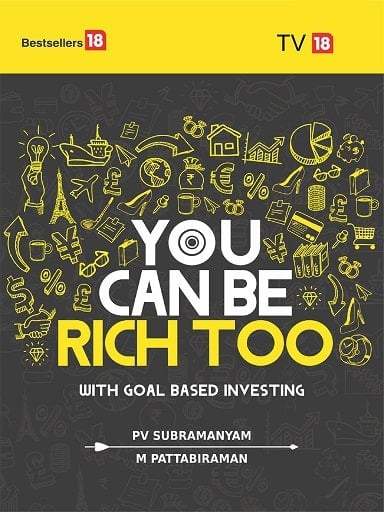 Amazon Hardcover Rs. 198. 50% OFF
Kindle at Amazon.in (Rs. 307)
Google Play Store (Rs. 307)
Infibeam Now just Rs. 307 24% OFF.
If you use a mobikwik wallet, and purchase via infibeam, you can get up to 100% cashback!!
Bookadda Rs. 344. Flipkart Rs. 359
Amazon.com ($ 3.70 or Rs. 267)
Google Play Store (Rs. 244.30)
Ask the right questions about money
get simple solutions
Define your goals clearly with worksheets
Calculate the correct asset allocation for each goal.
Find out how much insurance cover you need, and how much you need to invest with nine online calculator modules
Learn to choose mutual funds qualitatively and quantitatively.
More information is available here: A Beginner's Guide To Make Your Money Dreams Come True!
What Readers Say