Here is  a set of illustrations that highlight the benefit of investing in direct mutual funds for your long-term goals.
First some good news: MF Utility a portal in which investors can consolidate their holdings in different AMCs and invest in them with a common account number (CAN) will start operating from March.  You can start applying for CAN by sending the form  (courier should do) available at MFU to a point of service along with a printout of KYC confirmation from CVL KRA (thanks to Erin Jacob from FB group, Asan Ideas for Wealth) for finding this out.
However, when I called the Karvy office at Chennai, they did not know what MFU was and asked which AMC produced such a mutual fund!! Therefore, please call the local Karvy office listed at MFU to find out if you can send it to them. Else call MFU and ask them if the courier can be sent to them (Mumbaikars can sumbit it in person. It is in Thane west).
Once the CAN is generated, wait for the folios to get consolidated and explore the features. Suggest you transact only after you understand the facilities and limitations. Here is an FAQ
Will be portal be as comfortable for transacting as individual AMC accounts is something that remains to be seen. Also, we need to give it time to evolve.
The purpose of these following illustrations is to urge you to go direct without waiting for the MFU CAN. If you are worried about multiple logins, use a password manager with an offline master password for security. If you are worried about 'managing' multiple accounts, I can assure you that it does not matter much as long as you are not a trader in mutual funds who buys and sells every other day.
Where there is no will, there are only excuses. Such people are likely to crib about MFU too. Can't eat you cake and have it too.
Request new investors to first learn about how to construct a minimalist mutual fund portfolio  This way, the folio is clutter free to begin with and hopefully remains so.
Lump Sum Investment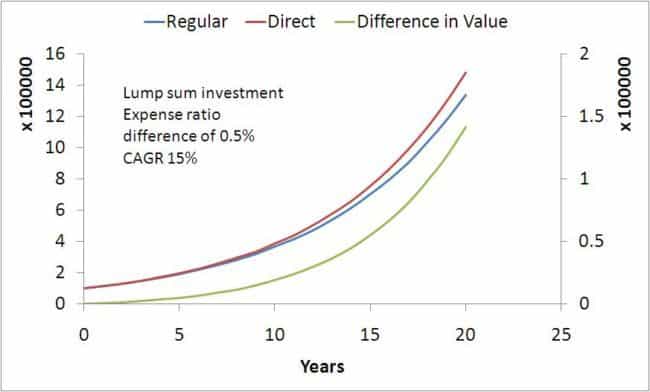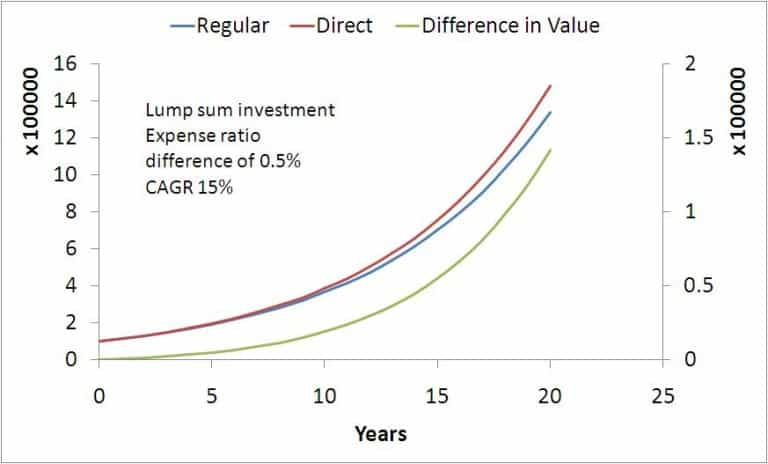 The values are in Lakhs. An investment of Rs. 1 Lakh would result in an excess corpus of close to 1.4L if the direct mutual fund has a constant lower expense ratio of o.5%. The investment duration in all illustrations is 20 years.
If you are not confident about picking and managing mutual funds, seek advice from a fee-only planner who is not paid by an AMC and go direct.
People argue that distributors help in keeping emotions in check with regular plans, thereby ensuring an investor continues to stay invested. There is no evidence of this as far as the entire distributor community is concerned (exceptions don't make examples). Investors continue to buy high and sell low.  When there was a prolonged sideways market after the 2009 recovery, the number of distributors dwindled alarmingly.
Banks are main sellers of regular plans.  Chuck your mutual fund association with your bank today. I have seen the enemy. He is us and banks.
This is the extra corpus divided by the lump sum investment for different CAGRs.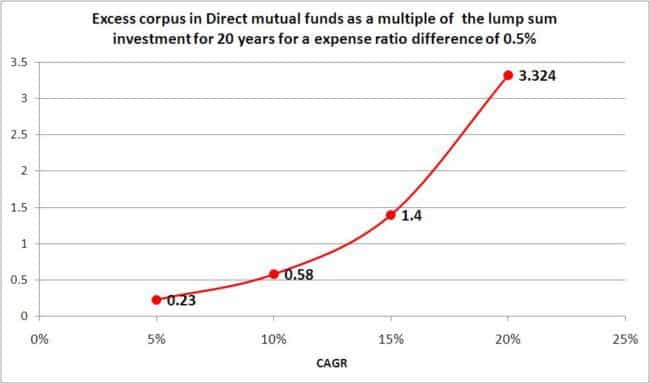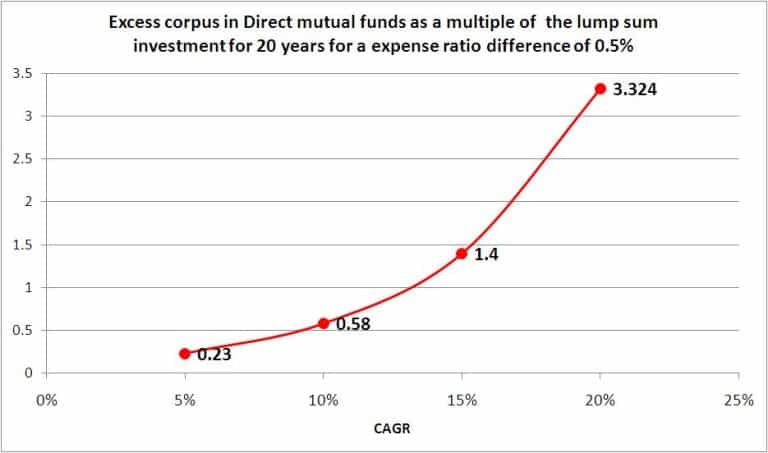 Rs. 1 Lakh earning 15% cagr over 20Y will result in an extra corpus of Rs. 1.4 Lakh.
Institutions who hold direct debt mutual funds for short period of time will get a much lower benefit. However, since they would invest in crores, it is still significant.
Constant Monthly SIP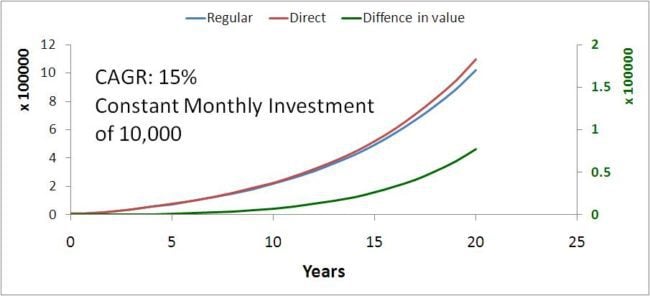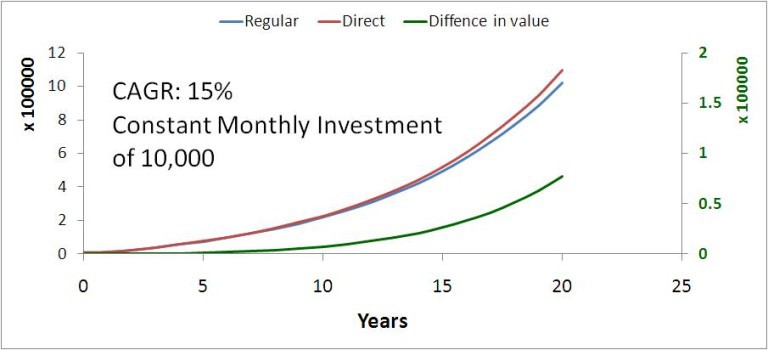 Increasing Monthly SIP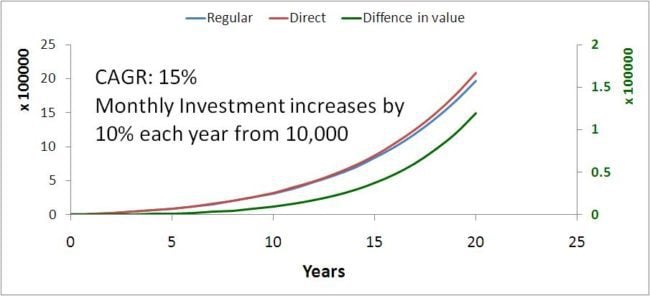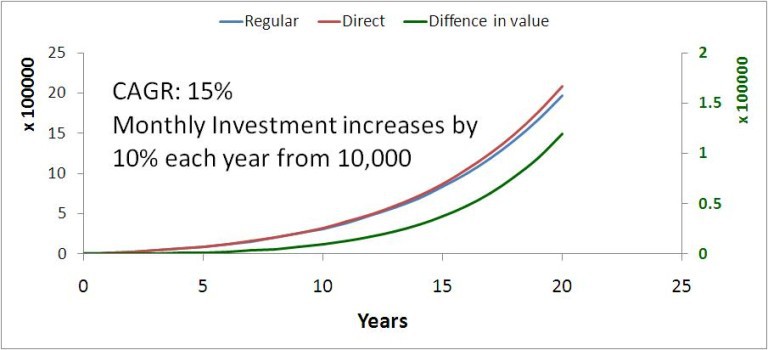 This is also known as growth SIP or step-up SIP. Check out  this step-up SIP calculator
Obviously the benefit more, because you invest more.
This is the extra corpus divided by the first SIP investment for different CAGRs.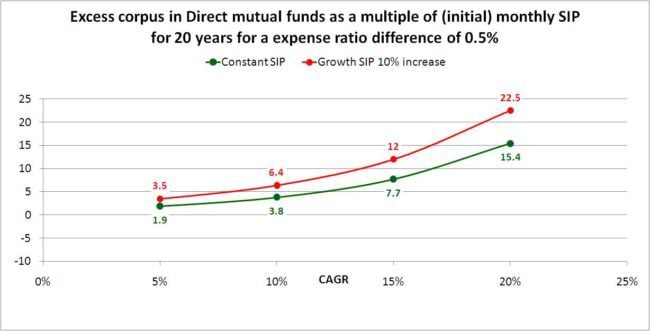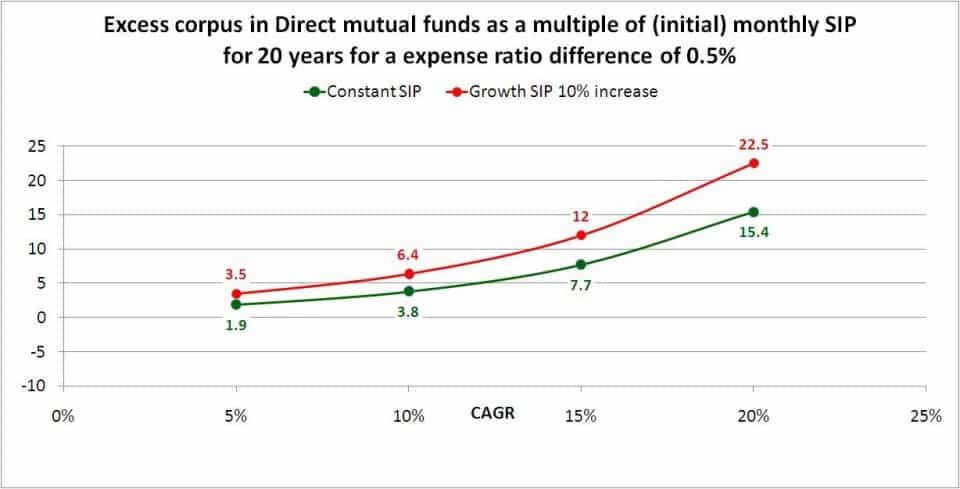 Seize the day. Be a DIY investor. Switch to direct mutual fund plans. Mutual fund investing is not rocket science. Learn how to track funds wrt a financial goal. Use VR online portfolio or my automated mutual fund tracker  and take control. Trust me, it not time-consuming and you would enjoy it. After all, whose money is it anyway?