In an interview to Wealthforumezine, Shankaran Naren, CIO, ICICI Pru AMC, suggested that buying low and selling high using the price to book value (PB) is better than the price to earnings (PE)  model.
Since I have earlier shown that there is absolutely no merit for long term investors to buy at low PE and sell at high PE, I wanted to check if using PB would make any difference.
If you have not read those posts on PE, I suggest you read them first and then come back to this one"
PB is easier to understand than PE. PB is simply the market price divided by the price mentioned in the balance sheet. High PB represents overvaluation. Low PB represents undervaluation and makes senses only if other metrics are healthy.
PE is the market price divided by the earnings per share.
Before we look at the PB based investing model, a few important caveats:
(1) In the interview, ( http://goo.gl/B449cr ), Naren made it clear that buying low and selling high is merely a tactic to help those who were scared of equity markets and is not a strategy to get more returns. This is definitely commendable.
(2) Naren said three of their funds, ICICI dynamic, ICICI balanced and ICICI Equity income use the PB model. The first two funds have been using it since 2010.
He says,
"Price-to-book value ratio (P/BV) which is calculated by dividing the stock price to its book value per share, is less volatile as compared to price to earnings ratio, and the reason we switched to P/BV model is because 2008 showed us that markets could be very volatile. As markets went up in 2007, earnings went up and when markets fell in 2008, so did earnings; earnings turned out to be very pro-cyclical. In general we have observed that Book value being a balance sheet item*, is more reliable than Earning Ratio to gauge the intrinsic value of a company."
Source: http://goo.gl/B449cr
(*) Dumb question: Is earnings per share also not a balance sheet item? Even if not explicitly mentioned, can it not be easily calculated? How is PB more reliable?
(3) While he is probably referring to PB ratio of individual stocks, the AMC has repeatedly used and compared the PB value of the index with the equity allocation of ICICI balanced fund. See this for instance
http://wealthforumezine.net/images/Chart3140715.jpg
(note: In the image, BAF = ICICI Balanced Advantage fund or simply ICICI Balanced)
(4) What follows below are plots of returns for different duration corresponding to the Nifty PB value on the date of investment. The data was obtained with the rolling returns calculator. Nifty closing values and PE from 1st Jan 1999 was used for the analysis/
(5) While I am only looking at the index PB value, the fund management will have several other considerations.  So this is neither an attempt to prove or disprove Naren's statements. I did this only to satisfy my curiosity based on his statement about PB model being better than PE model, and to find out if that applies to the Nifty.
First let us look at  Nifty PE vs. 10-year Nifty returns.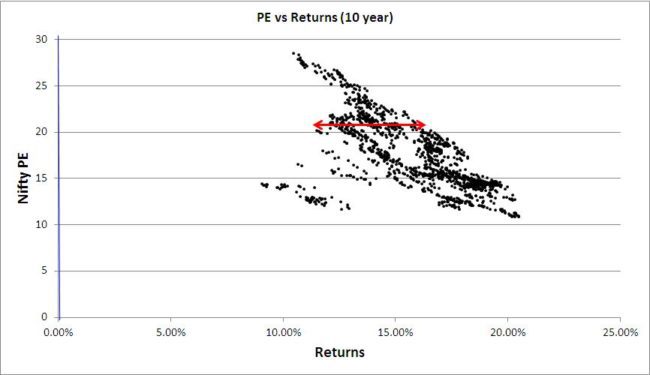 This is from the previously published analysis. Notice the spread in returns corresponding to low Nifty PE. In fact, had you invested at a PE of about 12, your 10-year return could be anything between 10% to about 20%. You would have got similar returns have you invested at a PE of 20-22 or even more!
Which is why I am convinced, Nifty PE and current market levels are irrelevant for the long term investor.
The main reason why I write this post is because I see no reason why PB-based investing should be any different.
Here is the PB vs PE chart
Notice that while higher PE implies higher PB, there is a huge spread involved. A PE of 22 could mean a PB 3.8 or 5.8.
So a 'sell-call' based on PE need not correspond to a 'sell-call' based on PB. Similarly a PB of 3.8 corresponds to a PE of anything between 14 to 22!
Although the range of PE variation is greater than that of PB, prima facie I do not see any great benefit in using Niftu PB instead of Nifty PE.

Have is a look at Nifty PB vs. 10-year Nifty returns.
Again to the long-term investor, the PB value on the date of purchase is practically irrelevant.
Results for other duration can be found here:
In the interview, Naren says
"ICICI Prudential Balanced Advantage Fund and ICICI Prudential Dynamic Plan are being run on P/BV Model since 2010. This has helped the funds to consistently outperform their benchmark index and deliver reasonable alpha over the last five years.
Essentially, the model eliminates human emotion and decision making with its model; and, the rebalancing strategy helps the fund achieve the goal of buying equity at low valuations and selling at high valuations."
See this image for an example (BAF = ICICI Balanced Advantage fund or simply ICICI Balanced)
http://wealthforumezine.net/images/Chart3140715.jpg
Perhaps the volatility has been low because of rebalancing based on the PB model. However, I think the alpha is primarily from good stock selection based on a much wider set of metrics.
If you are interested in knowing more, search for, "BAF net equity level" in Google and open the first two PDF files.  One file would read, "Private & Confidential. Not for further circulation" (!!!)
What do you think?