A simple way to screen mutual funds using downside capture and upside capture ratios is discussed. The capture ratio data obtained for equity-cap funds is used as an example.
With such a batach analyzer, it is a simple task to get the data for other fund categories. However, it is also boring – one needs to match VR fund name with AMFI name and code. Will do this when I feel strongly enough about it.
Mutual Fund Screening Basics
Results will change from month to month as the data is on a trailing basis
Wider the screening criterion, lesser the change and vice versa.
The idea of a screener is to shortlist a handfull of funds from a big list. Not to select one fund or the best fund.
After narrowing it down to a few funds, the investor needs to evaluate the reputation of the fund house and read the investment strategy of each fund to choose one.
Although there are nine years of data available, it maybe prudent to just focus on 'good performance' in the last 5 years or so.
Presented below are a few examples and suggestions. Use them as a guideline, nothing more.
The datasheet contains,
downside capture ratio -lower the better
upside capture ratio -higher the better
Capture ratio (upside/downside) – higher the better (but there could be exceptions , see below)
SIP returns 1,2,3,4,5,6,7,8,9 years
Lump sum returns 1,2,3,4,5,6,7,8,9 years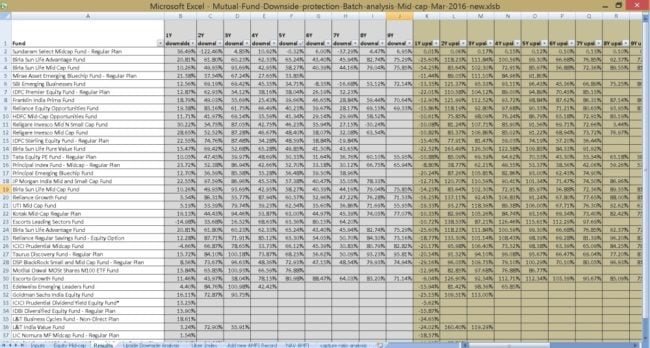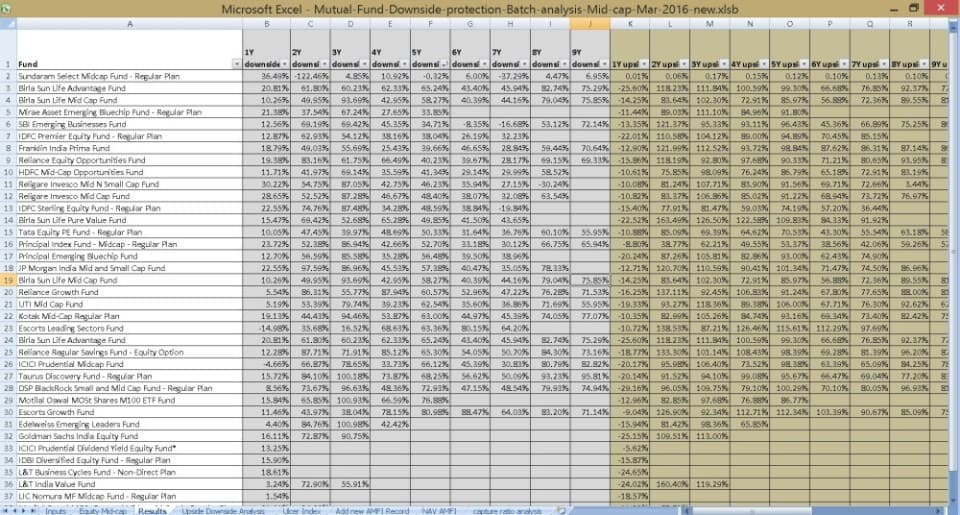 Here are a few sample screens. First, I have chosen an extremly narrow screen – ALL SIP returns should be above average.


These are the results.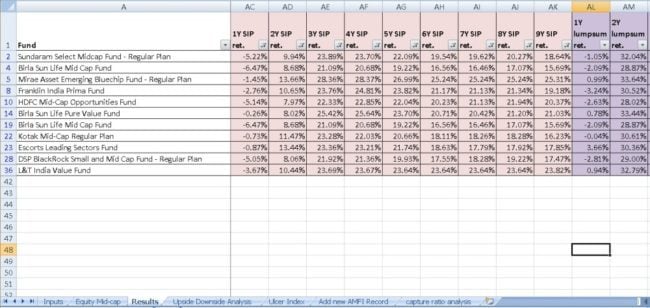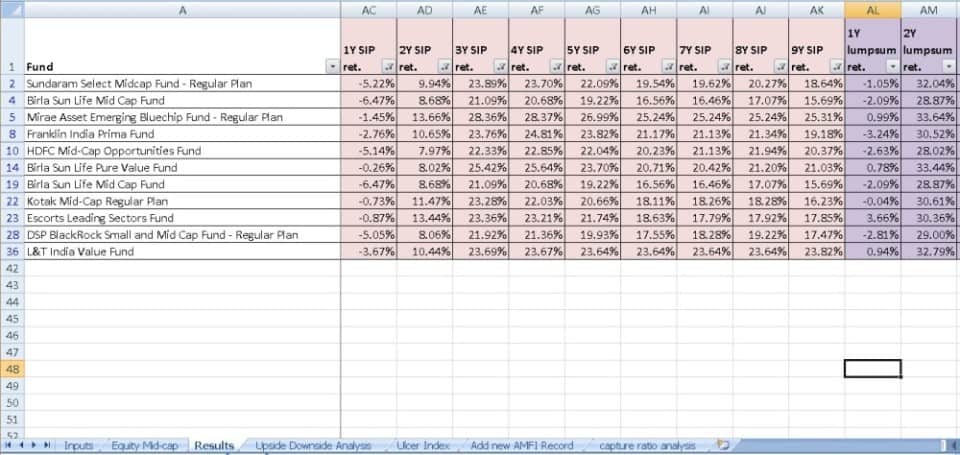 That is a good number of funds. Now let us observe the coresponding downside protection data.


Notice that fund with above consistetnly average SIP returns have pretty good (low) downside capture ratios. That is, they capture very little of their benchmark returns.
Question now is, 'why should I use this capture ratio screener? Why can't I use the Mutual Fund Screener with SIP Returns or the Mutual Fund Screener- Google Sheets Edition?'
I strongly believe that consistent downside protection is responsible for superior returns. So using returns screeners should be enough.
However, a returns screener focuses on returns and not on the journery.
Here are three panels of sample screens.


Top panel: If we demand downside protection to be below average then the list is empty!
Middle panel: Relax above restriction for 1Y, then we get just one fund – Sundaram Select Mid-cap. This have given some good returns and has great downside protection.
However, take a look at its upside protection (Bottom panel). It is pretty poor. This results in a poor capture ratio as well (upside/downside). This suggests that the fund may not capture much of the benchmarks gains. This could be stressful for the investor.
An alternative strategy would be to focus on the capture ratio.
A capture ratio above 1 is a considered good. This typically implies good downside capture and good upside capture.  Such funds maybe less stressfull to invest in.
Here is a screen with above average capture ratios and above average returns for a few years (4Y and above).


You can also consult a similar screen with upside capture alone.


The key here is understand what these captures represent, define an investment strategy and implement it.
To conclude,
Good returns imply good downside protection but does not guarantee low stess.
Good capture ratios + reasonable returns + reasonable downside protection maybe a way to get a bit of everything.
Please remember, if your screen has only 2/3 funds, you are expecting too much.
Do share your thoughts on how you would go about screening funds.
Resources
More about the downside capture and also the upside capture can be found in the following posts:
Simplify Mutual Fund Analysis with Upside/Downside Capture Ratios
Understanding Upside and Downside Capture ratios
How Mutual Fund Upside and Downside Capture Ratios are calculated.
A visual tool: Mutual Fund Downside Protection Consistency Analysis.
Individual funds can be analysed with Mutual Fund Downside Protection Calculator.
Download capture ratio data for Mid-cap funds (24th Mar. 2016). This will work in Google Sheets and in Mac Numbers and Mac Excel as well.
Download the capture ratio batch analyzer  (requires Win Excel 2007 or above with Macros enabled)