Last Updated on September 27, 2023 at 3:55 pm
Each week, I try and answer generic questions from readers. Here is part one of this week's edition.  If you have a question, please use the form below. Please note that I will not provide specific investment advice and/or product suggestions.
Pattu Sir, can any MF CAGR could be 24%? How can i get returns about real estate from some website or so like for equity and MF. I want to check YoY returns of the Real Estate especially in Bangalore? Krishnapratap
Anything is possible, that does not mean I should expect such returns! Real estate is an unorganised business and a commonly accepted fair market value is not possible like equity. The recent push for digital transactions should change this. The only way to know yoy returns is for you to talk to brokers and determine price yourself.
Pattu Sir, I am 39 now and started SIP in MF 1 year back. I am earning 10 lacs p.a. I have 3 years daughter and from this june she will go to school. The annual fees is 1.2 lacs. Also, i want to buy a car and budget home in Bangalore and do not have money for 20% down payment as well and when i see the EMI amount for 20 years tenure as well as interest on it for 30 to 40 lacs apartment then it looks too much and don't know when can i afford for a house. I am the only person earning and need some suggestion from you on it as i have to fulfill many goals like daughter's education, marriage, retirement, buying house, etc. Krishnapratap
You are not alone! Practically everyone, including myself, has this problem. There is not much of a solution. Get priorities right. For me, retirement comes first and then child's education and then others. I will invest what I can and be patient if there are decent growth prospects for my salary. Else, I will have to either find a way to earn more or dream less!
A couple of posts that may cheer you up:
Do not be scared by what you need to accumulate for retirement!
Why is the retirement corpus I need so large?!
Hi Sir, Do we need to consider Exit Load(1% for redemption within 2 years) while choosing Mutual Fund ? Abbas
For long term goals, it should not matter much. For systematic investing, it should not matter much as we have little control.  While investing a lump sum in a debt fund for a short while, you may want to keep an eye on exit load. However, that is not as important as where you are investing in.
Hello Mr. Pattu, I've been using your Automated MF planner to track my goals. Some of my long term goals have turned -ve (from a monthly investment perspective) what does this mean & how to interpret it? Thanks, Anand.
This is the tracker being referred to: Features of the freefincal mutual fund and financial goal tracker. I use only this tool to track and review my portfolio and have set it up such that I an audit my finances automatically. I will post a video on how to use this tracker soon.
Reviewing a long-term goal in terms of monthly investment required is a pretty smart idea. IF the inputs are right/reasonable and if the monthly investment required keeps decreasing, this means the corpus is growing at a healthy pace. If it becomes negative, it means you do not have to invest anymore! However, please check and double-check your requirements and inputs before concluding that!
Read more: The 2016 Personal Finance Audit: Returns do not matter!
Hi Pattu Sir Subra told in his blog don't invest in opportunities fund. let me know why one should not consider investing in opportunities mutual fund? Ramesh
I used Google to understand the context, and I think by opportunities funds he is referring to equity funds with a specific flavour – sector funds. That is a concentrated portfolio. This is common sense 101 for most investors: be diversified at all times.
Why worry about Risk?
The so-called "risky" mid cap funds managed to beat bluechip returns over 5 and 10 yr periods. Does it mean the risk of mid-cap funds get neutralised over long periods and one can solely invest in these funds? And why is risk important to a portfolio as long as decent returns are generated? – Ranjan.
Imagine a race from town A to town B. You can either use the highway or cut across the country for the journey. If the aim is to finish first and you know the cross country route is shorter, would you use the same car that you drive in cities or would you choose an all-terrain vehicle with better suspension and tires?
The reward (finishing faster/first) requires managing risk (choosing the right equipment). They cannot be separated.
The problem is not with the choice of the road (highway or cross-country; large-cap or mid-cap) but with risk management (or lack thereof: using a city car on rough terrain or holding mid-caps with the hope that they would return better).
I am afraid looking at 5Y or 10Y returns alone is hindsight bias based on a couple of data points. The assumption typically involved when someone says, "hold more of mid-cap and small-caps" is that the no matter how volatile the markets are "today" and in the "near future", it will eventually go up and we can reap benefits.
If this is the intended strategy,  I am afraid it is silly. Take any sideways market and you will find that large-caps outperform the mid and small caps.
If my retirement is 25 years away, I can handle a sideways market of say 5 years today. Can I endure this 10 Y later? or 15Y later? It would be foolhardy to do so in the hope the market will eventually go up. And with time, my equity exposure will also need to go down.
This is where the idea of the sequence of returns matter. This is the annual returns of Franklin India Prima Fund from Value Research.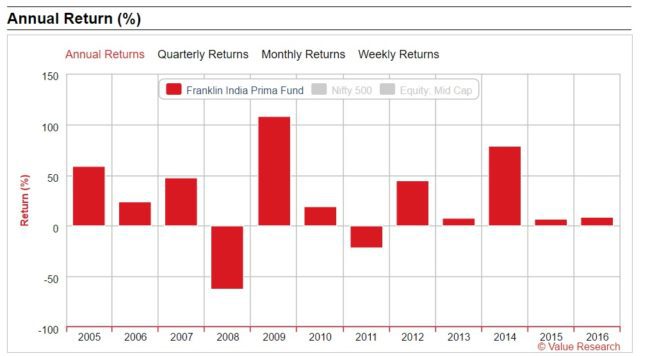 Now please project such returns in future. There would be some years of spectacular returns and some years where a large-cap or mid-cap fund would fail to beat a fixed deposit. The gains made in 5-6Y can be lost in a single year. The opposite is also true.
I have no issues with investing in 100% of mid-cap and small-cap funds. My own portfolio should have anywhere between 40-50% exposure to such funds.
My problem is with assuming 100% mid-caps will do better than 50% mid-caps. This may be possible for only some sequence of returns. The key point to remember is that we do not know what sequence we are going to get in future.
Which is a why a diversified equity portfolio would lower the range over which returns can fluctuate. Sure, final returns maybe lower but at least it will keep an investor calm(er). I would prefer a calmer but potentially less fruitful path any day: choose a reasonably strong city car on a highway.
Risk and reward cannot be viewed separately. When I look at ten-year returns, I do not look at the journey. The ups and downs are all washed away. Sure, someone may have driven a city car cross country and succeeded. Does that mean you will too?  Hope and bravado are not strategies.
Most people I know claim that they can handle volatility without any evidence of experience or at least a plan for of doing so. Excuse me for not taking them seriously.
Handling here refers to risk management.  All equity investing requires active management to de-risk the investment portfolio. A 100% large cap folio would require lesser management than a 50% large cap folio, which in turn would require lesser risk management than a 100% mid/small cap folio.
So if you want to avoid large caps, have a strong risk management strategy in place and then hope for the best. Please do not assume based on "past performance" that one type of investment choice will triumph over others.
There is a difference between instrument returns and investor returns.
Not only should we choose the right car,  we should also have a plan in case it breaks down.
Hello sir, please suggest me a mutual fund for short term period, which can earn me more than banks FD. All I need is a risk free or very very less risk fund.
1: I do not recommend fund names and 2: I do not know what your idea of short-term is. Assuming it is less than 5Y, I would recommend the use of a liquid fund or ultra short term fund with no guarantee of beating an FD. Over that time period, there is no need to beat the returns of an FD!
Hi Pattu, About Credit Cards, I don't have one and find that I am the only one in my office(also among my circle) going on in life without a credit card. Is there a need for a credit card? in a salaried person's life. Whether the return in terms of points / cashback @1% – 3% justify the use of a Credit card. I see that credit cards have some perks like Lounge Access in International Airports etc. Still I am in a dilemma, as I have plan of International Tour this year. Should I take credit card? Pl help. Raj
If you are going abroad, you would need a valid credit card. I don't have a credit card too and don't think much about cashback and rewards.  My wife has had a card for 14Y now and occasionally we do find some use for it. Never claimed any reward till now.
A credit card has an important use – it offers your short-term credit which has to be paid back in full before the due date. The reward points are just perks that one need not worry about. There are situations where payment can be made only via a credit card and abroad it is better to carry minimal cash.
1) How can somebody/blood relatives send money abroad from India? 2) Can you transfer money from your NRE/NRO account to your blood relatives' account? 3) What is the procedure to repatriate money from NRE accounts?4 ) Can you transfer money from FCNR to NRE/NRO/ savings accounts of blood relatives? Thanks a ton for all the amazing blogs you write. Regards, Sachin
Sachin, this is not my area of expertise and therefore cannot comment on this. However, I see that Google provides detailed articles for each of your questions. You should be able to make better sense out of that than me!
I am a central government employee and covered under NPS. My contribution to NPS for the current year is Rs75000. I repaid home loan principal of Rs 92000 and paid insurance premium of Rs 25520. May I claim the money over and above Rs 150000 under 80 CCD 1b Thank you. Narayanan
Yes, you can claim 50K from your mandatory employee contribution under 80CC1(b) and use the rest + other avenues for the 80C benefit.
I shall cover the remaining questions tomorrow.
Ask Questions with this form
And I will respond to them next week. I welcome tough questions. Please do not ask for investment advice. Before asking, please search the site if the issue has already been discussed. Thank you.
[contact-form][contact-field label='Name' type='name' required='1'/][contact-field label='Email' type='email' required='1'/][contact-field label='Comment' type='textarea' required='1'/][/contact-form]
Pune Investor Workshop Feb 26th, 2017
The second Pune workshop will be held on Feb 26th, 2017. You can register for this via this link
You Can Be Rich Too With Goal-Based Investing
The best book ever on Financial Freedom Planning. Go get it now!
Your first investment should be buying this book
The (nine online) calculators are really awesome and will give you all possible insights
Thank you, readers, for your generous support and patronage.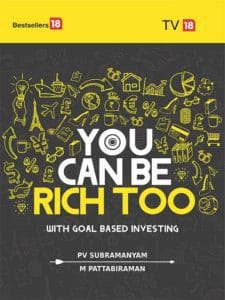 Amazon Hardcover Rs. 338 15% OFF
Kindle at Amazon.in (Rs. 244.30)
Google Play Store (Rs. 244.30)
Infibeam Now just Rs. 307 use love10 to get additional 10% OFF.  
If you use a mobikwik wallet, and purchase via infibeam, you can get up to 100% cashback!!
Ask the right questions about money
get simple solutions
Define your goals clearly with worksheets
Calculate the correct asset allocation for each goal.
Find out how much insurance cover you need, and how much you need to invest with nine online calculator modules
Learn to choose mutual funds qualitatively and quantitatively.
More information is available here: A Beginner's Guide To Make Your Money Dreams Come True!
What Readers Say
Also Available At
Bookadda Rs. 371. Flipkart Rs. 359
Amazon.com ($ 3.70 or Rs. 267)
Google Play Store (Rs. 244.30)