In this guest post, fee-only SEBI registered investment advisor, Swapnil Kendhe discusses his ongoing journey towards becoming a competent and effective financial advisor. One of the first lessons that my PhD supervisor taught me is, "do not get satisfied too easily in life". Swapnil is the epitome of this saying, continually pushing himself to know more and offer better value for money to his clients.
Swapnil is part of both fee-only India – an association of fee-only financial planners and the freefincal list of fee-only RIAs. Not only is he an honorable, ethical person, but he is also one of the few people in the financial services community who does not take past performance seriously and gives risk management the priority it deserves. His attitude and willingness to push himself and learn new things is naturally endearing.
I love the fact he pushes himself constantly to become better. Have a look at the kind of questions he wants potential clients to ask fee-only financial advisors. You can read more about his successful transition into a SEBI RIA or his other guidance posts:
If you are looking for an affordable, honest and unbiased financial advisor to set your money matters in order, you can contact him via his website: Vivektaru. Now over to him.
=-=-=-=-=
Becoming a registered investment advisor (RIA) and moving to a fee-only financial planning model was a rational decision for me. I was doomed to fail as an IFA* where success is measured by the size of AUM, not by the quality of advice. I had no chance of becoming a top IFA even if I had tried. I do not have the energy and drive of a salesman. I am introverted, reticent and socially awkward. I dislike mixing with people. I do not like to ask for new business and referrals. Prospects of earning higher income don't excite me much. I much prefer reading books, blogs and exploring new things than going out and selling. Even as an IFA, I used to think the direct plan is a better option for my clients and I would find it difficult not to talk about it.
* I have used the term 'IFA' for advisers working on a commission-based model in this article
I had gained a good knowledge of personal finance and investing for an IFA of my experience, but knowledge doesn't provide as much leverage in commission model as in fee only. An ignorant but confident 18% return assumption from equity sells more than an informed 12% assumption.
Dynamics of the fee-only model are different. Competence and knowledge play a more significant role in this model. It is possible to attract new business without directly asking for it if you can display your expertise online. Unasked referrals work better for fee-only advisers compared to advisers working on commission model. The fee-only model also puts advisor in a position of strength. Clients respect you more, trusts you more and listen to your advice more. They are more willing to share the details of all their assets, income and other relevant information. In the commission model, even a genuine concern for the client could appear as infested with a conflict of interest.
As an adviser, I am far more effective as a fee-only planner compared to what I was as an IFA. I have all the relevant details of all my financial planning clients which allows me to give comprehensive advice. This was not the case with even 10% of my mutual fund clients when I was working on a commission model. There is no incentive to understand the complete financial situation of the client before advising a commission model. You only manage part of the total assets of the client. You think regarding the size of AUM, size of SIP book and your commission. Only those clients get the best of you who keep in touch with you and keep investing more through you while most others do not receive as much attention. I am also guilty of not giving my best to most of my MF clients. In the financial planning model and more so in the fixed fee model, all clients receive more or less equal attention.
I was a member of Ashal Jauhari's Facebook group 'Asan Ideas For Wealth' (AIFW) when SEBI came up with RIA regulation in 2013. There used to be animated discussions in AIFW about this regulation and fee-only model that time. Initially, I was on the side of advisers criticizing RIA regulation, but slowly I realized that this model could better suit me compared to the commission-based model. By March 2014, I had decided to become a fee-only financial planner. Since I did not have a relevant postgraduate degree, I needed to fulfill five-year minimum experience criteria to apply for RIA registration which was still three and a half years away. I used this time to build my competence as an adviser.
People have started taking the fee-only model seriously only recently, but in early 2014 nobody believed in this model in the IFA community. I began staying away from IFAs and relationship managers. Part of the reason was to avoid the potential incidence of getting humiliated by someone with more significant AUM. After an IFA meet arranged by a fund house, one IFA asked me my AUM. My AUM number made him happy. Expressions on his face were like this fellow only talks big and didn't do any business. Whatever be the reason, keeping a distance from other IFAs and relationship managers helped me keep my thinking clean and maintain my conviction in the fee-only model.
I like reading. As an MF distributor, every day, I had an option of either spending my day reading books and blogs or reaching out to more people and selling MFs. I used to hate calling people and seeking appointment to get business. I would end up spending my day reading on most days. I would feel guilty of doing that because it was kind of irresponsible for me not to try to earn more income. My decision to become RIA and fee-only financial planner justified spending the majority of my time reading. I would still feel guilty for being lazy and not putting enough effort to increase my income, but the intensity of that guilt was now lower.
I am not ambitious when it comes to earning money, but I do have the ambition of becoming one of the best financial advisers in India judged by knowledge, competence and quality of advice. I also want to reach the level of understanding of equity of the man behind Twitter handle contrarianEPS and wisdom of PV Subramanyam. The only way I know of doing that is to read as much as I can. I started with the list of must-read investment books on subramoney.com. I wanted to read all these books before applying for RIA registration.
While you forget most of what you read, reading makes you a better thinker. It makes you aware of your ignorance and ignorance of those you consider an expert. You realize that many things you take for granted as true aren't so. It makes you intellectually humble.
I keep reading new books but what has helped me more is re-reading some essential books like 'The Intelligent Investor', 'Fooled by randomness' and Canadian financial planner Jim Otar's book 'Unveiling the retirement myth' many times. Pattabiraman Murari had recommended 'Unveiling the retirement myth'. I honestly think this book should be mandatory reading for all financial planners. I also purchased Jim Otar's retirement calculator. Pattabiraman Murari called it overkill for someone like me working on affordable fee model, but I was curious to see how best planners in the world work. Online payment I had made on Otar's website was initially refunded citing that the calculator is unavailable. I then put mail to Jim Otar requesting him access to the calculator. In reply, he asked me to reorder and said he would ensure that the filter removed, and the calculator delivered.
Nassim Taleb's books, though not directly related to personal finance and investing are also must-read books for financial advisers. Taleb trains you in inference. He makes you sceptical of experts. He improves your understanding of risk. He makes you doubt the quality of your knowledge and understanding of markets. It is easy to separate advisers who have read Taleb from those who haven't. Advisers who have loftier ideas about themselves and their knowledge of markets are almost always the ones who have not read Taleb and read a little.
There is no better blog to prepare as a financial planner than Subramoney.com. I have been a regular Subramoney reader since I discovered it in 2013. In 2017, when I was about to submit my RIA application and still not feeling confident in my knowledge of personal finance to work as a financial planner, I read Subramoney end-to-end. I could not do it, but I read all the posts till early 2013 starting from the first post in 2008. Subramoney can compensate your lack of experience as a financial adviser to some extent. I still search and read related subramoney posts while working on some financial plans.
I had also attempted to read freefincal.com end-to-end but quit it rather quickly. I had read every comment of Pattabiraman Murari on AIFW since the time Ashal Jauhari added me to the group in 2013 till I became RIA. I have direct access to Pattabiraman Murari. I have discussed anything, and everything related to personal finance and advisory business with him over Facebook chat. He and Ashal have mentored me over the last five years. I discussed many of my early financial planning cases with Ashal when I was not confident in my judgement.
One thing I was most worried about was my poor English. I knew I would get online clients with whom I would have to deal only in English. I worked on my English after deciding to become a RIA. I attended three different English-speaking classes. Two didn't hurt, but 3rd was helpful. A retired man casually ran this class to make better use of his time. I was the only student in my batch. There was no formal teaching. We would talk on random topics for an hour every day. I continued with this class till I talked with Avinash Luthria of fiduciaries.in around Nov 2017. We have been talking every weekday (in English) for an hour without fail since then. We only discuss personal finance, investing, financial planning cases and things related to advisory business. These conversations with Avinash has added as much value as all the reading I have done on the topic. I learned to stick to the process and simpler financial products because of Avinash.
Avinash is the most well-read financial adviser I know. It will take time for me to reach Avinash's level of maturity, articulation, intellectual humility and intellectual discipline. He almost never draws inferences based on inadequate data and keeps his judgement pending till he explores the thing well enough. He naturally thinks regarding priorities and risks. He has no interest in saying, doing and recommending things that can make him appear smart but adds no value to the conversation or the client. I prefer handing over complicated financial planning cases to Avinash instead of handling them myself in my fee. Pattu's note: Avinash Luthria from Bangalore is also a super competent advisor, part of my fee-only list. You can consider working with him too. Contact him via fiduciaries.in
I worked on financial planning document formats and website two months before my registration. Pattabiraman Murari had mailed me few sample financial plan documents he had. I also checked many plan documents online. My RIA application was under process when I attended first Fee Only India (FOI) meet in Sept 2017. Vikram Krishnamoorthy, Sukhvinder Sidhu, Piyush Khatri, Chandan Singh Padiyar shared their sample plan document with me after FOI meet with no hesitation. Melvin Joseph had already shared his sample plan document with me a month before.
My plan document is a mixture of all these documents. Nothing is original. It is closer to Vikram's plan document as I loved his document format. My plan document has kept changing over time. I spent as high as three days working on a single plan document when I did not have much of online business. Almost every plan document takes a slightly different form since I try to put every critical point in the report I discuss during the financial planning sessions. I also try to make it as easy to understand as possible and that takes time. This time has significantly reduced now, but sometimes writing plan document still becomes the most time-consuming part of financial planning for me, especially when I changed the flow of plan document to suit client's situation. Challenge is to write a plan document in as simple a form as possible without compromising on the content. Simplifying things take time. I have failed at times and almost never felt that plan document couldn't have been better.
I use financial planning data sheet prepared by Ashal Jauhari. Ashal shared this sheet with me after first FOI meet in Mumbai. This was so well prepared that I didn't need to change it all along. I only enhanced its look and added some minor details. For financial planning calculations, I use freefincal robo advisory template. Pattu's note: This is the pro version of the template and Swapnil has played a major role in debugging the template.
I have spent considerable time working on my website. Pattabiraman Murari gave many inputs for the site. I had purchased two English domain names for the website, and I was not happy with both. Pattabiraman Murari suggested that website name should be more comfortable on the tongue for clients to refer others. I stopped thinking about English names and searched for Marathi or Sanskrit name. 'Dnyaneshwari' is the best Marathi book ever written. It is a commentary on the Bhagavad Gita written by Marathi Saint and poet Dnyaneshwar in the 13th century. I somehow felt I would find a good name for my website in Dnyaneshwari. I read it in search of a suitable word and found 'Vivektaru'. 'Vivektaru' means 'The Wisdom Tree' in Marathi. Since everything boils down to wisdom in investing, I used this word for my website name.
I had asked my cousin to design the website for me. But I was not happy with the way he created it. I like simple things, and he had his notions about how good websites should look. So, I did it on my own. I taught myself to design website by watching YouTube videos and built the site. My cousin messaged me that this is how people used to make websites 15 years back. But he understood how I want my website to look like and redesigned the site which I liked. My wife also took an interest in the website after she left her job. We keep working on the website. It looks a lot better now than what it was a year back.
Piyush Khatri and Chandan Singh Padiyar helped me with my RIA application. I got RIA registration on Oct 31, 2017, and I was added to the freefincal fee-only adviser list. I got only five online clients in the first five months after getting included in the freefincal list. I squandered a few genuine online queries because of my mental block for English. My confidence drops to half if I am forced to speak only in English. As recently as last month, I refused to take one client with whom I would have had to communicate just in English after I had a tough time dealing with a difficult client in English. He checked with other advisers but came back possibly because of my affordable fee.
I had not figured out how to handle online queries. Melvin Joseph suggested me to call him as a client, ask him as many questions as I can, and record all the conversation. I did as suggested. He also advised me to prepare a script and practice it till I get fluent in handling online queries. While I developed no script, I got an idea about how Melvin Joseph handles online inquiries, and that helped.
I could survive the early lean period of online business because I was slowly bringing my local mutual fund clients to fee the only model. I also had the comfort of mutual fund trail commission (This was the commission of the business before becoming an RIA. There was no new business commission). By the time I switched most of my bigger mutual fund clients' AUM to direct plan and brought them to fee-only model, the online business had begun working for me.
I got significant online business after my 'Fee-only advisor journey' article was published in freefincal in late March 2018. But it dried up rather quickly. I again got a significant online business after my second guest article in freefincal was published in June 2018. But again, online inquiries dried up quickly. I got only one online conversion in July and therefore got a lot of free time to think. I changed wordings on every page of the website, added a few more things and made website SEO friendly. I also created a Facebook page, edited LinkedIn profile and began posting on my Facebook page, Twitter and LinkedIn more regularly. I also changed canned email responses and attached a sample data sheet, a sample plan document and a sample letter of engagement in reply to online queries.
I do not know what exactly worked, but I got a steady flow of online inquiries from August onwards and conversion ratio also significantly went up. Now I have the happy problem of figuring out how to handle the higher volume of business without compromising on the quality of advice.
I am still learning how to work on this model. My first financial planning client did not renew the engagement because of my refusal to increase his equity allocation and to find better performing funds compared to funds in his 1-year-old portfolio. Another client did not renew because he did not find me proactive. I had cleaned up his portfolio and put it on autopilot, his insurances were in line and there was nothing left for me to do.
Problem with honest advice is that it doesn't look like competent advice. It is also difficult to fight perceptions.
I now take four financial planning sessions in which I try to discuss with clients as many insights I have of money management and investing as I can. This way I can at least be satisfied that I have delivered value worth my fee and not just a plan document with recommendations.
This model is more difficult to work on compared to the commission-based model, but investors do pay fee for advice in India. I have the unnatural advantage of being on the freefincal list, but only half my fee-paying clients came from freefincal. I can convince any sensible investor to pay a fee for advice if I decide to. I am too lazy to do that though. Size of the pie is undoubtedly increasing for the fee-only advisers in India, and this model will work for more and more advisers like me. But there are also high chances of failure, especially for those who would come to this model unprepared and would put halfhearted effort.
You can contact Swapnil via his website: Vivektaru.
Subscribe and join the freefincal Youtube community!
 Don't like ads but want to support the site? Subscribe to the ad-free newsletter! 
Want to conduct a sales-free "basics of money management" session in your office?
I conduct free seminars to employees or societies. Only the very basics and getting-started steps are discussed (no scary math):For example: How to define financial goals, how to save tax with a clear goal in mind; How to use a credit card for maximum benefit; When to buy a house; How to start investing; where to invest; how to invest for and after retirement etc. depending on the audience. If you are interested, you can contact me: freefincal [at] Gmail [dot] com. I can do the talk via conferencing software, so there is no cost for your company. If you want me to travel, you need to cover my airfare (I live in Chennai)
---
Connect with us on social media
---
Do check out my books
---
You Can Be Rich Too with Goal-Based Investing
My first book is meant to help you ask the right questions, seek the right answers and since it comes with nine online calculators, you can also create customg solutions for your lifestye!
Get it now
.  It is also available in
Kindle format
.
---
Gamechanger: Forget Startups, Join Corporate &

Still

Live the Rich Life You Want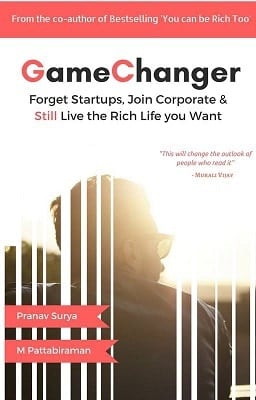 My second book is meant for young earners to get their basics right from day one! It will also help you travel to exotic places at low cost!
Get it or gift it to a youngearner
---
The ultimate guide to travel by Pranav Surya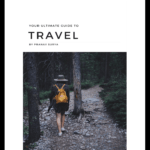 This is a deep dive analysis into vacation planning, finding cheap flights, budget accommodation, what to do when travelling, how travelling slowly is better financially and psychologically with links to the web pages and hand-holding at every step.  
Get the pdf for ₹199 (instant download)
---
---
Free Apps for your Android Phone
All calculators from our book, "You can be Rich Too" are now available on Google Play!
---
Install Financial Freedom App! (Google Play Store)
---
Install Freefincal Retirement Planner App! (Google Play Store)
---
Find out if you have enough to say "FU" to your employer (Google Play Store)
---
About Freefincal
Freefincal has open-source, comprehensive Excel spreadsheets, tools, analysis and unbiased, conflict of interest-free commentary on different aspects of personal finance and investing. If you find the content useful, please consider supporting us by (1) sharing our articles and (2) disabling ad-blockers for our site if you are using one. We do not accept sponsored posts, links or guest posts request from content writers and agencies.
Blog Comment Policy
Your thoughts are vital to the health of this blog and are the driving force behind the analysis and calculators that you see here. We welcome criticism and differing opinions. I will do my very best to respond to all comments asap. Please do not include hyperlinks or email ids in the comment body. Such comments will be moderated and I reserve the right to delete the entire comment or remove the links before approving them.