I am ashamed to say that although I teach and research for a living, I hate giving analogies. Even if I think of a potentially good analogy, one that can drive home the point better, I get uncomfortable and think it is deliberate and artificial and don't use it. Someone like Ashal Jauhari is so very good at it.
So when I thought about the title, one part of me said, go ahead and write it. Another part said it is a bad idea. So I came to a consensus and decided to write about the weight loss aspects alone. I will leave it to you to decide if a weight-loss regimen has similarities with long term investing and in general taking control of your financial life.
Before I begin, let me clarify why I think I am reasonably competent to talk about weight loss. I went from 95 Kg to 72 Kg over a period of 2.5 years without dieting and exercising. I have held onto this weight for the last two years.
Take stock of YOUR situation: If you want to lose weight, first you need to understand the reasons for your current weight, and second you need to recognise nothing will work without discipline.
There are many over-weight people on the planet. However the reasons behind each person's excess weight can be different.  So first ask yourself why are you overweight? Is because of your eating habits? Is it genetic? Is it related to a medical condition? If it is related to a medical condition or it your parents, grandparents are also obese then you should discuss with your doctor about the best weight management strategy for you. The following is generic. It works for those who are overweight because of eating the wrong things at wrong times and may or may not work for those with weight related to medical issues.
Do not mix exercise and weight loss! Before you begin, it is essential to understand the lack of connection between exercise and weight loss. If you want to lose weight, eat right. If you want to keep fit, exercise. Losing weight and keeping fit are very different goals.  So if you want to lose weight, don't bother joining a gym or buying walking/jogging shoes. Studies have shown* that if you start a weight loss program with exercise you are likely to eat more because the extra activity will leave you hungry. (* free subscription required. This Time magazine study (cover below) resulted in a huge controversy. I however agree with it).
Here is the pdf version of the full article.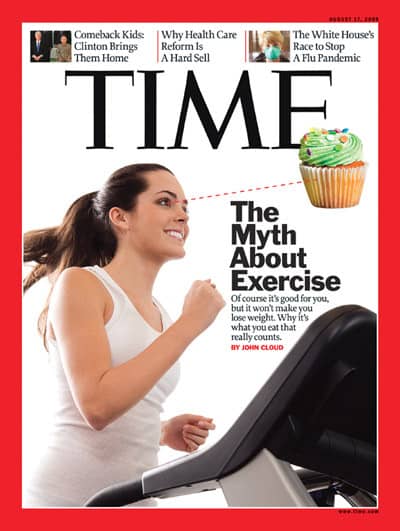 Weight loss is a life-long commitment. The key to weight loss is to train your body to eat less. This will take several months to accomplish. Once you accomplish it, you will need to eat right for the rest of your life! So unless you stay the course with discipline nothing will work.
Understand and embrace volatility!  Weight loss is all about eating right. However, recognise that eating right everyday is not possible. There will be parties, weddings, festivals, moms great cooking etc. etc. Enjoying 'rich' food occasionally is great. It prevents mistakes and actually helps you stay on course. The occasional indulgence is crucial for success.
Take one step at a time The key idea behind weight loss is to train your mind and body to function with less food. If you want to do this right, it will take months to years. If you go overboard and do too many things at the same time, you are bound to fail.
List all your bad eating habits.
Choose just one bad habit and live without it for a month or two. Then move over to the next bad habit.
Step 1: Drink a lot of water. It is the only weight loss medication you need. (I will write more about others steps in a separate post).
Recognise the power of compounding After you start a weight-loss regimen, within a week or so, you can see your weight drop. It will typically drop a couple of kilos and then stay the same! Most people think they are doing something wrong at this point and give up. Such a pity because
If your weight has lowered a bit and then stays the same, you have achieved your first victory!
Your mind and metabolism have accepted your new lifestyle. It is time for you to get rid of your second bad eating habit. (after a month your third and so on)
This is the power of compounding with respect to weight loss. It may sound wrong to call it compounding, however I am convinced that it is. It is crucial to get used to small but permanent changes to your lifestyle. Your 'final' weight is the compounded effect of these steps.
When you progress to your 3rd or 4th bad eating habit, the drop in weight will be noticeable to your friends and family. Never ever advertise about your regimen. Don't even tell your spouse or parents. Let them notice it. It will give you a boost.
Getting rid of some bad eating habits may not influence your weight. Do not worry. You body takes note of every step you take (positive and negative!).
Do not monitor your portfolio constantly!  There is no need to check your weight every day. Losing weight is like falling in love. You will know when it happens.
Okay I think the analogy is wearing thin now.  So let me stop here and ask, what do you think ? Do you agree?