R. Balakrishnan is a person of great renown in the banking and financial services space.  He helped set up CRISIL and  the Malaysian credit bureau, was head of equity research at DSP Merrill Lynch, executive vice president of Edelweiss,  to name just a few. He is now an organic farmer, writes a blog and has a column at MoneyLife. More details about him can found at his farm website.
In an article titled, Investing in a concentrated ETF, he referred to the formation of an ETF with the stocks held by the Specified Undertaking of the Unit Trust of India (Suuti) such as ITC, Axis Bank and L&T.  More on the ETF here.
He considered an ETF in which one unit would comprise of one share of ITC, Axis Bank and L&T, as an option for those who wanted to get into direct equity but did not have the time and effort to do so.
The SUUTI ETF will have more shares as these three shares only constitute 31% of the portfolio.
In this post, I present the backtesting results of such a three stock portfolio (not necessarily an ETF) from Jan 2000.
Step 1
Use the Moneycontrol historical stock price downloader and get the stock prices of the three shares adjusted for dividends and splits.
Step 2
Get a list of common dates using a combination of Excels INDEX and MATCH functions.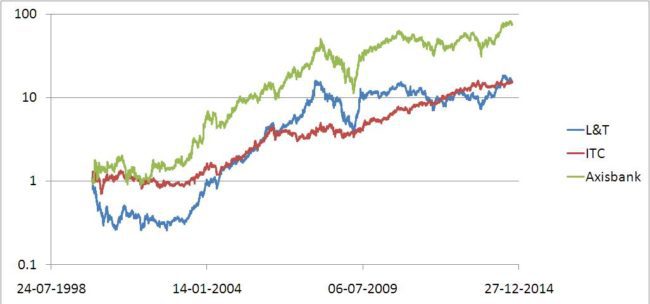 The normalised movement of share prices. The y-axis is in log scale to show the evolution in the early stages clearly. L&T and ITC have moved up 15 times, while Axis bank, 75 times.  ITCs movement is not well correlated to the other two shares.
Step 3
Use the mutual fund account statement generator to obtain the monthly dates of purchase (SIP date: 3rd)
Step 4
We assume one share of the three stocks is purchased each month.  The SIP states on 3rd Jan 2000 and ends on 7th Oct 2014.
So on 7th Oct. the investor would hold 177 shares of each company.
total investment: 1.47 L
portfolio value: 3.87 L
CAGR: 20.92%
Brokerage charges, demat account charges have been neglected.  If that bothers you too much, reduce the above return by say, about 1%.


Comparison with Franklin India Blue Chip
What if the investor had chosen a diversified large cap fund instead?
total investment: 1.47 L
portfolio value: 3.01 L
CAGR:  15.92%
Normalized movement of FIBCFs NAV and the total price of the three stocks.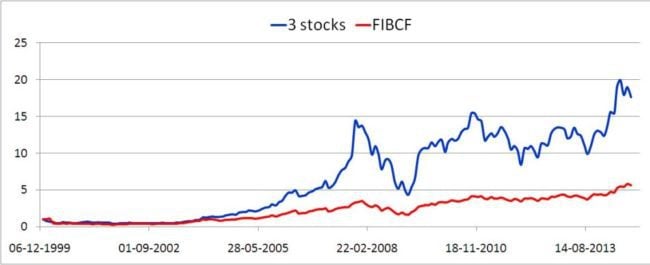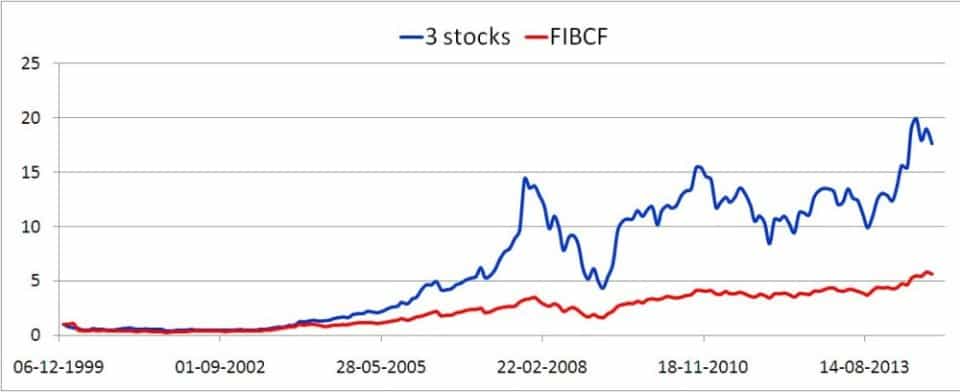 Notice how volatile the 3-stock portfolio is compared to the fund NAV.
The standard deviation in monthly returns for the 3-stock portfolio is 39%. A good 30% larger than the corresponding number for FIBCF.
That is the trade-off when it comes to direct equity vs. mutual fund investing.
Higher returns (potential) but higher volatility (guaranteed!) in direct equity.
While Mr. Balakrishan's idea is certainly a sound one (with the caveat that the past performance means nothing!), should an investor use direct equity to create wealth or mutual funds?
Unfortunately, direct equity is seen by many as a route to create wealth quickly. Unfortunate because for most people the direct equity route is like walking the tightrope over a chasm that separates an investor from financial freedom.
The alternative is a wider plank laid out over the chasm . Walking the plank (!) would take longer but it is significantly safer.
Perhaps the tightrope would get thicker down the line, with experience.  Perhaps not.
Now that is one risk that I am not willing to take. Simply because I don't have to.