As I sat down to write a post on "cryptocurrencies: should you trade or invest in them?", I received an email from my classmate asking me to explain if the most popular cryptocurrency- the bitcoin is a Ponzi scheme? A pyramid scheme? or bubble? Since the two topics are closely related, I thought let me do my best to address this question.
If you are new to cryptocurrencies, try this first: Bitcoin: Should we use it as a currency or as an investment?
It is unfortunate that each time I say, stay away from cryptocurrencies, I am met with intellectual responses as: "you are a fool", "you are ignorant", "look at how much money I made", "Bitcoin is the future"  etc.  When opinions are presented without fact, it becomes easier to discard them.
Block chaining the underlying technology behind Bitcoin will pay a big part in the future. I have no doubt about this. That does not make cryptocurrency a good "investment" or Bitcoin a good "currency".
The first step is to recognise that cryptocurrencies is a new playing field of unknown dimensions. That is its place in the risk vs reward map cannot be fixed. This is the single most important reason to neither use it, nor "invest" in it.
It is one thing to avoid putting in money in an unknown asset class (it is not even clear what kind of asset class crypto is), but quite another to call it a fraudulent scheme.
Is Bitcoin a Ponzi scheme?
Cryptocurrency by nature and definition is decentralized and unregulated. So even if it were to be called a fraud, all participants will benefit from it and not a single entity. This is unlikely in a marked-to-market security with excellent transparency.
In a Ponzi scheme, one person's money is paid to another as a dividend or interest. The PPF is more a Ponzi-like scheme than cryptocurrency!  There is no resemblance between a Ponzi scheme and cryptocurrency. I am afraid there is not much else to write about.
Is Bitcoin a pyramid scheme?
In a Pyramid scheme, early members recruit new individuals to recruit others and so on with actual sales of a product being incidental. Herbalife is a pyramid scheme.
In the case of Bitcoin, it is true that the first miners or the founders could easily mine the coins a lot more easily the later entrants. For example, the first ever transaction was rewarded with a fee of 50 bitcoins.
Not only does the transaction fee reduce every four years (in the absence of splits), the difficulty of completing the transaction also increases with miner competing with each other. Also, the miner who validates the transaction is chosen by a random no generator (see fig and link below)
I could be wrong, but as far as I could understand
both old and new miners are treated the same by the random no generator
 The increase in difficulty is the same for all miners – new and old and
The old miners do not receive rewards for transactions completed and blocks added by new miners. Assuming I am right, cryptocurrency (assuming rules are similar for all of them) is not a pyramid scheme either.
Assuming I am right (please confirm), cryptocurrency (assuming rules are similar for all of them) is not a pyramid scheme either.
How about the exchange value? Will not the old miners benefit more because they got more for a low USD exchange rate?  This is a silly argument and of course the founder of an establishment better be rewarded more than subsequent stakeholders!
There is more to it.  This is the since-inception USD market value of Bitcoin.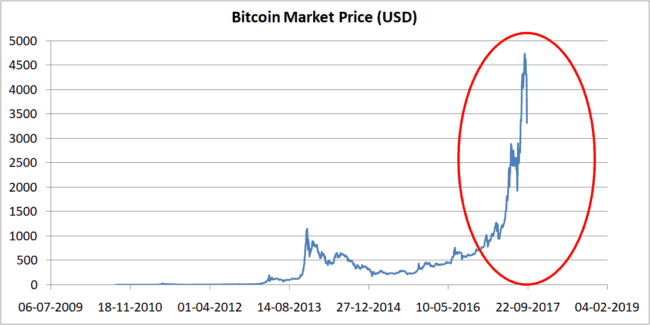 Seen like this, our focus is the almost vertical increase.
As shown before in the Are you ready to climb the Sensex Staircase?! and Nifty 50 from 1,000 to 10,000: Lessons from the rocky road, one should use logarithms to quantify the present increase with the past.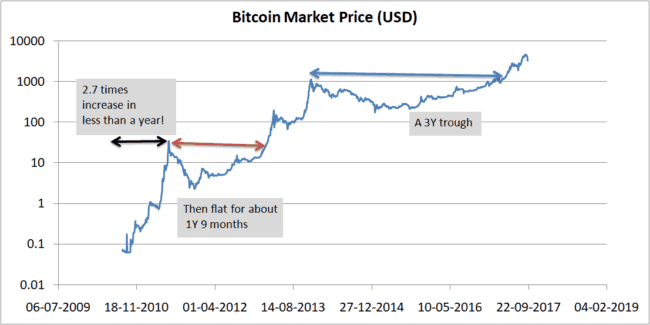 The biggest bitcoin move was when it was practically unheard of. Notice the extended periods of sideways movement. The early miners had to stomach this. It is hard for me to imagine stakeholders of a Ponzi or Pyramid scheme would go through this. This is, of course, the effect of the time value of money and is the result of market movements – supply and demand.
As a bit of amusement, let us look at the annualised return of those first 50 Bitcoins earned by Satoshi Nakamoto.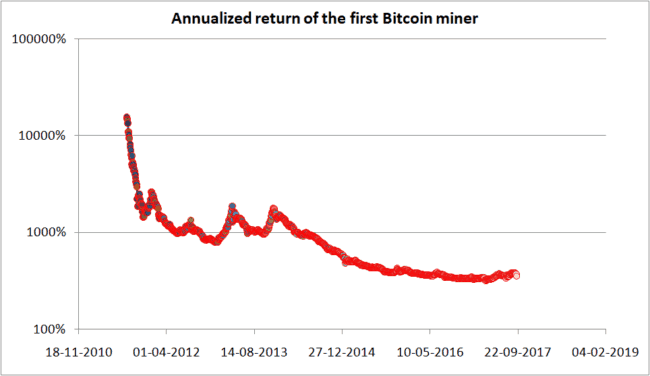 Not to be taken too seriously but 1Y after the transaction the CAGR was 15640%(!!) and today it has dropped (as above) to a more sedate 354%(!).  If  Bitcoin was a Pyramid scheme then I would expect the returns to be more or at least not drop as much!
Is Bitcoin a Bubble?
What is an economic bubble? If the market price of an asset (Tulip, property, gold, stock, bond) suddenly increases much higher than the underlying intrinsic value (what one would rationally pay)  then we could call it a bubble.
A currency (just a reminder to "investors" that Bitcoin is a currency and not a commodity) has no intrinsic value as they are not securities. One can profit only by speculation.  How should one profit from a currency, will be the subject of the next post.
Note
Just because Bitcoin is not a fraudulent scheme or we cannot classify it as "this" or "that", does not mean we understand what it is. All we can try to understand so far is the founding principles (and they are sound).  The market forces that act in this space are not clear as it is too early. The extended sideways movement seen above could well be the norm soon. So don't count your deregulated coins before they become regulated ones.
To be continued …
---
---
Use this form to ask Questions or reg. the robo template ONLY (For comments/opinions, use the form at the bottom)
And I will respond to them in the next few days. I welcome tough questions. Please do not ask for investment advice. Before asking, please search the site if the issue has already been discussed. Thank you.  PLEASE DO NOT POST COMMENTS WITH THIS FORM it is for questions only.
[contact-form][contact-field label="Name" type="name" required="1″][contact-field label="Email" type="email" required="1″][contact-field label="Ask your question (Got an opinion or comment, use comment box at the bottom of the page. DO NOT post them here)" type="textarea" required="1″][/contact-form]
GameChanger– Forget Startups, Join Corporate & Live The Rich Life You want
My second book, Gamechanger: Forget Start-ups, Join Corporate and Still Live the Rich Life you want, co-authored with Pranav Surya is now available at Amazon as paperback (₹ 199) and Kindle (free in unlimited or ₹ 99 – you could read with their free app on PC/tablet/mobile, no Kindle necessary).
It is a book that tells you how to travel anywhere on a budget (eg. to Europe at 50% lower costs) and specific investment advice for young earners.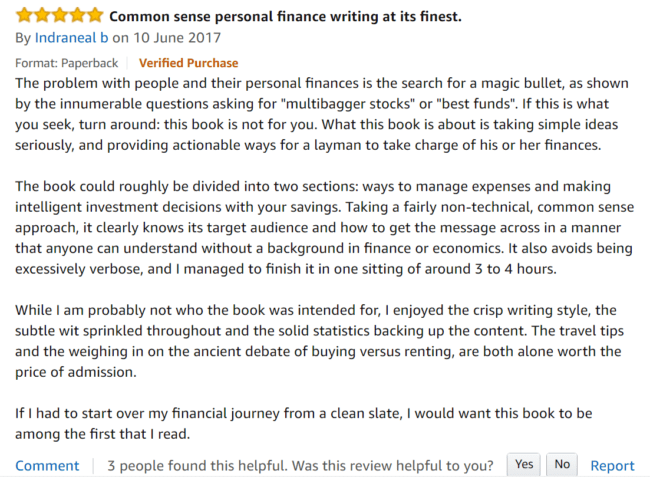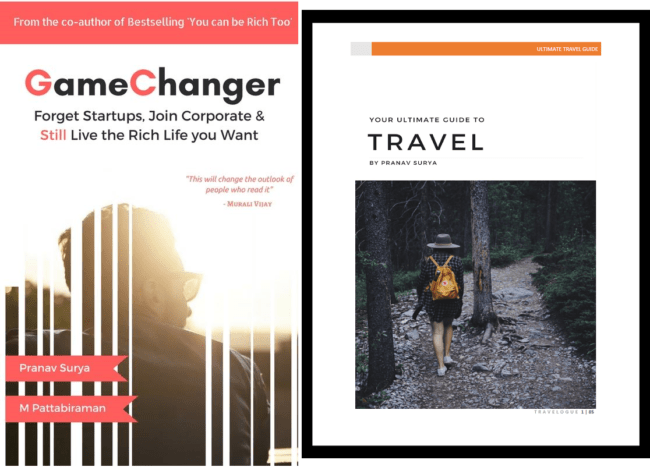 The ultimate guide to travel by Pranav Surya is a deep dive analysis into vacation planning, finding cheap flights, budget accommodation, what to do when travelling, how travelling slowly is better financially and psychologically with links to the web pages and hand-holding at every step.  Get the pdf for ₹199 (instant download)
You can Be Rich Too with Goal-Based Investing 
My first book with PV Subramanyam helps you ask the risk questions about money, seek simple solutions and find your own personalised answers with nine online calculator modules.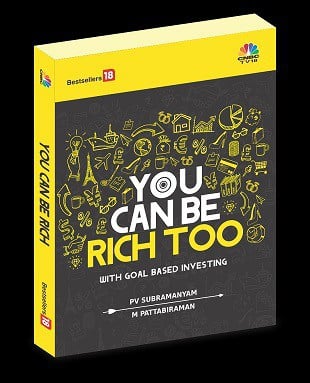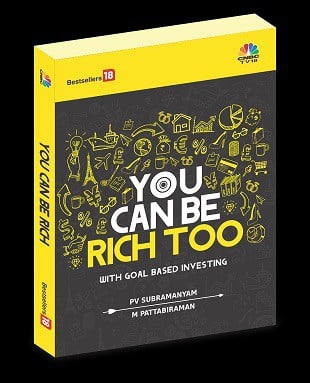 The book is available at:
Amazon Hardcover Rs. 271. 32% OFF
Infibeam Now just Rs. 270  32% OFF. If you use a mobikwik wallet, and purchase via infibeam, you can get up to 100% cashback!!
Flipkart Rs. 279. 30% off
Kindle at Amazon.in (Rs.271) Read with free app
Google PlayRs. 271 Read on your PC/Tablet/Mobile
Now in Hindi!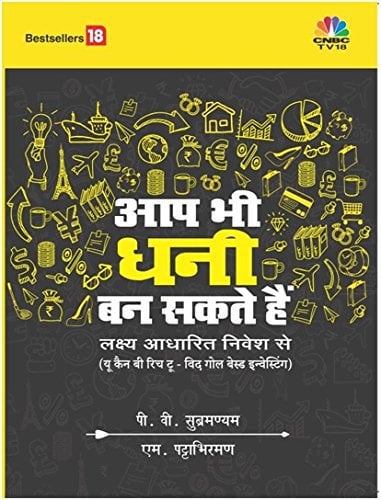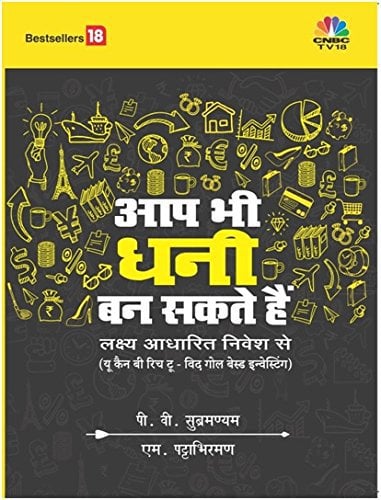 Order the Hindi version via this link