The Nifty Low Volatility 50 Index (NLV50) is a portfolio of 50 stocks that has the least volatility among all the stocks listed at the NSE. This is referred to as a smart beta strategy.
Considering the way it is constructed, its performance (much of which is backdated) has been quite interesting and I think this can be a suitable benchmark index for multi-cap mutual funds in terms of risk-adjusted returns.
Thanks to Indraneal, who blogs at cognicrafing for helping me understand the composition of its current portfolio – 19 large-cap stocks + 30 mid-cap stocks and one small-cap.
However, The index has no specific cap or sector tilt and only depends on volatility – standard deviation of daily returns in the past year (calculated each business day).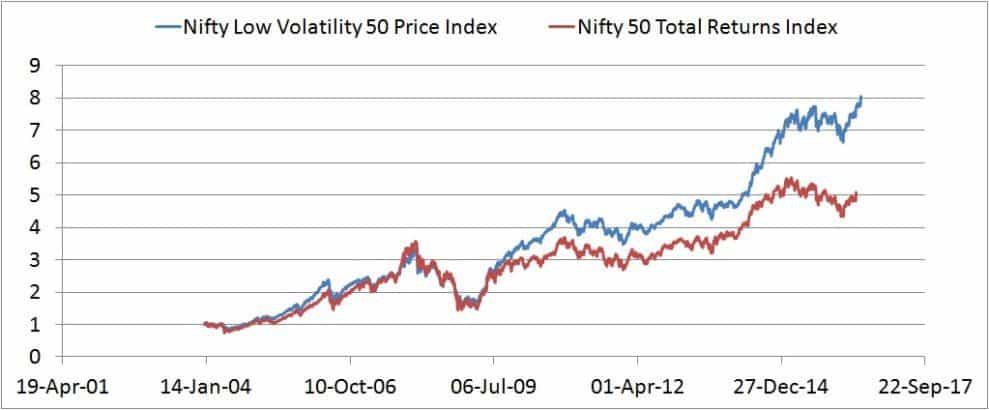 The NLV50 (backtested data, excluding dividends) managed to comfortably beat the Nifty with dividends included, but also managed to fall less during the 2008 crash.
I cannot help be amused at the NLV50 is constructed!
Take the top 300 companies in terms of free float market cap and turnover in the last 6 months
Ensure the companies have a

listing history of at least 1 year
at least 10% of total shares are available for trading (and not held by promoters, govt, trusts etc.)
100% trading frequency.
positive net worth as per last annual audited report.

Take price adjusted for corporate action and calculate the standard deviation of daily returns for the last year.
List 50 stocks that have the lowest standard deviation (volatility).
Stock with lowest volatility gets highest weight.
upon quarterly review, if an index stock moves out of the top 50, but is still part of the top 100, it is not removed. This reduces churn.
Rebalancing to preserve weights is also done quaterly.
There is no cap or sector bias.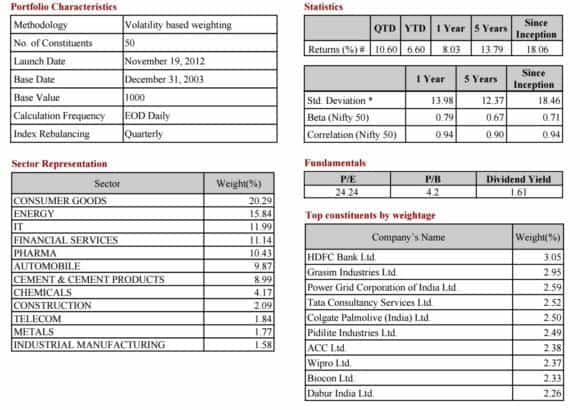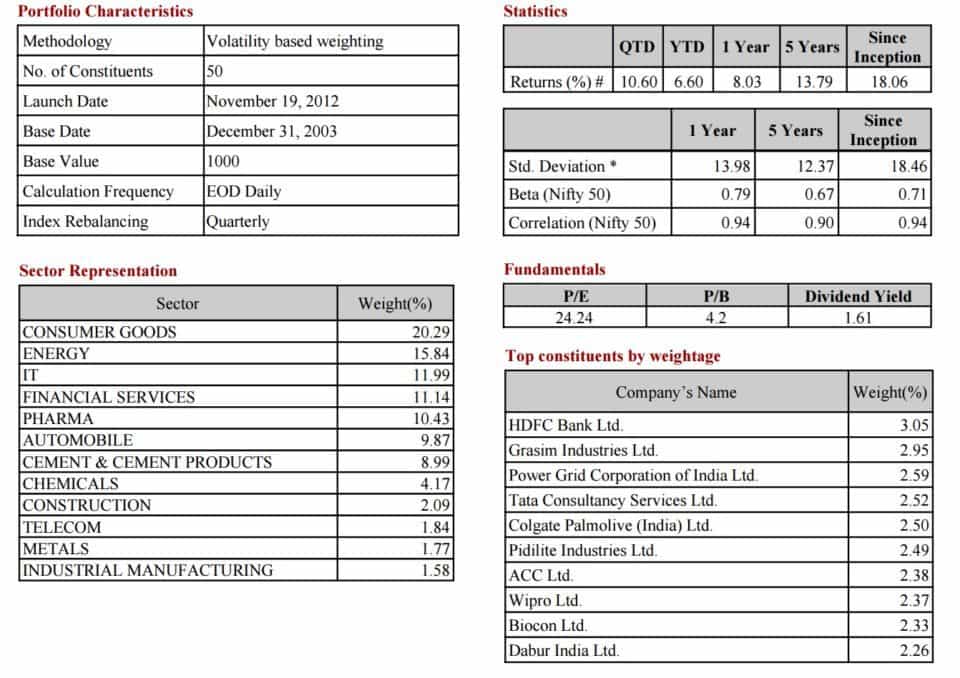 This is a snapshot from the NLV50 fact sheet. Although it has a 90%+ correlation with the Nifty, the volatiliey is a good 20-30% lower (as measured by Beta).
However, it is not a suitable index for large-cap mutual funds and indeed, none of the large-caps have managed to beat this! (Happy to share this data on request).
The mid-cap funds have managed to do better,  but this is not a pure mid-cap index either. I shall test this out against all multi-cap funds once I prepare the list.
The reason I particularly like this index is performance combined with low volatility. This is a good benchmark for our equity portfolios as well.
Quantum Long Term Equity vs. Nifty Low Volatility 50
Using the Analysis: 10-year Lump sum vs 10-year SIP returns sheets, here is how Quantum Long Term Equity fares against this index.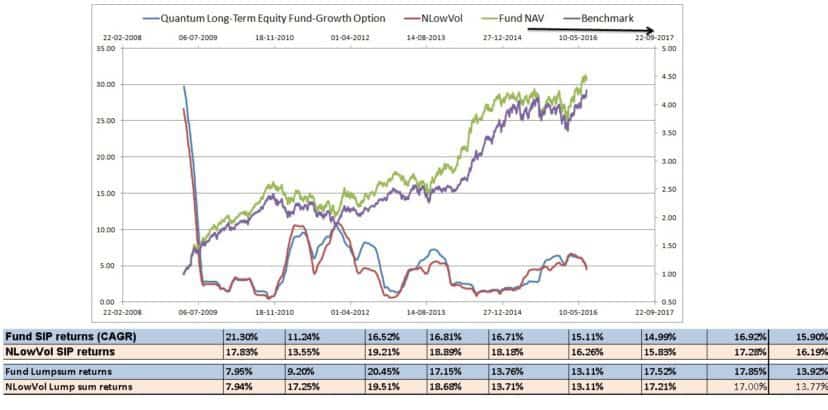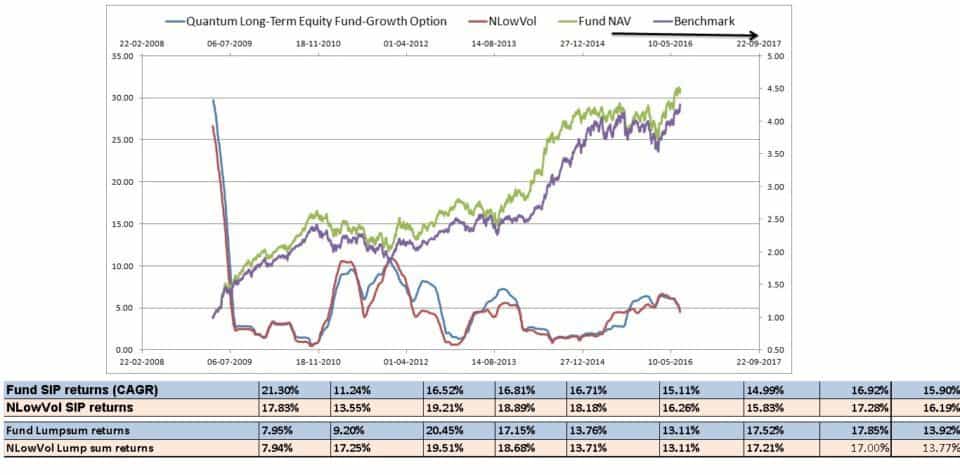 NLV50 has a lower Ulcer index than QLTE. The Ulcer index is a measure of volatility and downside risk or in other words, a measure of investor stress! Lower the ulcer index, lower the stess.
In terms of returns too, QLTE is a bit lower than NVL50. Although a bit more volatile, the fund has managed to beat the index when evaluated from Apr 3rd 2006.
To be continued ….