In this post, I discuss reader Abhay Deol's question: As anyone who has played with a retirement calculator knows, the corpus required for the retirement portfolio is huge. And from all accounts, most Indians are not prepared for it or even realize the huge amount required. What I'm curious about though is why hasn't this crisis played out yet? Where are today's retired professionals getting their monthly income from?
The short answer is: the crisis is very alive, well and thriving and this has been the case for decades before Indians first started using a retirement calculator. This will be the case for decades to come and is likely to continue among the allegedly financially literate Indian (so called just because they choose equity).
There is not a shadow of a doubt that many of today's normal retirees (regardless of whether they had a job or career) have trouble meeting ends. Even if they can manage today, it is likely that their future is bleak. That is if we consider only their income.
The main reasons the crisis is not visible (IMO, of course, and I do not have numbers to justify. Subra can write about this much better than me) in India are the following.
1 Lack of economic sense
Until now,  governments out of fear of losing votes have abandoned economic sense and refused to link fixed income rates to market yields. It recently came up with a formula to do so but does not use it as often as they should.
Thanks to a turbulent 90s when we were forced to pawn our gold to IMF and made the Rupee exchange rate market-linked, fixed income interest rates shot up and they remained high for nearly 15+ years. This allowed those in the late 50s or early 60s to lock-in to good annuity deals. Most of them would be in the mid 70s/80s or perhaps passed on.
The high rates helped senior citizens to "manage" (we will discuss what this means below)
2 Human fungibility in general and in particular, Indian fungibility
In India, most parents tend to stay with their children or near them.  This mixes up their cash flow with that of the children. To this day, my mother pensions (one hers and one a family pension) is pooled together with my income and used for expenses and investments. I have never bothered to check for which expenses her pension is used.
She retired in 2002 and since then, her pension has increased year on year at about 13%-ish. This is an astounding increase. No product on Earth can offer this.
The government realised this rather later and introduced the NPS. Only a few NPS retirees exist today and it will take years before we know how they manage(d).
While speaking at the RBI staff college last month, I was shocked to learn that the government cancelled post-retirement DAs for the RBI staff under GPF. This means they will only get a constant pension = 50% of last drawn pay. Whether this leads to a crisis or not, we may never know.
At least I can run the numbers for my mother. She is 70, a Parkinson's patient (for the last 10Y), requiring medication and assistance. Accounting for her meds + a day assistant, she would be left with about 12K a month to buy food, pay flat maintenance, EB bills, and other expenses. Is that enough in a city like Chennai for a single person? Becuase she lives with us, her expenses are part of our expenses. That is, we do not stop to divide and check.
Has the retirement crisis played out in her case? A resounding yes.  Is it visible/impactful? No.
Not because she is staying with us, but because we (me, my wife) can just about meet expenses (needs and wants) and still manage to invest some.
The point is, staying with a child alone is not enough! The child should be able to afford that. What if the son or daughter does not earn much? What if their income is not much higher than the pension received? Or worse, what if there is no pension at all?
If that happens, I can assure you there will be friction in the family, no matter how "cultured" or educated the children/parents are. I personally know examples of this "friction" and all that it entails and I can bet that you are aware too. I do not have numbers or statistics to back my opinion here, but I think you will not disagree with me too much on this.
3 Lesser wants/needs + Adjustment & management
I hope you will also not disagree too much if I claim that our grandparents had lower wants/needs than our parents and in turn our parents lower than ours.  There are plenty of reasons for this: better access to resources and technology is a key factor.
I was born in a huge mansion that housed a joint family and it had no electricity until I was born. My grandparents lived out almost their entire life without it. Their pensions were meagre, but so were their needs. This is one reason they could "manage" (as we often say). The other reason is the great human adaptability. We never stop evolving or adapting.
Human beings have this great ability to be flexible. They do so adeptly that it is hard to spot. Retirees adapt to circumstances at all times.  If their pension income or interest income decreases, they cut expenses. We never notice because unlike us, they are not a song and dance generation. They would rather quietly stop spending than asking their son or daughter for more money. And today the son or daughter has their own list of problems – an unstable job for instance – that they may not notice.
Retirees in the transition to a new India
Those who retired in the last 5 years or will retire in the near future are going to have a tough time as interest rates have dipped; the RBI has  new inflation target of 4% +/- 2% with the government having a 50% say in the rate; Small savings schemes are now market linked (at least in theory) and now with an increase in the stock market, more and more retirees are likely to fall prey to BS products/procedures like an SWP from an equity fund; monthly dividend income from "balanced" funds" and see a good chunk of their retirement savings eradicated by a market crash.
I can only say a prayer for them. Btw I am not talking about retirees who have enough corpus to generate an income that increases at least  6% a year for the rest of their lives. That would be a minority today and a minority tomorrow. The real India does not read crappy blog posts such as this. The real India has much bigger fish to fry.
Among the reasonably well off Indians, retirement homes are getting popular. However, in terms of expenses, they could be higher than staying at home. Also, the homes have not evolved yet and I am not sure how professional their services are.
Retirees in a new India
How about those that will retire 10Y, 15y from now or beyond? Would not most of them be "educated" enough to use equity? Would they not be able to retire comfortably on their own? I certainly hope so, but I will not put my money on it.
The real India does not represent truly long-term equity investors. Besides, the corpus of a good number of retirees will become market linked. EPF market component is steadily increasing and soon it may be a thing of the past. NPS is already the largest mutual fund in the country. So the corpus health will depend on luck and how well they can manage risk (this is one area where there is not enough expertise around).
Today people may be earning more, but they are also spending more. Their dependence on technology is absolute. There is no evidence of their ability to "adjust" and "manage", but hopefully cometh the shortfall, cometh the cut corners.
However, an adjustment today is not the same as what it was 10Y ago or 20Y ago because there was so much less tech.
Why am I so pessimistic?
Yes, I can be annoying with my pessimism. The reason for that is two-fold:
Most earners are unable to invest what is needed for retirement, primarily because they started thinking about it too late. Well, that is how young people are, but a few decades ago, with less spending options, this is not as a mistake as it is now.
Want a thumb rule? We must we able to invest for retirement at least as much as we spend (towards expenses that will persist beyond retirement). Use this calculator to check.
So, time and investment in the compounding formula have issues for many today. That leaves out returns – the least important element.
There are two kinds of people in this world: those who have seen hardships early in life and recognise one cannot take anything for granted and those who have lived a good part of their without serious hardship and tend to assume things will go as planned. I tend to think the latter group is more in number and many of them invest in equity with hope, and hope is not a strategy.
Your thoughts please.
__________________________
Freefincal In Tamil!
Venkatesh Jambuligam has been translating some of my posts in Tamil. This week he has tackled upside/downside capture ratios. Please support his work.
Ask Questions with this form
And I will respond to them coming Monday. I welcome tough questions. Please do not ask for investment advice. Before asking, please search the site if the issue has already been discussed. Thank you.  PLEASE DO NOT POST COMMENTS WITH THIS FORM it is for questions only.
[contact-form][contact-field label='Name' type='name' required='1'/][contact-field label='Email' type='email' required='1'/][contact-field label='Comment' type='textarea' required='1'/][/contact-form]
GameChanger– Forget Startups, Join Corporate & Live The Rich Life You want
My second book, Gamechanger: Forget Start-ups, Join Corporate and Still Live the Rich Life you want, co-authored with Pranav Surya is now available at Amazon as paperback (₹ 199) and Kindle (free in unlimited or ₹ 99 – you could read with their free app on PC/tablet/mobile, no kindle necessary).
It is a book that tells you how to travel anywhere on a budget (eg. to Europe at 50% lower costs) and specific investment advice for young earners.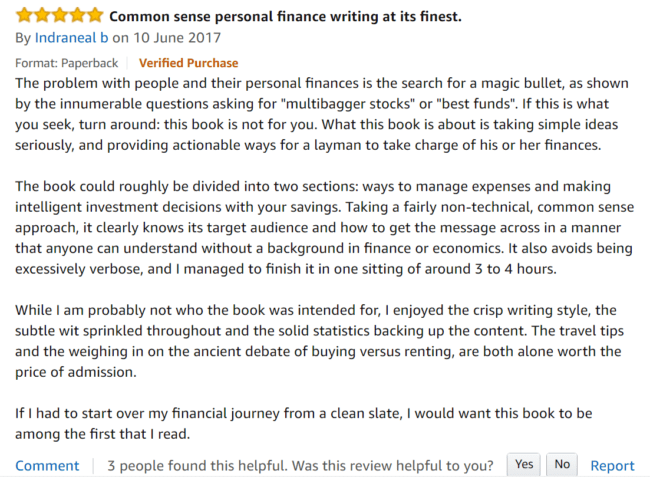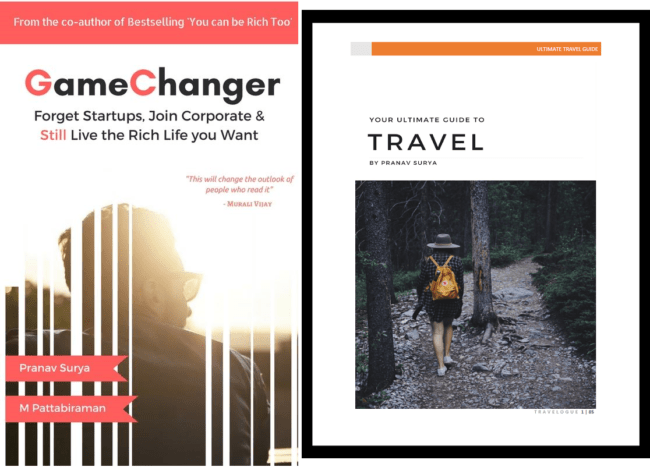 The ultimate guide to travel by Pranav Surya is a deep dive analysis into vacation planning, finding cheap flights, budget accommodation, what to do when travelling, how travelling slowly is better financially and psychologically with links to the web pages and hand-holding at every step.  Get the pdf for ₹199 (instant download)
You can Be Rich Too with Goal-Based Investing 
My first book with PV Subramanyam helps you ask the risk questions about money, seek simple solutions and find your own personalised answers with nine online calculator modules.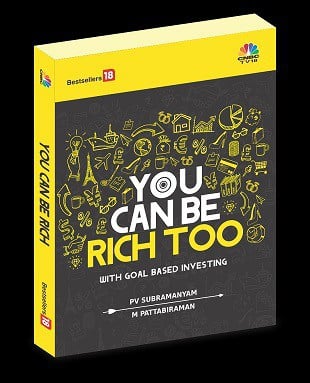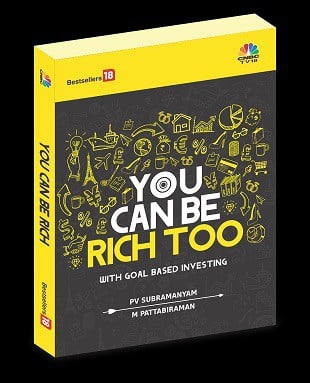 The book is available at:
Amazon Hardcover Rs. 271. 32% OFF
Infibeam Now just Rs. 270  32% OFF. If you use a mobikwik wallet, and purchase via infibeam, you can get up to 100% cashback!!
Flipkart Rs. 279. 30% off
Kindle at Amazon.in (Rs.271) Read with free app
Google PlayRs. 271 Read on your PC/Tablet/Mobile
Now in Hindi!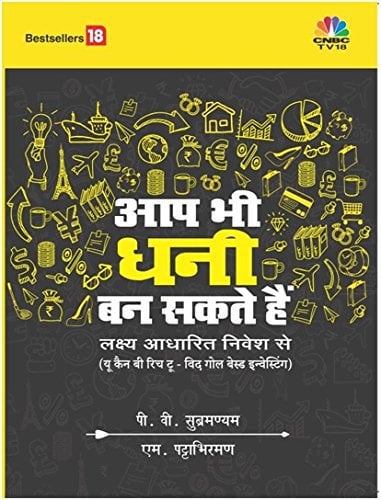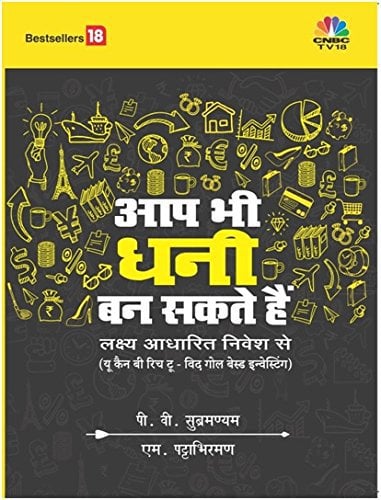 Order the Hindi version via this link