This post is a sequel to the low-stress retirement calculator  published a few months ago. With this calculator, you can reduce the total retirement corpus required by about 10%-12% for normal retirement (age 60)  and the monthly investment required by 20-30%.  The reduction could be even more significant in the case of early retirement.
How is this possible?
Most retirement calculators (including all of mine published thus far) use a single rate of return post-retirement. Instead of this, why not use a bucket strategy?
Instead of this, why not use a bucket strategy?
Here, the retirement corpus is invested in different buckets of varying volatility. Expenses for the first (say) 5 years are met with by creating an income ladder (typically with fixed deposits on paper. Short-term debt funds will make this easier).
Meanwhile, the rest of the corpus grows at different rate of returns. The amount necessary to create income ladders between years 6-15 grow in low-risk instruments, while the rest if the amount grows in more volatile instruments.
This method has been explained in detail in the following posts:
In the present calculator, I have married the low-stress retirement calculator with Inflation-protected Income Simulator
I have resisted the temptation to do this several times earlier. However, I find that many young earners are put off with retirement planning when they see the corpus required and the monthly investment necessary.
Therefore to alleviate their stress, such a union of accumulation (pre-retirement) and distribution (post-retirement) strategies seemed necessary.
I hope this tool is able to help to achieve that.
A word of caution.  The calculator has two sheets. One is the input sheet and another for the income ladder calculation. I suggest that young earners far from retirement do not change the conservative inputs in the income ladder sheet.
Here is a screenshot (click on it to study the inputs and the 39% reduction in stress!)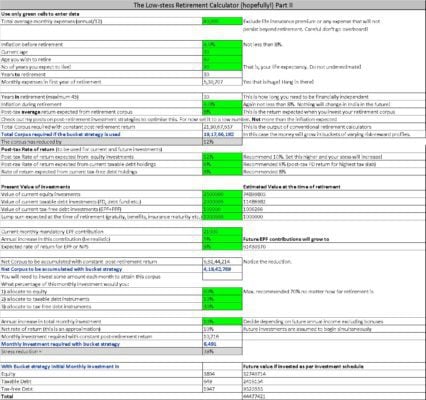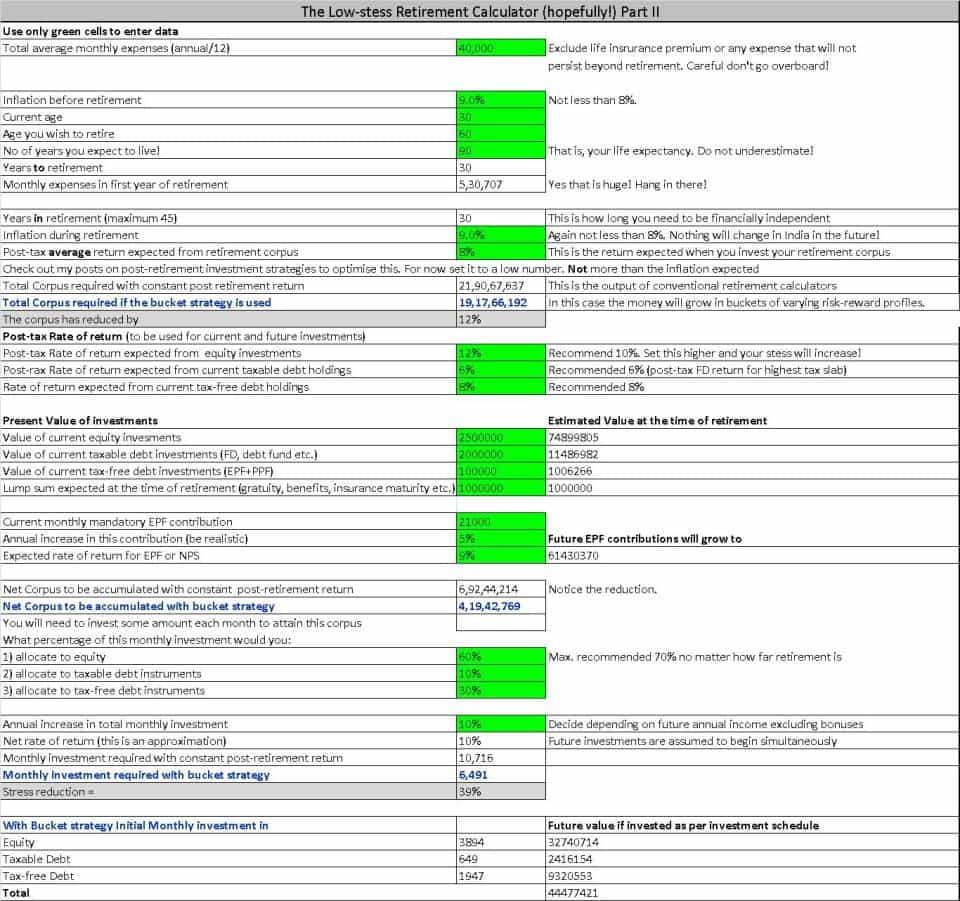 Download the even lower stress retirement calculator!