'Look before you leap' is simple commonsense that escapes us Homo sapiens in most of our day-to-day activities. From eating, driving, breeding(!), spending, investing ….
When it comes to investing, the following pattern appears to be way too common for comfort:
A young earner realises the need to saving tax. A couple of months before March, a pension plan or child-education is purchased hurriedly to 'save tax'.
Soon word reaches them that the 'investment' would yield no more than 5-6% and that they should shift to  a term plan + mutual funds.
Hurriedly investments in mutual funds are made. No effort is made to understand the risk(s) involved and choose suitable categories.
All that seems to matter are returns, especially the lack thereof!
Well, let not go down that depressing road.
Instead, let us ask,
what is the first 'thing' a mutual fund investor should understand before investing?
Let us make it even stronger.
What is the 'one thing' that  everyone associated with mutual funds – investors, distributors, planners – must understand?
I have said it before and shall say it again:
The Standard Deviation – the key to successful mutual fund investing.
Saying that standard deviation is 'too complicated for me to understand' is like wanting to play the piano without touching the keys!
There is no choice about it. Either make the effort to understand it or pay someone who does!
How difficult is it anyway?
If someone says. 'you can expect 10% return from fund A', they are not guaranteeing a 10% return!
They are simply saying the average expected return is 10%. The actual return can be higher or lower than 10%.
The standard deviation is simply a measure how much the actual return will vary from the average return.
Higher the standard deviation, higher the variation and greater the uncertainly in actual return.
Now how difficult is that to understand?
For the purposes of this post, this definition will do.
If you want a slightly deeper understanding, try, Understanding the Nature of Stock Market Returns.
I have already written about the importance of standard deviation and how one can use it to select mutual fund categories suitable for your financial goals.
In this post, I will complement the above information with a standard deviation 'map'.
Observing this map will provide deeper insights to the kind of returns that one can expect from each fund category.
One can use the standard deviation listed by Value Research Online (VRO), Morning Star online or by the Mutual Fund Risk and Return analyser, place it in this map to
understand the extent of variation in return and
determine the extent of  'safety' associated with the fund for short-term goals.
Standard Deviation Map In order to create this map, I listed all open-ended mutual funds listed in Value Research Online, excluding direct plans (regular plans should do for this), unrated mutual funds (too new) and plans closed for sales.
A total of 522 mutual funds.
The 'returns' and 'risk-stats' pages were downloaded as Excel sheets (VRO provides a link ).
The  lists were merged and arranged in terms of increasing standard deviation. All fund categories (equity, debt, gold) were in the same list.
The 3-year return was taken and divided by the standard deviation. Let us call this, 3-Y-ret/stdev
The 3-year return is a reasonable period which is representative of the kind fluctuations one can expect in the funds NAV.
More importantly, VRO does not specify the duration associated with the standard deviation clearly. Its ranking system uses different durations for different fund categories. This is far from desirable but seems to work okay.
It is for this reason I prefer MorningStar. They clearly mention the duration and offer 5,10 and 15 year data, which is very useful. However, unlike VRO. they do not list the standard deviation for all the funds.
The 3-Y-ret/stdev  was then plotted against the standard deviation to create the map.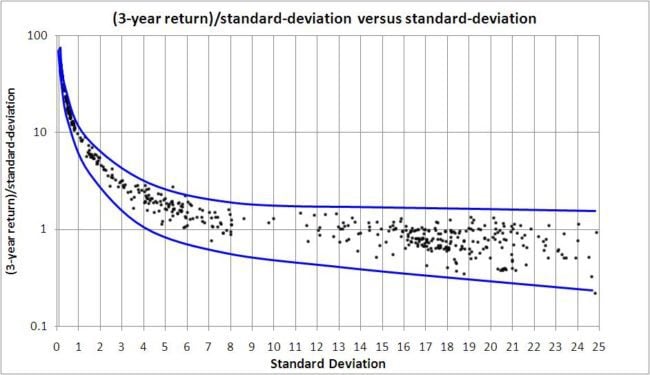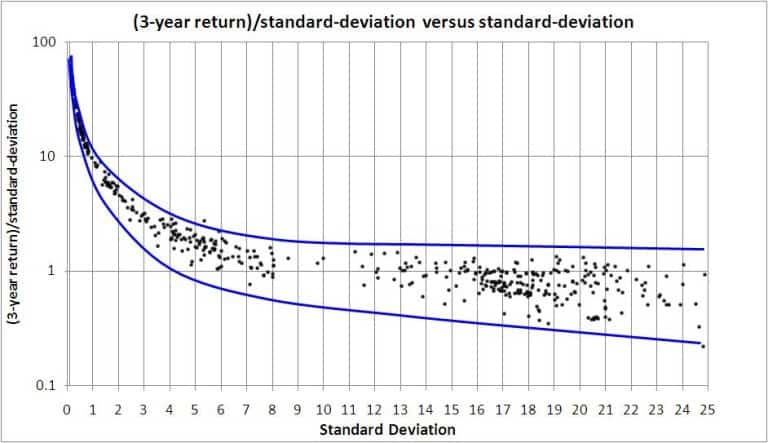 Notice that as the standard deviation increases, the scatter in the points increases as is evident by the increasing separation between the two blue lines.
That is for a given standard deviation, multiple values of 3-Y-ret/stdev are possible. Higher the standard deviation, more the number of such values.
This implies that the spread in possible returns increases with standard deviation.
Before we move further notice that above a standard deviation of 4, 3-Y-ret/stdev are spread about a value of '1'.
That is for standard deviation >= 4, the returns are spread about a value equal to the standard deviation (3-Y-ret/stdev ~1).
So any fund having standard deviation of 4 or more can be called a 'risky' fund because,
if R is the average return, and X the standard deviation, the return can 'typically' vary from R-X to R+X.
if R/X is close to 1, then R-X can be negative!
So the chance of losing money is high for short durations, since there would be no time to recoup losses.
So is the chance of not getting a return close to 'expectations'
All the funds with a standard deviation above 4 should only be used for long-term goals (durations much greater than 3 years!), because longer you stay invested in such funds, smaller will the standard deviation be.
The y-axis of the plot is in logarithmic scale. This is possible because, thanks to the bull run, there are no negative 3-Y-ret/stdev values!
Now we will further annotate this graph.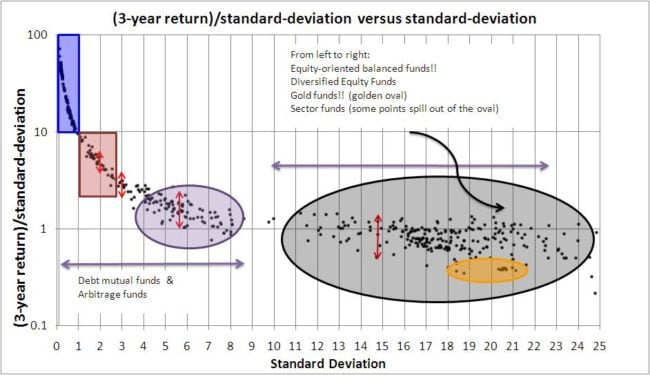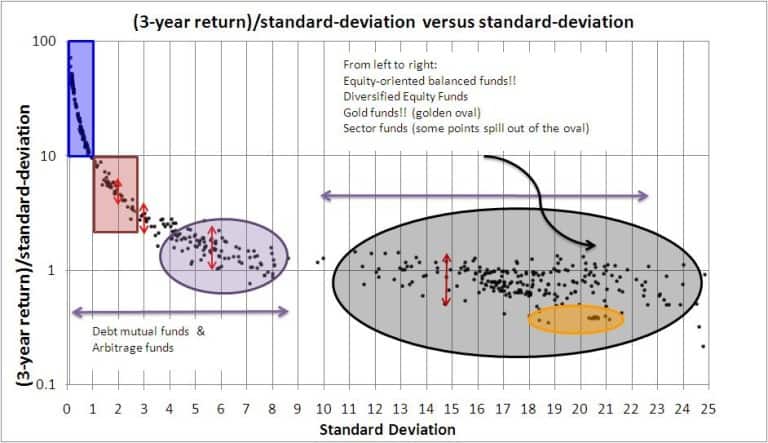 Before we proceed, a bank fixed deposit or a recurring deposit has a standard deviation of 'zero'. That is the expected return will always be equal to the calculated return.
So for such instruments, 3-Y-ret/stdev = infinity  (you are dividing by a zero).
So if 3-Y-ret/stdev is considered  a safety scale for short-term goals (about 3Y or less), FDs and RDs are infinitely safe!
First, observe the red vertical arrows. They represent the spread in returns for a given standard deviation. Notice how they increase in length with increase in standard deviation
Now  look at the two long horizontal arrows.  Standard deviations from 0-9 primarily consists of debt mutual funds and arbitrage funds (read more about arbitrage funds here)
Standard deviation above 9 consists of balanced funds (they are risky!), equity funds and gold funds!! There is no better way to show that gold is at least as risky as stocks – in fact it is riskier!
Now look at the blue rectangle at the top left of the graph. The standard deviation is less than 1 for these funds.
Which is why, 3-Y-ret/stdev (safety!) is so high. Such funds ideal for short-term goals. The actual return will not (typically!) vary much from the average return.
Now look at the pale burgundy colored rectangle. Here the returns can vary by a small but noticeable amount. So they could be used for durations greater than 3 years or as part of a well diversified portfolio for long-term goals.
 The small violet oval next to the rectangles represents risky debt funds like long-term gilt funds. These are strictly for long-term goals.
If we plot the x-axis also in logarithmic scale, features corresponding to 0.1-1 standard deviation become clear.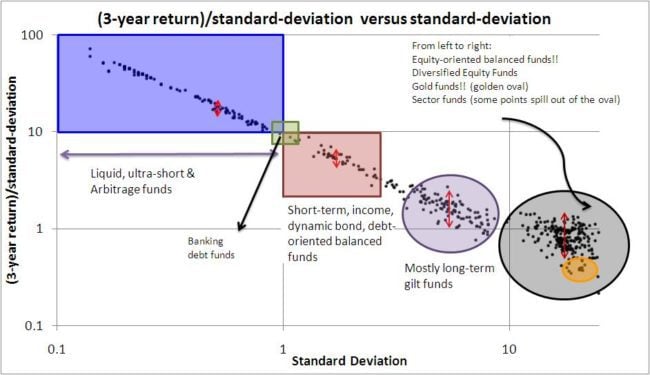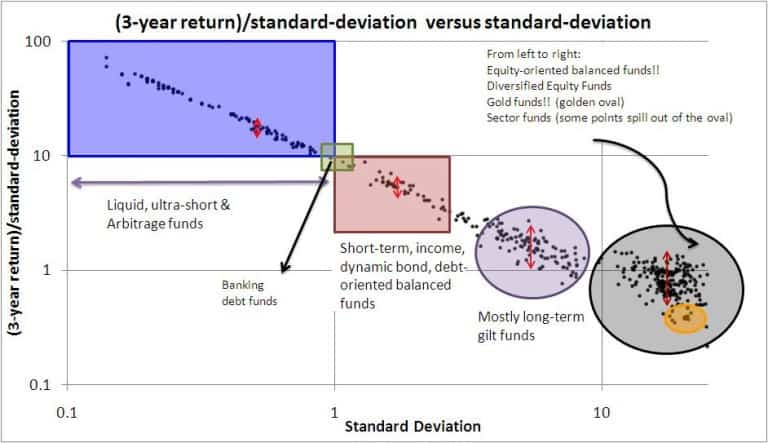 The different debt fund categories are mentioned here.
Notice the small green rectangle. They represent mutual funds that invest only in safe banking and psu bonds. They are idea for goals more than 2 years away and can even be used for long-term goals.
You can use this 'map' to locate the position of your current mutual funds. Hopefully, it will also help you choose funds better.
Here are guides to choosing equity mutual funds and debt mutual funds.
I hope you agree with that understanding standard deviation is key to successful mutual fund investing.
Not only will it help us choose funds better, but also, understand volatility better.