Don't be fooled by those who stand to profit from your investments!  SIP is NOT systematic investing! Starting a mutual fund SIP and continuing it through market ups and down has nothing to do with systematic investing. Buying mutual fund units on the same of day of each month is automation. It has nothing to do with "discipline" like sales guys, investment portals ("direct"/"regular") and product manufacturers would have us believe. Automation simply means do the job repeatedly using machines or technology. Most people automate the task of buying mutual fund units without having a "system" of purchase and management.
Anything – especially investing – without a system, cannot be called as "systematic investing".
Just to make things clear:
systematic investing = investing(automated or manual) with a system of active risk+return management.
A SIP is just automated investing. SIP is NOT a system of risk/return management (that blah blah about "averaging" unit price is useless BS – see below)
The problem is most people assume SIP is the system and that is nonsense.
If you are confused at this point, I don't blame you.  The extent of brainwashing done by the media and financial services is extensive. So let us take this step by step. I have said this multiple times, I hope it won't hurt to say it again in this context.
Investing with a goal and without
There is nothing wrong with investing without a goal, but if you have one, the management after investing starts becomes so much easier.
Investing starts and ends with risk management.
Investing in so-called risk-free instruments like FDs has risks like inflation, taxation and lower rates when you reinvest.
Investing in risky assets may lead to loss of capital and loss of time before possible recovery.
So it is common sense that the first step is to invest some portion in risk-free assets (fixed income) and some in risk (equity). This proportion is known as asset allocation.
Asset allocation depends on when you need the money (which is why a goal matters). If you need the money in the next couple of years, having any or more of equity can be dangerous. Even if you need the money decades from now, asset allocation cannot be constant. As time passes, a gradual shift from equity to fixed income is essential. Unless you factor that in now, you will make the mistake of not investing enough.
Once the asset allocation is identified, we choose product categories in fixed income and equity. The categories should have the necessary liquidity (ability to withdraw at will) and reasonable taxation. Then from within each chosen category, products are selected.
The products from the same asset class, especially risky ones should be diversified. That is, choosing a large-cap fund + mid-cap fund with little overlap between them or choose a single multi-cap fund. Check out these Minimalist Portfolio Ideas.
SIP is NOT systematic investing
Then and only then comes the investing. Most people are in such a hurry to "start investing via SIPs". Then they are in a hurry to get returns. Being impatient when patience is necessary and being patient when impatience is required is perhaps the greatest human folly.
The point of this post is, if you have started investing via SIPs without any thought about asset allocation, diversification and how these things need to change with time, you are NOT investing systematically for the simple reason that you do not have a system. Sure, people from the financial services will massage your ego and tell you that you are on the right path. The fact is, whether you invest with a system or not, you are on the right path for them.
There is more to it. After you start investing, comes the risk management. Since returns from equity can fluctuate up and down, you need to watch out for deviations from your asset allocation. Reset it to the desired level, once a year initially and more often as the time for the goal approaches (again why it is important).
Then you need to understand how to review the performance of volatile instruments. Those bloggers who wrote "top 10 best mutual funds for 2018" will not tell you how to review a mutual fund portfolio. Because they are busy reaping the rewards of stupid folk who take such articles seriously.
If you can do all this at least after starting SIPs, you are investing systematically. Merely starting a SIP is NOT systematic investing. The people most likely to disagree with this article are those who stand to profit from SIPs. That is conflict of interest for you. Those who make the loudest noise are often the infected ones (with conflict of interest).
Timing the market IS systematic investing!
Timing the market or in other words changing the asset allocation based on market conditions is most definitely systematic investing. Again provided there is a system present. Those who blindly do it assuming returns will improve have no idea about the purpose of timing the market – manage risk.
Those who understand the basics of risk management will know that it is more important to protect the amount invested from market volatility than to "time" the next investment.
SIP is NOT systematic investing because it does not reduce risk!
I have shown this multiple times that returns can be anything with a SIP as the risk is not managed.
Beware of Misinformation: Mutual Fund SIPs Do Not Reduce Risk!
Dollar Cost Averaging aka SIP analysis of S&P 500 and BSE Sensex
Don't get too comfortable with equity: This is how a real market crash "feels" like
Create a start-to-finish financial plan
Use the freefincal robo advisory template to handle all the above-mentioned aspects.
Resources for managing risk and reviewing your portfolio
Here is a list of posts I have written on this topic
How to Review Your Mutual Fund SIPs
Review Your Financial Freedom Portfolio in Seven Easy Steps
How to review a mutual fund portfolio
How to systematically reduce the risk associated with a SIP
Repeat:
systematic investing = investing(automated or manual) with a system of active risk+return management.
SIP is just the investing bit. Either you develop a system of your own or consult a SEBI registered investment advisor who does not get any commissions from your investment and works only for you: Fee-only India: launch of a movement to serve investors and advisors
Freefincal Q & A Segment
For the whole of this year, I have been answering reader questions – initially on a weekly basis and then on a bi-weekly basis. To make sure this is interesting for all, I have decided to include a short Q & A segment at the end of a post from time to time. This will also make sure the questions do not accumulate.
Please note that if I discuss "this is east" with an official reference in a post, I do not appreciate being asked, "where is east?". I will simply delete such questions.
"Am I eligible for higher EPS pension?" is one such question. Sooo many people have asked me this. I have given the answer here: Higher EPS Pension: Can EPFO pay Higher Pensions or will it go bust? and here Revised EPS Pension Calculator: How much will my EPS Pension increase?.
In addition, if you have any questions, The EPF India Twitter handle @socialepfo says
You can seek help by emailing at acc.pension@epfindia.gov.in and rc.pension@epfindia.gov.in
This eagerness to get higher EPS pension is a clear indication that we have an ongoing retirement crisis in India.
Gopiraghav: 1. My age is 58 and my EPS turned nil from Nov 2017. I will retire when I am 60. My EPF continues. Can I ask my employer to divert my EPF to EPS now? Will EPFO accept it? 2. I have 15 years of service. The salary limit to Rs. 15,000 was raised in Sept 2014. Will I get the pension based on Rs. 15,000 or will it be based on part Rs. 6500 for 2 years and Rs. 15,000 for 3 years. What will be my pension? 2. to get enhanced pension-If at all EPFO accepts it- what should I repay to EPFO to get the pension of full salary- the full employer's contribution from the start of my service i.e for 15 years with interest or for the last 5 years?
Pattu: "On attaining 58 Years of age, a EPF member ceases to be a member of EPS automatically.". seen this link. All you can do is to receive the pension you are currently eligible for.
Rajesh Babu: Pattu Sir, I have posted this doubt in AIFW group also with general awareness motive. Many close ended equity NFOs are coming up in the market nowadays. Sundaram named it as MICRO CAP Series, ICICI calls them as VALUE series, DSPBR calls them as ACE Series… One who invested Rs.1 lacs in ICICI value series-2 in 2013 has got Rs.80000 as dividend till now and the value of holding is Rs.1.25 lacs. Can we compare the dividend option of an equity fund (closed or open) with LIC's Jeevan Akshay VI (immediate annuity plan) in terms of lifelong regular annual income.? Can we make use of dividend option of Dividend yield funds for lifelong regular income.? (Eg:-UTI Dividend yield fund, Birla SL High Dividend yield fund etc…)
Pattu: Can we compare the dividend option of an equity fund (closed or open) with LIC's Jeevan Akshay VI (immediate annuity plan) in terms of lifelong regular annual income.? —-> No. Apples vs oranges.
Can we make use of dividend option of Dividend yield funds for lifelong regular income.? (Eg:-UTI Dividend yield fund, Birla SL High Dividend yield fund etc…) —> div yield fund does not mean it will provide div yield. It only means it will invest in div yield stocks a strategy which often leads to long periods of underperformance.
V Venkata Ramana: I am working in Accenture. We have flexibility for keeping basic up to 65 percent off fixed salary. So I kept my basic to 100000, so that I can save max amount in EPF.. now I am saving 12000 as an employer contribution. So if I opt for new pension policy around 8300 goes to the pension scheme. But if, after working for 10 years in Accenture, I shift to other company, which doesn't allow flexible basic and if my contribution decrease s then while calculating the pension, only last five years Average pensionable sal is taken then I might get less pension. Is it or not. Can u clarify it
Pattu: You are likely to get less pension. That is my understanding, yes.
Satish: Hello Pattu Sir, I have two questions – 1) When considering my Equity : Debt allocation, should I consider EPF as debt? Few financial advisers suggest that I should not do so. What is your advise? 2) To increase my debt allocation, I am thinking of the following options – Increase EPF contribution (VPF) or Sukanya Samriddhi Scheme or NPS 1 (50k] and NPS 2 for the debt allocation. I am saving for retirement and don't need funds now. Hence the varied options. Please advise?
Pattu: EPF is part of debt! Use VPF.
Manikant: Hi Was saving for my son's higher education. Due to the recent run in the stock market, my estimated corpus has reached the value at least 4 years before. Should I remove my mutual funds and put the amount in FD?Or let it run for another 2 years and then gradually withdraw, as the amount will be required in a staggered manner over the next 5/6 years after 4 years
Pattu: Start withdrawing now! Have at least 2-3 years of college expenses withdrawn immediately. Keep withdrawing gradually. Use arbitrage or debt mutual funds (liquid or ultra short term) and not FDs.
Rakesh: Hi Sir, what is your take on HDFC Housing Opportunities Fund? Is it really worth investing in this fund? Thanks in advance.
Pattu: That it is not necessary.
srinivasan k: Sir, I want to become a fee-only SEBI registered independent financial advisor, kindly tell me the process and procedure of the same. I'm seeing many insurance agents coming to our office during the tax declaration month and misguiding the people about the returns and schemes. No one listening to me when I explained them the ULIP and LIC's plan. I think, if had the IFA endorsement people may take my views seriously for their wealth building process. Thanks, Regards, Srinivasan K
Pattu: Please contact Melvin Joseph of finvin.in who wrote: How to become a Registered Investment Adviser (RIA) in India
 SUNIL NAMBIAR: Hi, Firstly thank you for this post. I have been planning to do buy medical insurance for the last few weeks & hence this post would not have come at a better time. I am 29 years old & I am planning to buy 2 policies – one for my parents aged 65-59 & I for myself & wife aged 29-30. My question is – i) I have come across insurance companies who are telling me that there is no need to do a medical check-up for myself&wife as it is not required for the insurer at my age. But do you recommend doing a health checkup & sharing it with the insurance company upfront so that later if anything is detected, they do not reject the claim by saying that it was a pre-existing disease? ii) For insurance of my parents, could you please tell me the buying process? Would I have to pay the premium first and then the medical checkup happens? Would they increase the premium based on any results of the medical insurance? Thanks in advance.
Pattu: Do what they ask and only what they ask. If they ask for medical tests given them else no. Yes, premium depends on test results they conduct and not what you give them. Disclose all relevant details.
Mohanlal: NRI has invested from NRE Account in SBI. He does not posses Aadhar card. He became a citizen of another country after investing in MFs. What will happen to his folios after 31 Dec? Should he redeem before the deadline?
Pattu: NRIs do not need to get Aadhaar cards in the first place.
Murthy: Which is a better investment: Gold mutual funds or Gold accumulation plans (like PayTm Gold)? My plan is to purchase gold ornaments for every 2 years. Please advise.
Pattu: Then buy them with cash after accumulating it for 2Y.
Rajendra Jagtap: Sir, Greetings for the day I am a regular reader of your articles received through mail and i am thankful for the unbiased recommendations and information you provide. my question is regarding the robo advisory. How and where to add the insurance maturity amount received in intervals and in lump sum in post-retirement period. Pls. guide
Pattu: As of now the template can only handle income at specific years in retirement. I will keep this as a "to-do" feature for the next version.
---
Do check out my books
| | |
| --- | --- |
| | You Can Be Rich Too with Goal-Based Investing, my first book is now available at a 35% discount for Rs. 258. It comes with nine online calculators. Get it now. |
| | Gamechanger, my second book is now only Rs 149 (25% off).  Get it or gift it to a young earner  |
| | The ultimate guide to travel by Pranav Surya is a deep dive analysis into vacation planning, finding cheap flights, budget accommodation, what to do when travelling, how travelling slowly is better financially and psychologically with links to the web pages and hand-holding at every step.  Get the pdf for ₹199 (instant download) |
---
Use this form to ask Questions or reg. the robo template ONLY (For comments/opinions, use the form at the bottom)
And I will respond to them in the next few days. I welcome tough questions. Please do not ask for investment advice. Before asking, please search the site if the issue has already been discussed. Thank you.  PLEASE DO NOT POST COMMENTS WITH THIS FORM it is for questions only.
[contact-form][contact-field label="Name" type="name" required="1″][contact-field label="Email" type="email" required="1″][contact-field label="Ask your question (Got an opinion or comment, use comment box at the bottom of the page. DO NOT post them here)" type="textarea" required="1″][/contact-form]
Subscribe and join the freefincal Youtube community!
 Don't like ads but want to support the site? Subscribe to the ad-free newsletter! 
Want to conduct a sales-free "basics of money management" session in your office?
I conduct free seminars to employees or societies. Only the very basics and getting-started steps are discussed (no scary math):For example: How to define financial goals, how to save tax with a clear goal in mind; How to use a credit card for maximum benefit; When to buy a house; How to start investing; where to invest; how to invest for and after retirement etc. depending on the audience. If you are interested, you can contact me: freefincal [at] Gmail [dot] com. I can do the talk via conferencing software, so there is no cost for your company. If you want me to travel, you need to cover my airfare (I live in Chennai)
---
Connect with us on social media
---
Do check out my books
---
You Can Be Rich Too with Goal-Based Investing
My first book is meant to help you ask the right questions, seek the right answers and since it comes with nine online calculators, you can also create customg solutions for your lifestye!
Get it now
.  It is also available in
Kindle format
.
---
Gamechanger: Forget Startups, Join Corporate &

Still

Live the Rich Life You Want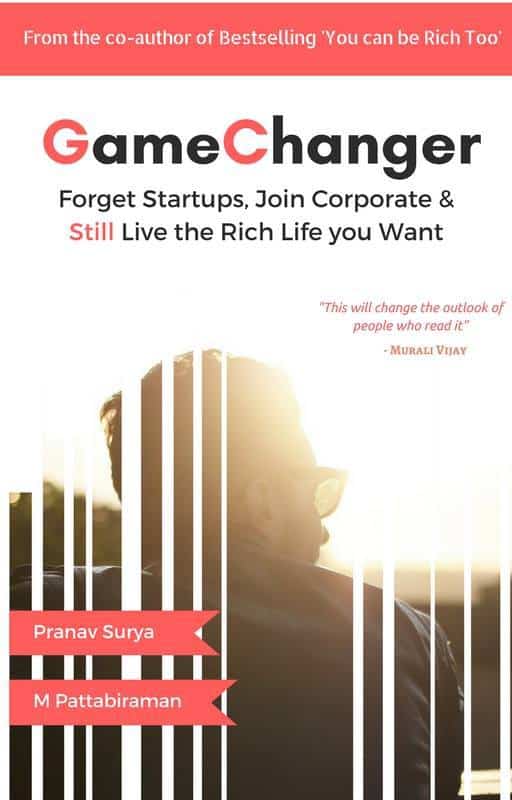 My second book is meant for young earners to get their basics right from day one! It will also help you travel to exotic places at low cost!
Get it or gift it to a youngearner
---
The ultimate guide to travel by Pranav Surya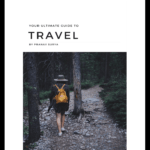 This is a deep dive analysis into vacation planning, finding cheap flights, budget accommodation, what to do when travelling, how travelling slowly is better financially and psychologically with links to the web pages and hand-holding at every step.  
Get the pdf for ₹199 (instant download)
---
---
Free Apps for your Android Phone
All calculators from our book, "You can be Rich Too" are now available on Google Play!
---
Install Financial Freedom App! (Google Play Store)
---
Install Freefincal Retirement Planner App! (Google Play Store)
---
Find out if you have enough to say "FU" to your employer (Google Play Store)
---
About Freefincal
Freefincal has open-source, comprehensive Excel spreadsheets, tools, analysis and unbiased, conflict of interest-free commentary on different aspects of personal finance and investing. If you find the content useful, please consider supporting us by (1) sharing our articles and (2) disabling ad-blockers for our site if you are using one. We do not accept sponsored posts, links or guest posts request from content writers and agencies.
Blog Comment Policy
Your thoughts are vital to the health of this blog and are the driving force behind the analysis and calculators that you see here. We welcome criticism and differing opinions. I will do my very best to respond to all comments asap. Please do not include hyperlinks or email ids in the comment body. Such comments will be moderated and I reserve the right to delete the entire comment or remove the links before approving them.