Here is a free stock analysis spreadsheet that can automatically process balance sheet data from screener.in. This is the 12th edition of the freefincal automated stock analyzer.
The previous versions used MorningStar.in financial data. However, since I received requests to make a spreadsheet that can process screener.in data, I thought I will give it a try. I would say that about 80% of the features of past versions can be found here.
Features of the stock analysis spreadsheet
The spreadsheet
pulls financials from screener.in excel files (to be downloaded by the user)
pulls adjusted stock price history from money control, and
calculates intrinsic value six different ways!
Previous editions which pulled financials from Morningstar and annual (standalone/consolidated) and quarterly financials from Value Research online are also available (use links below).
Valuation models available:
1) Price Multiple Model
2) Sustainable Growth Rate
3) Book Value Growth Rate (Buffett's approach to valuation)
4) Discounted Cash Flow (DCF): Not yet available as free cash flow data is missing in screener.in
5) Reverse DCF Valuation : Not yet available, same reason above. Get it from the morninstar edition.
6) Graham formula and Graham number
7) Piotroski Score for the last 9 financial years
8) Earnings Growth Estimate.
9) Automated Return on Equity Analysis with the Dupont Formula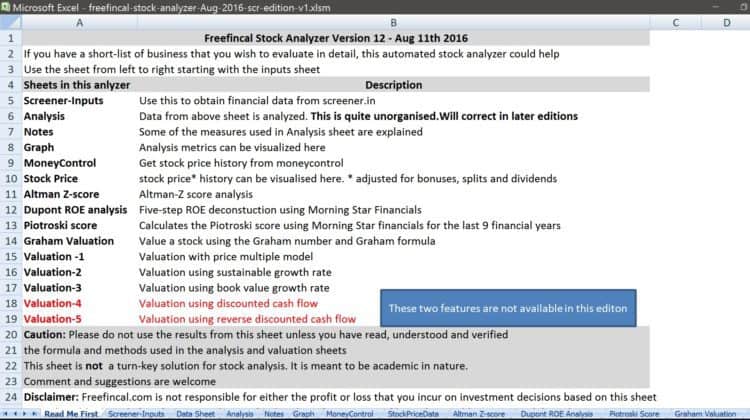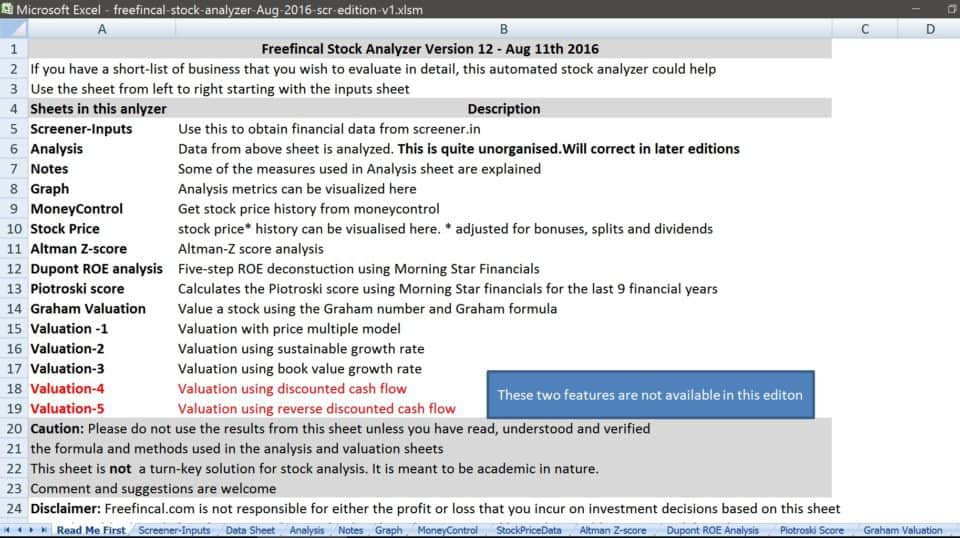 Instructions
Get an account from screener.in
Choose a stock and download the balance sheet data using the "export to excel" option on the top right of the stock page.
Open both the analysis spreadsheet and the screener file.
Go to the screener-inputs page and follow the instructions (run a couple of macros).


CAUTION: Screener has the ability to upload custom modified templates so that the next time you download the balance sheet data of another stock, the formulae would be intact.
DO NOT TRY TO UPLOAD THIS SPREADSHEET BACK INTO SCREENER
This has macros and hopefully, their server will reject it seeing the file extension.
I shall release a macro-free template which can be uploaded in a day or two. This will not have any macros and stock price history from moneycontrol will not be available.
Screenshots of the stock analysis spreadsheet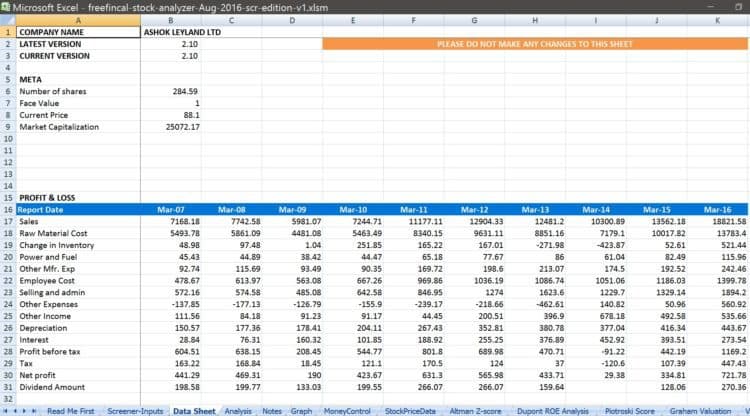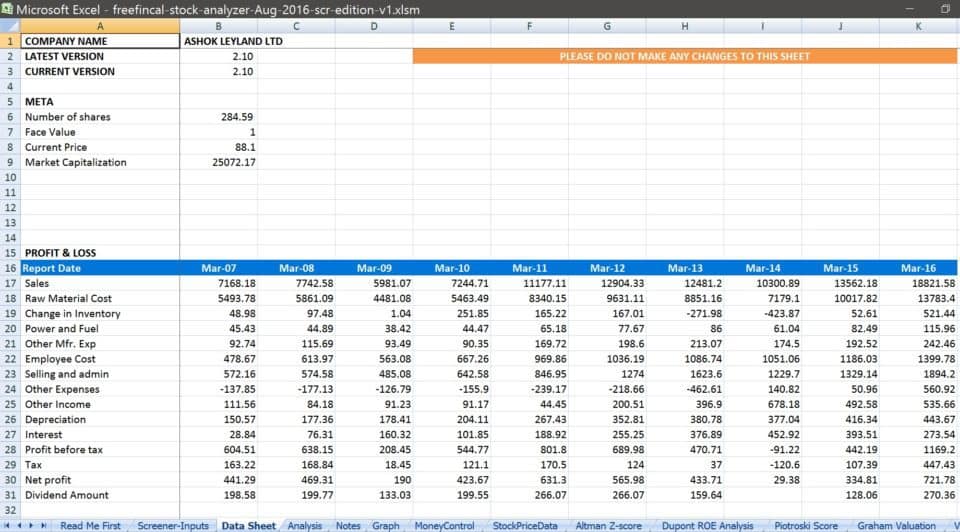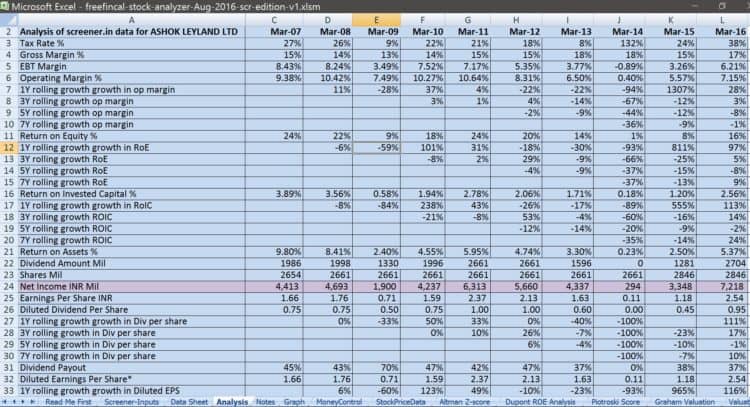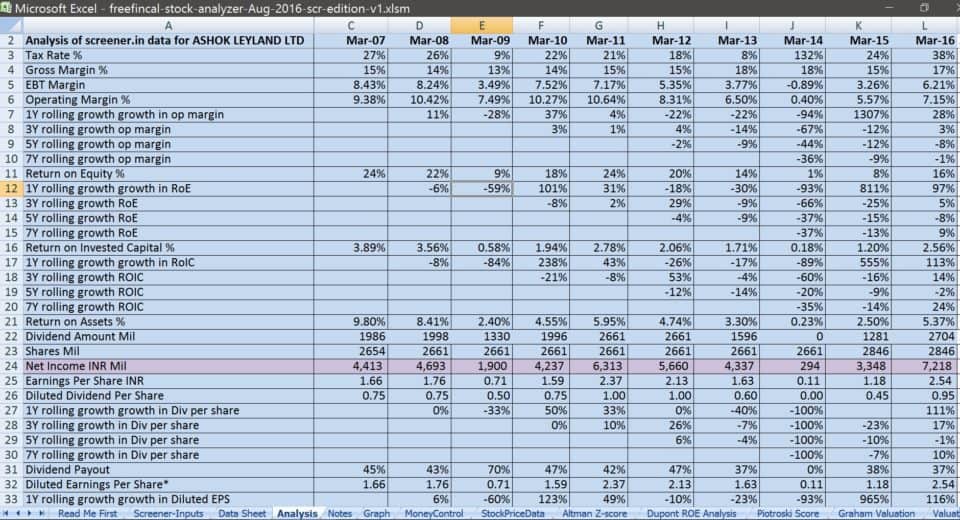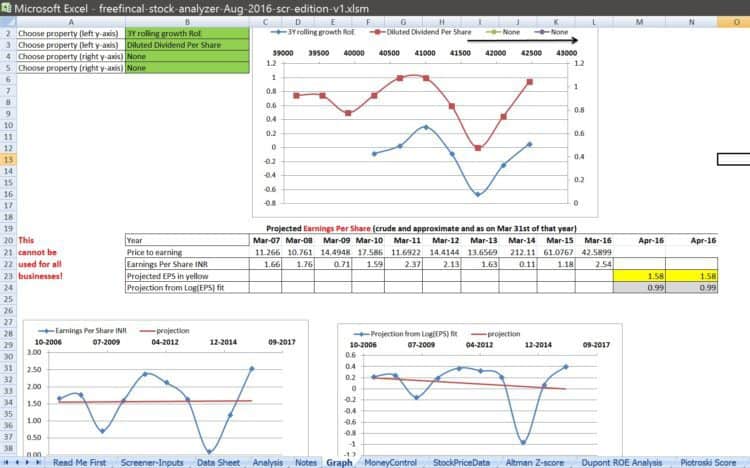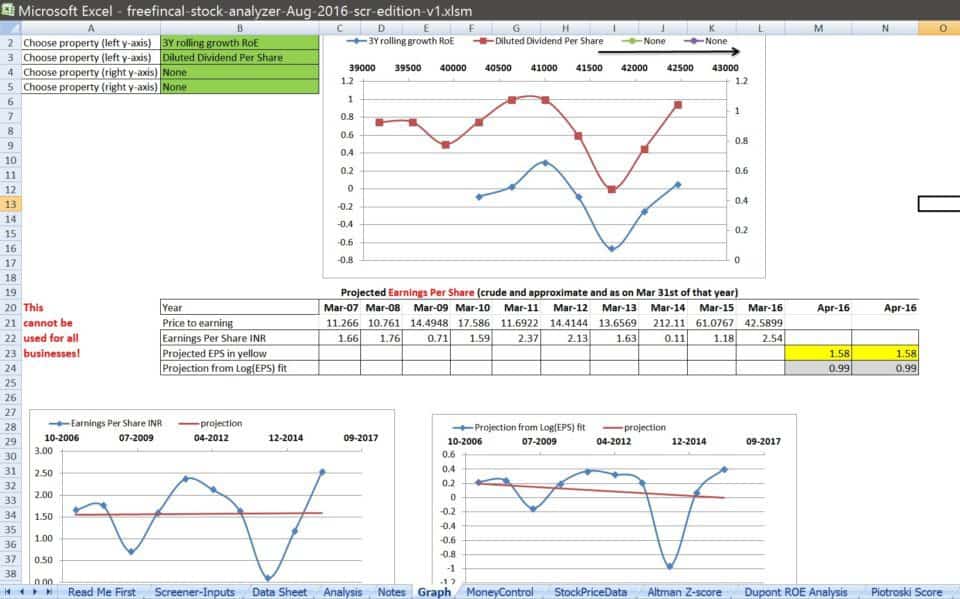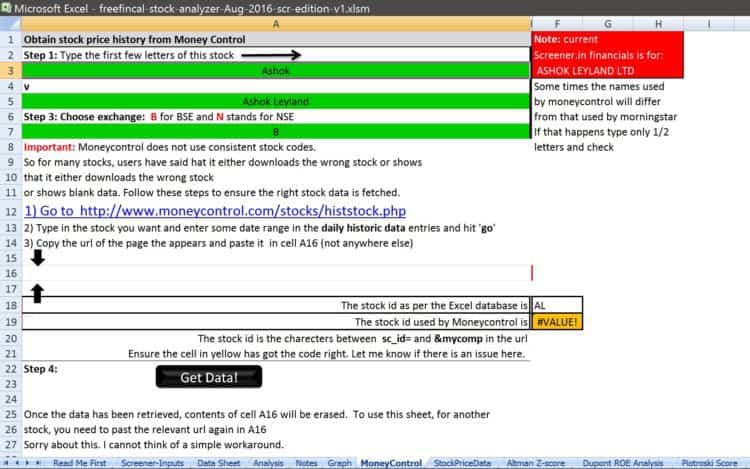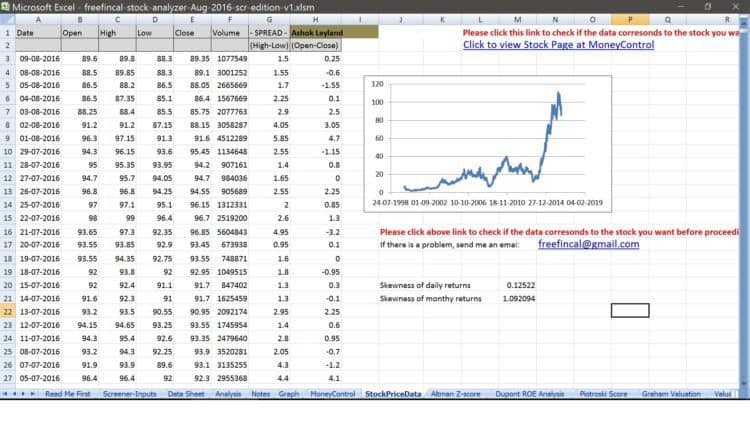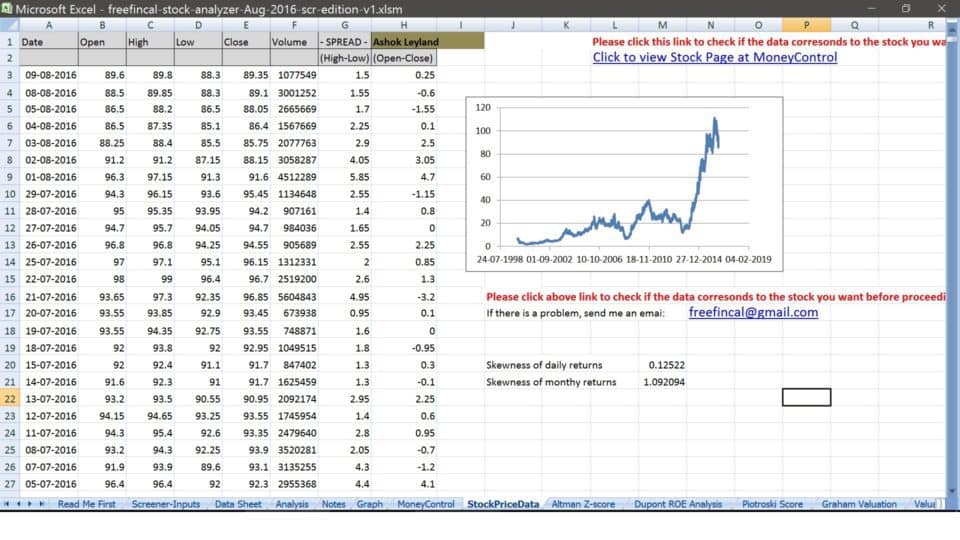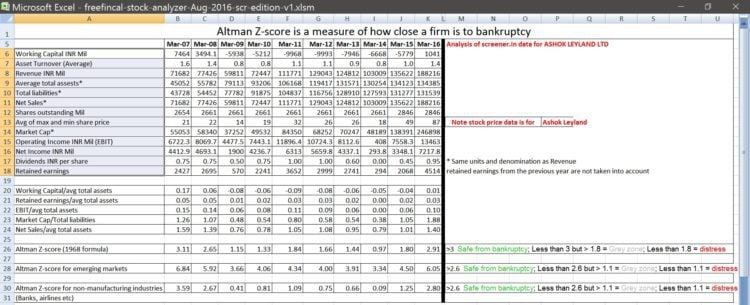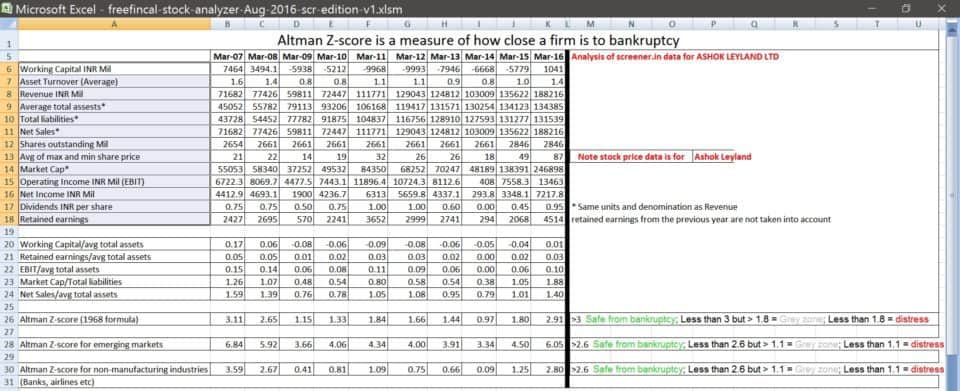 Valuation using sustainable growth rateValuation using Book Value Growth Rate (Buffett's method)

Earnings power box analysis
Automatically evaluates the nature of the stock. Get more details here: It's Earnings That Count: Forget the next Infy; Can you identify the next Satyam?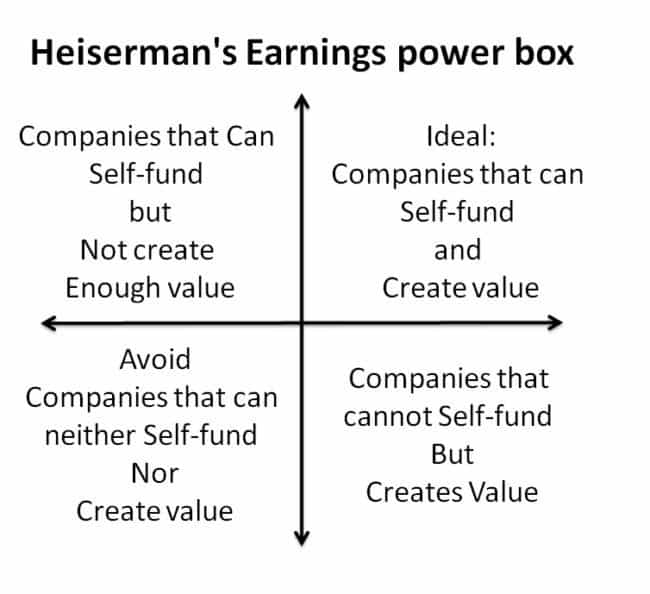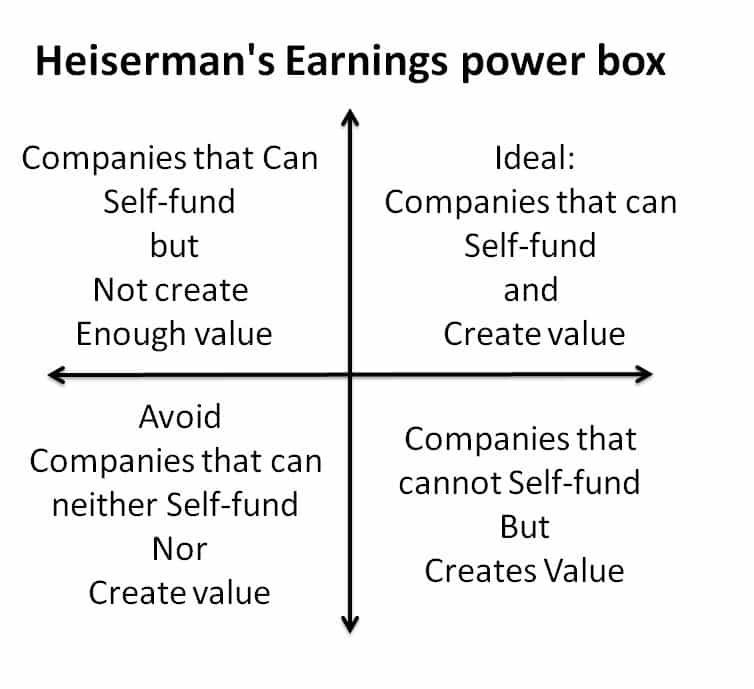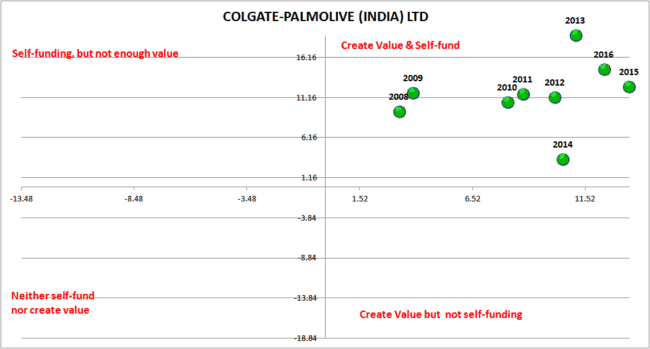 Please share this sheet with stock investors so that it can be made better.
Windows Version: Download the May 2017 freefincal stock analyser scr edition
March 2017: Download the freefincal stock analyzer- screener.in edition version
Use morningstar financials instead of Screener.in: Download the freefincal stock analyser V13 with Earnings Power Box
Mac Version: Automated Stock analyser with screener.in data (this does not have the earnings power box feature. Will update if there is a demand)
Thanks to Mr. Bashyam for pointing an error. This has now been corrected.
Note: In a huge project like this, bugs are common. Please let me know about them and I will sort it out.
Please check the logic and formula adopted before using the sheet.
Disclaimer: This analyzer was developed as an education tool by a student of the market. I am not responsible for the outcome of your investment decisions directly or indirectly influenced by this sheet.
The onus on knowing when to use this analyzer and how to interpret the results is the responsibility of the user.