A reader asks,  "If I pick any so-called large or mid cap schemes and if I check returns more than ten years, they have at least 12% CAGR and above. If my time horizon is above ten years and I'm happy with a 12% CAGR, can I stick to only one good fund and do SIP in that? If I have the stomach to digest the ups and downs of the market, why bother about so-called asset allocation?"
"This is all inspired by long term returns chart observations on various websites. So my only question is, can I stick to one fund for SIP for long years? In stocks, money has gone to almost zero, but not with MFs."
Returns from mutual funds depend on "when you look"! This is known as timing luck. See, for instance: How the fate of your mutual fund SIPs is decided by "timing luck"
My retirement portfolio is proof of this: In May 2020, My retirement equity MF portfolio return was 2.75% after 12 years! Today it is 15%. Will I invest in 100% equity in the hope that losses will be erased immediately and, eventually, I will get a good return, or will I hedge my portfolio with ample fixed income? I choose asset allocation because my hard-earned money deserves more respect than decisions based on casual observations.
Many investors make this common mistake (thanks partly to effective propaganda by the mutual fund industry) and assume that long-term returns will always be "good". There is no evidence to back this up. For example, the Stock market always moves up in the long term, but returns move up and down!
Even if we assume that your observation is correct (I won't put any money into it), there is no guarantee that the past performance would repeat. Rember that disclaimer?! We can afford to ignore what the mutual fund industry says in large font. But what it says in small font, we must take quite seriously!
The biggest problem with Indian data is that it is young. Our market history is insufficient for long-term returns to show cyclic behaviour. For example, the 15-year Rolling SIP returns of the Sensex Price Index from April 1979 to Aug 2021 are shown below (taken from the above-linked study),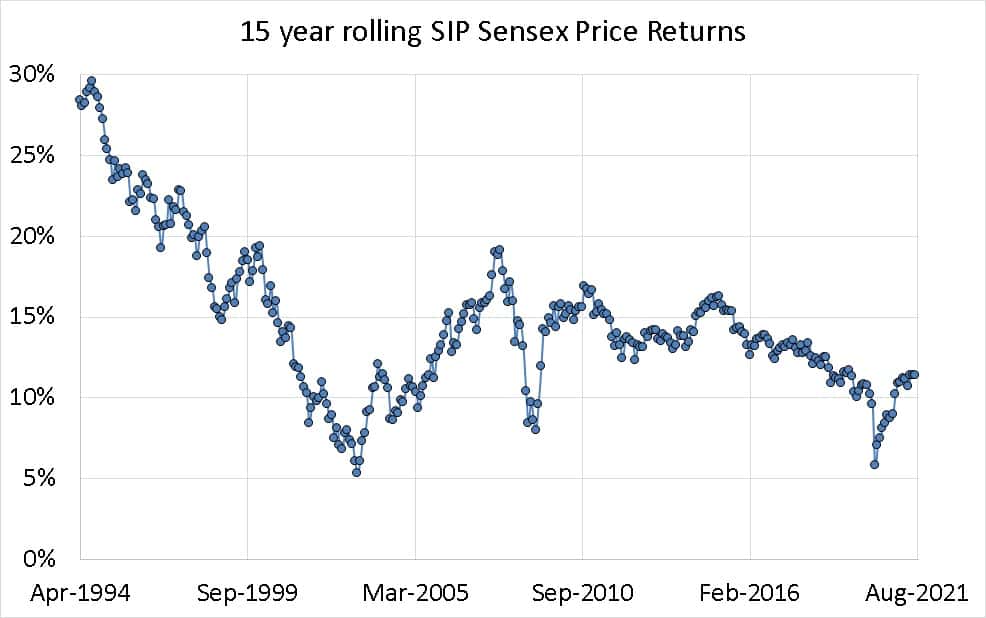 We are unlikely to see 25%- plus returns again because the market volatility has reduced since the Harshad Mehta scandal- Sensex at 50,000 – lessons from the 42-year journey. Also, see: Sensex return is 16% plus over the last 41 years, but half of that came from just three good years!
On 43 occasions, or 13% of total trials, the return was less than 10%. A single-digit return after 15Y has to be considered a "loss", at least in the past, as it is not an adequate premium for the risk taken.
This 13% (or 0.13) is not a probability! It is just past performance. We cannot keep investing with hope and find out that after 15 years, our returns are poor. That is a risk we cannot afford to take.
Investing each month on the same date is not systematic investing. Regular investing and regular risk management = systematic investing. Learn more about it here:  Basics of portfolio construction: A beginner's guide.
We need more market history to appreciate better why long term returns can go up and down. Using the Schiller PE data, we shall turn to the S&P 500 Total Returns index.
When we look at the 15-year rolling SIP returns data – there are 1279 such data points! – it is nothing short of extraordinary! The true cyclic nature of long-term equity returns is seen.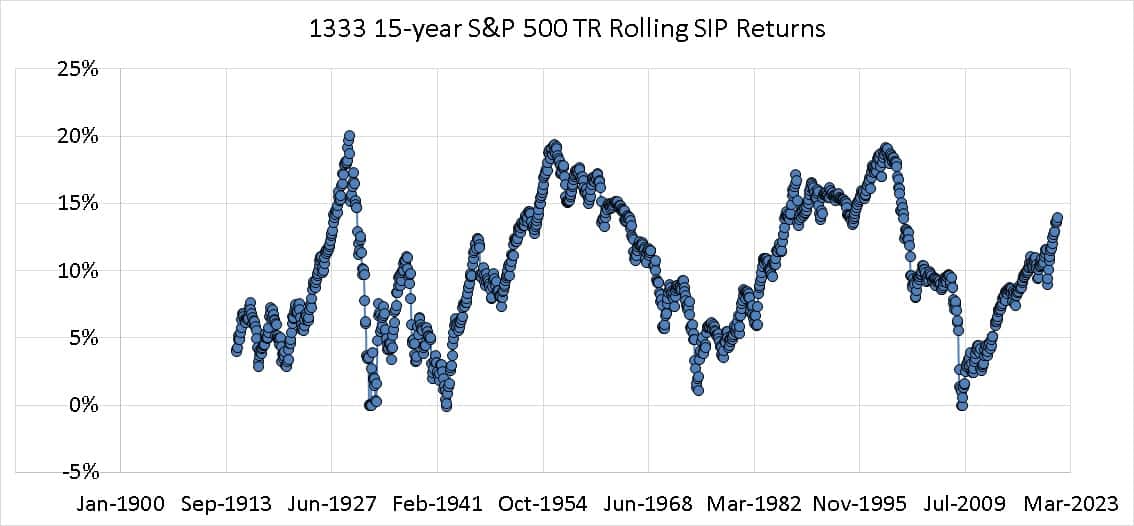 We only see an arm and leg of this cyclicity in the case of the Sensex because of its short history – meaning we have to be more careful about what to expect from stocks in the future. This is why we recommend against expecting returns from mutual fund SIPs and prefer systematic goal-based risk management based on asset allocation.
The 90% returns we say after the March 2020 crash in a year usually take 4-5 years or even more! Volatility is both our friend and enemy. Equity is essential to beat inflation like fire, but getting overconfident about it can burn you badly.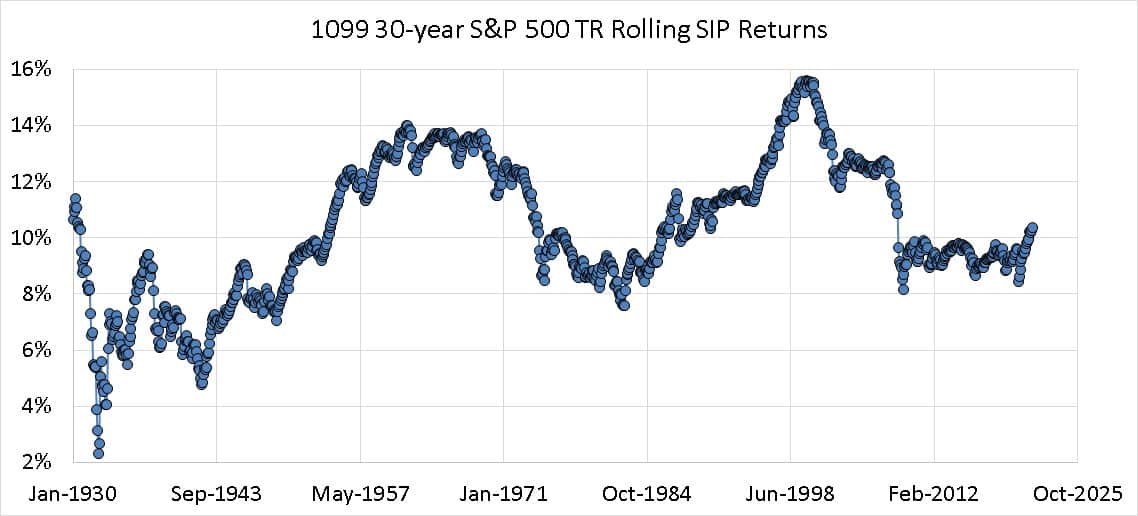 Also, although we say cyclic returns, we have no idea when the returns will peak and when they will start falling.  This is why investing and risk management has to be "systematic". If someone asks what returns I can expect from equity over the next 10 or 15, or 30 years, the honest answer is, "we do not know; we cannot know.". The best part is, we don't need to know!
What should investors do? We must learn to stop listening to AMC hyperbole about compounding (see: Don't get fooled! Mutual funds have no compounding benefit!) or market rewarding the blindfolded patient in the long run – sometimes it does and sometimes not. We will have to shift our focus from returns (which can fluctuate and are not in our control) to a target corpus for a specific goal (which we control better with a variable asset allocation)