Last Updated on December 19, 2021
Here are some simple steps to avoid mess-ups when it comes to investing in debt mutual funds. Freefincal has 30+ posts on debt mutual funds. It is high-time that I compiled them into an e-book. I need to finish a couple of posts before I can do that. This is one of them.
Before we look at the features of the sheet, two quick announcements:
V Ramesh, CEO of MF Utility will be joining Ashal and me at the Pune Investor Meet on Feb 26th. You can register via here. Only a few seats left.
My book with PV Subramanyam, You Can Be Rich Too With Goal Based Investing is now available at a massive 30% discount of Rs. 278/- from amazon
If you are an absolute beginner, you can start here:  What is a Debt Mutual Fund?.  The second part is here: What To Look For When Buying A Debt Mutual Fund. All debt fund posts are listed here.
This post is a summary of the basic precautions to take while investing in debt funds. Each of these points has been covered in detail before.
1 Do not assume debt funds will beat fixed deposits
This is how debt funds are sold. That does not make it true. A debt fund is a market-linked product and unless you know how to categorise them in terms of risk, you should not be investing in them or in any product for that matter.
There are times when debt fund returns will be more than a fixed deposits and times when it will be less. See the rolling returns study to see this for yourself.
2 Do not take past performance seriously
This is more true for debt funds than for equity funds! Just a few months ago, so many people thought they could invest in liquid funds and get 9% return! How many of them knew this was because of the propelled because of bonds crash in July 2013? (Yes, bonds can crash like stocks!) Check out how long it took for my NPS to recover.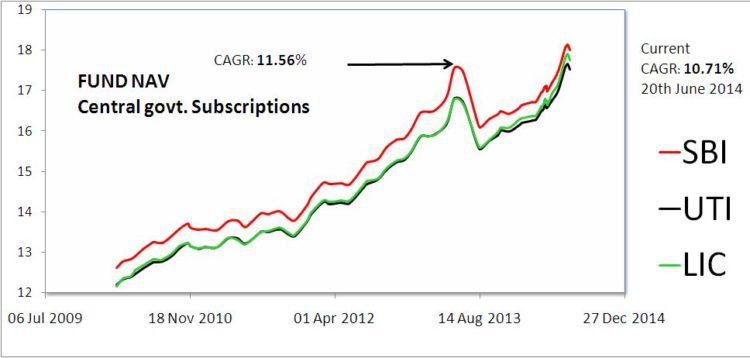 In a healthy economy (something absent from close to 10Y now), the short-term rates would be lower than long-term rates. So if your liquid funds give you good returns, you should pray that the party ends soon!
3 Do not choose funds by returns or ratings!
A consistent outperformer in the debt fund space does not make it a good buy! It is crucial to understand what risk premium stands for. A debt fund giving more returns than other in a category could only mean one thing:  it is taking on more risk. This risk could be associated with interest rate movements or it could be buying bonds of lower credit quality.
There is nothing wrong with the fund manager taking on more risk. Question is, were you aware of what this means before you purchased the fund.
Debt Mutual Funds: Credit Risk and Interest Rate Risk Can Co-exist!
4 Not for Lazy People
Debt mutual funds are suitable only for those who can spend 15 minutes of their busy lifestyle to read the scheme information document.
5a (Try  to!) Buy Style-pure funds
Style purity refers to a fund which sticks to clear investment style. I like funds that will only invest in X,Y,Z type of bonds or will not invest in X,Y,Z bonds. Of course one will know this only if one bothers to read the scheme information document. This is not easy, hence the "try to".
5b Debt fund "categories" is a joke!
As I will show in the next post, debt fund categories is a joke. Each can be very different within the same category. So once you decide the category to invest in, make a short list, study each scheme document and pick a style pure fund.
6 Most advice in the debt fund space is plain crappy.
Here are some don'ts:
Poor Debt Fund Advice: Match Investment Horizon With Fund Maturity Profile
Do not invest in dynamic bond funds!
My posts belong in this space too. So do your diligence.
7 Buy debt funds only if you need them
Ignore all calls from the mutual fund industry to make your money work harder (for them!). Use debt funds only if you need them. That extra 1% return over a few months or even a few years will not make you a rich person. Use FDs, RDs and focus your energy on long-term goals, other hobbies and some peaceful sleep. Even for a long-term goal like retirement, there are other alternatives like PPF or EPF/VPF.
What should a new debt fund investor do
a: stick to liquid funds for requirements ranging up to a  year or so.
b: above that, stick to ultra short-term funds that invest in banks and psu bonds.
Debt Mutual Fund Selection Guides
How and When To Select Ultra Short Term Debt Mutual Funds
Smart Ways to Invest in Corporate Fixed Deposits
How to Select Mutual Fund Fixed Maturity Plans (FMP)
Should I buy Long Term Gilt Mutual Funds?
How to choose debt mutual funds with no credit risk and low volatility
Ask Questions with this form
And I will respond to them next week. I welcome tough questions. Please do not ask for investment advice. Before asking, please search the site if the issue has already been discussed. Thank you.
Error: Contact form not found.
Pune Investor Workshop Feb 26th, 2017
The second Pune workshop will be held on Feb 26th, 2017. You can register for this via this link
You Can Be Rich Too With Goal-Based Investing
Gift it to your Friends and Relatives whom you care more. Already follower of Pattu and Subra's forum. Ordered 4 more copies to give gift to my friends and eagerly waiting to read
The best book ever on Financial Freedom Planning. Go get it now!
Your first investment should be buying this book
The (nine online) calculators are really awesome and will give you all possible insights
Thank you, readers, for your generous support and patronage.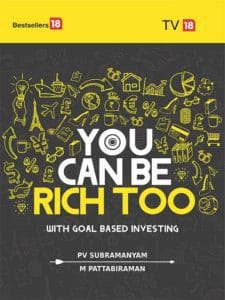 Amazon Hardcover Rs. 278. 30% OFF
Kindle at Amazon.in (Rs. 244.30)
Google Play Store (Rs. 244.30)
Infibeam Now just Rs. 307 use love10 to get additional 10% OFF.  
If you use a mobikwik wallet, and purchase via infibeam, you can get up to 100% cashback!!
Ask the right questions about money
get simple solutions
Define your goals clearly with worksheets
Calculate the correct asset allocation for each goal.
Find out how much insurance cover you need, and how much you need to invest with nine online calculator modules
Learn to choose mutual funds qualitatively and quantitatively.
More information is available here: A Beginner's Guide To Make Your Money Dreams Come True!
What Readers Say
Also Available At
Bookadda Rs. 371. Flipkart Rs. 359
Amazon.com ($ 3.70 or Rs. 267)
Google Play Store (Rs. 244.30)