Here we go again! Yet another AMC has been caught on the wrong foot with one of its bonds downgraded in value. This time it is Taurus Mutual Fund which held at least 65 crores of Ballarpur short-term bonds in four of its funds.  In what was a probably a first for the Indian industry, Taurus liquid (a five-star rated fund by VR (direct)) fell by an astounding ~ 7.2%.
As Ashal pointed out at Asan Ideas For Wealth, this means that at the time of the crash, the holding was much higher than the 4% shown at VR. The other funds that fell are the Taurus short-term, ultra-short-term and dynamic income funds.
This fiasco is likely to close down the fund house. And it did not occur overnight!
Ballarpur Industries Limited (BILT) was given an (issuer) rating of A+/stable in Nov 2013 by India Ratings
This was downgraded to RWE (ratings watch evolving) in Sep 2015. This means 'all may not well', but we need proof. At this point, if Taurus had sold now … no one would have recognised how responsible the fund house is! And investors may not have got the fantastic returns that followed!
In Dec 2016, the rating became BBB- with a "ratings watch negative". This essentially means "all is not well" you have been warned. If Taurus had sold now …. repeat the last sentence in above para.
It continued to roll over bonds from this issuer weeks after this. Nothing happened to the NAV. It was climbing up smoothly. The rating was a solid 5 star (at least now, please listen to me and ignore this rating crap).
Yesterday the BBB- became "D". D for default = delay in interest payment (see above link). Meaning the s**t has hit the fan and guess who was standing underneath?
This episode is a classic example of failed logic. Credit risk cannot be minimised by borrowing for the short term. Whether for a few days (like in this case) or few months, if the borrower is not to be trusted, then do not lend!
SEBI is likely to "react" to this. It is time for it to be pro-active and set stringent credit quality requirements for at least liquid funds. An investor should be able to choose any liquid fund without too much research. This is not possible. We only know the problems when they surface!
Learn more about risks in debt mutual funds
Understanding Credit Rating Risk in Debt Mutual Funds
Understanding Interest Rate Risk in Debt Mutual Funds
Are you a Taurus Debt Fund Investor?
Please wait for clarity from the fund house. Do not be in a hurry to pull out now. Unfortunately, due to SEBI restrictions, a gated withdrawal may not be possible. A redemption now will result in a loss. On the bright side, this can be set off against taxable long-term capital gains. So don't fret too much about it or beat yourself up about it.
There is no need for investors to shy away from mutual funds either. Safety is governed by how much we understand associated risks.
Lessons to investors
Do not touch a mutual fund if you do not understand risk premium. Lower the credit rating of a bond, higher the returns. As long as there is no downgrade, great returns for the investor (see, how better debt funds are than SB and FDs). Once there is a downgrade …
Do not touch a debt mutual fund if you are not willing to understand risk. Do not listen to your amc or advisor talking about "idle money".
Do not touch a debt mutual fund unless you can put the effort to understand where it can invest.
Do not touch a debt mutual fund that has given high returns with the 5-star rating. Instead, choose a 3- star mutual fund that invests only in certain types of bonds – banks andPSUss for instance. Sure they can be downgraded too. If you want to avoid all credit risk. Stick to short-term gilts.
Read more: Do's and Don'ts of Debt Mutual Fund Investing
Debt Mutual Fund Selection Guides
How and When To Select Ultra Short Term Debt Mutual Funds
Smart Ways to Invest in Corporate Fixed Deposits
How to Select Mutual Fund Fixed Maturity Plans (FMP)
Should I buy Long Term Gilt Mutual Funds?
How to choose debt mutual funds with no credit risk and low volatility
You Can Be Rich Too With Goal-Based Investing
My book with PV Subramanyam, You Can Be Rich Too With Goal-Based Investing is now available at a massive 31% discount of Rs. 276/- from amazon
What Readers Say:
Gift it to your Friends and Relatives whom you care more. Already follower of Pattu and Subra's forum. Ordered 4 more copies to give gift to my friends and eagerly waiting to read
The best book ever on Financial Freedom Planning. Go get it now!
Your first investment should be buying this book
The (nine online) calculators are really awesome and will give you all possible insights
Thank you, readers, for your generous support and patronage.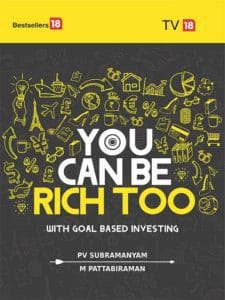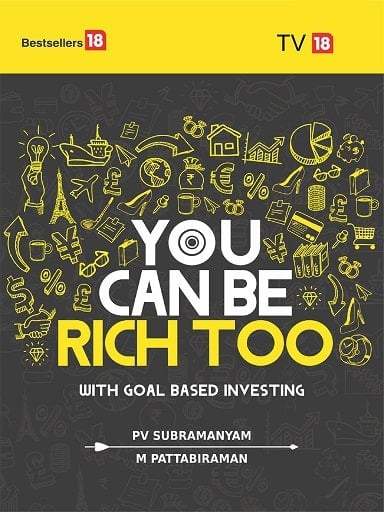 Amazon Hardcover Rs. 276. 31% OFF
Kindle at Amazon.in (Rs. 244.30)
Google Play Store (Rs. 244.30)
Infibeam Now just Rs. 307 use love10 to get additional 10% OFF.  
If you use a mobikwik wallet, and purchase via infibeam, you can get up to 100% cashback!!
Ask the right questions about money
get simple solutions
Define your goals clearly with worksheets
Calculate the correct asset allocation for each goal.
Find out how much insurance cover you need, and how much you need to invest with nine online calculator modules
Learn to choose mutual funds qualitatively and quantitatively.
More information is available here: A Beginner's Guide To Make Your Money Dreams Come True!
What Readers Say
Also Available At
Bookadda Rs. 371. Flipkart Rs. 359
Amazon.com ($ 3.70 or Rs. 267)
Google Play Store (Rs. 244.30)