This is part one of an investment planning case study in which we consider how to create an investment plan step by step using real data obtained from readers belonging to different age groups. This is step 10 of Re-assemble, a series on the basics of money management aimed at beginners and young earners. So far we have covered 9 steps and all set to move on to investing – with a clear purpose. In step 10 of re-assemble, let us consider an investment planning case study and learn how to create an investment plan. Before that here is a brief summary of all Re-assemble posts.
Re-Assemble: a recap of the steps
Many of you may be on vacation this week. Now would be a perfect time to work on these steps.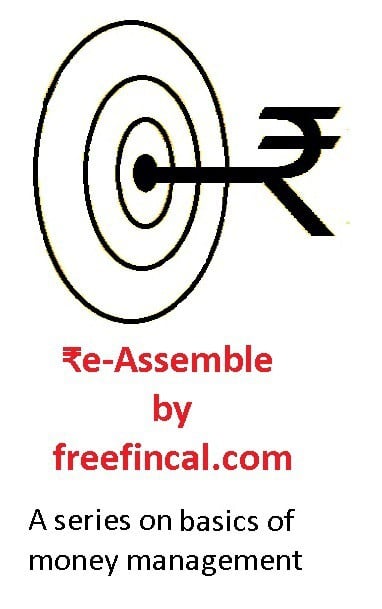 Step 1: Listing your goals dreams and nightmares
Step 2: Lay the Foundations to Get Rich creating an emergency fund
Step 3: How to buy Term Life Insurance
Step 4: How to choose a suitable health insurance policy
* Apollo Munich Optima Restore Benefit vs Max Bupa Re-fill Benefit
* Star Health Comprehensive Insurance vs Religare Care Comprehensive Insurance
* Building a health insurance comparison chart + Cigna TTK vs Royal Sundaram Health Policies
* How to buy a Super Top-up Health Insurance policy
* How I selected a health insurance policy
* Why we all need a corpus for medical expenses and how to build it
Step 5: How to select a credit card for maximum benefit
Step 6: How to track monthly expenses and manage them efficiently
Step 7: How to close your loans and live debt-free
Step 8: How to buy a personal accident insurance policy
Step 9: Are you ready to let go and let your money grow?
Step 10: This post: Investment planning case study 1 for investors below 30.
Coming soon: other case studies and portfolio management with examples from readers.
---
Investment planning steps: How to create an investment plan
I was going to make a video out of this, but my voice gave out so, excuse me. First, let us have a look at the kind of questions people ask Google.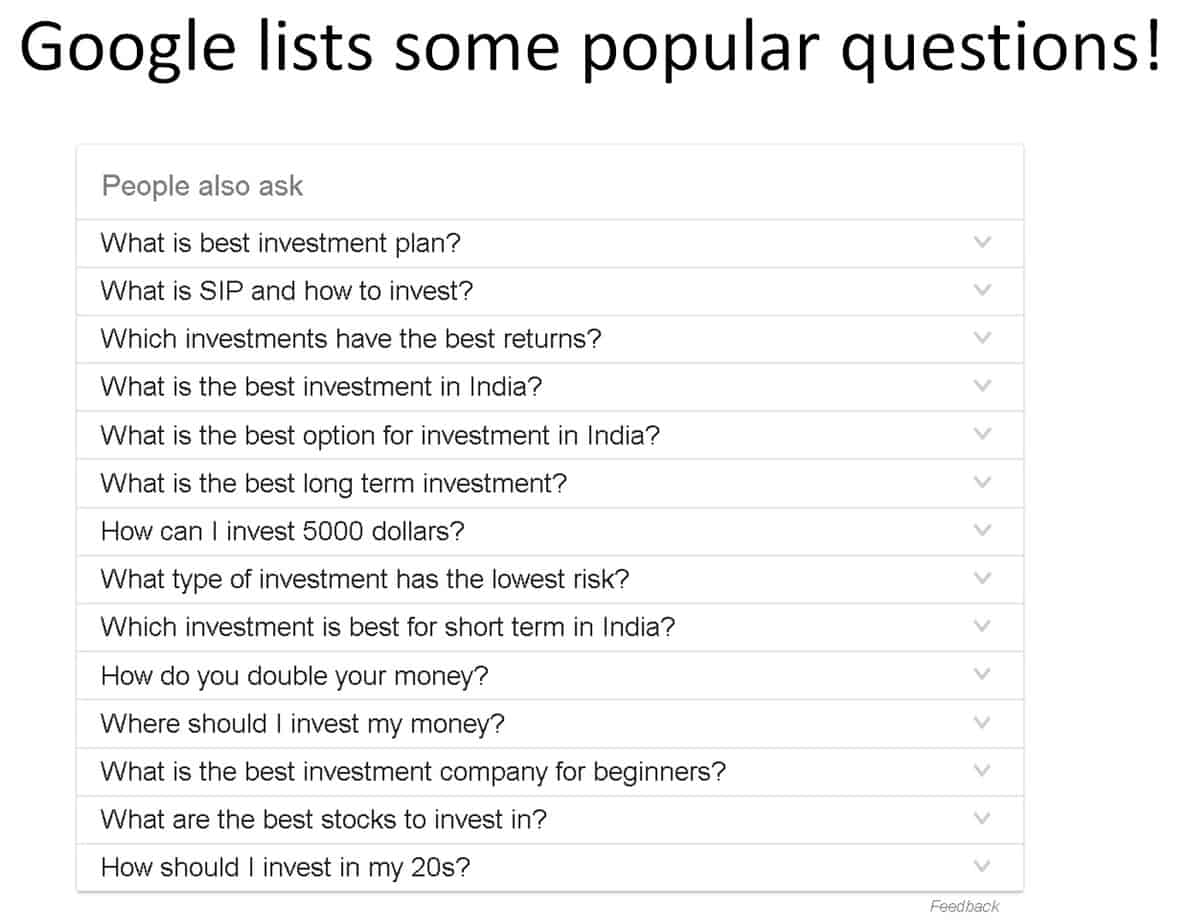 Most investors want quick answers and are impatient. If you are one of them, freefincal is not the place for you. There dime a dozen bloggers who dish out nonsense like top 10, bet mutual fund in 2018. Please consult them for some fast food free lunch. Re-assemble is for those who want to systematically manage their money and create an investment plan.
Step 1: Ask the right questions
If you ask wrong questions, do not expect right answers. The first question should be, What are the right questions to ask before investing?
We will start with the simplest two:
1.Why am I investing?
2.When do I need the money?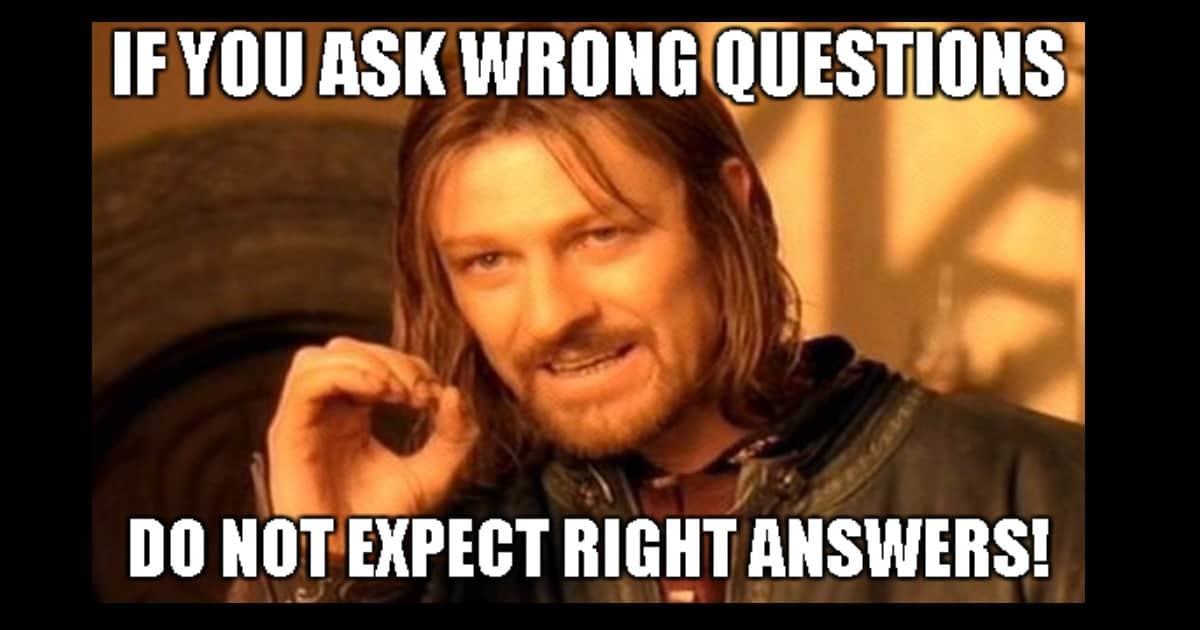 Step 2: Why am I investing?
This has no financial or mathematical relevance
It gives you purpose and purpose is crucial!
Many say, "I don't have a goal, I just want to save/invest".
Look harder! We all need to plan for financial freedom the moment we start earning!
All of us have at least that one goal!
Money is there to be spent. We already have the money to spend for today's needs (hopefully), by saving we aim to provide for near future needs. By investing we aim to provide for distant future needs.
Recognising the difference between saving and investing will only happen if we are not in a hurry to choose products.
Step 3: When do I need the money?
This is crucial to determine how much "risk" you should take while investing.
Your ability or appetite to handle risk is not as important!
If you know when you need the money, you can decide where to invest!
Many investors are not clear about this and want to either maximize returns, minimize risk or both! Unless you are clear about when withdrawals will be made from an investment, you simply cannot taken on risk! This is the reason why step 1 matters. If you know why you are investing, you will know when you need the money.
If these seem obvious to you, come have a look at how people ask for investment advice at Asan Ideas for Wealth (and how people provide it!). Many spend years buying without thinking, suddenly realise their mistakes and want to correct it in a hurry and make those same mistakes again!
DO NOT BE IN A HURRY TO START INVESTING! INVESTIGATE AND PLAN FIRST!!
Step 3: when to invest where?
This is the next question to ask.
What you need is an investment plan NOT A product!
Investment plan = a basket of "products" which have different kinds of risks and therefore different returns.
There is no risk-free investment plan and no risk-free product!
Risks are not obvious and are visible to only those who look!
Take a fixed deposit. If we assume the bank will not run away with your money and honour the interest promise, what are the risks associated?
Taxation will eat away gains
Inflation will eat away gains – more dangerous because this is not visible until it shows up and hurts!
When you renew or reinvest in an FD, interest rates will be low – reinvestment risk
look around, you will see senior citizens who purchased wrong products because FD rates dropped after de-monetization – Stupidity risk
Inflation example: If you have Rs. 100 to begin with, and prices increase year on year at 7%, after 5 years, you can only purchase 75% of what you first did. That is 25% loss in your purchasing power. In about a decade, you will lose 50% purchasing power.
Step 4: What is an asset class?
Products which have the same kind of risk and reward potential are referred to as an asset class group.
EPF, PPF, FD, and RDs, RBI or corporate bonds held until maturity -> Fixed Income or Debt
Bonds that are traded (by self or mutual fund) –> Tradable Fixed Income or Debt (higher risks)
Stocks (Equity) –> Ownership (more risk than fixed income)
Gold, Silver, Oil –>commodity (supply vs demand will result in huge price changes)
Rupee, Dollar —> Normal currency (exchange rate fluctuations)
Bitcoin, Litecoin –> Cryptocurrencies (get rich quick risk)
Step 5: What is Asset Allocation?
Remember that "how much returns will I get?" question? Well, unless you know where to invest and how much to invest, this cannot be answered.
Investment portfolio = basket of different products
Investment portfolio = basket of different products= basket of different asset classes
A portfolio of equity + fixed income (two asset classes) is good enough for all goals. Stay away from Gold (as an investment) and other assets.
Asset allocation = how much we are going to invest in equity and how much in fixed income
Step 6: when to invest where?
If you need the money within the next few years (<5), use more of Fixed income products with little or no equity.
Why? Risk of losing money is high! Due to stock market ups and downs
If you need the money several years (10+) away, use a balanced amount of fixed income and equity.
Why? Risk of losing money due to inflation and tax is high if you use only fixed income!
This is the reason you save for short-term goals using fixed income and you invest for long-term goals.
Investment Planning Case Studies Part 1: Unmarried and below 30 years of age
Upon my request, a few members of Asan Ideas for Wealth had filled the Freefincal Robo Advisory Software Template. I will use their inputs as examples and in part 1, shall consider two unmarried young earners.
Note to all participants: Please do not expect me to provide you with a financial plan!
Young earners should plan to Quit As Soon As You Start Working! You may not be interested in early retirement, but a simple plan for financial freedom should be in place and it is trivial to do this!
A simple plan to become financially free
Suppose Rs. 1000 = your total EPF contribution (forget EPS)
Assume this Rs. 1000 = 40% of your total investment.
Then total investment = 1000/40% = Rs. 2500
Invest 60% of 2500 = 1500 in an index equity fund.
Invest 40% in EPF (or NPS – only C and G, no E) Read more: A Guide to investing in the National Pension System (NPS)
Invest 60% in ICICI Nifty Next 50 Direct Plan Growth option (if you can stomach huge ups and downs)
Else invest in Quantum Long Term Equity Direct Plan Growth Option
Want to retire early or save up enough to become an entrepreneur?
Use the same asset allocation: 40% EPF and 60% Equity, but invest as much as possible. Download this free E-book: How to retire early in India.
What about tax savings?
This is trivial as long as you do not buy products in a hurry.
The EPF/NPS will cover some part of 80C. Invest more via VPF to max 80C and try to maintain 40%: Fixed Income and 60% Equity by adding more in Equity.
Read more: Making the best use of section 80C for tax saving: an example
short-term goal planning
This we will look at the goals of two young earners, Sanjay and Prempal.
Sanjay's marriage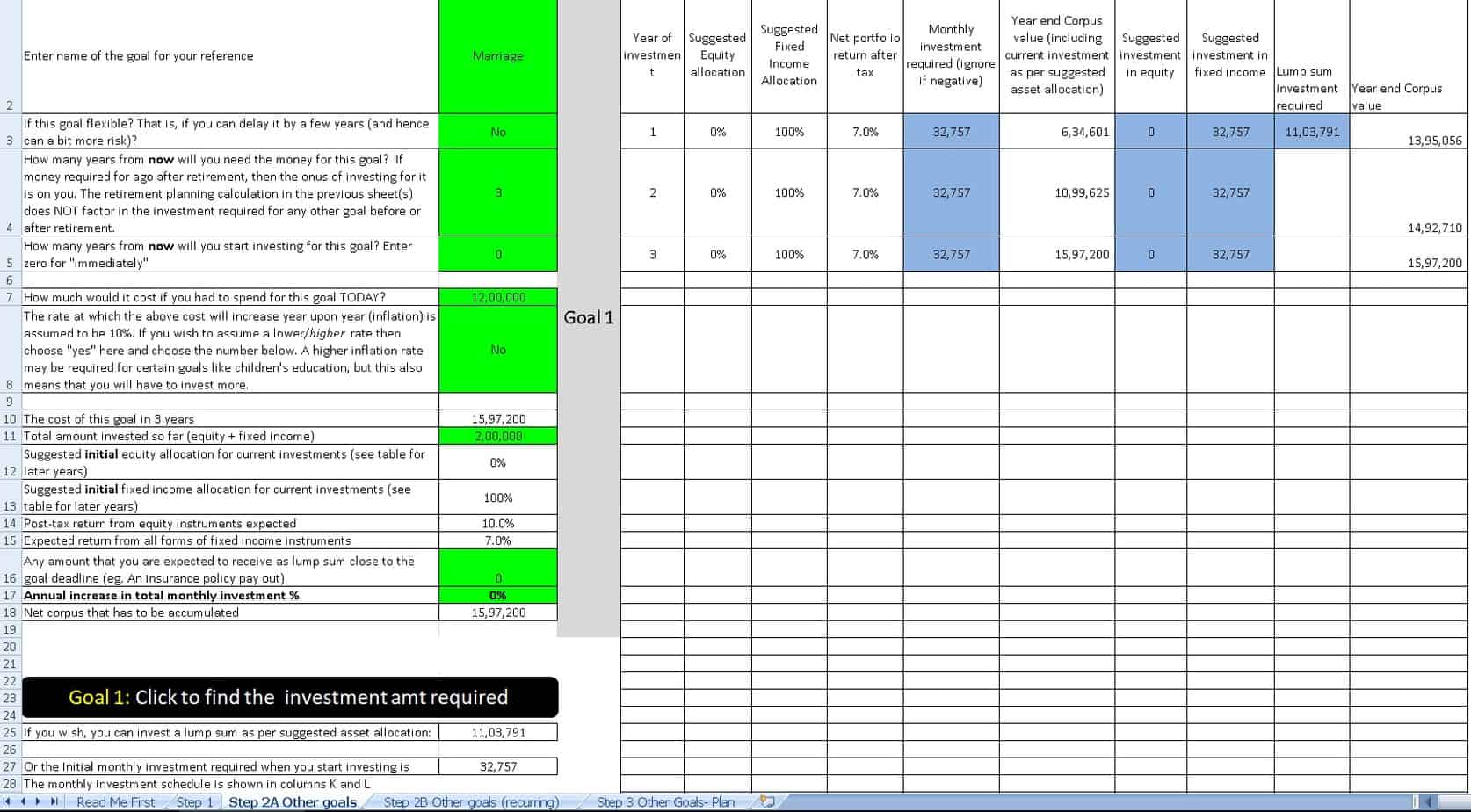 Sanjay wants to plan for his marriage in 3 years. He estimates it would NOW cost him about 12 lakhs. So in three years time, with about 10% increase in expenses year after year, he will have to be ready with about 16 lakhs.
Since this goal is near-term, I would recommend that he use a simple recurring deposit. He already has 2 lakhs saved up. So assuming about 7% return, he will have to put in about 32-33K a month.
Naturally, there are guaranteed high-risk, with potential high-reward options, but that depends on his comfort level.
For example, Sanjay can aim for higher risk, returns and lower taxation with a corporate bond debt mutual fund, an equity savings funds or even a balanced fund, but I will discourage such gymnastics unless he has money backup!
Sanjay's house downpayment
Sanjay wants to build a downpayment corpus for a house he wants to buy in 5 years. This is a bit flexible so he can take on a little risk.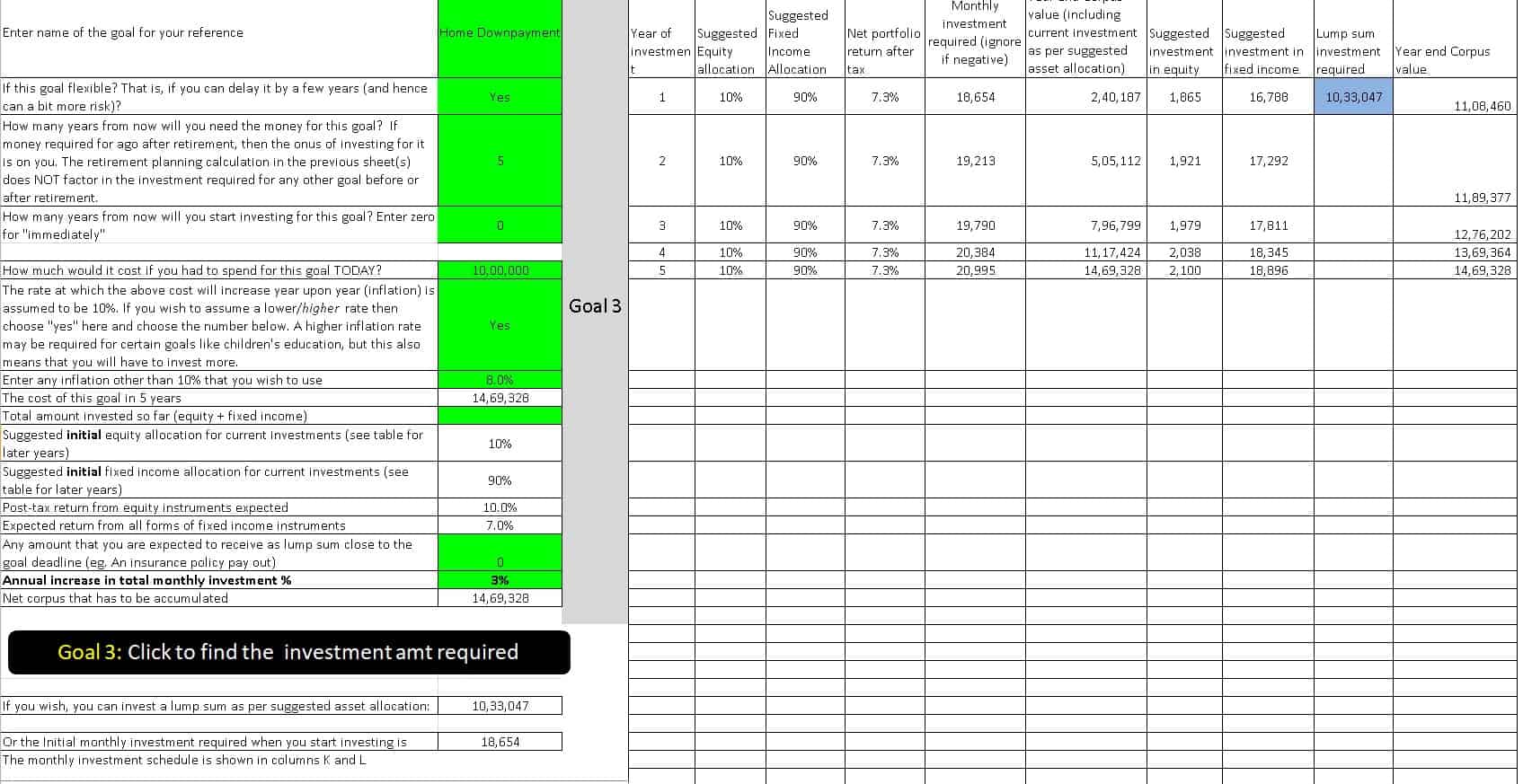 For those unfamiliar with equity, I would recommend only about 10-20% exposure. Rest can be in a simple RD or liquid fund.
There are so many ways to build the investment plan. The only takeaway from this post is that asset allocation matters. For short-term goals, if you take on too much equity, then you will have to worry about decreasing it before you need money, so it not worth it. Please also keep in mind that I am addressing young earners and first-time investors.
recurring goal planning
Premal's European holiday for a month
You can click on each picture to read the inputs and suggestions made.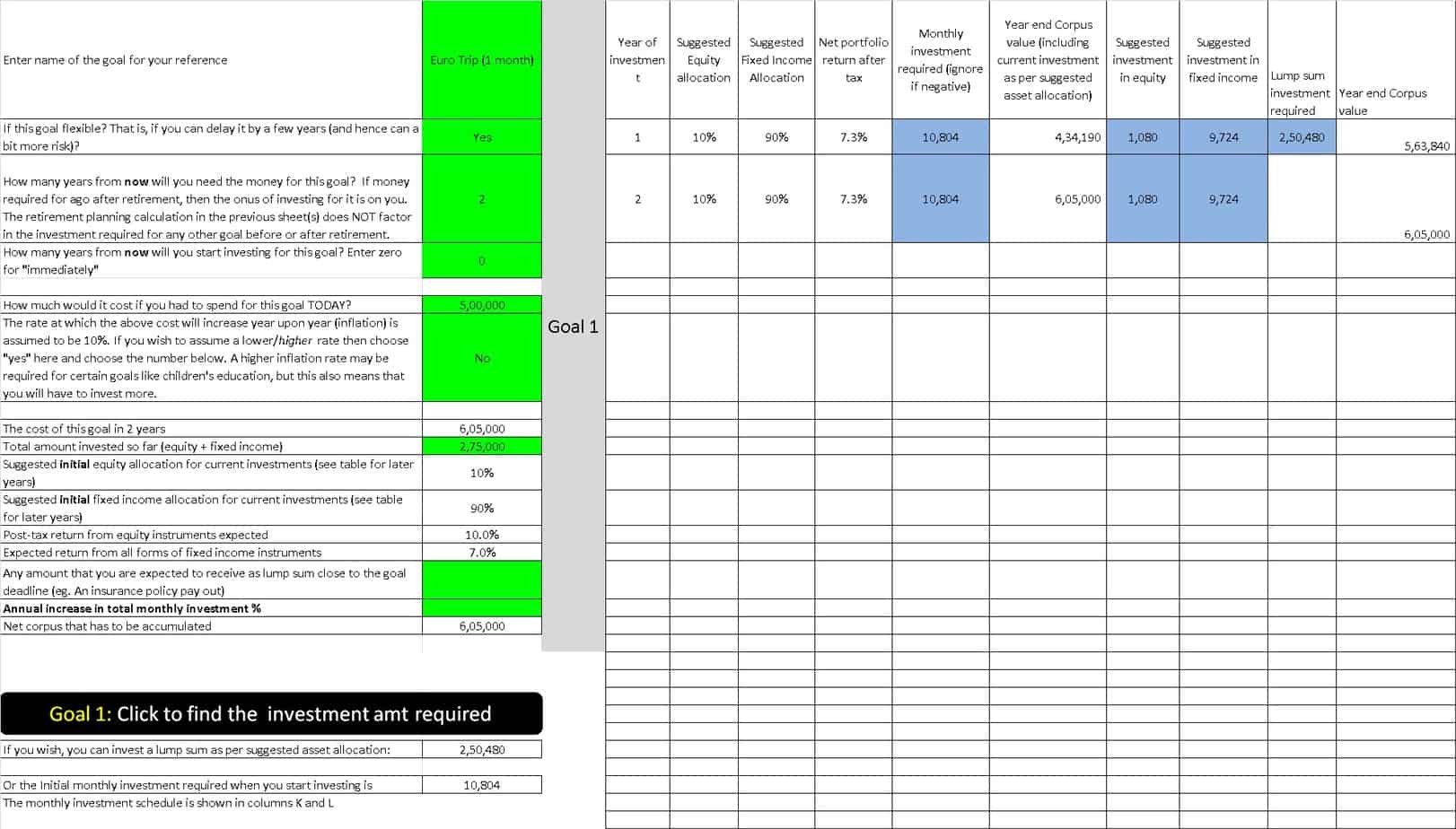 You maybe wondering why only 10% or 0% equity. The robo template only provides conservative suggestions. Maybe I should write an AI algorithm to offer more dynamics suggestions! Short-term investing in equity is like a lottery ticket. You cannot spend all your money buying tickets!
Sanjay wants to buy a car every 7 years
Sanjay wants to buy his first car in 4 years time. After that, he wants to buy a new car every 7 years and expects to buy 6 cars that way. With a current cost at 8L, inflation at 10% and return assumption of 7%, this is how much he will have to invest for each purchase.

Here the asset allocation is a bit difficult to decide. The above table assumes investing for the second car will sfart after the first car is purchased and so on. So each goal is near-term. But since it is flexible, Sanjay can take a chance with an equity-oriented balanced fund. Of course if the markets crash, he will have to say goodbye to the car for a few years. But this is the age for Sanjay to take a chance with flexible and dare I say, optional goals like these.
Sanjay wants to take a holiday every few years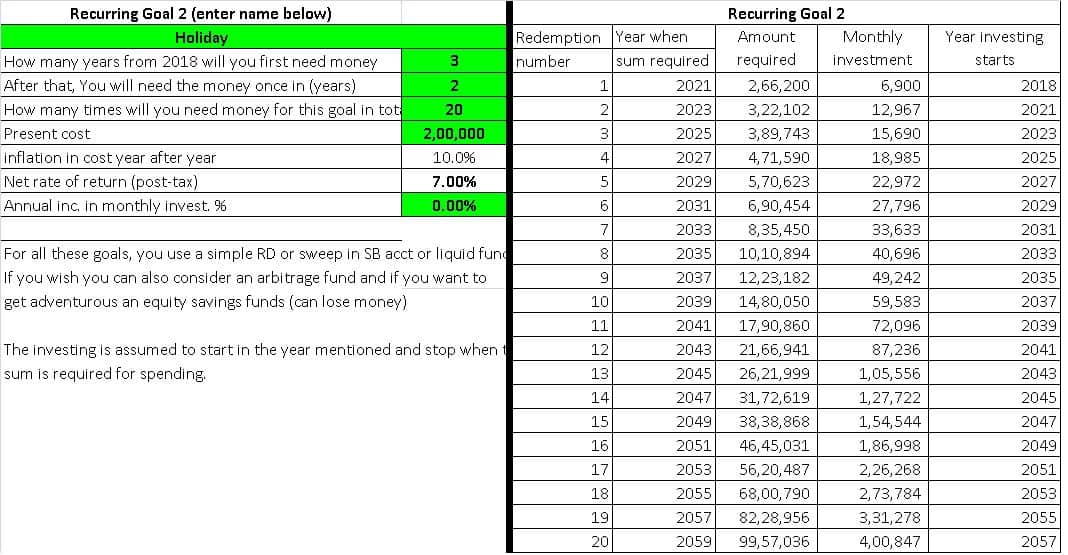 Investment planning: Key takeaways
Define your need
Be clear about when you want the money
Is your need flexible or rigid? If it is flexible, that is you can wait a bit, take a chance with some equity. If it is rigid, minimize or avoid equity
There are multiple ways to create an investment plan. As long as the plan takes into account taxation, risk and liquidity, before investing, you will be fine.
The tough part is not choosing investing products, but investing enough! It is childish to assume higher returns and invest less.
Do not waste time worrying about products for short-term goals.
Thank you, Sanjay and Prempal for your contributions. Next week, we shall consider 30-year olds who have kids.
Want to conduct a sales-free "basics of money management" session in your office?
I conduct free seminars to employees or societies. Only the very basics and getting-started steps are discussed (no scary math):For example: How to define financial goals, how to save tax with a clear goal in mind; How to use a credit card for maximum benefit; When to buy a house; How to start investing; where to invest; how to invest for and after retirement etc. depending on the audience. If you are interested, you can contact me: freefincal [at] Gmail [dot] com. I can do the talk via conferencing software, so there is no cost for your company. If you want me to travel, you need to cover my airfare (I live in Chennai)
---
Connect with us on social media
---
Do check out my books
---
You Can Be Rich Too with Goal-Based Investing
My first book is meant to help you ask the right questions, seek the right answers and since it comes with nine online calculators, you can also create customg solutions for your lifestye!
Get it now
. It is also available in
Kindle format
.
---
Gamechanger: Forget Startups, Join Corporate &

Still

Live the Rich Life You Want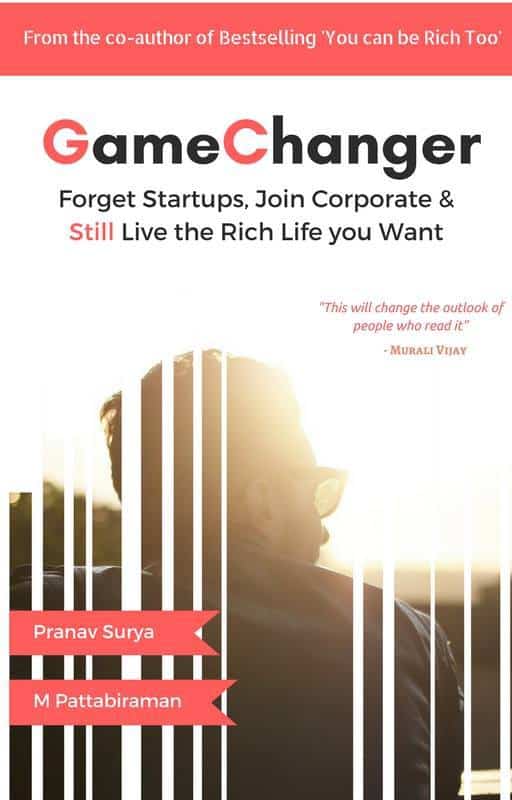 My second book is meant for young earners to get their basics right from day one! It will also help you travel to exotic places at low cost!
Get it or gift it to a youngearner
---
The ultimate guide to travel by Pranav Surya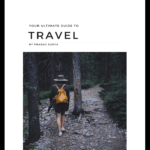 This is a deep dive analysis into vacation planning, finding cheap flights, budget accommodation, what to do when travelling, how travelling slowly is better financially and psychologically with links to the web pages and hand-holding at every step.
Get the pdf for ₹199 (instant download)
---
---
Free Apps for your Android Phone
All calculators from our book, "You can be Rich Too" are now available on Google Play!
---
Install Financial Freedom App! (Google Play Store)
---
Install Freefincal Retirement Planner App! (Google Play Store)
---
Find out if you have enough to say "FU" to your employer (Google Play Store)
---
About Freefincal
Freefincal has open-source, comprehensive Excel spreadsheets, tools, analysis and unbiased, conflict of interest-free commentary on different aspects of personal finance and investing. If you find the content useful, please consider supporting us by (1) sharing our articles and (2) disabling ad-blockers for our site if you are using one. We do not accept sponsored posts, links or guest posts request from content writers and agencies.
Blog Comment Policy
Your thoughts are vital to the health of this blog and are the driving force behind the analysis and calculators that you see here. We welcome criticism and differing opinions. I will do my very best to respond to all comments asap. Please do not include hyperlinks or email ids in the comment body. Such comments will be moderated and I reserve the right to delete the entire comment or remove the links before approving them.